Hack and Slash your way to victory with Titan Quest Anniversary Edition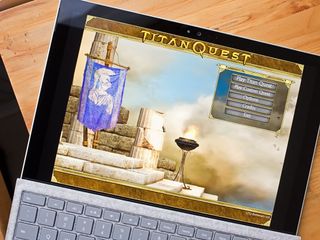 Titan Quest Anniversary Edition is a role-playing game that sends you to Greece, Egypt and Asia to play out an epic battle of good vs. evil. The Anniversary Edition combines both the Titan Quest and Titan Quest Immortal Throne titles into one game. It is also a product of Project Centennial — Microsoft's bridge between classic Win32 desktop apps and Universal Windows apps.
Titan Quest is a highly immersive RPG game that includes customizable characters, detailed 3D graphics and tons of monsters and villains to destroy. If you are looking for a time-consuming adventure game for your Windows 10 PC, Titan Quest is worth considering. The game is currently priced at $19.99.
Titan Quest is a heavy game, requiring just shy of 6GBs of storage. While a large game, keep in mind that you are downloading the Titan Quest Anniversary Edition and several editors that can be used to create your own quest maps.
The first task you face with Titan Quest is to create your character. You have a few body styles to choose from, along with gender and a character name to select. The character creation display also offers you access to the game's settings and the Titan Quest world editor. Settings cover audio, video and keyboard options to allow you to customize the gameplay experience. Gameplay has a single player and an online, multiplayer mode. Each has three difficulty levels that include normal, epic and legendary.
Help screens are available to cover tasks at hand and if you hover the mouse pointer over a screen item, a descriptive pop-up window appears to tell you what something is. If you are interacting with game characters, the help window details information on holding a conversation. Hovering over the red vial in the inventory bar reveals that it is a health potion. As you roam the countryside, you can collect over 1,000 pieces of gear and legendary items.
Gameplay is one of exploration and tackling quests across a wide range of environments. You roam the countryside, cities and mountains tackling quests generated through interaction with characters and a summary of your current quest list can be viewed from the Quest Windows (accessible from the menu bar at the top of the display). Quests range from hunting down key items, ridding the village of hooligans or seeking out monsters to slay.
Controlling your character's movement is done by mouse/touchpad or touchscreen taps. Just click or tap on the area of the screen you want your character to move to and off they go. You can click and hold the mouse/touchpad to continuously move your character around the screen
Combat can be a little tricky. Hovering the pointer over an enemy reveals a weapon icon. Click on the enemy to rush and strike them. You then have to click repeatedly to continue to strike the enemy until they are defeated. It is easy to have the weapon icon shift to a movement icon and overrun your enemy in battle. This gives the bad guys an advantage to strike you in the back.
Should you fall in battle, Titan Quest has several restoration points throughout the game to avoid having to start a quest from the beginning. You also can save games during a quest to pick things up from where you left, should you have to cut your game time short.
Titan Quest does have that old-school PC gaming feel. The graphics looked good with plenty of detail, and the depth of the game can keep you busy for hours on end. The controls are a little cumbersome to begin with, but they slowly become familiar and easier to move your hero around the screen. Combat sequences are the most challenging — it's simply too easy to overrun your opponents and end up in a bad spot. The game just needs more precise movements during combat, maybe through support for the Xbox controller.
I would have also liked to have seen a better help section that provided a better overview of the game. It is not a deal breaker and the more localized help windows and pop-up labels do a good job of things. I just wish you had a broader help section.
Another nit with Titan Quest is that it fully takes over your PC — it doesn't play in a window that can be minimized or resized, instead it's old-school full-screen gaming. To exit Titan Quest, you need to back out to the main menu and choose to exit the game. You can use the Alt+Tab feature to return to your Windows desktop, but it's not the most fluid of actions. I do not know if this is by design or a limitation of Project Centennial, but it helps give Titan Quest a classic gaming feel while also reminding us how nice a windowed environment is.
Overall, Titan Quest Anniversary Edition is an old-school PC game brought to life through Project Centennial for Windows 10. It offers a classic RPG gaming experience with tons of quests to keep you challenged. Titan Quest Anniversary Edition is currently priced at $19.99 that includes both the Titan Quest (highlighted in the above video) and Titan Quest Immortal Throne games into one title. The game also includes a quest editor to allow you to create your own adventures.
Download Titan Quest Anniversary Edition from the Windows Store
Get the Windows Central Newsletter
All the latest news, reviews, and guides for Windows and Xbox diehards.
George is the Reviews Editor at Windows Central, concentrating on Windows 10 PC and Mobile apps. He's been a supporter of the platform since the days of Windows CE and uses his current Windows 10 Mobile phone daily to keep up with life and enjoy a game during down time.