Artifex Mundi announces three games for Windows Phone 8 and Windows 8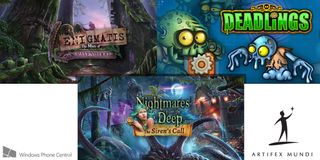 We've still got some Casual Connect coverage in store for you guys, starting with this news from Polish developer Artifex Mundi. You might recognize them as the publishers of several popular adventure games on Windows 8 and Windows Phone 8, including Nightmares from the Deep, Abyss, Dark Arcana, and Enigmatis.
We spoke with Tomasz Grudzinski and Mariusz Szynalik of Artifex Mundi about their plans for mobile Windows platforms. It turns out Artifex Mundi has four or five games in store for us this year! Head past the break for video previews of three of those games, including sequels to Enigmatis and Nightmares from the Deep, plus a fresh new title called Deadlings.
Nightmares from the Deep: The Siren's Call
This is the sequel to Nightmares from the Deep: The Cursed Heart, but you don't have to have played the previous game to understand the story. This one stars Sarah Black, a woman who journeys to the mysterious village of Kingsmouth. There the citizens are afflicted by a curse that slowly turns them into fish people. She'll have to save the citizens, rescue a mermaid, and survive sea monsters over the course of the adventure.
Enigmatis: The Mists of Ravenwood
The first game in the Enigmatis series is Enigmatis: The Ghosts of Maple Creek. This one takes place shortly afterward. The player is still in pursuit of the villainous Preacher, who escaped at the end of the last game. The story starts out in the Ravenwood Heritage Park, where a horrible creature has attacked a young girl and her parents. You'll have to avoid the creature and rescue the family as you continue chasing after The Preacher.
A melting pot of adventure, puzzles, and hidden objects
Enigmatis: The Mists of Ravenwood
Nightmares from the Deep and Enigmatis are both Hidden Object Puzzle Adventure (HOPA) games. As adventure games, they feature involving stories and exploration. Narrative is Artifex Mundi's strong point, and these stories are brought to life with animated cinematics and fully voiced dialogue.
To progress through each game's mysteries, you'll have to solve a variety of puzzles and locate numerous hidden objects. These titles offer multiple difficulty options, so you can make the puzzles as challenging or as easy as you want.
Deadlings
Unlike the other two games, Deadlings was developed by another Polish developer called Nimbi in cooperation with Artifex Mundi. The two studios worked together last year when Artifex Mundi published Nimbi's tower defense game 300 Dwarves for PC and iOS. Deadlings uses the Unity Engine thus will make the jump to mobile Windows platforms as well.
As this one comes from a different developer, it's also part of a different genre than Artifex Mundi's HOPA games. Deadlings is a puzzle platformer in which a team of scientists carry out experiments using hapless zombies. Players directly control the zombies, each of which has its own unique powers. The first zombie can only jump, but soon you'll gain creatures that can climb and do lots more.
Deadlings is farther from completion than Enigmatis and Nightmares from the Deep, but it already has an appealing and distinctive art style to match its clever premise. The levels are short, sweet, and should be perfect for phone and tablet play.
A great year for adventure
Nightmares from the Deep: The Siren's Call
Artifex Mundi believes in Windows Phone 8 and Windows 8, and they're showing it by releasing a bevy of games this year. We'll soon be reviewing the current Nightmares from the Deep and Enigmatis titles in preparation for the new ones to come. Download them now if you'd rather not wait!
Nightmares from the Deep: The Cursed Heart – Windows Phone 8 – 249 MB – $2.99 – Store Link
Nightmares from the Deep: The Cursed Heart – Windows 8 – 475 MB – $6.99 – Store Link

(opens in new tab)

Enigmatis: The Ghosts of Maple Creek – Windows Phone 8 – 183 MB – $2.99 – Store Link
Enigmatis: The Ghosts of Maple Creek – Windows 8 – 430 MB – $6.99 – Store Link

(opens in new tab)
Windows Central Newsletter
Get the best of Windows Central in your inbox, every day!
Paul Acevedo is the Games Editor at Windows Central. A lifelong gamer, he has written about videogames for over 15 years and reviewed over 350 games for our site. Follow him on Twitter @PaulRAcevedo. Don't hate. Appreciate!
No Xbox LIVE = No deal for me.

You're going to have a tough time as the Xbox Live releases slowly stop coming out. :P

Are you saying there is no more hope for LIVE on WP and MS just don't give a crap anymore Paul...

Xbox Live for WP has been dying off for a while now. There are a few chowderheads who disagree, but that dissent is drowned out by all the weeks that go by without a new release. I love Xbox WP as much as anybody. But the game is the important part, not just the Achievements. A great game is a great game, regardless of the platform or Live features.

LOL @"chowderheads" I haven't heard that one since the early 3 Stooges days.

I don't believe that it's dying, just that it's not going to be what we hoped (a weekly release or two non-stop). It's likely we see more big-name developers support the platform as we move forward, and if Microsoft will ACTUALLY makes the certification process something less than a nightmare, smaller developers might try Xbox LIVE features out as well.

Really though, one game every 1-2 months will suffice, if they're decent. I mean, I still have a LOT of NBA Jam to beat (about halfway through Classic Campaign #2 of 6). I'm only 3-4 levels in with Skulls of the Shogun. I JUST purchased ilomilo last night. I just started playing Uno and Friends with my sister yesterday. I have another 12 levels to beat in Tiki Towers. I am only through 2 or 3 of Halo: Spartan Assault's level. I'll perhaps get Rayman Jungle Run. I haven't touched those 4 free MiniClip games from earlier in the year. Oh, and I STILL play Wordament on occasion, as well as Jetpack Joyride.

There is honestly a LOT of Xbox-based gaming to hold the vast majority of gamers over for probably a full year as it stands.

I'm hoping they take more time and release quality games so im good with that. Do you guys really finish a Xbox game within a week though.

I know you're right, but I won't budge. I bought Windows Phone for a very specific purpose, because I was promised Xbox LIVE functionality. Without Xbox titles, my Windows Phone is simply a phone with a great OS. There are many phones with great operating systems. I suppose I am left to vote with my wallet. Order & Chaos will have to hold me over :)

Paul, could you tell this developer to publish in Indonesia?

I've largely given up on Windows Phone gaming. Not that I still don't check what's new, but I'm frustrated with the whole thing. It's a stream of total garbage punctuated by generic gaming from big name developers. The rare gems from small developers are largely ignored. Microsoft seems to consider Xbox Live some kind of exclusive environment. This is a stark contrast to Game Center in iOS which every halfway decent game supports. It's troubling that the company responsible for popularizing, if not coming up with, the whole achievements concept has made such a mess of it. Who the hell is going to invest the effort in porting a game just to see it go ignored? It doesn't help that the store does a miserable job of promoting games and there are no good filters in place. Hell, even the New + Rising category doesn't actually display stuff that's actually new. There are games that have been featured on WP Central that I've yet to see anywhere on the app store without directly searching for them. However, the big guys do get all the marketing and promotion they could ever want, don't they?

That's a shame because their games are amazing. I am very grateful that these titles are on WP8 and W8.

Same for me. I just don't have the time to play non Xbox games, except for GTA which is awesome on my Note and of course not on WP.
This whole situation...i don't love it!

Xbox achievements are what keeps me with windows phone. Without, the other OS's are just as appealing to me.

I love the Xbox curated scene, not only because of Achievements meta game but because of its neat integration with the whole ecosystem. I'm not sure why these developers don't apply for Xbox brand, they must have their reasons, maybe Paul could do a piece on that. On the other hand I'd hate MS to completely open the gates to every crap, but this drought is a bit too much, and Artifex do quality titles and work with a very underpopulated genre, which is also something MS enforces for its Xbox slots availability.

Tried a couple of them on WIndows 8, nicely done but hasn't encouraged me to purchase them.

2.99 is somewhat high, but I think they are worth it if you dont rush through and use hints.

Yess. Thank you Paul! I love Artifex Mundi

These kind of games are perfect for relaxing and listening to podcasts. I sunk a ton of hours into 4 Elements. These look a little more story-driven though, and the art looks fantastic.
I'll have to check these out for sure.

The art is great. I've played several of their games on Windows RT. Casual, and not particularly challenging, but great fun and great looking games to play when listening to podcasts, etc. like you say.

Nightmares from the Deep sounds Cthulhu-esque!

I read "free games" that just ruined my whole year.:P

In fact, actually there are 5 Artifex games in the WP Store. I am very thankfull to they because they published all of these games here in Brazil.

YES! I love the games they publish.

Really only Deadlings appeals to me. Paul, you have any idea when Deadlings will arrive?

The best games on the market place, this is awesome for me, not awesome for my unwilling wallet

More the games the marrier

Me and my girlfriend love your games Artifex Mundi. Thank you!!!!!!

I'm glad to see even more quality games being published for WP8, but I'm really looking forward to the day when we have more convergence with Windows so that I only have to buy the game ONCE. Then I can play on my Lumia on the go, and pick up where I left off on my Surface when I get home.

I wish they would make more adveture games like MYST

What about WP7? WP7 has nothing for almost 3 months

Don't expect many WP7 games in the future. WP8 is much easirr to port to from other platforms and the hardware is far more powerful, so most developers favor it over WP7.

About freaking time! Been longing for new titles from them. Thnx for the heads up Paul.