Artist biographies now being displayed in Music & Video hub in markets outside the US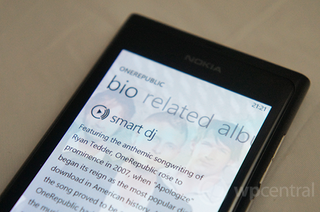 Read all about artists in the music hub
It would appear that Microsoft is updating the Music & Video hub with new features. According to a number of Windows Phone Central readers who reside in multiple markets, the hub now pulls down and displays the biography of an artist that's currently being viewed on a Windows Phone. This functionality was restricted to the US.
When selecting an artist a new tab will appear between 'songs' and 'related' that will contain a pane of text for the consumer to read through. It's an interesting addition to the service, and appears to be unrestricted - so should you not have a Zune Pass and load your own tracks, it should still pull down the correct biography per-artist if everything is in order.
It's good to see Microsoft roll out features and useful functionality such as this in markets outside the US. Be sure to let us know in the comments should you notice biographies now being displayed while browsing through your music collection on the go.
Thanks to everyone who tipped us on this!
Windows Central Newsletter
Get the best of Windows Central in in your inbox, every day!
Rich Edmonds was formerly a Senior Editor of PC hardware at Windows Central, covering everything related to PC components and NAS. He's been involved in technology for more than a decade and knows a thing or two about the magic inside a PC chassis. You can follow him on Twitter at @RichEdmonds.
Love this, always wanted better artist discovery from the Zune service and this gives me exactly that. Already downloaded a new album to try out thanks to the related section

Well, nothing of a sort in Croatia. :) But we have access only to apps and indie games, so not a surprise. :) Still hoping Microsoft will bring full Xbox support soon...

kristijan how do you dont have this??? Open your music app the stock one from wp7. Go to any popular band like iron maiden in your bands list under "music". Wait a second and your get a third tab with biography and similar bands tab. Thats in every country now. Pozdrav iz Bosne :)

You just made my day sir. I live in Canada and so few people up here have any taste in good music. Most people don't even know who Iron Maiden is up here, it's pathetic.

90% of my bands didn't have artist images either. Only Slayer, Metallica, and Iron Maiden had band images. Bands like Tyr, Manowar, Ice Earth, Einsiferum etc, didn't have it. Now they do. It's about damn time. Not all of us are Justin Bieber, Nicki Minaj, and Skrillex lovers.

I am extremely glad to see this in Zune finally. Only took them bloody eons.

I know what you mean :) but we know that real music, played with hands on guitars, on drums, on keyboards is real music. Some fancy computer generated stuff is only "mainstream" thats the reason why 90% of them want get anywhere far in music. Yngwie malmsteen and others like steve vai, joe satriani have made it in music without "mainstream"

The stock apps don't work the same for all countries. In my country, Greece, i face the same issue. The Music App is completely empty, with no access to Zune content or the music marketplace. If you open "Music" it says something like "it's lonely here..." and your only option is to sync your own MP3s. Same for Maps, Bing and other stock apps. No turn by turn navigation in Maps, no song identification in Bing. Completely empty and useless.

No such thing here in Sweden... Yet.

I noticed this in the Xbox music player on the Windows 8 RTM today as well.

It's been there since the Release Preview.

Yeah i know, but the rtm version i have only just started showing them

Yes looks good in Germany :)

Yeah, noticed it yesterday and it's a welcome addition. Sure gives it a leg over other services.

I suppose this is still restricted to countries that have access to the music marketplace? Meaning only, the United States, United Kingdom, France, Italy, Spain, Germany, Canada and Australia.

I'm in Canada both the bio and related artist sections are new here. Also alot more of the artist pictures seem to be displaying. Very nice addition.

Mine has always done this..im pretty sure.

Are you from the US or have a US account?

Maybe you should read the article again.

Ohh misread.. Haha. Thank you.

Here I was wishing they'd included lyrics, unaware that even bios were not available in all countries. Geez, they really need to fill these gaps faster.

Got it in France, but a bing translation could help the ones who don't understand a word of english

See it in germany - but it is in english!

Same "problem", but zune i think has only one database for that and its in english... :( Thank god i'm raised multilingual :)

Does Zune Music now show artis pictures here in Scandinavia?
Been using Nokia Music myself. Nokia Music seems to be getting even better with that nice looking equalizer on the next update. MS needs to work on it's support outside of USA.
WP=Nokia outside of USA.

I agree.
And MS should kick the Zune team in the nuts so they wake up, why should features like this take two years to roll out the world?

Yeah I have that in Las Vegas Nevada, oh wait! I live in USA lol

how do i see if i have the service available?

Oh cool, I though it was just because I have put 7.8 on my phone! :) sweet, noticed it today, really nice feature.

Someone needs to write a good article on the cost benefits of Xbox music services compared to iTunes service. 100 songs on iTunes costs 99 dollars
1000 songs costs 990 dollars Xbox is flat rate at 99 dollars but you don't own the music but can download it still. Xbox is clearly the better deal if you ask me. You can also buy music if you want to own it. I listen to all the music I want and pay far less then I did when I used iTunes on my old iPhone - now use WP7.5

The music and video hub does not show the artist information here in Gothenburg, Sweden on this rainy Sunday morning. Neither does the play hub just show XBOX - it is still XBOX Live. But maybe an update is on its way?

Its not morning yet :-D 3:32 atm. Just finished F.3.A.R. Now time to sleep.

Got it here in the UK :D
One of the downsides to this "new" features though is that the artist background photos are now very low resolution. They're very blurry and you can see they've been upscaled.

I'm a Zune subscriber and I've always had those features

My phone has but my Dads hasn't. Both have been on WiFi for a while... still I guess that this counts as a OTA update so a staggered release?

I noticed when artist art for artist that didn't have art before started to appear also it started to appear on my windows 8. This is cool! I also noticed that the music catalogue has increased. Xbox music is going to be big.

Nop. Not available in Singapore...yet!

Works in Australia. Also noticed album reviews in the Marketplace for the first time, which I THINK is a new feature for us.

Really? I can't get it to appear for any of the Artists in my collection... or is this only for Zune pass?

Not on mine here in Japan. But our marketplace is video and apps only, and in the hub, only apps.

Had this working in Hong Kong since day one, Zune Pass too. Shouldn't work, but does. Wahey!

you must have purchased the US edition.. because one of my friends in India has the US edition of Dell Venue Pro... and for him Zune market place works just fine

Isn't it based on your Microsoft account?

Yes it is. No idea what that guy is talking about.

Nope..Nothing in India..But then we dont have music marketplace..that could be the dealbreaker!!

It would be way more useful to be able to download podcasts in the freaken Marketplace!

Been waiting for this ever since Canada received Zune music... I'm happy that it's finally available, just make it seem like its always been there for new adopters =D

nice step forward.. BUT they need to allow non US access to Smart DJ on the damn phone. I'm an Aussie, we have Zune Pass (XBox Music Pass) and there's Smart DJ on Xbox 360 but not on the phone.. A PAIN.

Can't see this in Germany on HTC Titan. Smart DJ is something I want too. Microsoft better brings us Music Fans some new Music Features with Windows 8!!! So much is missing. Smart DJ, Gapless Playback, On Board Storage. Right now, I'm not really sure if I should purchase a Windows Phone again. Stupid Android seems to have more for Music fans.

Still missing here in the Netherlands. I would love to see it back again, I liked it on my Zune HD on which I used a US live ID.

Does anyone know if it is possible (and how) to update artist images and bios for the marketplace? I listen to a lot of underground horror punk (Blitzkid, Casket Creatures, Bloodsucking Zombies From Outer Space etc.) and they still don't have images or bios. I am totally cool with submitting images and bios but wondering if it is possible at all.

Its available in Singapore!!!:)
Windows Central Newsletter
Thank you for signing up to Windows Central. You will receive a verification email shortly.
There was a problem. Please refresh the page and try again.