Doors open for the Ascend New Gods Xbox Live Arcade closed beta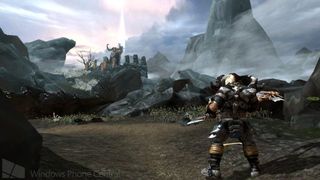 We've been anxiously following Signal Studios' Ascend: New Gods since its announcement back at E3 last year. The XBLA/PC game looks like a vast action-RPG while the Windows Phone companion game is the closest thing to Infinity Blade that we can expect for some time. Both versions are free-to-play and connect to each other in satisfying ways, hence much excitement from Xbox 360 and Windows Phone owners alike.
The XBLA game features some innovative asynchronous components that will make the single-player game feel like part of a massive online world. Such a bold undertaking requires lots of testing. Luckily for us, Signal has just announced public signups for closed beta access!
Signal Studios founder D.R. Albright III, who we interviewed last fall, had this to say about the closed beta:
"Since the big reveal of Ascend at E3 last year, our team has been hard at work creating the kind of action role-playing experience that we've always wanted to play," says D. R. Albright III, President and Creative Director of Signal Studios. "We're really excited to move forward into beta and give players their first hands-on experience with the game."
Getting into the beta
To sign up for the beta, head to the Ascend website – preferably using our referral link. Then just fill in your name, email address, and country of residence, and you're all set. It's a much easier process than the Battleblock Theater beta signup from a couple of months back.
Ascend Details
Free to play on Xbox LIVE
AAA-quality, third-person action RPG with customizable characters
Seamless mix of single and multiplayer gameplay
Dynamic landscape that changes beneath your feet as you claim territory for your God
Weekly and monthly Challenges between the three alignments sway the balance of the global Crusade
Random dungeon generator creates dynamic battle environments
Ascend your Caos Warrior to collect rewards and grow an army of Champions
Wage war for your God as a brutal Caos Warrior on a unique journey to Ascension. Destroy the spawn of the Titan, invade other player's parallel worlds, and tip the balance in the Crusade between the alliances. But the greatest rewards require the ultimate sacrifice—your character! Your Ascended Champions bestow abilities that shape your growing army into the ultimate Caos Warriors.
More to come
Let's ignore that spelling of Chaos as Caos… Much as it pains me to do. Ascend is shaping up to be a standout downloadable title for XBLA and PC. Hopefully the Windows Phone version will be just as stellar. Mobile Nations' Simon Sage is working to get some new footage at PAX this weekend, so we should bring some new features to light for people who don't make it into the beta.
Meanwhile, how fares the Windows Phone game? We shot some hands-on footage of the mobile title during our studio visit last year, but haven't heard much about it since then. It sounds like Signal plans to kick Windows Phone development into high gear as the XBLA title nears release. So we should hopefully start seeing much more of it in the months ahead. For now, check out the trailer for the console game's SmartGlass application (shown above).
Windows Central Newsletter
Get the best of Windows Central in in your inbox, every day!
Paul Acevedo is the Games Editor at Windows Central. A lifelong gamer, he has written about videogames for over 15 years and reviewed over 350 games for our site. Follow him on Twitter @PaulRAcevedo. Don't hate. Appreciate!
If you annoy.. I mean recommend 5 people with referrals to the beta, you have a better chance of getting in.

this is what we need more of!

Looks like a great game, hopefully it is deep and more than 3 hours long.

Signed up. Looks to be a sweet game.

Signed up. Wish more games were actually using smartglass.

Got to say its about time :) Signed up and anxiously awaiting a "YES" back ;)

I can haz.....nao!!!????
No, really. Between this and Galactic Reign - I am super excited about the future of Windows Phone games.

Since it was demonstrated on WP7, there should be no problems of it working on WP7.

So free to play for xbla. Is it free to play for wp and w8?

I, too, would like to know this.

They haven't explicitly stated that, but it's what most of us expect.

Will this require xbox live goldmembership?

I don't think you can play anything online without gold. I think by free to play they mean there are no additional fees. But I could definitely be wrong.

It probably will require gold like Happy Wars - we'll see!

Hope i get on, cant wait for this!!

Guessing i didn't get in. Would have heard something by now, right?

Same here... We probably would have heard from them, yeah.
Windows Central Newsletter
Thank you for signing up to Windows Central. You will receive a verification email shortly.
There was a problem. Please refresh the page and try again.