Ascend studio visit and interview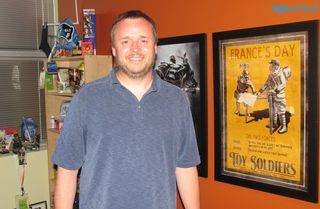 Windows Phone Central visits with Signal Studios
One of the more enjoyable Xbox 360 games we played at E3 this year was Ascend: New Gods from Signal Studios. We played through an early part of the XBLA game and discussed the Windows Phone version with one of the developers. Yet many questions about the mobile version remained unanswered. Not for long though…
Signal is located in Kirkland, WA – not too far from where Casual Connect Seattle took place. After the conference wrapped up, we headed over to the studio for a tour. D.R. Albright III, the company president and creative director, also gave us a fantastic interview. View it after the break to learn just what Ascend: New Gods has in store for Windows Phone!
D.R. (who goes by his initials to avoid being confused with his father, who shares the same name) was very down-to-earth and friendly during our time together. Even though he was genuinely super busy, he took the time to answer all of my questions as well as describe many of the Xbox 360 Ascend's systems in detail. A fun bit of trivia: Ascend was originally going to be called Rise, but Microsoft changed its name to Ascend in order to avoid confusion with Crytek's still­-unreleased Kinect game Ryse. Hey Crytek, let's work on the spelling!
Boot Camp blues
One fascinating point we learned during the interview is that Signal Studios actually had very little involvement with Toy Soldiers: Boot Camp for Windows Phone. You may remember that our Boot Camp interview involved both Jason Ilano of Signal (another affable fellow) and a member of Krome Studios. Krome adapted three minigames from Toy Soldiers: Cold War for Microsoft, the Toy Soldiers series' publisher.
When Toy Soldiers: Boot Camp finally came out, gamers largely reacted with disappointment (just see my review). Three minigames that all last one minute or less just doesn't make a compelling title – no wonder its price eventually dropped to 99 cents. The sad thing is Signal would've liked to bring a full Toy Soldiers game to Windows Phone rather than a handful of minigames… But the publisher chose differently. Everyone I spoke with during the visit expressed regret at Boot Camp turning out so poorly.
Thankfully, mobile games can't do much to tarnish a console-oriented series' overall reputation. We can't say the same about fans' tepid reception to Fable Heroes and Fable: The Journey, both of which stray pretty from the main Fable series.
Warm reception
Let me just say that everyone at Signal Studios treated me most excellently – including Logan DeMelt (pictured playing Robotron), who coordinated the visit and showed me around. They've got comic books, toys, and posters all over the place, making for a relaxed and suitably geeky atmosphere. Signal Studios truly strives to innovate in their games (both Toy Soldiers titles and Ascend), and the fantastic work environment is surely a key part of accomplishing that goal.
Ascend: New Gods is due out in early 2013. You won't have to wait long for more details though; we'll have additional news to share this week!
Paul Acevedo is the Games Editor at Windows Central. A lifelong gamer, he has written about videogames for over 15 years and reviewed over 350 games for our site. Follow him on Twitter @PaulRAcevedo. Don't hate. Appreciate!
The interaction between Windows Phone and the Xbox 360 in this game is the one bright ray of hope that Microsoft Studios isn't ignoring the platform. We've seen the few exclusives we had ported to other phones till the only left is earning achievement points.

Video coming up as private.

True. I have high hopes for the interaction with the 360, and next Xbox and my phones. But, if all exclusives go to ios, android, I too will be bummed. Bummed only as it will take points away from WP, why switch if you can get everything offered elsewhere. I am less compelled to play games on my ios devices over WP. I also hope their are more exclusives in the pipeline, or the focus is for the next Xbox as they appear few and far between.

Let's just hope that instead of exclusively with Xbox 360, it'll also be with Windows 8.

You mean Ascend's connectivity features?

Have high hopes for this one, though it's still quite a ways off.

Brilliant, love signal cant wait for this
Windows Central Newsletter
Get the best of Windows Central in in your inbox, every day!
Thank you for signing up to Windows Central. You will receive a verification email shortly.
There was a problem. Please refresh the page and try again.