Exclusive first footage of Ascend: New Gods for Xbox Live on Windows Phone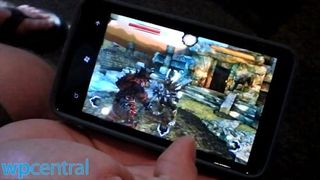 During my recent trip to Casual Connect Seattle, I enjoyed a fantastic visit to Signal Studios, the developer of upcoming Xbox Live title Ascend: New Gods for Windows Phone, Xbox 360, and PC. We've already posted a photos and video interview with studio president D.R. Albright III, and now it's time to share something even more exciting: the first hands-on footage of Ascend: New Gods running on Windows Phone 7!
One world, three devices
First, let's talk about the console and PC versions of Ascend. On the big screen, Ascend is an ambitious and innovative action-RPG with unique asynchronous multiplayer features. Players join one of three divine factions: Light, Dark, or Void. Each group of gods battles the others in an attempt to rule the game's fantasy world.
On the surface, the console and PC version plays like other games in the genre: gamers explore the vast world, fighting monsters and tiny humans, and gathering all manner of loot and treasure. But Ascend's multiplayer features take the experience to another level...
Each player gets to help or hinders his or her fellow players by sending them blessings and curses (some of which are elaborated on in the video). Additionally, gaining control of certain areas makes things easier for members of the same faction and harder for opposing groups. Even though you're role-playing in your own, you're always connected to a persistent world.
The ultimate companion game
Now then, give our hands-on demonstration a whirl! The build D.R. showed off for us is quite early but it gives a good impression of what Signal is going for in the Windows Phone game. The mobile version is combat-oriented and looks and plays similarly to Epic's popular Infinity Blade iOS game. Here, players basically choose an AI opponent (some of which are characters created by other players) and battle him by swiping and tapping at the touch screen.
After the battle, you gain currency and experience which are shared with the Xbox 360 and PC versions of the game. Even equipment purchased on the phone syncs with the big brother versions. Additionally, every victory allows you to send a blessing or curse to players in the main game. Thus mobile players actually get to affect the experience of big-screen players. You can also check on the status of the ongoing metawar on the go to learn how your faction fares against the others.
The Ascend: New Gods Windows Phone has many more features going for it that you can see in our video. The game won't launch until next year, so Signal has plenty of time to add more content and features before release.
Smart Glass too!
Signal clearly takes Ascend's connectivity features seriously. Not only do all three games connect and interact with each other, but the main game even has SmartGlass features as well. The SmartGlass interaction is separate from the Windows Phone game and will enhance the console/PC experience while you're playing those versions. The SmartGlass build was unavailable during our visit, but we know it displays detailed maps during gameplay, similar to the ATLAS feature in Halo WayPoint.
Prepare to ascend
Signal Studios is a cool place to work!
Ascend: New Gods comes to Windows Phone, Xbox 360, and PC in early 2013 – a long wait! In the meantime, check out our interview with D. R. Albright III and our E3 coverage of the XBLA game. To see how the XBLA game has advanced since E3, watch my new preview at Co-Optimus.
Update: Ascend is now known as Ascend: Hand of Kul.
Get the Windows Central Newsletter
All the latest news, reviews, and guides for Windows and Xbox diehards.
Paul Acevedo is the Games Editor at Windows Central. A lifelong gamer, he has written about videogames for over 15 years and reviewed over 350 games for our site. Follow him on Twitter @PaulRAcevedo. Don't hate. Appreciate!