Alcatel Idol 4S or Elite x3? #AskDanWindows Episode 24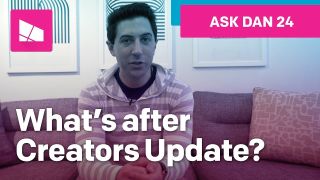 We're back for another new episode of #AskDanWindows. This week I answer questions about the Creators Update, what happens to Xbox One after Scorpio, and my thoughts on Android emulation!
Let's get to this week's big questions!
If Surface Pro 5 came out. Will Surface 3 still worth it? - @ToonWk
What's next after Windows 10 Creators Update? @leothelion96
When Scorpio launches, what will happen to Xbox One and Xbox One S? @matt1124
I'm ready to flip the switch on a premium Windows Phone. There seems to only be 2 choices at this time and it's the X3 or 4S. Which do you recommend? Don Combs
Thoughts on Android emulation on windows 10 cloud/windows 10 on ARM for cellular pcs ("surface phone") - Ajfla F.
AskDan Forums!
Hate using email for Twitter? Join me in our just-formed #AskDan Forums at Windows Central! I'll occasionally jump in here to try and answer questions or take ideas for new episodes of our web series (which should air twice a month going forward).
PS I have to get back into the forums this week as I've been super busy!
Ask Dan Forums at Windows Central
Email me!
Don't use Twitter? Well after much feedback we are happy to announce you can forward your questions to AskDan@WindowsCentral.com to submit your requests!
You can also find previous episodes of #AskDanWindows here on the main landing page.
Windows Central Newsletter
Get the best of Windows Central in your inbox, every day!
Daniel Rubino is the Editor-in-chief of Windows Central, head reviewer, podcast co-host, and analyst. He has been covering Microsoft since 2007 when this site was called WMExperts (and later Windows Phone Central). His interests include Windows, laptops, next-gen computing, and for some reason, watches. Before all this tech stuff, he worked on a Ph.D. in linguistics, watched people sleep (for medical purposes!), and ran the projectors at movie theaters because it was fun.
So W10M will be phased out and RS3 will be our last??

Lumia 930, amazing phone in 2017 ;D

I'm wondering about this as well. I think I'm just going to get a android now and have 2 phones tired of missing out of updates to facebook and messenger

Yeah there's a logic gap there, why would MS focus time, effort, & money on W10M for RS3, only to scrap W10M for the next iteration of their mobile OS? I think when windows phone fans hear MS wants to focus on mobile they assume W10M, when the actual focus is on mobility.

and my thoughts on Android emulation!

Auuugghhhh, please! Android emulation known as Project Astoria is called "Selling Android devices in MSFT stores" What happened to the other project: Islandwood ? Did you ask / talk to your MSFT contacts about it?

Islandwood? In huge active development, it's not a secret it's on Github and open source. Big app to be announced soon that not only uses it but the company had great success with it.

Snapchat you read it here first!

Nah, not even a mobile app, but what they did is super impressive and very technical.

Not a mobile app but done via Islandwood? I don't get it 😌 You're really making me wonder...

How long has Islandwood been in the wild now Daniel?

Quite awhile, but it's not a "one and done" thing as everyone is trying to get the bridge up to iOS 10 levels. Doing SWIFT and other modern iOS coding is the long term plan; last I heard they were around iOS 7 level abilities, but I expect more updates on status at Build.

Even if I want to just convert an app for my own purposes it is so hard to find an iOS app package. APKs are much easier and that's why I want Project Astoria.

And what about the question of the spring event? The answer is missing from the video

A lot of echo in the video's audio Dan

Was shooting on location, can only do so much.

Good questions. However welcoming someone to the 1% club is not completely accurate as I believe it's now 0.3%. I guess you were rounding up to the nearest whole integer. After all round down would be 0%.

We are the few but proud 📱

My Lumia 950 and 930 says it. It's an "exclusive" club.

I thought that meant the 1% of Windows mobile users with x3's or Idol 4s's.

I still like my Lumia Icon better than any current iOS or Android devices, but I sorely wish I could upgrade to a newer model (can't on Verizon). I also miss Glance, which I had on my former 928.

Thanks for answering a question i had. I want to get a phone good year. Idk if ill stay on windows or go android but i didnt know about what phones were the top ones on windows.
I really want to know what is coming out in the future cuz i want to find out to see if i can just wait for it or if ill get something cheap now.

Wait for the next MS event. Then you should know IMO.

The Samsung S9 Windows 10 Mobile on ARM. Sorry but you will have to wait until next year for that one. It should come out just after the Microsoft Surface Phone.

That would be epic, if true...

Never going to happen. If Microsoft releases a Surface phone, and that is a big if, it will flop just like every other Windows phone. There is nothing Microsoft could do with the platform to change that. They need a new platform and strategy.

Nope. Samsung will continue to use android as the phone OS. Only the Desktop experience will become windows 10 on arm.

Rocking the awesome Alcatel Idol 4S that I got from T-Mobile for just $288. First Windows phone ever after using Android for years. When Google dropped Nexus, I dropped them because the Pixel just sucks.

The pixel sucks? What are you smoking?

What about Project Neon and bringing some smooth transitions to age old GUI components ? One update they should really focus on making the OS more fluid and stable with GUI tweks and tuneups !

Or Lumia 1520? :p I love the 1520 and am not looking forward to replacing it.

I did replace it, only to come back to the 1520. It could use an firmware update for the camera, but it was the battery life that brought me back. Still a great phone even 3+ years later.

So many Windows phones to choose from

I also am rocking the Alcatel Idol 4S, great high end phone with a inexpensive price. It reminds me of my old HTC One m8 Windows phone. Two phones that started life as Android phones and ended up getting Windows, hopefully that will happen with the S8, love the hardware, hate the OS.

Like the Elite x3 but my favorite and what's in my pocket is the Alcatel Idol 4S. Completely Love my phone with Windows 10 Mobile!

I'm liking my 950 xl. Isn't it in the same class as the other two phones? Why just comparing those two?

They are sold out in most places. These two came along later.

I looked at the 950XL and the speaker quality was terrible. I use the speaker a lot. I know the Alcatel has great speakers as I have the idol pro 3 to play with some times. All phones should have speakers like that. Not sure about the X3, but my gurss is they sound pretty good as well.

Loving my imported Idol 4S here in Australia ;)

Windows 10 Anniversary -> Windows 10 Creators -> Windows 10 Devastators -> Windows 10 Survivors

You missed a few in between there remmo. At least if I'm running Lemons I won't get stuck there when they update to bananas. Or whatever stupid name Android will call it. I guess it is really Apirl fools day.

Windows 10.7 the maybe if we include a 7 in it the windows 7 users will upgrade.

At this point what do they have to lose android could help bridge a major app gap and Microsoft could possibly do something like Nokia x again

I was sad Microsoft killed the Nokia X but I guess it had to go because Google does not allow the open access versions of Android which is free for all to use to get their Google play store but you could root The Nokia X to get the Google play store, The European Union gave Google trouble over the fact you had to do certain things to get the Google play store & other apps. I wonder how that court battle turned out

Honestly Microsoft could do what Amazon does, skin the hell out of it to make it look as much like a windows phone as possible with all of the services and plant a android emulation underneath to provide android app sideloading while at the same time allowing developers to build native UWP apps to work across a variety of devices including Xbox, Hololens, and other windows enabled devices.

Magical wishfull thinking. Does it run a Linux kernel or a NT kernel? That's what MS has been desperatly trying with those obscure convergence projects and till now we have seen nothing worth remembering.

something along the lines of Bluestacks somehow without the shell of the program integrated into windows with better performance and less lag would be ideal. Having .exe programs on windows phone would allow us to do this as well

So how expensive do you think Scorpio will be?

Thanks for the input Dan. I do have a couple more thoughts. It looks like HP is putting out firmware up dates but not Alcatel. That makes me wonder if Alcatel will support their device or not. Also I think I'll wait to see if and what this hardware thing MS is doing this month. Oh and I've been a Windows Phone fan for quite a while but the last high end WP I had was a 925. 5.5" or 5.7" screen is my desired size. Thanks Dan!!!

X3 or 4S? You're better off seeking out a 930 or 950 or 950XL or heck even a 1520.

Dan Thanks for the info I am still getting over the shook that it's has been 17 to 18 months since the Microsoft 950 and 950 XL have debut. Please tell us as soon as you can When or If Microsoft will make another smart phone. Hmm it seems to me from the info about Microsoft getting 2 new patents for "Mini" Tablets the Microsoft next BIG DEVICE may be a surface "Mini" dual screenTablet / smart phone hybrid. I have seen a 7 inch Windows 10 mobile smart phone being Presented at a CES event so at least one mini Tablet smart phone has come to the market. hmm will good old Microsoft have the GUTS to bring a better one to the market place. I will buy one for sure

Thanks for that Dan, very informative. Not your fault at all but your studio seems a little echo-y and would it be possible for you to ask your sound engineer to not keep speeding up the soundtrack? :o) It woul be great if it were about 15% slower. My brain simply doesn't keep up... Great work, keep it up!