Why there's no Windows TV and will Microsoft make another Band? #AskDanWindows Ep 36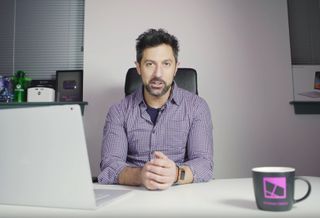 On this week's episode, we revisit the status of the Surface Connect to USB Type-C adapter, why Microsoft doesn't make Windows TV, and will Microsoft ever get back into wearables like the Microsoft Band?
Audience questions for Episode 36
Google is making Android TVs Why doesn't Microsoft make Windows 10 TV? - dharma teja1
What's the status of the Surface Connect to Type C adapter? - Anders H (Original article)
Will Microsoft ever revisit the Band idea and release an improved version of it? - FNN_TV
Thanks, everyone, for the questions! Make sure to use Twitter, email, or our forums to ask me your question for next week!
Email me!
Don't use Twitter? After much feedback, we are happy to announce you can forward your questions to AskDan@WindowsCentral.com to submit your requests!
AskDan Forums!
Hate using email? Join me on our #AskDan Forums at Windows Central! I'll occasionally jump in there to try and answer questions or take ideas for new episodes of our web series.
Ask Dan Forums at Windows Central
You can also find previous episodes of #AskDanWindows here on the main landing page.
Daniel Rubino is the Executive Editor of Windows Central, head reviewer, podcast co-host, and analyst. He has been covering Microsoft here since 2007, back when this site was called WMExperts (and later Windows Phone Central). His interests include Windows, Microsoft Surface, laptops, next-gen computing, and arguing with people on the internet.
In regards to "Windows TV" there are Windows Compute sticks available, WoA would be perfect for these devices. Hopefully we get to see MediaTek SOC support down the line for even lower price point compute sticks. This will definitely drive up W10 adoption rates, however the only kicker is UWP apps. Sigh... it's become another circular argument at this point, UWP is the key to alot of potential but... Microsoft being Microsoft... they can't help themselves but keep squandering all that talent and potential... for short term gains at this point. Unfortunately with this risk aversion strategy "we'll only be in a market if we can bring something new", is also another flawed approach. Most logical growth points are becoming overly saturated due to their absence and risk aversion. They will have to compete to stay relevant and if they do not compete well... no company is too big to fail. As the saying goes the bigger they are, the harder they fall.

WoA is no point for a compute stick which is always powered. We need performance, not battery life. i7 on a compute stick is welcome.

You are forgetting several constraints, WoA is not solely about battery life and sure it's one it's major advantages but on a compute stick which has a limited area for heat dissipation and TDP limits. You are not going to get be able squeeze an i7 processor into that form factor. a ARM SOC solves many issues, such as bluetooth, WiFi, Mobile Data connection and you are not going to get any of those on a desktop CPU or ULV cpu without the use of additional hardware. Furthermore the power draw of i7 cpu will be insane, you will need an external power supply to power it. The whole idea of a compute stick is low power (draw) W10 connectivity.

If the Xbox UI was integrated into a tv and games run from the cloud or a swappable HD, i wonder how compelling that would be

Again a nice episode. Thx.

WTH, no helmet? Protect your most valuable asset :D

It all comes down to patents. Patents have caused certain features to disappear from Windows as they are just too expensive to license. Fortunately, there are alternatives. But none are as nice as the ones we once got for "free". When an obvious feature is missing from a product that everyone else has, often it is the licensing of the patent that is preventing its use. Its not that the developers are idiots, its that they can't offer the feature due to legal reasons.

We don't need a special platform for Windows 10 on TV, we only need CShell to include a 10-Foot Experience mode and make the remote control a first class input device again. The biggest achievement of Windows XP Media Center Edition wasn't the ehShell app, 3rd parties can take care of that, it was the standardized HID remote control.
Make a launcher for UWP apps that can be navigated by remote control and Xbox controller, expose the remote control properly in UWP apps, and let 3rd party make universal radio, TV and VOD apps. Intel already includes an RC6-compatible IR receiver in their NUC devices, make the Xbox remote control work on PC and add support for it in UWP apps and we have the UWP platform for the TV.

There is already,xbox one with some small changes
Windows Central Newsletter
Get the best of Windows Central in in your inbox, every day!
Thank you for signing up to Windows Central. You will receive a verification email shortly.
There was a problem. Please refresh the page and try again.