Asphalt 8: Airborne for Windows 8.1 also has Xbox Live support in latest update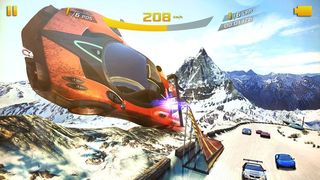 Just before Christmas, Asphalt 8: Airborne for Windows Phone got updated with Xbox Live achievements and more. Now the Windows 8.1 version of Gameloft's arcade racing game has received the same update.
In addition to Xbox Live achievements, the Windows 8.1 version includes some new cars, including the Tramontana XTR and Arrinera Hussarya, along with a new location, three new winter-themed tracks and more. It also shows that Gameloft continues to be supportive of Microsoft's Xbox Live system by updating more games to include those features that are highly requested by Windows gaming fans.
Windows Central Newsletter
Get the best of Windows Central in in your inbox, every day!
Where is windows 10 update for phone :/

Well m thinking to buy oneplus1 smartphone but in a doubt with windows phone 10

Still GRD2 update has to come then Windows 10 will come for Windows Phone

No gdr2 was cancelled..microsoft will go straight to windows 10

Really!!!! I didn't know that :-S

I'm really hoping that developer preview gets Windows 10 after Jan 21st reveal......... I'm willing to go through the Beta growing pains

My guess is consumer preview for desktop version on 21st, and phone and tablets version available after build even in April. I hope they come one go on 21st

Just get Developer Preview, then you are not shackled to your carrier for updates.

Yup I am already on Developer Preview. Actually I was thinking GRD2 will come then Windows 10

I didn't get denim, u r talking about 10, wait a little longer!

Post this junk in the forums please

Sector 8 is a killer level. Gotta love Gameloft for supporting the plattform.

How do you play the Sector 8 level? Don't see it anywhere

It is available as one of the multiplayer races in the events tab. Spoiler: Take the worm holes to finish first!

guyz.....wifi sharing,app transfer,background downloading and many more things ahead on 21st jan coming to windows OS jzt 11 days to go with a complete new U.I of windows

Post this junk in the forums please.

u copy paste their chat on the forums they wont listen to u at all.

Jup, Thanks a mil Gameloft! Keep it up... Now if I could just be able to change my username in Asphalt 8 that would be great...

Need to buy a car pack....stuck in same levels

Beating Asphalt 8 = In App Purchases
It's coming from someone who's played a lot of it...

Thank you!!! I'm glad someone agrees here. I played it the second it came out, because I loved the first game. However, you need to quit your day job to be able to get cars with out in app purchasing. The 7th game did it perfectly.

Where is 21st jan full news

Post this junk in the forums please. This is ridiculous.

How is this even relevant to this article?

I'm impressed with gameloft. I'm more so impressed that Microsoft seems to have lightened up with Xbox live issues.

Looks like either gameloft had a change of heart or MS is finally getting round to sorting out the xbl certification process (there hasn't been much in regards to the open-source framework for xbl).

Can you play this game with keyboard/gamepad?

Way yes, just plug your Xbox controller in and game recognises it when you start the game up.

Does this share save games across phone and pc?

Hey app updates aren't showing up in store on my windows 8.1 pro dell laptop, why is it happening??

Double check to make sure you are up to date with Windows updates maybe? Otherwise, uninstall and reinstall the app?

Maybe you have the store to automatic updates. This is the default setting Win 8.1

I think your right, coz first I had to update it manually but aftr some windows software update it doesn't require that

You guys are too late asphalt 8 was update 3 days ago on windows!

With CES this past week, I would expect the next 2-3 days of catch up news.

#SaveXboxWP has come full circle, baby.

One question, isn't Xbox games certification is very troublesome for developers to get pass? Why are there so many gameloft's game updated with Xbox live support? Microsoft changed their policy for Xbox windows phone games?

Can do game be played without a touchscreen?

Look at the pic guys... How amazing this games is... Lovely...!

Nice, opened it and 8 achievements popped.

Lovely game. Play it on my L920. But like someone said already, tho beat this game, it's gotta be by in-app purchases. Oh and, you'll have to quit your day job too.
Windows Central Newsletter
Thank you for signing up to Windows Central. You will receive a verification email shortly.
There was a problem. Please refresh the page and try again.