Assassin's Creed Rogue Remastered launches on Xbox One this March with Xbox One X support
Over the past few months, there have been many rumors that Assassin's Creed Rogue would be getting a remaster for current-generation consoles.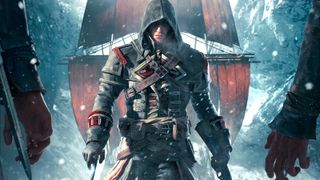 Today, Ubisoft announced that Assassin's Creed Rogue Remastered will be available on March 20, 2018, for Xbox One, Xbox One X, PlayStation 4 (PS4), and PlayStation 4 Pro (PS4 Pro). According to Ubisoft, Assassin's Creed Rogue Remastered will include all of the add-ons from the original game. The additional content is as follows.
Two bonus missions called The Armor of Sir Gunn Quest and The Siege of Fort de Sable. The Armor of Sir Gunn Quest tasks you with exploring North America to find the remains of Scottish explorer and Templar Sir James Gunn and solve the mystery of the man who may have been the first discoverer of the New World. The Siege of Fort de Sable is a bonus fort raiding mission set in an unexplored northern territory of the New World.
Master Templar and Explorer packs which contain weapons, customization items, and special outfits, including Bayek's legacy outfit from Assassin's Creed Origins.
Assassin's Creed Rogue Remastered was created by Ubisoft Sofia, the same studio that developed Assassin's Creed Rogue to begin with. The publisher states that this remaster runs at 4K on Xbox One X and PS4 Pro, and 1080p on Xbox One and PS4. It's unclear if "4K" means native 4K, checkerboarded 4K, or an upscaled solution. The remaster appears to be running at 30 FPS just like the original because Ubisoft didn't mention a boost to the frame rate. The higher resolution, improved environment rendering, visual effects, and textures should make Assassin's Creed Rogue Remastered look even better and more immersive than ever.
Assassin's Creed Rogue originally launched on Xbox 360 and PlayStation 3 back in 2014. The game takes place in North America around the 18th century. Amid the chaos and violence of the French and Indian War, Shay Patrick Cormac, a fearless young member of the Assassins Brotherhood, undergoes a dark transformation that will forever shape the future of the colonies. After a dangerous mission goes tragically wrong, Shay turns his back on the Assassins who attempt to end his life. Cast aside by those he once called brothers, Shay sets out on a mission to wipe out all who turned against him and to ultimately become the most feared Assassin hunter in history. The game takes you to a variety of locations like New York City, the Wild River Valley, and even up to the North Atlantic in pursuit of your targets.
Assassin's Creed is an action-adventure series set in open world environments throughout notable moments in history, such as the Third Crusade, the Golden Age of Pirates, and the Industrial Revolution. Initially launched in 2007, the Assassin's Creed franchise has expanded to films and comic books since then. According to Ubisoft, the series has sold over 105 million units worldwide to date.
The Xbox 360 version of Assassin's Creed Rogue is currently backward compatible so if you don't want to wait for the remaster, you can experience it right now.
Keep an eye on WindowsCentral.com/Gaming for all the latest in Xbox and Windows 10 gaming, accessories, news, and reviews!
Asher Madan handles gaming news for Windows Central. Before joining Windows Central in 2017, Asher worked for a number of different gaming outlets. He has a background in medical science and is passionate about all forms of entertainment, cooking, and antiquing.
I hope they expand upon the ww1 assassins creed they had in syndicate I really liked that

Those "Remastered" versions are cheap as hell. They just increase the resolution and that's basically all. A real Remastered Version is the Halo 1 and 2 or monkey island

This is still great because I had moved on from Xbox 360 when this game came out, pretty sure this was a 360 game and the Xbox One game was AC4? I'll be glad to get a chance to play this in it's best form

that is why remasters exist. people never got the chance or waited to play a game, and now they get the best version of it.

Those aren't remasters, those are remakes. Totally different thing. This will basically be the PC version on consoles: Additional water shader layer, better reflections, better textures, better AF, higher LOD, higher rez shadows, more particles, slightly better motion blur. It's quite a nice improvement over the last-gen version. Though too bad this is 1080p30, since even a PS4 level PC can play this at 1080p60.

Only thing I'd prefer would be if this had released for Switch, but I'll gladly buy it once it's out for my One X - Missed it the first time around so may as well get the best possible version. Would hope it'd be Native 4K with how old it is - Guess it depends on how quickly they ported it

Yes, great idea... Switch PLEASE!?! :)

Cool. The 2nd best AC, after Brotherhood, on the 360. I still play it when I'm sick in bed. I can't wait to see this remaster.

2nd best AC after 3 for me :D
Windows Central Newsletter
Get the best of Windows Central in in your inbox, every day!
Thank you for signing up to Windows Central. You will receive a verification email shortly.
There was a problem. Please refresh the page and try again.