Assassin's Creed Unity time-travels to World War 2 in its latest trailer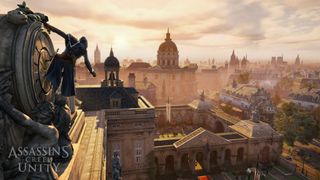 Yesterday, Assassin's Creed Unity dropped a bombshell in its newest trailer. Assassin's Creed Unity, a next-gen exclusive, takes place in Paris during the French Revolution. However, something goes wrong, and Arno ends up in 20th century Paris surrounded by the Nazi Blitzkrieg and unfamiliar technology.
In Assassin's Creed Unity, you play as Arno Dorian, who was born to an Assassin father in Versailles. After your father is killed, you are taken in by a Templar Grandmaster. Once your Templar father is killed, you join the Brotherhood of Assassin's to avenge your father's death and take down the Templar Order.
The trailer starts off with Arno running through 18th century Paris when he is warned that the French Revolution simulation is collapsing. Next thing you know, Arno finds himself in a subway tunnel face to face with an oncoming train. Then we start to get little teasers of what seems to be Arno climbing the Eiffel tower while being suppressed by machine gun fire. Then Arno exacts his revenge by taking down a warplane with a machine gun of his own.
This will the first time in the franchise that the Assassin has traveled out of his time period and into another. One interesting tidbit is that last year Ubisoft surveyed players on which time period they would like to play in a future title. Maybe this entire World War 2 segment is a result of that. Nonetheless, this has s itching to get our hands on the game even more.
The game features four-player co-op, another first for the franchise, a new emphasis on stealth, and a completely revamped fighting system. Assassin's Creed Unity launches November 11 on Xbox One.
Assassin's Creed Unity Pre-order Edition - Xbox One - 37.63 GB - $59.99 - Amazon

(opens in new tab)

- Xbox Store

(opens in new tab)

Assassin's Creed Unity Gold Edition - Xbox One - 37.63 GB - $89.99 - Xbox Store

(opens in new tab)
Get the Windows Central Newsletter
All the latest news, reviews, and guides for Windows and Xbox diehards.
Spoiler headline. Thanks. Please change it.

How are we spoiling when the devs are the one that released the trailer?

People don't read anything unless it has bold letters or is in CAPS. Welcome to the new era

I guess all the headlines should be "Read The Article"

I happily avoid Ubisoft trailers coming up to the release of the game. I don't then expect to see the game spoiled for me here on Windows Central.

I really hate how trailers now spoil the most exciting parts of the game. Imagine suddenly being in world war 2 without knowing its going to happen. That would be a wtf moment. This is why I always avoid watching trailers. But now the headline spoiled it for me. Dammit...

You spoiled it for yourself.
Whenever I read the title of a game I'm expecting on a headline, I skip it.

I have to read the headline cuz what if its a new feature that id like to see in AC like the Co-op mode?

Probably the only game that can get me to stop playing destiny

It's simple, just delete the install.

Don't know why Ubisoft have revealed this feature before launch. Seems like the surprise factor of this would be bigger than the reveal.

Evolve beta codes:
93W6V-PD649-3PRRQ-DYX62-JF43Z 93W4T-7P3HD-Y96PK-3J9F3-3WFCZ 93KPG-3K97H-93FGM-F24K6-D2VQZ 93KPF-R7HCF-D22YQ-K77RQ-CG2DZ 7GVFP-JDXHX-KXJRP-YW2PC-JX7HZ Got them via email, hope the codes are ok.

I tried it load times are crap

I couldn't get a match at all yesterday, after trying many times and waiting a good 15 minutes each.

Yeah right?! As soon as I died I went right back to sunset overdrive.

Thanks for the offer but...

please see my idea in the link below https://skydrive.live.com/redir?resid=4E4EAC1AB00F04EA!6535 then vote to this in this link http://bit.ly/1wvP8Mh thanks

Why not 100$ for game or more... Money don't smell... Era of the fucking millionaires

Jewish game idea... Second war was created for.... Business that's all

For who? Funeral Directors? The 63 million people who gave their lives so you could enjoy your freedom, may disagree

i have yet to finish the American assassins creed, AND pirates assassins creed. Im' confused about this one. Is there a future person still on an animous? Is this AI controlled person from the past fully aware of himself and is a total shock about going to the future?

Yeah, I'm normally not to critical of reviews but seeing as I really like this franchise I was wondering if they had changed the game completely and you are no longer the animus user, or perhaps the reviewer wasn't familiar wit the story line in the previous ones. I ask this because you're always travelling to another time when you get out of the animus, just not another time in the animus which is kinda neat. After watching, its clear you're in the animus (the glitching, and the breakdown of the "simulation") what's not obvious is whether you are still the first assasin i the new world which since you're supposedly living this guys' life would be interesting as he'd probably be out of his element OR you jump into a completely different assasin in that period. The WW2 thing will make me hold off on it though, turning AC into an FPS is probably not something I want to buy on day one without any gameplay reviews and video and that's from someone who has bought everything since ACII as pre-order (other than that sony hand-held, I even have the wp game).

This is awesome. I'm really looking forward to this, and I hope they put AC Rogue on XONE soon. :D

Didn't Ubi mention some time ago that they weren't interested in doing WWII because it was way too unoriginal?

next. Assassins Creed Ebola

Really...?... Not cool...

This has further piqued my interest I must say

Why did Ubisoft released the surprise soon before its launch.Waiting for it.

Did anyone see minimum requirement for this game?(GTX 680) I don't know what UBISOFT is trying to prove here, very disappointed :(

Ubisoft is designing the game for next gen gamers. Sadly we can only watch somebody's gameplay in youtube. lol..

Lol.. Couldn't agree more... Guess they totally skipped the optimizing part of developing a game :(

Weird, for me the requirement is an AMD APU with a Radeon HD 7790 equivalent. :p

Agree with some others, why do games spoil these surprises themselves? Anyway, back go oooverdrive bitches, got to get me some amps!

Amazing! I would've taken away if i came to know about the WW stuffs in the middle of the game. Anyway, it's cool though..

W8/WP8 version please ...