ASUS announces its newest Transformer Book, launching on Windows 10
At its Computex 2015 showcase, ASUS has unveiled one of its first products to launch with Windows 10 pre-installed. Say hello to the Transformer Book T100HA.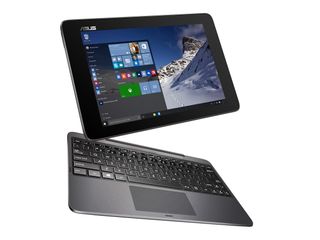 Physically it's what we've come to expect from an ASUS Transformer Book device. The main part of it is a Windows tablet, offered with a keyboard dock to transform it into a more laptop like experience.
Internally the T100HA will have a quad-croe Intel Atom Cherry Trail X5 CPU, 4GB of RAM and a USB-C port. It'll be available sometime in Q3 2015 and as we've already noted, it will come to market with Windows 10.
We'll be taking a closer look at it soon, so stay tuned for that.
Windows Central Newsletter
Get the best of Windows Central in your inbox, every day!
Managing Editor - Tech, Reviews
Richard Devine is a Managing Editor at Windows Central with over a decade of experience. A former Project Manager and long-term tech addict, he joined Mobile Nations in 2011 and has been found on Android Central and iMore as well as Windows Central. Currently, you'll find him steering the site's coverage of all manner of PC hardware and reviews. Find him on Mastodon at mstdn.social/@richdevine
I like it that they used a mock up of Windows 10 there, compared to Lenovo who put a Windows 8 screenshot for their new device announced to come w Windows 10. Looks good on that Asus! :-)

The demo area device is running Windows 10. So stay tuned!

Is, is it running the RTM version??

Windows 10 is still very much a work in progress and has not yet reached RTM. I imagine that we will see that milestone reached within the next 8 to 10 weeks.

Well windows 10 suppost to come out in 8 weeks time, so i think in these 8 week, insider will reicive loads of updates

I installed build 10130 on my Dell Venue 8 Pro, and am seriously impressed. The Tech Preview, while still buggy in a few places, is finally built for tablets, and it's pretty awesome. I can't wait to see how they tweak it up to release.

How much space did you need to install W10TP? I've got 4GB of free space on my T100...and am tempted to install Windows 10. But I'm just wondering whether I need more free space? Any ideas?

That should be more than enough. You need about 2.5 GB free to do the install.

Wow...I was expecting it to be a much bigger download. Kind of tempted to jump in now - but I reckon it probably makes sense to hang on for a couple of months so MS can get the bugs squashed!

Nice! Hopefully you get to see what build it is running. Let us know how it runs. Thanks Richard!

Let the floodgates open! Patiently waiting for Lenovo Yoga 4 Pro

Addition of a stylus would be pretty nifty. But, oh well.

I was thinking the same thing....

I'm surprised at how old this thread got beore someone started with the stylus thing.

14 hours tablet or docked?

Likely docked. We'll soon find out.

If they stick with the same formula as the older T100, that is 14 hours docked or not. The keyboard probably will not have an additional battery in it. My T100 gets outstanding battery life and this one should be better considering the advances in technology since then.

Great question! I would pay what I paid for the T100 Chi but no more.

Are computers going to be cheaper now, when windows 10 is free? Or is it free for the computer companies?

For OEMs, It's only free on 9 inch and below devices

Windows 10 still costs money for businesses and OEMs. It also costs money for those wanting to get a new license for building a computer. The only free upgrade is for consumers who already own 7 or 8.

I wish Asus paid little more attention to their older devices. For example, LiveUpdate service for VivoTab Smart is broken and won't even connect to server anymore. It hasn't seen new drivers in ages, not to mention that it still sits at "Windows 8" on their webpage, so nonfunctional LiveUpdate is the least of my worries. Wifi has been unreliable from the start; every time the tablet wakes up it loses internet access... Anyway, I thought Asus didn't believe in WIndows 10? Or was it just Windows 10 Mobile? ;)

This. I'm going to try out W10 on my Vivotab and if it is still this "slow" I will be going for a Surface. The wifi truly sucks, as streaming services and HD YouTube lags.

I've given up on installing Windows 10 TP on it. I tried twice and it was HORRIBLE. Took me two days to revert back to 8.1 because the stupid recovery partition is on Win8, of course, which means downloading tons of updates before 8.1. Anyway, I just hope the RTM build won't be as useless as this on VivoTab. :(

I'm running 10130 fine on my VivoTab M18C.

I've decided to give it a go once more, I'm updating to 10130 as I type. :) Everyone's telling me 10130 is much smoother. Fingers crossed.

I think the unreliable wifi is a common issue among all the tablets that came out around that time that came with the crappy Broadcom wifi chip.

Probably. Because my tablet is doing it since day one. Windows 8, 8.1 and 10 alike, every router out there, even mobile hotspots. It's annoying as hell, but you learn to live with it. Unfortunately it's impossible to get a Surface in Croatia (near impossible, it costs A LOT to have it delivered here).

I've been waiting for a company to improve upon my brilliant little T100. This is the first device that looks to have done that.
USB-C, 4GB RAM, 14 hrs battery life & hopefully a pokey little processor. Sounds pretty perfect to me

I was hoping to see 3:2 aspect ratio on all the Cherry Trail tablets. I'm holding out hope for the Dell Venue refresh.

Holding out hope is fine; just don't hold your breath. I'm with you, though. At a minimum I'd like to see the 8" move to a 1920x1200 display.

My little t100 has a broken screen and the battery can be meh. Care to support a broke soul and upgrade his hardware?

I find the battery to be pretty exceptional (though only after I'd replaced Windows Defender with Avast. Defender kept jumping to 50-70% CPU in the background...which nailed the battery).
The screen feels pretty weak - but hundreds of miles of cycle tours and general travel hasn't broken the screen yet :). Hopefully this latest version has Gorilla Glass. Would have liked a 1080p screen for app snapping - but otherwise, it all seems pretty damn good.

I have a T-100 as well, and it's a great little machine. I've moved on to a Surface 3 as my daily driver, but there are times I miss the little Asus...so small and light.

I've often considered upgrading to a SP3, but it just doesn't suit my needs (more power than I need, not enough battery life, and also expensive to the point I'd worry about taking it on my cycle tours).
I was hoping the Surface 3 would be the perfect choice - but here in the UK it is far too expensive...and doesn't include the keyboard or the pen.
Shame this new T100 doesn't have pen support - but aside from that, I think it looks great.

Still really happy with my T100TA. But really looking foreward to this one

Windows 10 ?? Wow that's cool which version of windows 10 is it running

Windows 10 ?? Wow that's cool which version of windows 10 is it running.

4gb ram on the entry version? would be great if the price is like the old model

I don't believe that 14 hours battery life claim even for a second. My T200TA is supposed to have more than 10 hours of battery life yet I barely ever get more than 5-6 hours out of it. Leaving it in standby over night drains the battery by roughly 35-40%, which is absolutely ridiculous. Thus, in reality these 14 hours will be more like 7 hours (or two days of sleep plus one hour of usage, or in PR speak "up to 49 hours of mixed usage") and nothing to brag about. We should also be able to run Windows 10 on the old T100 and T200 series by the way.

You want to look into Hibernating rather than Sleeping ;-)

I really REALLY don't want to look into hibernating. Wakeup is way too long compared to sleep, which is instantenous. Quite frankly I'd ditch this device before I was forced to return to hibernating instead of sleeping... it's 2015 after all, not 2005 anymore

Well, it depends on your storage, but I typically find coming out of hibernate takes less than 2 seconds across all my devices. For me, that's a good trade for the battery life to be the same as before it hibernated.
It's 2015 after all, and storage speeds make hibernate a decent alternative to sleep.

The T100 was similarly dogged by battery issues. Firmware updates and switching to Avast instead of Defender has me getting around 8 hours on a regular basis....and 9+ if I am doing lightweight stuff.

If I know Asus well, with 4GB RAM, Cherry Trail and USB C, this will top 499 dollars ! And thats a tad expensive for a 10 inch tab, Win 10 or not. But still a welcome refresh to the now senile T100 Looking forward to refreshes for the T200 and T300 too. And as above somebody said, its kinda silly to claim 14 hours of backup with the dock battery. A realistic figure is about 4-5 hours for the tab, and another 3-4 with the dock battery.

its rumord to start at 299


My battery gets 8 hours on a charge doing medium tasks. You can fix the standby draining issues.

The old T100 only has a battery in the tablet. So if they follow the same design, it'll be 14 hours regardless of the setup you are using.

An Indian company recently launched a Bay Trail 10 inch Win 8.1 tab cum dock with sim slot for about 238 USD. Perfect device, so thats the kinda pricing you are looking at to be competitive here. And its getting Win 10 very soon too With Cherry Trail and Win 10, 10 inch tab should come at no more that 300 USD to be competitive here. And for god sake, stop making 32 GB machines, minimum 64 gb should be the norm !!

Not all devices are born equal.
I bought a Linx 10 which has similar specs to the T100 when used with its keyboard dock.
However, its battery life was half that of the T100 - and the keyboard was woeful! Asus know what they are doing with these things - and personally, I'm happy to pay a premium for the extra capabilities.
(Also, Cherry Trail is a fair step up from Bay Trail, and USB C is a big step up too).

I'll see it when I believe it. They promised the Chi series since last year and they didn't launch it until around May of this year.

I always liked the concept of the Transformer Book, but I could never reconcile the poor screen resolution. If they step that up a bit, I would think about buying one this time around.

Looks nice. I hope Dell releases a updated version of the Dell Venue 11 Pro with these new features and a better mobile keyboard design. The current mobile keyboard has major design flaws when docked to the tablet. Pogo pins suck!