ASUS ROG Zephyrus GX501 hands-on: GTX 1080 and ludicrously thin
ASUS's Republic of Gamers brand kicked off its Computex 2017 presence with a new sleek, skinny laptop that still packs a ton of processing power.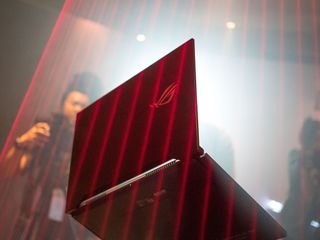 There's something to be said for a gaming laptop that doesn't look like a bunch of Christmas lights draped over a Cylon mothership. While some "gamer" notebooks are big, chunky, angular beasts illuminated with gratuitous colored accents, ASUS's ROG brand has taken a different approach with its new top-tier portable rig.
The ROG Zephyrus GX501 comes loaded with a NVIDIA GeForce GTX 1080 GPU, seventh-generation Intel Core i7 processors (up to 7700HQ) and up to 24GB of RAM. That means the GX501 is powerful enough to handle VR — which was demonstrated by ROG reps at today's launch event in Taipei — while making short work of any demanding gaming or content creation workloads.
Despite a few flairs of color and a backlit keyboard, the design is actually relatively subdued. A tasteful brushed metal pattern decorates the lid. And on the inside, there's an unconventional keyboard layout that helps with cooling, as part of ASUS's Active Aerodynamic System (AAS). As a result, ASUS manages to tame the GTX 1080 even in a shockingly thin chassis.
It's classy, not gaudy, with just the right balance of thicker, angled areas, fan vents tastefully hidden in the hinge and outer edges of the chassis. The profile of the Zephyrus is, at first glance, more along the lines of an Ultrabook than a serious gaming notebook. This machine doesn't look like it's going to weigh you down, nor does it feel bulky or unmanageable when you pick it up.
Image 1 of 5
Because of those svelte proportions, there's no need to build out giant intake fans, or distract from the machine's size with Tranformer-esque armored protrusions. The chassis seems to have been designed with fine attention to detail, and a laser-like focus on avoiding any unnecessary bulk.
So what else do you get inside this compact gaming rig, besides the dream combo of i7 and 1080? There's a 15.6-inch NVIDIA G-Sync display that boasts a 120Hz refresh rate to keep up with the blistering pace of modern games. It's not a 4K panel, but the target market probably won't mind too much. If you're looking at a machine like this, chances are you'll want to play at 1080p anyway, and enjoy higher frame rates. Expansion to external monitors can be quick and painless with DisplayPort over USB-C alongside HDMI 2.0, and the GX501 seems to have all of the important bases covered on the connectivity front, with four USB 3.1 ports, Thunderbolt 3 over USB Type C.
Image 1 of 2
As one might expect from a high-tier gaming laptop, the keyboard is full of LED backlighting, which is fully configurable. And ROG says its anti-ghosting tech can recognize inputs even if 30 keys are pressed at once. (So if you end up planting your face into your desk after a particularly humiliating defeat, the Zephyrus will capture each keystroke accurately.) Off to the right of the keyboard, there's a touchpad that doubles as a number pad, letting you take advantage of the full width of the machine's footprint.
Combined with the unique ventilation area between the keyboard and the display, it's this keyboard layout that tells you at first glance: "This is something different."
The icing on the cake is that all of that is available in under 17.9 mm of thickness and 2.24 kg of weight. That's a staggering amount of performance in a very compact space —a rarity at present, but something that's set to become more common thanks to NVIDIA's Max-Q initiative. The future of gaming laptops is here, and it actually looks ... not ridiculous.
There's no word on pricing or availability for the ASUS ROG Zephyrus just yet, but a launch later in 2017 with a hefty price tag is a good bet. We'll be saving our pennies.
Windows Central Newsletter
Get the best of Windows Central in in your inbox, every day!
Now, the gaming laptop invades normal space. Let's see if everything goes ultrabooks.

they dont get it... users dont need extra thin design for a gaming laptop... they need good cooling, best possible performance and a good looking design... now when I look at this Asus, all I can say is this: its ugly

I think it's the other way around. To give ultrabook users a nice performance that allows them to play.

At least someone here gets it; When I am buying a gaming laptop size is the last thing on the list of what I look at; the first is performance closely folowed by cooling. If the cooling sucks the performance is heavily impacted as well, and there is no way this thin thing has the same level and efficiency of cooling as something double or triple its size. For all of you who think this is great for a gaming laptop, you probably never owned one, and don't know a thing about cooling vs performance tradeoffs.

eh. i'm willing to give it a chance. technology can do amazing things. heating is clearly a concern, but there's a reason fanless devices are always thin. Thin is much easier to cool. So, if its thin with active cooling, its not as dire as you may expect. don't get me wrong, i'm not guaranteeing that this won't have heating issues without more info, but i'm willing to consider that technology can advance and something like this can be a game changer. i mean, considering how this looks, its clear something different is being done with cooling. just looking at the the technology sector, i'm entirely convinced the cooling power needed for that rig *can* fit in that form-factor. the only thing i'm not convinced about is its cost-effectiveness. To me, price is a bigger risk than heat on this thing.

I mean, the Razer Blade Pro is pretty thin without this NVIDIA Max-Q stuff. And sure it's not quite on par with a comparably spec'd desktop but it still blows the living bajeezus out of most other current gaming laptops.

If you compare the temperatures of the Razer Blade with something like the Alienware 17, they don't even come close to the low heat of the Alienware. Which perfectly shows the compromise of having athin device with inferior cooling vs a bigger heavier laptop with proper cooling. But judging by the comments here and on plenty of other similar articles there are quite a few people who don't really mind the inferior cooling power.

As long as there's no meltdown and no serious throttling, why are you people even complaining? Why do I care if my gaming laptop is at 60 or 80 deg C at full load, as long as both work well? I certainly haven't during these four years with my current gaming laptop (which gets very toasty but still works well, albeit with tuned back graphics settings for modern titles). I'll take a few degrees more for a more svelte chassis that I can actually take anywhere without a suit case. Besides, if I want real cooling, I'll just build a gaming rig. No need to buy something I won't want to lug around anyway, aka. the gaming laptops you're talking about.

Well as a gamer you should keep up with tech and Max-Q. The idea is you won't notice performance issues as it uses tech to keep your gaming session great and the laptop cool. It also requires less power. Less power = less heat.

Horses for courses. I'm sure they won't stop making larger, better cooling devices. I'd like an ultra-powerful laptop that doesn't look out of place in a business meeting. Slim, good build quality, understated design and reasonable battery life are the things that kept me away from gaming laptops. If this matches the power of a quad-core CPU, GTX 1080 and lots of RAM with a slim design that I can use for business it is of great interest to me.

Also given I want to attend grad school in a year or so, having a number pad for my purposes is very important. The innovation of bundling the number pad WITH the touchpad is amazing, and quite frankly, something I really look forward to. I just hope I can afford it >.

You mean you don't want that? If other gamers didn't then they wouldn't keep making these now would they? But they must sell enough to keep doing it. What you describe is a PC, you should try it. I would prefer to be able to have a smaller lightweight laptop so I can play on the subway or on a flight and not worry about this massive thing creating massive noise with 300 fans. It's not portable gaming if I'm bringing a super heavy space craft with me.

now, you can cook eggs and breads while you plan games in the morning! LOL

This definitely is going to make the hassle of carrying chunky Beasts go away..
Windows Central Newsletter
Thank you for signing up to Windows Central. You will receive a verification email shortly.
There was a problem. Please refresh the page and try again.