ASUS ROG Zephyrus GX501 hands-on: GTX 1080 and ludicrously thin
ASUS's Republic of Gamers brand kicked off its Computex 2017 presence with a new sleek, skinny laptop that still packs a ton of processing power.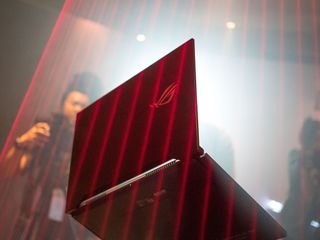 There's something to be said for a gaming laptop that doesn't look like a bunch of Christmas lights draped over a Cylon mothership. While some "gamer" notebooks are big, chunky, angular beasts illuminated with gratuitous colored accents, ASUS's ROG brand has taken a different approach with its new top-tier portable rig.
The ROG Zephyrus GX501 comes loaded with a NVIDIA GeForce GTX 1080 GPU, seventh-generation Intel Core i7 processors (up to 7700HQ) and up to 24GB of RAM. That means the GX501 is powerful enough to handle VR — which was demonstrated by ROG reps at today's launch event in Taipei — while making short work of any demanding gaming or content creation workloads.
Despite a few flairs of color and a backlit keyboard, the design is actually relatively subdued. A tasteful brushed metal pattern decorates the lid. And on the inside, there's an unconventional keyboard layout that helps with cooling, as part of ASUS's Active Aerodynamic System (AAS). As a result, ASUS manages to tame the GTX 1080 even in a shockingly thin chassis.
It's classy, not gaudy, with just the right balance of thicker, angled areas, fan vents tastefully hidden in the hinge and outer edges of the chassis. The profile of the Zephyrus is, at first glance, more along the lines of an Ultrabook than a serious gaming notebook. This machine doesn't look like it's going to weigh you down, nor does it feel bulky or unmanageable when you pick it up.
Image 1 of 5
Because of those svelte proportions, there's no need to build out giant intake fans, or distract from the machine's size with Tranformer-esque armored protrusions. The chassis seems to have been designed with fine attention to detail, and a laser-like focus on avoiding any unnecessary bulk.
So what else do you get inside this compact gaming rig, besides the dream combo of i7 and 1080? There's a 15.6-inch NVIDIA G-Sync display that boasts a 120Hz refresh rate to keep up with the blistering pace of modern games. It's not a 4K panel, but the target market probably won't mind too much. If you're looking at a machine like this, chances are you'll want to play at 1080p anyway, and enjoy higher frame rates. Expansion to external monitors can be quick and painless with DisplayPort over USB-C alongside HDMI 2.0, and the GX501 seems to have all of the important bases covered on the connectivity front, with four USB 3.1 ports, Thunderbolt 3 over USB Type C.
Image 1 of 2
As one might expect from a high-tier gaming laptop, the keyboard is full of LED backlighting, which is fully configurable. And ROG says its anti-ghosting tech can recognize inputs even if 30 keys are pressed at once. (So if you end up planting your face into your desk after a particularly humiliating defeat, the Zephyrus will capture each keystroke accurately.) Off to the right of the keyboard, there's a touchpad that doubles as a number pad, letting you take advantage of the full width of the machine's footprint.
Combined with the unique ventilation area between the keyboard and the display, it's this keyboard layout that tells you at first glance: "This is something different."
The icing on the cake is that all of that is available in under 17.9 mm of thickness and 2.24 kg of weight. That's a staggering amount of performance in a very compact space —a rarity at present, but something that's set to become more common thanks to NVIDIA's Max-Q initiative. The future of gaming laptops is here, and it actually looks ... not ridiculous.
There's no word on pricing or availability for the ASUS ROG Zephyrus just yet, but a launch later in 2017 with a hefty price tag is a good bet. We'll be saving our pennies.