AT&T Locker, Cloud Storage for Windows Phone 8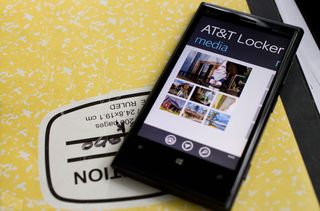 AT&T has released the AT&T Locker for their Windows Phone 8 devices. It is a cloud service for U.S. based AT&T customers that provides 5GB of cloud storage for free.
You can upload photos, videos, documents and music files to the AT&T Locker over Wi-Fi or AT&T's wireless network. The app comes with an Easy Upload feature that backs up your photos and videos automatically and images can be shared via email, Facebook or Twitter directly from the AT&T Locker.
Signing up for the AT&T Locker is a little cumbersome and it's best you go to http://locker.att.net to sign up. You'll have to enter an email address, a AT&T Access ID (just use your email address), create a password and enter a security code/enter the jumble up group of letters. Once you get a confirmation email, you're in business. Just download the AT&T Locker app from your AT&T Windows Phone 8 device, sign in and you can start backing up your files.
Navigation is fairly straight forward with pages dedicated to pictures, music and files. You also have a More Page where you can access your settings, set up your social networks for sharing, view the help page, and more. If you opt out of the Easy Upload feature, just tap the cloud button at the bottom of the screen to choose the files you want to upload.
QUICK TIP: Again, AT&T Locker provides you with 5GB of cloud storage for free. You can buy additional storage space but for a limited time you can get the 50GB upgrade for FREE. Just go to the More Page in the app, choose settings and My Plan. You should see two options, the 5GB plan and the 50GB plan. The 50GB plan should be marked free. Tap the plan, back out of the settings and you'll get a pop-up window to confirm you're plan change.
The AT&T Locker is a nice feature if you need a little more storage space than what SkyDrive provides. Keep in mind it's only available for AT&T Windows Phone 8 devices and you can download the AT&T Locker here through the ATT collection (opens in new tab) of the Windows Phone Store.
Oh... and the existence of the AT&T Locker leads a little more credibility to the leaked image of the Lumia 1020 we saw yesterday. If you look at the bottom row of tiles, the AT&T Locker tile is at the bottom right of the Lumia 1020's Start Screen.
Thanks, cesar, for the tip!
Windows Central Newsletter
Get the best of Windows Central in your inbox, every day!
George is the Reviews Editor at Windows Central, concentrating on Windows 10 PC and Mobile apps. He's been a supporter of the platform since the days of Windows CE and uses his current Windows 10 Mobile phone daily to keep up with life and enjoy a game during down time.
First.
And Verizon needs this, because my 7 gigs of Skydrive were filled long ago.

Stop it. Calling first only makes you an idiot. Are you an idiot? I hope not...

I have 25gb never paid a dime was that a promotion are something

Yes, it was free for a time.

You also could click the manage storage button on SkyDrive and for $10 purchase an additional 20GB of space.

I'll take it, 25GB Skydrive, 22GB Dropbox. Can always use more storage.

What's the upload file size limit? Cause it doesn't do a damn bit of good if its extremely low like box at 250mb for the free version.

Yupp. Box was too good to be true. I only use it for pics, and leave Skydrive for files and video.

Are there limits on the size and type of file I can store in my AT&T Locker? There are no current limits on the size or type of file you can store in AT&T Locker as long as you don't exceed your total storage space. 5GB of storage space is provided for free, but if you need more than 5GB of storage, it's easy to add more. Just go to Account > My Plan & Billing > Upgrade This is on there own site from att. So this is a huge plus to me now.

Where the heck is Datasense?

The download link appears to be broke in the wpcentral app.

looking into it... not sure as to the why.

Wow soon the cloud will be as messy as using a hard drive. Now where did I store that, SkyDrive, ATT, Box, DropBox, Gdrive?

Yeah, I'm already running into that problem

MS should take this into consideration and allow apps like photos documents to allow you to add other online storage services to the mix. Right now they're all about supporting skydrive but it shouldn't take much to allow you to add a dropbox account in the OS somewhere like we do with email and allow WP to grab all that like it does with SkyDrive.

Yeah, which is why I always tell people to pick one. Age old problem though... been fighting it for years.

Yeah, that's why I stick to Skydrive and DropBox. I got 50 GB of free Dropbox through Samsung promotion for all my photos and Skydrive with around 50 GB for everything else. Makes it easy to remember.

This seems redundant considering SkyDrive is cross-platform and offers more space with expansion options. Maybe if they had done this a long time ago or if there were no other options it would make sense.

Actually, I stand corrected, because I overlooked the free 50GB offer. That makes it pretty interesting, especially as a promo for the Lumia 1020. Only caveat now are AT&T's limited data plans.

Thanks George, I'll go ahead and do this and get that 50gb. Don't need it now, but never hurts to have that around :) appreciate it.

Wonder if this will screw with the "other" storage like SkyDrive supposedly does.

Yeah, I totally expect this service and app to be maintained.

More free cloud storage is never a bad thing.

This is true only for people not concerned with privacy and security and those of you that were concerned, but have given in.

Well, considering that all of the governments of the world are already spying on us, we don't have any privacy or security anyway.

I'll put you two dudes in the "given in" column.

Dropbox (50gb) + Skydrive (25gb) :D

This could be pretty awesome. Signup through the app couldn't have been easier and it looks pretty nice. Auto upload ability just like SkyDrive. Free 50 GB! Wow.

This won't download on my Ativ s

Won't dl to my 920 in us. Says not available for my device. Yet it download ok on my 620

Nm worked. Had to out un my sim. The device must be on the att network to work.

Mine is on the AT&T network, but I still get the message. EDIT: Eventually it worked.

Is the 50GB free just for the first 90 days, year, forever?

It appears to be a beta with At&t, I suspect the 50gb to be grandfathered in once the app is out of beta.

It's telling me that my AT&T HTC 8X is not compatible. What gives??

Can't sign in on the app. I signed up on my desktop, verified my email address and downloaded the app on my 920. But the app won't let me sign in. Any way to get that 50GB through the web portal?

I noticed you have to type your pswd in to login. I was trying to paste mine in and it wouldn't let me login using that method.

Thanks WP Central for the heads up snagged my 50 GB of free cloud storage. Up loading photos and music right now!!

I signed up, and changed to the free 50Gig all on the web. I don't have an eligible upgrade to WP8 but, its there when I am.

Anybody else having issue with accessing My Plan? I'm getting Error occurred, try again later.' Everything else is working just fine.

So is this App only for Nokia devices or what?

Having problems signing up. Tried in the app and online. Anyone else having issues?

Um, isn't odd that locker.att.net doesn't support IE10 on WP8?

So I'm the only one not able to get this App on his AT&T Windows Phone?

I can't get it either im about to try rekers proxy hack to trick the store into thinking I'm a Nokia

Got it. Does anyone know if the 50GB is permanent like the 25GB on SkyDrive? That would be sweet. BTW, the SkyDrive 25GB deal was great and the 7GB is still not bad especially with the phone integration. If you have Office 365 which for $10/month or $100/yr gives you an extra 20GB on SkyDrive plus Office on five computers and then on top of that mobile devices AND the web. We are seriously complaining?

Can you use SkyDrive and SkyDrive Pro on the same computer?

Ha. So 25GB of SkyDrive space, 15GB of Dropbox space, and now 50GB of AT&TLocker space. Who needs the 32GB local storage on the Lumia 920, anyway?

Just downloaded app, signed up, and upgraded to 50GB for free. Thanks for the tip, George! Now I have 50GB with At&t, 50 w/ Box I got when I had the touchpad, 25 w/ Skydrive and I think only 2 w/ dropbox. Plenty of options. I may just use AT&T for music alone.