AT&T Lumia 1020 starts showing up in affiliate stores for demo usage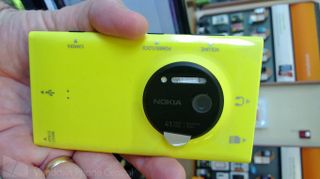 With just about one week left before you can walk into your local store, AT&T and its affiliates are starting to take stock of the Nokia Lumia 1020 as can be seen above (and the video below).
The fact that even affiliate stores (basically authorized resellers that associate with the carrier) are taking stock of the phone this early shows that Nokia has learned a few lessons since the Lumia 920 launch: announce and ship within two weeks, have enough stock in the colors available to keep people happy.
That latter one still needs to be testing, but if affiliate stores are already receiving shipments of the 41MP monster, then we can be sure that Microsoft Stores and AT&T posts should have enough on hand, otherwise they would have restricted the channels.
The Nokia Lumia 1020 features a 41MP PureView camera, optical image stabilization (OIS) and a BSI sensor for low light photos. In addition, the device has switched out from the 920's LCD for AMOLED and adds a Xenon flash. The phone will be on sale at AT&T, Best Buy, Microsoft Stores and AT&T resellers starting Friday, July 26th. Pricing is $299 on a 2 year contract or $659 off-contract.
Edit: Clarification as stores have yet to receive shipments for sale but rather are getting in-store devices for managers and testing pre-launch.
Windows Central Newsletter
Get the best of Windows Central in your inbox, every day!
Daniel Rubino is the Editor-in-chief of Windows Central, head reviewer, podcast co-host, and analyst. He has been covering Microsoft since 2007 when this site was called WMExperts (and later Windows Phone Central). His interests include Windows, laptops, next-gen computing, and for some reason, watches. Before all this tech stuff, he worked on a Ph.D. in linguistics, watched people sleep (for medical purposes!), and ran the projectors at movie theaters because it was fun.
I really want one in Red❕.. Because I ♥ WP❕

Have u checked out at&t stores to see if its there yet?

I would buy this phone in a heartbeat but AT$T is just too e$$pensive and no ulimited data makes it less attractive.

You don't need unlimited data...You're probably on WiFi at home and maybe even at work...My At&t plan (920) is less than my former T-Mobile plan and the service far exceeds it...I only use about 400mb of data per month and I'm on my phone a lot....I used to think I needed unlimited but that's what these carriers want you to think...Switch and don't look back

Well i dont have internet at home ( sadly ) so thats why i need unlimited data. Still, i want this phone so badly but my carrier in Puerto Rico ( Open Mobile ) its CDMA based so im out of luck :(

I thought that myself, but I use about 11 gigs a month and then some. I used to have unlimited on Sprint, but they suck with coverage and nice Windows Phones, so I've been on ATT since getting my L920. I literally almost pay $300 a month for service ($130/6Gb with ATT and about another $130 for my Verizon MiFi at 5Gb). I'm on the road a ton and hardly ever home, so no WiFi access for me.

Getting an obsession for this camera... I mean phone

I feel as though with Nokia's stocking strategy they keep testing the waters. I agree that the stocking lesson should be tested.

Does anyone knows when it will arrive to Portugal (officially) ?

Se for como geralmente acontece Portugal será o ultimo pais da Europa a ter o lumia 1020. Em outras palavras com sorte daqui a um mês e meio. Faz como eu e manda vir uma versão desbloqueada dos estados unidos ou da inglaterra.

Dos Estados Unidos pode correr-se o risco de ficar "preso" na alfândega... Eu não vou mandar vir para mim pois comprei recentemente um Lumia 920, mas podia ser que alguém soubesse e dessa forma lançava a notícia no meu blog ;)

It sure does, but we want the 1020 in red!!!

Hey! You actually forgot your "3D" exclamation marks! Lol!

Wow! That's answers the question of whether or not they are launching in affiliates simultaneously! Can't wait to get my hands on one!

I got my pre ordered. We were at lunch yesterday and happen to be close to a at&t store. Walked in hoping so see one but they didn't have any to show. The lady I spoke to sounded very excited though , she said she was taking some online at&t class about the phone. She said she was excited to actually be able to play with on later this week. That's was good to hear. I hope the 1020 kicks sales @$$.

I'd gladly pay the full price but it'd be a waste of money as the cost for the data plan doesn't decrease. Long story short: not getting one. Thanks AT&T!

I can upgrade in August if I want too but I think I'm gonna wait, really want a bigger Lumia I don't mind how much it weighs as long as it has 5 inch + fhd display wireless charging and a soc 800 I'll be very happy even if they can only put in 20mp camera module.

Damn I want this phone, but I'm on T- Mobile and don't know if it'll work on there network. LTE and 4g that is. Though I picked up the 925 yesterday and its a awesome phone, but that 1020 is king. Lol.....

I have an upgrade but I just got a free 920... Decisions decisions.

Now if only somebody can take the same pic with a 920 and 1020 so we can see if its a huge step up.

Increased stock better not backfire! AT&T you better do a good job selling it, especially after Elop put himself on the line for you in front of your CEO.

Indeed. That was one classy response from Elop!

I gotta agree.

I've really liked the vibe that Elop gives off as a CEO. He's a smooth operator, even when he knows he has to stick to constrained responses to certain questions.

Can you provide a link, i live passion from anybody affiliated with my phone! :D

It was also a true response. It is good that he understands this and doesn't sit around whining.

I hope that means the preorders will ship sooner than July 23rd.

How can you get one of these working on Verizon?

you have to be patient and wait for it.

This actually has a wrist strap!?!?! Holy hell, I want this thing even more. Why did a lot of smart phones remove the wrist straps anyway? Well, at least from what I saw with the HD7, 920, and iPhone.

I agree, the wrist strap is suddenly one of the most important features for me now that I see this supposedly has one! I hated that smartphones dont have it any more (and it includes a lot more then what you mentioned). I checked the comments just to see if anyone else noticed that little bit of the picture :)
Wrist Strap FTW! (Hopefully it's not just a left over from a "default" plastic coating where someone forgot to remove the label)

It has a wrist strap. You can see where it attaches is this photo (the two holes on the bottom left of the phone)
http://i.nokia.com/r/image/view/-/2722758/highRes/3/-/NUSA-Lumia1020-PP-Section-Images-1500x1500-03-jpg.jpg

Also on Nokia's website it lists a wrist strap as included in the box (from the What's in the Box section http://www.nokia.com/us-en/phones/phone/lumia1020/specifications/):
Sales Package: Nokia Lumia 1020, Nokia Charging and Data Cable (CA-190CD), Nokia Wrist Strap Black, SIM Door Key

Photo showing the wrist strap attached: http://cdn2.ubergizmo.com/wp-content/uploads/2013/07/Nokia-Lumia-1020-hands-on-review-1-640x424.jpg

I blame Apple and its customers for removing many useful features that were once standard on phones for the sake of making it look prettier to women and wimpy guys.

I must say, I was not a initially a fan of the way this phone looked. Now though, I have had quite a change of heart. I want to hold this thing in my hands more than a new-born baby. I'm going to see if they have it at my local AT&T store today (I love having friends with connections)!

Will have mine next Friday at launch thanks to the NEXT program.

Why are you in the NEXT program???? You're paying twice for the same phone and being screwed over.

Are you currently eligible for an upgrade? From what I have read and also from what an AT&T associate told me at my local AT&T store you still have to be upgrade eligible to sign up for the NEXT program. So if you are still under contract then you are not eligible for it.

I sees the ring in that photos. My precious...he STOLES IT!

I just finished watching the hobbit so this made me giggle alot more than it should have lol

Alredy orders mine in white :)

Can't wait to get this in my hands! Glad I preordered so early. Photography is a big thing to me, and I have a trip 2 days after I'll have this in my hand. Going to be a great test as I will bring an emergency backup camera, but will be using this 100% of the time.

Already pre ordered my black unlocked one from Negri but really liking the yellow one

I am interested in buying one of these, but not before i see an in depth review on the phone... Cmon guys - get the official review up :) Hopefully this camera is all its advertised to be - i'm concerned about the disk space on the phone though.

Where are all the in depth reviews? Did Nokia set embargo until devices are availabe for sale?


Reviews take time, the phone was only announced a week ago and I doubt there is many to go around for reviews right now..


Awesome Phone. AT&T nahhh. You can keep it I pass

Getting more tempted by the minute!!!!!! Resist lubba, resist!

Preordering mine as soon as I get up tomorrow! Unfortunately I had to wait for my paycheck before I could preorder. Just hope mine ships on the 23rd still.

Almost have my girlfriend convinced to get a 1020 as her first smartphone (she likes the photos on my 920), but the $299 price on contract is just too steep. If she ends up getting a new phone at all, unfortunately it will probably not be a 1020.