AT&T Lumia 830 with Fitbit Flex is now available for free on-contract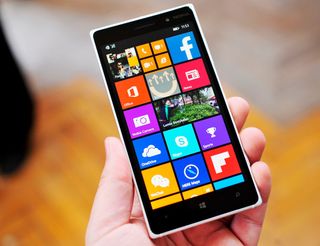 The AT&T Lumia 830 bundle – which includes a Fitbit Flex activity tracker – is now free with a new two-year contract on the Microsoft Store. If you're looking to purchase the bundle outright, you can do so for just $399, which is great value considering the Fitbit Flex in itself retails for $90.
It looks like the deal is not limited to the Microsoft Store, as Amazon has also slashed (opens in new tab) its on-contract pricing for AT&T's Lumia 830 bundle to $0.01. Head to the links below to grab the device from your retailer of choice.
Thanks for the tip Oldboy!
What would make more sense would be the 830 free with contract and a free MS Band or maybe for 99.99 instead of 199.99.

Yeah.... Nevertheless, MS knows that the FBT is much more popular than the MSB... The point here being for MS to move more devices, and att sign more contracts, the 830/FBT deal should be more attractive to the average consumer..

The band costs about $125 more than the cheap crappy fitbits.

That's why he said for $99.. To makeup that cost.

MS doesn't even have stock of the band to sell you, how are they going to offer it free to all that want to buy an 830. And even if they did, they shouldn't offer it free, it sells great so why would they?

Therein lies the actual problem.

True.... But, it doesn't sell great... There's just no stock..

That's funny, mine came in just fine when I bought this deal a few weeks ago for my wife.

We are referring to stock of the Microsoft Band, not the lumia 830 or the fitbit flex.

The fitbit + 830 deal started before the MS band hit shelves.

What I dont understand is how (at least on ebay), the 735 and the 830 are basically the same price except you can find the 830 for cheaper generally. Makes no sense to me. 735 needs to be priced at around 200 to make sense (especially if the 635 is around 100)

It's gonna take some time for MS to get everything sorted out... A lot of things aren't going to make sense for a minute... Lol.

They are the same device after all. You can find the 830 for cheaper because the 735 isn't available in the US. In the UK the 735 is £170 previously 130 and then 150. The 830 is £300. And I have both (because its hard to choose)

That price is probably due to different availability here. But I have heard some reviewers say they actually like the 735 over the 830.

I sure as heck do. Trying not to slip into buyers remorse

yep, I just bought the kids 830s on ebay for around $220, and I got an international version that works on ATT for my wife for about the same. One was new, one was a refurb, and one was opened but practcally unused. Once the W10 preview hit, I noticed they are harder to come by now and the price is higher.

Where's my discount? I bought it the 1st day it came out...

That's not how this works.

That's not how any of this works. :D

Don't buy gadgets on day 1.

Or even after a few weeks.... Surface RT

I bought one on the 18th for 449.99 and one the following Saturday for 399.99. I will be calling for money back since I can still return it. :)

Your 'discount' was getting the enjoy your new phone all this time. Wait a year and it will be even cheaper.

I have a question for someone who has experienced an upgrade with Next on AT&T: I see the following option "I want AT&T Next 12 $0.00 down payment + $20.00 due monthly for 20 months" on Amazon, which would result in paying a total of $400. Great, but what about taxes? Is that $20 figure not final? Or is the "advertised" Next monthly fee show up exactly as that amount on your monthly bill, i.e. $20 in this case?

Apparently tax is due at time of sale. But then it would be buying at $400 phone

I see, that makes sense, thanks. So taxes due at time of ordering would account for a $400 purchase.

Yes. I've done twice for the members in my plan.

Thanks guys, I appreciate the confirmations.

Tax actually isn't included in the purchase price. The phone wont actually be paid off after 20 months. At the 20 month mark you can either trade your device in for a new one OR you can keep making payments until its paid off (then it would be yours to keep)

AT&T Next is better value. Cheaper monthly rate for a couple of lines than contract and phone for $13/month

@realwarder Coming from a L920 it has it's pros and cons, but I'm satisfied with it. I kinda wished a high end came out, like the Lumia 930/icon, but the 1520 was the only high end available and that phone was way too big had less memory and no qi wireless charging and the 1020 was out dated.

Thanks. My 920 died and so considering it. Like you, would rather something faster than my old 920. But don't want a large device.

I agree, so what we did is buy a 635 for $70 and we're going to wait for the flagship phone MS mentioned would be released this year and just sell the 635 when that happens. Quick Note: you can buy the GoPhone version of the 635 for $70, the Next/Contract version is $140, but their actually identical.

I bought a 635 off eBay for $58, including shipping. The pricing of the 830 is a joke. At most, it's worth $300 and that;s being generous. For the millionth time MS, you don't have the luxury of premium pricing with such low global market share.

This! They could have had really good adoption if the "Affordable Flagship" had been, you know... Afordable! $200 hardware is still $200 no matter how good the "build quality" is.

Bought an 830 to replace my wife's 920. It's a great phone. Screen is awesome, thinner, lighter and the camera is far superior. I credit the better camera/pictures though to the Denim update (still waiting for that on my 1520!). It's amazing that the camera specs are a bit worse than the 920 but pictures blow them away, software can make such a huge difference.

Much less of a phone compared to a 1520. Less camera, not full HD, half the processor, and so on. In fact, no comparison IMO... Size is subjective doesn't count.

Except that most people don't want to carry a piece of toast in their pocket.

Clearing stock prior to launch of something better? We can only hope.

AT&T are getting two new Windows Phones :)

Who said this and when? That's the problem

More non-Flagship phones! :( http://www.gsmarena.com/microsoft_lumia_1330_640_headed_to_at_t-news-11319.php

You got the sad face right at the end of the sentence, that is for sure. I just wonder how much distillation can WP take on the low to mid end? Additionally,from a manufacturing standpoint, is it even worth it? It seems as if streamlining, reducing the number of phones (minus dual sim, thats another cup of tea), the manufacturing process would be easier for MS, developers, and consumers regarding the comprehension of our crazy numbering system.

You will someday experience the dream :)

You should come. The IRS would love you and you'll get to buy guns like crazy. Just don't move to NY, CA, or NJ ;)

Is it not out yet? I guess not in the USA

Considering this article is about ATT, painfully, the answer is no.

830 ships with Denim on ATT. I have it.

Doesnt the 830 ship with denim? When I setup my kids phones, I got a page popup that said 'Welcome to Denim'

Yes, it does. Got my wife's 830 a couple weeks ago and the Denim update rules. Now if I could just get it on my 1520...

The ATT denim for the 1520 is what I really meant when I made the OP.

No you have fake Denim without the new Lumia Camera 5 update. There is an updated Denim update that is not yet available to any phone on AT&T yet that will allow the 830 and 1520 to take advantage of all the cool new Lumia Camera features that everyone wants and MS bragged about way back in September. There have been several posts and discussions about this issue.

I thought it was a fake denim too. The 830 will not have the hey Cortana. I believe it is the 1520, icon and 930 which really benefit from denim. This was why people were upset when no flagships were included in 10, for they (in the us) had not even got denim yet.
...
Time for hilarious 37 second video about 10, MS, and the 1520: I had tears in my eyes the first two times I saw it.
...
http://www.youtube.com/watch?v=z3nXHAQa-gQ

Oh little girl, no denim update yet? so where's your Hey Cortana now? Where's 4K recording now? LOLOLOLOLOLOL

@realwarrder you could buy an unlocked international L930, it has all the high specs, but you won't get LTE, but hspa+ speeds.

One thing that bugs me about the 930.

Or you can get the LG G3 for the same price on Amazon. No-brainer.

That, after your comment above, is grudgingly funny.

Die by electrocution, bro...

I doubt anyone here would buy Android phone,(I wouldn't) but it sucks that high end flagships from other platforms sell for the same price. Microsoft should recognize that they are the underdog and lower the price. It is a sd400 phone with 720p screen for heavens sake

At least you are finally getting it for free and with the fit bit.

There are plenty of people here who would buy an Android phone, and I'm the evidence. I'm a proud two year owner of a 920 who moved on a couple months ago for obvious reasons. I still check in though. Hope that's okay. :)

Don't worry I know a lot of people who did the same as you, 820 and 920 owners. I'm currently using a nexus 6 but always carry my 1520. Posted via the Nexus 1520!

I love the screen on my 1520. Especially after the adjustments made available with Cyan like cool, warm, brightness.
...
I utilize a lot of video on my phone because my family holds the TV hostage. That's ok though.
..
I also have a Sony Xperia S Tab, lovely display as well, Sony being known for their displays, but this Nokia wins, no contest.
...
I hope MS continues with the assertive display. It is so cool how each pixel is adjusted on its own. Amazing stuff, right there.

yeah, but then you're stuck with an LG.

The picture in the Article doesn't even show the Fitbit Flex since there is a display & physical button on the Fitbit band in the picture & the Flex has 5 LED's & is touch sensitive.

What's "on contract"? /s\

fancy words for downpayment with installments lumped into your service bill.

installments that continue even if youve paid the value of your phone...

Where do i can buy nokia lumia 735??
Its not available here in the philippines.
HELP!!!!!

It's only available with Globe carrier.

you can buy mine for 350 and ill ship it

Afordable flagship nudges ever closer to its actual market hardware value of $200 off contract...

Lol, here in Finland lumia 830 costs 249€

Still no Denim update with Lumia Camera 5 on AT&T for the 830? Thanks MS for false advertising this back in the early fall and the carrier delays! No sale!!!

My 830 on ATT shipped with Denim. This was back in January friend.

No you have fake Denim without the new Lumia Camera 5 update. There is an updated Denim update that is not yet available to any phone on AT&T yet that will allow the 830 and 1520 to take advantage of all the cool new Lumia Camera features that everyone wants and MS bragged about way back in September. There have been several posts and discussions about this issue. This is the biggest reason I have not upgraded to this phone and no longer plan to thanks to the stupidity of MS & AT&T update delays!

The 1520 is my bff. Here, speaking of updates and MS, only 37 seconds.
...
http://www.youtube.com/watch?v=z3nXHAQa-gQ

"Fake" Denim---too funny. All I know is the 830 with Denim camera blows away my previous 920's camera and probably looks better than my Denim-less 1520 as well. I don't see how you can complain about a free update that improves the 830's current camera.


Not complaining just stating the facts. AT&T has not released the full Denim update for any of their devices yet. The 830 shipped with a lite version of Denim but it's not the latest full Denim update which is required to run the new Lumia Camera 5.0 which has speed improvements, Rich Capture, Auto HDR, Dynamic Flash, etc. Confusing to customers yes. Just seach around on the forums and you will see people here discussing and complaining about this. http://www.microsoft.com/en/mobile/support/software-update/wp8-software-update/availability-in-north-america/ Open your Lumia Camera app, not the default Microsoft camera app, and see if it's version 5. I'll bet it's version 4.9 something. If you think you are getting great photos now, wait until you get Lumia Camera 5! http://lumiaconversations.microsoft.com/2014/09/05/lumia-camera-focus-capture-moment-quality-ease-speed/

Yeah if you can get the denium update. not easy being a WP user

Still rolling with my 920 until this summer when the new flagship cometh

We hopeth.
....
I really want a 1520 with n-trig now that MS owns them. Dual window multitasking, basically all the crap the note 4 does, just on an MS phone. Oh, don't forget OTG and BT stack for controller, keyboard, and mouse...boy that would be great..and Mirracast you can depend on.

Not much value in this, two years on 1/2 cycle old midgrade hardware? The M8 has been free on contract for months, a much better deal.

Not everyone loves taking 4mpx photos.

Like not everyone likes resuming screens on a budget chipset, its horses for courses

This windows on windows hate has got to stop. Apple and Android are our enemies hate on them not on each other!!!

haha, what? i think most of the hate here is directed at ATT and their crazy pricing/policies/lack of support I dont hate apple or android, I just dont prefer them over WP.

I really wish there was a 'phone-only' purchasing option for less than the bundle price. They say the Fitbit is free, but nothing is free. Could they not drop that from the bundle and sell the 830 cheaper. Even dropping $50 off the 830 price when you drop the $99 Fitbit from it would probably be enough to get me to buy. But as is, I can't help but see it being a phone for $300 and a $99 fitbit, which I don't need because I already have a Fitbit.

I thought the 830 was coming to verizon? Is that still happening? I have people asking me what windows phone to buy on verizon and i really don't have an answer. The icon is gone, the 928 is old (and that is what everyone i know has) and while the htc m8 is nice it lacks two things that are important, dedicated camera button and wireless charging. I use the 830 on ATT, kinda had to since the mic on my 920 broke. I have a few complaints, but it's still pretty good and i'm only on a 1 year contract.

HOPE THIS FITBIT PRODUCT LASTS LONGER THAN THE OTHER FREE ONE THEY GAVE AWAY. MINE LASTED 2 MONTHS
Windows Central Newsletter
Get the best of Windows Central in in your inbox, every day!
Thank you for signing up to Windows Central. You will receive a verification email shortly.
There was a problem. Please refresh the page and try again.