AT&T Microsoft Lumia 950 also getting OS build .218 as an over-the-air update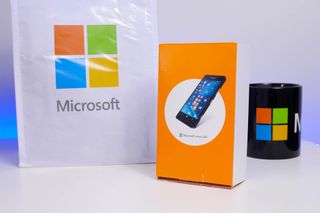 When Microsoft said they were pushing build 10586.218 today to all Windows 10 Mobile devices – retail and Release Ring – they weren't kidding.
We can now confirm that the branded AT&T Lumia 950 (non-Insider) sold through stores is also getting build 10586.218 as an official over-the-air update. Jeison S. wrote us to tell us he was getting the update, and we confirmed it on one of our stock Lumia 950's from AT&T as well.
Owners of that phone can head into Settings > Update & security > Phone update and hit Check for updates to begin the process. Otherwise, the update will eventually come through on its own. All the changes are included in the list below for that update.
Windows 10 Mobile Build 10586.218 Changelog
Reliability, performance and stability improvements.
Support for Visual Voicemail on Dual SIM phones.
Improvements for Bluetooth connectivity, including the reliability of connecting to and staying connected with Bluetooth devices.
Fix for a problem that caused audio playback to get occasionally interrupted in Groove Music and other music apps when phone display was turned off.
Improvements for Microsoft Edge browser, including support for configuring a prompt before a file download occurs, support for background downloads, and a fix for a problem where opening a link from an another app wouldn't load the web page.
Reliability improvements for Cortana reading text messages aloud and usability improvements for Quiet Hours feature.
Improvements for Store reliability, including a fix for a problem that prevented some apps from being updated and installed.
Fix for a problem that occasionally caused some apps to show blank tiles after upgrading from Windows Phone 8.1.
Improvements for PC connectivity via USB on some phones that were upgraded from Windows Phone 8.1..
At this time, it is safe to say that if you have a phone with Windows 10 Mobile on it in some official capacity e.g. upgraded from 8.1, bought the phone with the OS installed, etc. you have a very good chance of getting today's update without needing to be an Insider.
Daniel Rubino is the Executive Editor of Windows Central, head reviewer, podcast co-host, and analyst. He has been covering Microsoft here since 2007, back when this site was called WMExperts (and later Windows Phone Central). His interests include Windows, Microsoft Surface, laptops, next-gen computing, and arguing with people on the internet.
Omg getting it nowwwwwwww! Canada 950Xl!

Me too, U.S. Posted from Windows Central on Windows 46 Interstellar Edition

Same here on my unlocked dual sim 950.

It's downloading without asking me, now its says" Download updates 80%"
Lumia 532 India

Getting it. Non insider lumia 930. It didnt even asked my data had gone. :/

Well in that case, don't mind if I do! (I was on release preview before the firmware update and it bricked my device. I decided to stay on production for a while)

Release preview and production are pretty much the same thing. The only difference is you might get the update a couple of days earlier.

I know. My device still bricked...

Add Lumia 820 also to the list.

I have a old 820 and it was horrible on W10 Mobile. Microsoft made a good choice leaving off certain devices. My 640 runs it like a dream.

If you want Windows 10 Mobile then get the Windows Insider app and upgrade easily. Posted via Universal Windows App on W10

Does it fix Bluetooth connectivity with Cortana and the Band 2 is the question.

I will find out soon I hope!

What issue do you have with Cortana/Band 2 with bluetooth connectivity, just curious as I don't have any issues on the .164 build.

I can't reply text message via band using the keyboard or cortana. Also activation of cortana by holding the action button down doesn't always get the phone ready to accept commands. I get notifications fine enough and syncing of data is always fine at least.

Well upon reboot of phone, not working, will look later at rebooting everything any maybe unregister, unpair and reset my band again.

Looks like the Bluetooth stack may have been fixed!! After upgrading (didn't even reboot my Band 2) I can use the Texting keyboard as well as reply using Cortana speech recognition. Then tried a new voice command (set an alarm for... and remind me when I leave home to get eggs...) and both worked. Whoo Hoo!!

Good news! you got farther than I did! lol. Hold your enthusiasm because from experience, it works initially but dies out later in the day.

Yes, totally experienced that myself...hoping my joy will make it stick this time...<fingers crossed>

Opening the health app fixed most connection issue with me, holding down action launch cortana, reminded myself to get something at 3pm, replied to a text message with keyboard, couldn't cortana reply to a text though, got "sorry couldn't reach your phone" I'll de-register, unpair, resetup later.

Finally! Now I just need it to show up as available.

Does it fix the problem where after setting "too many (?)" alarms in the stock alarms app (easy to do if you routinely ask Cortana to wake you up in 10 minutes, as it creates a "permanant entry" for a 1-time alarm), they all of a sudden disappear but occaisionally still function, so you can never #@$%ing turn them off?

wow really? I haven't really tried that as often as it sounds like you do. The permanent alarms are annoying though!


This has been fixed in the latest Fast Insider build. The problem is that the alarms were not persisting from one build to the next so they started to fix it but broke it for a while. I can't test on Production though. The permanent alarms is annoying design flow so feedback app is our friend :)

I'm Getting it! India L930.

Everything works good so far...

Daniel: Would you be able to reach out to your sources (or as a news reporting website) in AT&T to understand WM10 release dates for the eligible devices? Not sure if that's possible.

We have tried and the have given no answers.

That's a bummer -_-
Hopefully they respond (or roll out the update) soon

Am getting this update on a lumia 830 on at&t non insider Posted via the Windows Central App for Lagdroid. I kid I kid :D

No sign of anything so far.

Does anybody know how I can go back tk release branch? Not showing up in my insiders app

Open the insider app and select release branch..

It has fast, slow and production only

Tried uninstalling and reinstalling. No dice. Damn. Thanks for trying to help tho. Guess I'm stuck an insider

If you really wanted you could leave the program entirely online on your pc

Wasn't aware. I'll see if that works

You could try joining back after that

you're probably on redstone builds (aka build 14291 or newer) Posted via Universal Windows App on W10

Production is the release branch

Oh lol. Ok guess I just have to wait for the update then

Since you phone on a totally different branch (probably a fast insider), even with switching back to production build, you will not get this build. You will have to restore your phone to production builds if you want this one. I would not suggest that if you want to try the new stuff. Especially because in a few days (hopefully), we will get a build with major features (post Build build).

Lumia 640LTE also I now update mines Akil Scott

Have also got it on my Lumia 640 XL

As the official OTA update or on technical preview?

No update yet on my Lumia 950XL. I'm on the fast ring.

Fast Ring is on Redstone, which is ahead of this build. Why would you expect the update?

Hi Daniel, Lot of people are asking this question. I already answered 3. Is there any page which details of the latest builds on each ring ? If not can we request that ?

Best source for easily seeing latest builds w/ details for each ring: https://en.wikipedia.org/wiki/Windows_10_Mobile#Version_history

Usefull Info, Gr8. I really hope it is always kept upto date. Still why use wiki for that when the same info can be on the Windows central. This is the central place for all the information.

I'm on the newer redstone build but experiencing issues fixed by this build. Hopefully those fixes make their way to the newer builds soon.

Ahhhhh... too much news today, new W10M build, also on AT&T 950, new SP4 Type Cover, Tesla Model S refresh (as seen on TeslaCentral!) Glad it's a slow work day so I can keep up on the important stuff ;)

Plenty of marvel news too!

You forgot the new ninja cat emoticons coming to windows. Sent from an alien space ship with a Lumia 950

Official because I currently not on windows insiders on my lumia 640LTE Akil Scott

Is it AT&T Go OR factory unlocked ?

Getting it now... 640XL Canada

Will the non-officially updated Lumia's (920, 1020...) get this build where it is not a RS branch update?

Just went through prior articles and it sounds like the answer may be yes.

Yes it will. I have the 1020, and downloaded 218. Perhaps the last, as we won't get RS builds. Posted from Windows Central for Windows 10

Ok thanks. Not showing up for me yet.

Just tried uninstalling insider app and then reinstalling/selecting production build. Update showed up right away. Nice to see MS is providing some updates for these phones.

My BLU Win HD LTE in India is getting the update as well...downloaded...now waiting to charge battery to 40% at least to install the update.

Hey.. I am getting in India in my lumia 540... Can i download and install using my 3G data?

This was suppose to all be easy. Way harder to update these phones than it should be. Was on slow ringer. Told have to go to preview. Insider no longer has that option. Unregistered from Insider and still nothing. Again, just way to hard.

Just got 10.0.10586.218 on SIM-unlocked AT&T GoPhone 640. USA. Not sure if firmware changed, it's at: 02177.00000.15184.36016. Really enjoying Windows 10 mobile. Bought the 640 and upgraded to Insider ring - since I got tired waiting for AT&T to upgrade my 830. Now I use the 640 as my daily driver. I liked Windows Phone 8.1 - but now - I really don't think I could go back, especially as it's clear Microsoft is committed to updating and improving Windows 10 mobile. It's funny- uninformed people say Windows phone is "dead" - but we know that Windows 10 mobile keeps getting better and better!

Why not use 10 on your 830?

This does sound like my top list of issues so this sounds like a great release

I put my One m8 on the release channel to get Win10 (Threshold), then opted back out of the release channel (no longer insider) a few weeks ago. Because I didn't use the recovery tool, I am still on Win10. I can also confirm I just got the update, so I'm guessing MS either thinks I'm now a non-carrier win 10 phone or that opting out of the release branch didn't do anything. Either way, the new update seems noticeably snappier.

Currently at the stage of migrating my data, on my Lumia 535, here in Namibia.

Got it on my CV Lumia 930 in the UK

YES Posted from Windows Central for Windows 10

already on my lumia 930 ut allways problem of camera sound!! and batterie life! so bad so so bad!!!

Guys help us to bring the new lumias and surface series to Brazil, assign this petition https://secure.avaaz.org/po/petition/Microsoft_Corporation_Tragam_os_nov...

930 Non Insider, got ittttttt!!!!!!

In light of this news....just a thought, but does anyone think that this circling of the wagons by MS around Windows Mobile could be, in part, a way to test these types of carrier-bypassing, mass updates. I mean, if MS had released more than just the 950/950XL (the fan phones), they would have more carrier issues to deal with. But, since only 15 or so people now have Windows Phones, it would be easier to test these types of updates....and I mean "easier" in the sense that there would not be millions of people waiting to complain when update issues happened. I probably have no idea what talking about. Ha ha

TmoNews has reported that the T-Mobile Fierce XL is also getting it today. I'd check, but since mine's already on 14291 I can't verify. Nice to see our last remaining US Carriers stepping up. AT&T and T-Mobile? Who knows, maybe Verizon will do something. Windows Central App
Alcatel Fierce XL (Redstone)

nothing grinds My gears more than the keyboard lag. I can live with everything else..

Icon/929 got it as well. Yay! +Lumia 929

Not seeing it. I'm on slow ring.

Should I do hard reset after the update? I upgraded from the previous official release not insider. Anyone done it and notice a difference?

I didn't do a hard reset, seems fine! Posted from Windows Central for Windows 10 on my Lumia 830.

Anyone get visual voicemail to work on dual sim 950xl on att? It is in the notes as it is fixed???

I know you asked for ATT, but I have T-Mobile and can say it's working. If anyone reading this by chance also has T-Mobile, now they know. How someone on ATT answers your question though. +950 XL DS NAM CV Windows 10 Mobile

My AT&T HTC One M8 got .218

Same here. Did you update from 8.1 or were already on 10? I was already on 10.

Pigs are flying!!! Posted from WC for W10 running on my 930.

Are there any equalizer options in windows 10 mobile?

Why this is Technical Preview I don't understand. Threshold Techical Preview ended in 10586. RS1 technical preview started from 11082. How 10586.xxx can be technical preview. It should be a cummalitive update.

It is a cumulative update for the general populace now but was sent out as a preview first some time ago.

Waiting on this for the L1520.

Missed this news, mine installed around 3am (explains why I heard the charging tone play in the middle of the night) So glad the visual voicemail is back and I can confirm that replying to texts works about a million times better through the Band as does activiating Cortana. I think it's time I talk my girlfriend into going insider and production ring on her HTC One M8.

My Lumia 640 xl is showing update available. I'm not in any insider preview program.

I got the update on my at&t HTC one m8 that I use the insider program to up date to .186 and then took it off and put on production

Because these damn AT & T will not make the upgrade to DENIM for lumia 920 it is costing them? I want to have my phone updated because CYAN is an old update.

My L640DS also received this update.. :)

Can someone tell me why Maps Navigation isn't working EVER. Says "finding my location" forever!!!!
Windows Central Newsletter
Get the best of Windows Central in in your inbox, every day!
Thank you for signing up to Windows Central. You will receive a verification email shortly.
There was a problem. Please refresh the page and try again.