AT&T Nokia Lumia 830 unboxing and quick tour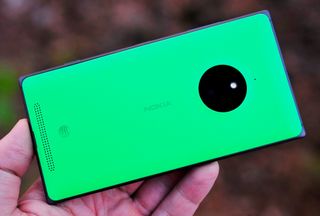 Yesterday, AT&T began to sell two new Windows Phones: the HTC One for Windows and the Nokia Lumia 830. We picked up the latter phone from our local store, where they had a few in stock and figured we would do an ol'fashioned unboxing and tour.
Perhaps what makes the AT&T Lumia 830 a little bit more interesting is that for a limited time, it comes with a free Fitbit Flex activity tracker – a $99 value. The Fitbit and Lumia 830 come bundled together in a larger box, making it quite the care package for $99 with contract ($450 without).
Lumia 830 Specifications
Windows Phone 8.1 Update (build 14176) with Lumia Denim
Memory: 1GB RAM, 16 GB internal user memory; 15 GB OneDrive cloud storage, micro SD expandable up to 128 GB
Display: 5.0-inch ClearBlack IPS HD (1280 x 720) display, Corning Gorilla Glass 3, Curved Glass (2.25D), Lumia color profile, wide viewing angle. Features double-tap to wake, Glance, Super Sensitive Touch, Sunlight readability mode.
Processor: 1.2 GHz quad-core processor Qualcomm Snapdragon 400
Main camera: F/2.2 10 MP PureView with ZEISS optics and optical image stabilization (OIS), Video recording at 1080p 30 fps (Full HD), Rich recording
Secondary camera: 0.9 MP, F/2.4 720p video Nokia Camera, Nokia Storyteller, Nokia Creative Studio
Size: 139.4 x 70.7 x 8.5 (volumetric) mm, Weight: 150 g
Battery: Removable 2220 mAh battery, exchangeable shell, Qi wireless charging
Audio: 3 high-performance microphones (HAAC), Nokia Rich Recording with surround sound capture (Dolby 5.1), Uplink noise cancellation for calls, 3.5 mm AV connector
Even more exciting is the fact that the Lumia 830 comes with TWO back covers, one black and one green, both of which support Qi and PMA wireless charging.
We have already unboxed the international Lumia 830 with a full product tour, so you can watch that too if you need more information. Otherwise, check out the video above or read George Ponder's first impressions article.
You can pick up the Lumia 830 with free Fitbit Flex direct from AT&T online (opens in new tab) or in select stores.
Windows Central Newsletter
Get the best of Windows Central in your inbox, every day!
Daniel Rubino is the Editor-in-chief of Windows Central, head reviewer, podcast co-host, and analyst. He has been covering Microsoft since 2007 when this site was called WMExperts (and later Windows Phone Central). His interests include Windows, laptops, next-gen computing, and for some reason, watches. Before all this tech stuff, he worked on a Ph.D. in linguistics, watched people sleep (for medical purposes!), and ran the projectors at movie theaters because it was fun.
Really like the 830, also saw a nice video review @ Microsoftproductreviews.com

You can't just bing that?

that Resuming... screen on Camera launch :(

It's the same as the blank screen for the iPhone. Resuming screen shouldn't be much of a problem, every phone has lag.

Every windows phone! Hope they fix it in w10

The 930 doesn't have the resume screen thing. :)

that's a different case. L930 is a high-end phone, while L830 is a mid-range phone, albeit it is the affordable flagship.

He said that every wp has the resume screen when launching the lumia camera. I said that my 930doesnt do that. -.-' this wan not about 830 vs930.

ah, sorry for that, I was replying via WC app, so I don't know what person are you replying. But, I think L1520 doesn't have the resuming too, when it is upgraded to Denim.

What black screen on what iPhone? lol. Keep dreaming.

It doesn't lag at all on opening the default Microsoft Camera. Dan opened up the Nokia Camera which is discontinued anyways. source: L830 owner.

Most complain about the price but with it coming with the Fitbit you can also see it being the $350.00 price that most think it should be with the $100.00 tacked on for the Fitbit.
Really wish this would come to Tmobile. I could see myself jumping to this rather than the one m8 merely because of support.

They could have made it clearer still by offering two packages: one with Fitbit and one without (for those who already have a Fitbit or may not want it) at $350 or thereabouts. In any case, I really like the 830.

You can be sure they got a hefty discount on those FitBits... no w they could make a phone only deal $100 cheaper. Maybe they could do $400 for the phone only, but that's about it.

I played with this phone yesterday at work :) for its price and specs I am literally surprised how good it is. While my 1520 is better, the performance aside from camera didn't even feel like I was sacrificing much. Definitely recommend it :D jealous of the green!

Green+Black is beautiful.

You weren't figuratively surprised?

Someone help me decide! I have missed wireless charging so much but the HTC looks so good!

Going HTC is just a matter of, do you care about support or not. If you don't care about the support and don't care about some of the Lumia only features and apps or the $200.00 price difference, then go with the m8.

If you miss wireless charging then go 830.

I'll help with one question! Do you want windows 10?

Ha good one! A true question.

How much gamming do you do in your phone? If you play high graphics games go with the m8. I tried asphalt 8 on the 830 and its not nearly as smooth as a 930/1520. If high graphics games don't mater to you go for the 830.

There are plenty of $10 Qi adapters that will work between your HTC One and a case. It plugs into the USB port on the bottom of the phone, and then gets taped onto the back of your phone. It looks a bit... well... horrible, but if you keep a case on your phone all of the time the you will never notice it.

I'm happy with my Lumia 1520

Take the HTC it's a better choice

You add nothing to the conversation. You have no idea what this person's needs and priorities are, so how can you discount the HTC. I read a lot of comments here, and I would never call you a contributor.

I have no idea what this person's needs and priorities are but stating the HTC is the better choice is not speaking solely for this person but everyone and that isn't true necessarily.

Never stated that. Read again.

Both of you are stating opinions, so whatever.

like commented before, gaming is the factor, for high graphic games, get the one, if not, take the safe route and get the 830, if were lucky, htc intends to support the one for a while!

Nice, since it was launched i wondered how it would look in black + colored back cover, all the promo shots just shows it entirely black.

Looks very similar to NL925

I have a 925 and the 830 looks nothing like the 925. I like the way the 925 looks but love the 830 for the other things.

Good review of the device; and very generous of AT&T to offer an additional back cover! So....I do not see 'Nokia' branded underneath the earpiece, which I don't mind, necessarily, even though I am a Nokia fan. With that said, I really hope that when Microsoft starts releasing their phones in the U.S., that they will not brand the device with 'Microsoft' on the front of the phone. The front branding on this phone is minimalist, and I hope Microsoft follows suit.

Thats exactly what they're gonna do. Haven't you been keeping up with articles lately lol

Hi Daniel, I`m not sure i made a mistake yesterday, by getting the Lumia 930 on an amazon deal for 360€. The Lumia 830 is 350€ on Amazon. Even though the deal for the 930 was really nice, the 830 seems in some ways much nicer than the 930. Especially design and battery life which both are important points for me. My questions: 1st - Do you have any experience with the new Lumia Camera on the 830 with Denim (the one with the dynamic flash)? Does this lumia camera App improve the camera boot up time and the shot to shot time for the Lumia 830? 2nd - Do you think there is any change for the lumia 930 to get Glance screen with a future update. (I don`t think the moto x have display memory chip but offers similar features) I'm really thinking about sending back the lumia 930 and getting the 830 instead.

nope, the 930 wont ever have glance, they used a cheaper display that lacks a special memory chip that glance relies on, its a hardware issue, not software.

Not cheaper at all. The oled is gorgeous and colours pop on it. It doesn't support glance because of the way the screen is made. It doesn't have backlight it has 4 pixels, one red one green one blue and one white(that's the one that provides the light.
I find it more crisp and the black is amazing! The screen merges with the bezel of the phone and seems that the screen its all over the glass. Amazing phone! I will not trade my 930 for nothing!

I just picked one up yesterdays with the fitbit.. Awesome phone so far. I reccommend it to anyone upgrading from the 720 or 820..

Can we buy different colored back covers for this phone?

Yes, look: http://www.ebay.com/sch/i.html?_odkw=lumia+830+back+cover&_from=R40&_osa...

What makes the cameras slow on Windows phones compared to the rivals....android...ios? Also is this phone faster than the 1020 overall

The 1st thing I noticed was no "Nokia" branding on the front.

This device just doesn't do it for me. Along side the m8 this device looks half baked. Now anyone can tell me why a Lumia could not have the specs of the m8?

Agree...tried to like the 830, but the low end CPU and 1gb of RAM were poor areas to skimp on. The design is really nice, but the performance is extremely poor.

I was really hoping to see this going for $350 non-contract! I guess the 'free' Fitbit helps out a bit with the higher price. Would like to pick one up, will just be a tougher decision with the higher price. Overall nice phone though! Guess this would technically be an 'upgrade' from my current 925. Like the fact that it has a 5 inch screen AND physical 'home' buttons. Decisions decisions, I'll have to stop by the AT&T store and check it out for myself, so far looks great, will just be a bit tougher to justify at $450 when expected $35 again the free Fitbit does help.

T-Mobile needs the Nokia Lumia 735

B&H has 735 for at&t and T-Mobile LTE for $299

¡¡Hyeeeeh kyaah hyaaah haa hyet haa!! :P

3.5mm AV connector.... Is this just a normal headphone jack or is video output also possible!?

Daniel, you should put the orange cover from the international 830 on the gunmetal grey ATT 830 and put up a couple pictures of it. I bet it'll look sharp as fuck...

Someone did this in the forums and posted some pics. http://forums.windowscentral.com/nokia-lumia-830/321875-so-where-does-on...

Good unboxing as usual, I also like the gunmetal. Again, only part I take "offense" to is the price, still seems way over priced to me. Such that neither the flex or extra back cover seem free as much as they are at-cost and bundled with the device: - Extra wireless charging cover $35.00 - Flex - $99.00 - Device - $315 Ah, that sounds about right, not the 299$ I still feel it should be but close enough. Say all of these were slight subsidized even, - Extra wireless charging cover $15.00 - Flex - $85.00 - Device - $350 I could live with that for a brand new device. If I planned to buy the extra back cover and fitbit I may be more wooed (albeit I just lost my one, so if I'm going to buy one this doesn't seem like a bad purchase, but branding it free sends my psyche off). That said, the comment, "no one really buys off-contract phones" burns Daniel. Come on, that's like saying no one really uses their console off line, so why not an enforced always online thing. Maybe I'm more sensitive because I do like the idea of mobility and non-contracts (also the costs tend to always work out in favor of non-contract on a different MVNO, sans modern TMO anyway). Eh, still up there in cost to me.

I agree with you. I'm in europe so i dont know what most people in the US do but I have never had a phone on contract. I need my phones to be sim free because i live between my home country of Ireland and the UK and Italy. Plus if you work out the cost you pay over the two years it is much cheaper to buy outright.

This is exactly the case for a lot of people. Either because of travel or of cost. I recall doing the math way back when, comparing this US MVNO, StraightTalk, with T-mobile's prices back then. For the same plan specifics I was getting on straight talk, I'd end up paying something a kin to 700$ more over the two years vs buying the phone at value and paying Straight Talks plan then. Also, a boon at the time (and still now) is that StraightTalk rides as MVNO on both TMO and ATT here in the US. So, for example with WP wich still do this carrier locked idiocy, If a device comes out on tmobile, there is no difficulty buying an ATT version StraightTalk sim and porting my number. Shoot, I have both for easy switching if I do change devices. So I do believe there a good amount of people who don't buy on contract for one reason or another, so yea, 450$ seems steep for what it is, still.

Anybbody know which frequencies the ATT one works on? Ie, will i get 4G in Sweden or are non-ATT 4g frequencies locked down here...

I'm curious as how this is PMA compatible?... Is the backplate diff or did they add PMA tech into the main hardware. Will the international version be PMA compatible if I put on a backplate from ATT?

there's absolutely no reason why the next high-end Lumia shouldn't have a Micro SD slot.

How is the speaker quality on this when playing music? Posted via the Windows Phone Central App for Android

What phone are you comparing it to? It's different from my 1020 speaker sound... How can I say.... More... "metallic" sounding but its loud, definitely loud enough and overall
Quality it good enough!

Went to an at&t store today to check one out. Put all the affordable flagship, coulda been better spec talk to the side, It's a lovely phone! I'd buy it if I had at&t. You can worry about Windows 10 when Windows 10 gets here.

Picked one up this morning and finally said goodbye to Verizon. Daniel is right. That green and black combination just looks gorgeous!

Looking forward to Microsoft packaging the Microsoft Band with the new Microsoft Lumia Phones. Free band with the purchase of the new branding...

Is that gun metal grey only for att??

$450 have to be out of your fucking mind. Reasonable price is $250

Yup at $199 or $250 this is a Buy...anything above $250 is overpaying for mediocre spec'd device. MSFT failed on this one.

Bullshit phone. Bullshit OS.

Bullshit user. Bullshit comment.

https://windowsphone.uservoice.com/forums/101801-feature-suggestions/sug...
The above link is wp user voice of you found it good, then vote it guys.

Why have they used a black handset and then stuck a coloured back on it. IT looks terrible. Black handset is for black back only. Colour handsets have silver Aluminium band. (.Aluminum if you are not English!)

I thought so too before I saw it for myself but it looks a lot better in real life. The black is not pitch black, more like a very dark grey.

Mad.... I have a black framed 930 and I changed back plate to a green one. Imo black and green is very nice looking.

If the 830 had a 1080p screen and a Snapdragon 800+ processor it would be my daily driver for sure. Will stick to my 1520 till something better comes along, as much as I love the design of this phone.

I can say one thing! My 830 is a hell of a lot faster then my 1020! It really flies! Haven't had ANY "resuming" or lag on it whatsoever! Obviously the camera does not even come close but I can honestly say it is probably the very best 10mp sensor on the market right now! Pictures are crisp, focus is fast and accurate and the video recording is stunning! I would even say it's video recording (apart from zoom of course) is way better then my 1020. Overall I am really happy with the 830! I do have some minor issues with it but won't get into those right now.

You still hadn't fixed the back cover unlocked 830. :D

That mint green one is sexy. I'd buy that if it were on Verizon. Probably would be the only way we'll ever get Cyan on there.

I like the darker metal band that AT&T has specified along with the Qi charging [remember when they dumped all their Nokia Qi charging plates for $5?] I also think it's cool they kept the logo on the back instead of messing up the front with their ubiquous branding [take a hint Verizon]. Hate the AT&T packaging along with the service.

I'm looking forward to getting one of these..

I checked one of these out, a Lumia 830, at a corporate AT&T retail store. While the design is nice, and it's SUPER light, it has that same hollow feeling as the iPhone 5S/6, it's definitely a mid-ranger. I played with it, and while it's isn't slow, it's also not the fastest I've seen and the screen is kind of washed out looking. At $250/$300, this would have been a nice off contract buy. At the $450 MSRP, Microsoft and AT&T are nucking futs.

I think it was a mistake for AT&T to add a Fitbit and charge an extra 100$ for the 830. For 350$ I would be on my way to pick one up. For 450$ I'm not wowed enough to sidegrade from my 820. The 735 seems like it would be a good buy; but I can't fine one anywhere except on Amazon and they want as much for it as the 830. Again they are not 450$ better than the 820 which I already have. Sitting tight for now. Got a Moto G lte as my backup to my 820. No I don't think its as good as the 830, but for 179$ (compared to 450) its close enough.