Confirmed - AT&T Lumia 830 does have Qi wireless charging support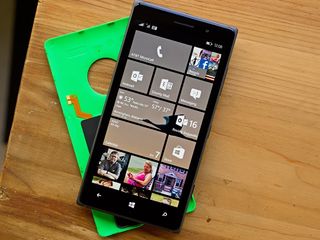 The AT&T Lumia 830 Windows Phone does, in fact, has support for Qi wireless charging. Many collectively crossed their fingers when Windows Central first reported that AT&T would leave the Qi wireless feature in place. There was some concern that a last minute decision would be made, and AT&T would remove this feature as they did with the Lumia 1020 and 925.
I've had my new Lumia 830 on the Nokia DT-900 wireless charging plate since bringing it home, and I am happy to share that the 830 works just fine with the Qi charger. The AT&T Lumia 830 comes with two battery covers (black and green) that are both compatible with the Qi system.
The 830 does become slightly warm while wirelessly charging and the re-charge rate seems to be slightly slower than what I've experienced with the Lumia 925 and Lumia 1020 (using the wireless charging case). Neither appears to be critical issues but noticeable differences.
Oh and for those who may be curious, the Lumia 830 fits nicely in the Nokia CR-200 Car Cradle.
Windows Central Newsletter
Get the best of Windows Central in your inbox, every day!
George is the Reviews Editor at Windows Central, concentrating on Windows 10 PC and Mobile apps. He's been a supporter of the platform since the days of Windows CE and uses his current Windows 10 Mobile phone daily to keep up with life and enjoy a game during down time.
I need to get that cover from AT&T for my 830.

And here in Saudi Arabia we still waiting....

The 830 is not available here yet?

Nope not even advertised.

830 It's already in Saudi Arabia since 2weeks

Can you please provide more info, where can I buy it + anything about 730 will be great
Thanks

It's in jarir book store and Haddad Tel
Depends to your city
Riyadh, Qassim, Jeddah it's available and other cities I don't know

It's not available in Israel yet either! =|

Thanks! I may get one, but I wouldn't budge until this was confirmed.

Yes! Not totally fucking up their WP line up. Now they need a real Lumia flagship.

Was the 1520 not a Real Flagship?

It w was s phablet... Not all of us want a phablet....

A gimped with no Qi phablet.

A gimped with no Qi, on AT&T. out rhymes.

Culture is conforming OEMs towards bigger phones. Even apple bent to societies' demands, which is unlike them.

Whats that weather app? :)

Hey guys that apps is on sale right now for $0.99. The normal price is $3.99 if im not mistaken. U should get it. :) worth buying.

Wait so does it work like the 920 where it doesn't require a cover for it to work?

Of course. It's built into the removable back cover.

Correct. The "covers" that were mentioned in the article are the removable back covers that are part of the phone.

No accessory cover (like the ones for the 925) is needed. The Qi is built into the battery cover for the device.

I'm pissed. Woke up early to go to my ATT store and they hadn't received any 830s. I drove around to different ATT stores and nobody has them in yet. Not even the Microsoft Store in my area! WTF!

I had the exact same luck. (minus the Microsoft Store, we don't have one)

You might want to double check that. Went and got one just now, but they had a hard time finding it. It comes in a big white box instead of the normal one because of the fitbit bundle.

I went to the AT&T store in downtown Boston and they didn't know what I was talking about. No phones today. I called the store in Newton MA and they don't have them. After checking, "maybe Monday" was the best I could get out of them. Nothing's changed with AT&T's horrific marketing I Windows phone.

That's disconcerting. I want the One and at&t's site says all of the stores around me has it, but now I'm worried it's all a lie.

Just go and ask for it I went a couple a weeks ago my wife wanted the hulk Lumia 1520 and the only WP they had on display was the 1020 and 635 the rep told me they didn't have any and went to the back and brought one.

The ATT site says all the stores in my area have stock of the 830, but i went to one store and spoke to 2 stores by phone this afternoon and none of them have it, despite what the website says.

So lucky the one store I went to that the site said had the One and the 830 actually had both. They even had the 830 out on display. I got my One tho and I LOVE IT.

I went to our store in Oswego, IL and they had everything. 1520, 830, 635, M8. Also had the green 1520 and an orange 635 in the big display in the middle of the store. Everything was well setup and working great. 830 does look very nice. But I was really impressed with the 1520. Seemed to take pictures much faster than my 1020. Just not sure I could deal with the size. Still want a 1030 badly.

I went to my local store to check it out. They had the 830, but no One. I got some puzzled looks when I said I was only interested in Windows Phone :)

Can anyone confirm if the new Friendswood Microsoft store has the 830 to check out. I went by yesterday to check out the store but that line was just tooooo long..

So there it is folks. The 830 > 920 That's your upgrade. Have a good day guys. Remember if you keep waiting, you can keep waiting forever. :-)

This is off topic, but does that Nokia CR-200 work with the Lumia 928? The 928 has Qi charging without needing a cover, but I don't know if the CR-200 is made to accommodate the 928's size.

The CR-200's clamp presses the camera button on the 928. I'm not sure about the CR-201.

Im glad they're not going away fro wireless charging. It wint be hugh till Samsung it iPhone adopt it but I love the feature. At first I thought it was a gimmick but after using it for a while, its so nice not to have to constantly plug in your phone. Just set it down or pick it up

Samsung has had wireless charging for years. They just decide to sell them as optional accessories. I prefer it when it's designed in this way vs the Samsung way because their optional Qi covers are always slightly thicker, almost as an afterthought.

Well, that makes it a whole lot more interesting....

What's the model # of the AT&T Lumia 830? Is it the RM-985? What I want is an unlocked version for T-Mobile.

Mine is showing RM-983_1001

Thanks. I believe both the RM-983 and RM-985 have the T-Mobile bands. I just hope I'll be able to buy an unlocked one in the future or that there'll be a T-Mobile version.

Not sure about the RM983 but I can confirm to you that the RM985 DOES support all 3 Tmobile LTE bands. However the user tat confirmed it to me bought it from Rogers and supposedly they don't ship outside of Canada :( If you later verify that this Att model works perfectly on Tmobile please let me know! im on Tmobile and im waiting... impatiently.

Wtf at&t. What happened to supporting that other company. Ur idiots. Sometimes change isn't the way to go. Fuck man. Having multiple wireless charging techs is just plain stupid and not smart. A tech like this, you need to join forces. Its not something easily monopolized since they install these fricken things into counters and tables at restaurants. Seriously. Pick one and stick with it.

They picked both, the wireless charging works with both standards.

Thats joining forces :) which means winning!

I prefer qi style as it doesn't require an add on case that costs extra and destroys the look of the device.

PMA does not always require a case. The 839 has both qi and PMA built into the removable back covers. I'm just glad AT&T allowed the qi again. I bought two qi charging stands for my 920 and was not about to buy me ones. It is what kept me from getting the 1520.

How about if AT&T stays out of those decisions altogether. Consumers and hardware manufacturers should be choosing the best wireless charging standard, not the phone carrier.

I kept reading thinking ksmith was joking, but he's apparently serious. Wtf? I think he's not understanding something maybe...

Kudos to At&t for getting it right this time. This is a fantastic solution that provides a win-win for everyone.

Got my 830 a few days back. What an awesome phone.
The qi charging really impresses everyone.

Question: Can you confirm that the 830 will get Denim update and does it support the Hey Cortana voice activation feature?

It is running Denim but does not have the Hey Cortana feature.

It comes with the Denim update on it already, and from everything we know so far, it won't get the "Hey Cortana" feature because the processor is not powerful enough to support it. That feature will require an 800 series processor or higher. The 830 has a 400 series processor.

So the "affordable flagship" will Not get the "Hey Cortana" feature? Wow..

Woohoo!! Ordered it this morning! Nice confirmation.

I ordered mine today too.

how much price of wireless charger in India for Lumia 830

Tangentially related - how can one find "public" Qi charging places easily/readily? I've seen the odd story here and there about Airline lounges, or certain coffee shops. But "is there an app for that?". Would be nice if HERE maps ad a db and could find the nearest :)

grr, what is going on - "if HERE maps HAD a db" that could fine the nearest one...

You realise you can edit comments on the mobile app?

830 variant on Verizon?? Anyone know?

The 822 is the best 800 on Verizon.

Believe me, as a Lumia 920 owner who has enjoyed the built-in Qi wireless charging, and Lumia 1020 owner who, in order to continue enjoying Qi, had to purchase the Qi shell, I couldn't be happier that AT&T got smart with the 830. But I'm not interested in purchasing lesser devices. I am anxiously awaiting a Lumia 1020 successor. The 830 ain't it.

I know the feeling. Photos are the most important thing for me - the memories that last long after the phone has gone. So I just can't imagine going to anything less capable than the 1020.
Come on MS - give us our Pureview fix! :)

I went to the store and played with the 830 today. It's pretty nice... Can't wait for the denim update to come out.

I went into my AT&T store to check out the 830 today and they didn't know when it would be available. I was told that they can't predict when Windows Phones are going to be in stock. Oh well.

Sounds like you were fed a load of bullshit.

So, the 925 for T-Mobile is also missing wireless charging built-in? Is that a model-wide decision? I'd add 2mm for wireless charging anyday.

That wasn't a T-Mobile exclusive feature removal (like AT&T did to their 1520) or something. No 925 had the wireless charging feature built-in, you had to buy an optional cover to enable the feature. The same was true for the 1020.

Wasn't this already confirmed like 2 previous times?

I heard Verizon may very the 730 selfie phone

Call att. They will help you get into this phone. They also have a promotion to get the fit it free with it

"fit" it into one comment thread.

Hope this gets on Verizon. I checked it out today and it looks very snazzy.

Picked up 2 in stock at local Microsoft store

PIcked up mine today at ATT. Very impressed with the build quility. I was a bit timid as I'm "upgrading" from a 1020 but now that I've had a couple hours to play the 830, it's pretty slick.. I know the 830 camera will not beat the 1020 but it seems to hold its own and the photos look good. One note from todays purchase, noone at ATT knew anything about the 830. The sales guy "imformed" me the black cover was only a cover and the green one was the wireless charging one... I corrected him but he was "pretty sure" he was correct. Also of note, three sales guys asked me why I was buying this phone. They stated I was the third person to ask about the phone (it was about noon..) and they thought that was pretty odd..

Nice...do u have glance. I heard u don't....

The 830 does include glance.

yep. glance and tap to wake works great on the 830...

Don't expect anything from Verizon and you won't be disappointed

Stopped by the store on the way home. I'm tempted, but yes, definitely more of a side grade.... Camera without focus flash kinda makes mediocre pictures imo compared to my 920. That being said, the m8's pictures were horrendous compared to both. I mean, horrendous on zoomed in details. Not bad zoomed out. But horrific zoomed in. Also, I concur about display, much better than expected, and definitely better looking than HTC for some reason.... I think the 830 is the better of the the two.... And it's only a side grade from my 920. :(

It is only a side grade from the 920, but it is pretty worth it if you are in the market for a new phone. My 920 was showing its age, and not working the greatest anymore so I needed to get a phone sooner than later. It is a really nice phone to replace a 920. Plus it actually has all of the important features of the 920 in a sleek design.

Not mention the newer quad core processors, even at shower clock speeds, just seem to run 8.1 better.

I'm almost at the end of contract with my 920 and I'm at the same place you are. I'm concerned that the 830 has a 400 rather than 800 series processor. I understand that Hey Cortana will not be available. I'm thinking that waiting for an eventual 930 might provide something a little more future proof.

Picked up the 830 for my brother today at the MSFT store and the first thing I noticed was no Nokia brand on the front glass. Anyone else notice this!?

I went early this morning to the at&t store in my neighborhood and they have it. I got the bundle that includes the fitbit and I'm happy. Like everyone has said the wireless charging works, tried it on my jbl power up speaker. Once Lumia camera is updated I will be super happy.

I just picked up my L830 today and I'm enjoying the wireless charging on my L830...

Sorry guys I'm not on At&t ... I'm not even American but I just want to say that I received my brand new Lumia 830 yesterday and so far I am Super impressed and happy with the phone!

No Glance on the 930. That's too bad.

Verizon don't support WP 8.1. So the 830 will not ever be on there. Too bad.

Is wireless charging on both covers on the 830?

Don, both covers have the wireless charging.

This is great news, thanks for posting it. I just picked up my Lumia 830, and saw the wired connection on the inside of the back cover. I haven't used wireless charging on my previous Lumia phones, but will on this one. The 830 is definiately the best WP so far. I've had the 900, 920, 925, 520 (?) and 635. My daughter currently has a 1020. And the 830 is really the top of the bunch.