AT&T planning Windows Phone 8 and Windows 8 launch, training dates set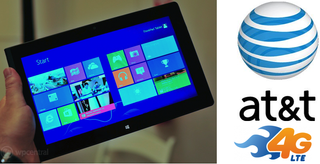 AT&T has big plans for Windows 8 and Windows Phone 8
It looks like once again AT&T in the United States will be taking the helm for Windows Phone 8 and even Windows 8 come October and November. Windows Phone Central has now confirmed information about AT&Ts upcoming plans, including employee-training dates for the big launch. The info comes via two known and trusted sources who wish to remain anonymous to the public.
First up are Windows 8 tablets. With Lenovo's ThinkPad 2 officially having AT&T's LTE on board, it's not too much of a surprise that the mobile carrier will be looking to sell the tablets in their store direct to customers. We were quoted the $799 price-tag by Lenovo last week for the 10.1" tablet and we're confident that you will be able to pick one up there come October 26th.
In addition, Acer and Samsung may also have tablets sold through AT&T e.g. the ATIV Tab though we have yet to confirm pricing or any other details. We do know that AT&T was looking at these devices as candidates too though we are not sure if they have been picked up. These tablets along with the Lenovo will be on display in stores, presumably with a tie in to Windows Phone 8.
For those looking to buy Microsoft's Surface RT tablet, AT&T will of course not be a part of that for two reasons, one obvious, the other not so much. First, none of the Surface tablets have as of now 4G capabilities, so AT&T would have no incentive to sell that device. Second, Microsoft is adamant about controlling the way the Surface is sold to customers, hence why only their official Stores will sell the device direct to the masses. We have evidence of an internal policy from Microsoft that in short says they don't trust the Best Buy-type chains to accurately represent and sell their products.
The other bit of information we have is that AT&T will have two employee training dates: September 30th and October 16th. We've confirmed that these dates will be both for Windows 8 and Windows Phone 8 preparation to familiarize store employees with the new terminology, branding and feature set.
Heading into speculation land, we reported earlier that AT&T was planning on launching the Nokia Lumia 920 on October 21st. While this above information does not confirm that date nor add to it, it is curious that the second training date is on the 16th. Had the date been post October 21st, we could have at least downplayed that launch window for the Lumia 920. Instead, it may back up that information.
AT&T has yet to officially announce support for the Lumia 920 though it is widely expected. In addition, the company will be getting the HTC 8X reportedly in "early November" and we wouldn't put it past them to get the Samsung ATIV S too.
Windows Central Newsletter
Get the best of Windows Central in in your inbox, every day!
Daniel Rubino is the Editor-in-chief of Windows Central, head reviewer, podcast co-host, and analyst. He has been covering Microsoft since 2007 when this site was called WMExperts (and later Windows Phone Central). His interests include Windows, laptops, next-gen computing, and for some reason, watches. Before all this tech stuff, he worked on a Ph.D. in linguistics, watched people sleep (for medical purposes!), and ran the projectors at movie theaters because it was fun.
Good thing that Microsoft will be the only seller of Surface. Makes perfect sense given that third-party employees generally lack information about the product and interest of selling it.

Only problem is, there is not a Microsoft store everywhere. Where I live, I'm about 15 min from almost everything (shopping malls, etc) but, over 2 hours from the nearest Microsoft store. It's like that for a lot of people.

They are not going to sell Millions of them if they cant put them in all the stores local to people.

I'll buy one but, not till I hold and play with it...then might buy it on-line anyway..

They are setting up pop up stores for the launch. See if there will be on near you.

I live in one of the top 15 largest cities in America and there is not one within 2 hours of me. You think 1.5 Million people in the greater Columbus area are going to want to drive to Cleveland to just get a tablet?

I agree. I live outside of Columbus and I'm suprised there isn't one.

I live in Arkansas on the border between Arkansas and Oklahoma. There may be a microsoft store in OK City about 3.5 hours away there are none in Arkansas There may be one in Memphis on the other side of AR The last I checked the closest MS sstore was In Dallas which is about 6 hours away. Not happening unless I buy on line. ATT store is about 3.5 miles away No problems with that.

If you live in NW Arkansas like myself, Overland Park in Kansas is the closest (about 3.5 hours and by far the easiest to get to).

There will be pop-up stores in both Tulsa and Oklahoma City

In that case I'll hit up Tulsa for sure. Only about 90 miles away.

Don't feel so bad, i live on an island 30 miles off the coast. That MS store trip will be painful and expensive.

YOu do know you can order online...right?

Sounds like the mentality of an iSheep. 'PLEASE, take my $800 without me having ANY idea of what the product feels like!!!!"

That's just modern shopping. Wait a couple days, read some reviews, then order online. No need to create this big rush to purchase it. Sheep rush to a store and wait in line. They are so happy they have their gadget before anyone. Why not just take your time and buy it after reading a bit about it and comparing it with other products.

This.
If you need to hold the device and the store is far away, suck it up and take the trip.
Otherwise read/watch reviews and order it online. That option works for millions of people, just ask Amazon and other online retailers...

Like this ladie did? http://www.youtube.com/watch?v=BMsLArefSOw&feature=player_embedded

I just checked. There will be pop up store 5 miles off shore. :)

Microsoft really didn't bring the Surface to market to sale millions of them. That is why they have partners in the OEMs. The Surface, while available for sale to the general public, was a message to the OEMs how they expected a Win8 tablet PC to look and feel and operate. The Surface is really more of a Windows tablet Reference Design, like the Google-approved Nexus line of Android phones.

I just wonder how about us living in Europe?
With this Microsoft might be going for similar fail like they did with Zune HD. Went all the trouble to get it from USA and paid a lot of extra to get it here Sweden. There was probably 20 people in Sweden who had Zune HD.
Not going through that again and will rather get other Windows 8 tablet.

If AT&T staff does not have any real skin in the game for the long term I can't see the value. Microsoft stores will easily be one of the best places to buy a WP or Windows Tablet in the future. Microsoft would be smart if they placed staff in high volume AT&T stores to catch WP sales AT&T misses on purpose.

That would be so weird to have MS employees contradicting AT&T employees.

I like the idea but yeah.. Not so sure AT&T (or to a greater extent, the AT&T sales reps in the stores) would like that.

I am getting Lumia 920 from Amazon. Hope they will have it too on Oct 21st.

so we still havent heard anything about T-Mobile getting the Lumia 920 or their own version of it? :/

No US carrier has announced the Lumia 920 yet.

Maybe HTC's announcement of the 8X heading to AT&T, Verizon, and T-Mobile in the US spurred Nokia to do the same with the 920, and the deals aren't yet final. We can all dream, right?

man i hope so, i cant help but feel if Tmobile doent get the 920, ill be settling for the 8X

I hope they do because I don't want to switch but I will as I will not settle for anything other than the 920.

I hope this is true. If the employees really get trained then the employees will be more likely to push Windows phones. Very exciting.

MS will have it's pop-up stores in different places on October 26th so the Surface will be sold through those and also online. Most people seem to only think about the pricing for it, what I really want to know though is how do I get one outside of the US?

That October 21st date seems to get clearer and clearer. If it comes out then, I'll be excstatic. Too bad I just recieved a 'mystery reward' from Best Buy this morning that expires on October 13... Bah! Would've been nice to add 5+ dollars to the purchase of a new phone...

Buy something for $5 on October 13th, do not open the item, hold the item and keep the receipt for about 25 days, return it for a full refund, then use the $5 towards the purchase of the WP device of your choice.

I'm starting to get pretty excited for this launch. It seems like the carriers and OEM's are really getting behind the Windows 8 and Phone 8 architecture which shows it has a lot of potential. Hopefully that October 21 date is true because I want a 920 ASAP!

My question is, what is taking so long to make announcements? (edited to remove expletive references :) )

I live in Montana, and I didn't even know Microsoft had stores LOL

Buy it from the online microsoft store

Wonder what Microsoft India is doing about Surface here since there is no physical store in India yet.How can i order one?

I think it isn't coming to India...sales are restricted within the US...atleast thats what I read long back...

my brother works for best-buy, and he is indicating that he just doesnt like where MSFT is going in terms of BB. Ie, apple pays for the mini-apple store within BB, but msft refuses to do this. This will only be exaggerated when office goes to being subscription product, etc. Now I personally feel that current BB (and att employees) do a terrible job in selling MSFT products as not being cool enough, but this could also be because MSFT refuses to invest in a meaningful way with some of the retailers. chicken? egg?

BB is on the verge of bankruptcy, I don't see how MSFT will invest in something that won't survive for very long. Also, I've never actually seen people buy electronics at BB anymore. People rely on Amazon for electronics now, even if its something big as TV.

I bought a TV through amazon and through a NY wherehouse store. The TV came in perfect condition, the shipping was free, the TV cost a little less then BB and the delivery guy helped bring the TV into the house(even though they are not supposed to). It was a good experience all around. It's still nice to go into a store and look and the product, but their prices just aren't very competative and the service isn't all that good either.

Does Apple pay for Apple display or do they make BB set it up as a condition for selling Apple products? If it's the later, MS doesn't have the clout to do this, especially since they don't manufacture the computers. If surface is a hit, then they can force BB to do a display like Apple since BB will want to have the product in their store.

Apple only pays by the % they give BB from selling products. Apple views it as they "let" bb carry their products. Apple doesn't give a penny more to anyone than they have to.

Yeah...but here in the Netherlands we don't have ANY Microsoft store... Here they have to let them sell Surface through MS dealers I guess. I'll be buying one on day 1. The Pro I mean.

I thought you could buy the Surface online from MS's online store also?

I'm waiting for the 940. You know, a real phone.

What? Sounds kind of nonexistent to me....

I waiting also for 980 and its a real phone too. muaahhhhaaaa

They should set up a website that will allow you to look for temp stores near you, to purchase the Surface from. Or even an app.

There is a Microsoft store app that you can download in the marketplace they may put temporary store locations on there

How can the official launch date be OCt. 21st when Microsoft isn't officially launching W8 and WP8 until Oct. 25th?

That's only for Windows 8. The WP8 launch date hasn't been officially stated yet.

If $799 is the direct price through AT&T for the Lenovo Thinkpad Tablet 2. Wonder what would the price be with a 2 year contract be? There's no way the $799 is with 2 year contract. At least I hope not. I'm currently on TMobile with expired contracts, and if they don't get the Lumia 920, I'll be moving all my lines (3) over to AT&T, and picking up some tablets and phones. I need to see if their plans are comparable in price.

i don't think any cell providers are doing tablet contracts with subsidies anymore.

I left AT&T for T-mobile because its cheaper on my family plan.

Any truth in the article some time back that Carphone warehouse in the UK may be selling the Surface?

Personally, I feel the Surface tablet should be available in all electronic stores along with being available in At&t, Verizon, Sprint, and T Mobile stores. Try to sell as many as possible!!!!

I don't think MS wants to sell "as many as possible". They want to light a fire under OEMs and force them to release products of similar or better quality and performance. I bet some of the OEM devices we see will be pretty nice.

You might be right there, but that in itself is a problem. Flood the market with the products and make sure people see there tablets everywhere they go. Basically that's what Android has done and is doing now.

They flooded the market with phones from various oems. if ms floods the market with the surface, they will piss off the oems. this as just a message to oems that if you don't get your act together, we will take over. balmer said that the expect to sell a couple million surface tablets. they are not trying to sell in apple numbers.. i don't think they have the manufacturing capacity to even make that many.

Every passing day they wait on this launch, thousands of people buy iPhone 5's and are locked into contracts. Get with it, Nokia! :)

I really hope the Surface is $199.

Can some one please tell me the internet speeds that the surface can handle? Even if it doesn't support 4g is it capable of handling fast speeds on WiFi?

Sorry can't tell you about tue speeds. But from what I can remember, on the day Surface was announced l, they said WiFi will be really fast because it included dual antenna. I think amazon saw this and decided to copy MS when they included this feature in the kindle fire HD.

Microsoft store, please take online order for surfaces!

Paul Thurrott & MaryJo Foley are sticking with their information that WP8's launch date is 10/29. Maybe the 10/21 date is for pre-orders like Apple?

that's pretty plausible, anyone know what day ATT tends to launch new devices? sundays? mondays?

i would be totally okay if it was a 21st preorder for sale the next week. i just want somewhere to send my money!

Windows Phones normally do launch on Sundays, with the exception of the Lumia 900 and Titan 2, due to it being Easter Sunday. But do they normally have training on Sunday?

The manager of one of the local corporate stores told me they do their releases on the 1st and 3rd Sundays of the month. When you preoredered the Lumia you could get it delivered or pick it up at the local store on Friday. I am hoping htey will release it on the 21st and then let Verizon release theirs the first week in November like has been rumored. That gives ATT a 2 week exclusive but still gets it on Verizon which is a must for the 920 to be a success here in the US

Eh. Until all of this is confirmed by Microsoft or Nokia, it's all just trying to glean information from reading tea leaves, so to speak.
There *was* an interesting news item the other day though, about the Intel CEO speaking to employees, who admitted that Windows 8 (not WP8) will ship, but not completely finished, and that Microsoft will issue 'updates' to put the finishing touches on it.
I'm wondering why a giant company like Microsoft, who have all the resources in the world, wouldn't just be throwing programmer bodies at this, to get their OS done.

Intel is still upset with MS making RT able to run on ARM chips and hurting their marketshare.

The only issue I have with Windows 8 is that Intel hasn't updated all of their drivers for it. Windows 8 is very god and stable. I believe MS is planning to update some of the metro apps after launch though.

Just post the dates MS & partners. I am due for an upgrade and my Focus has taken a beating. I need to go hands on to make a choice.

You guys are all complaining, but at least you don't live in grass shacks in the middle of the pacific ocean..... -_____-. WE NEED TECH TOO! I WANT MY SURFACE.

Is Microsoft Surface U.S. only? Why not worldwide? Legal ramifications? Or is it the company policy? :-(

This is how you get a new tech product. http://www.youtube.com/watch?v=BMsLArefSOw&feature=player_embedded


When I got my Lumia 900 I was surprised that the people at ATT were pushing it as hard as they were.
I pretended not to know anything about WP7.5 and let her walk me through it and she did a pretty admirable job. When I pulled out my Titan she looked pretty surprised. I told her I was genuinly curious about her knowledge of the phone. That started a converstation about the training she went through. Apparently she got paid a little extra to go to this training and that it was NOT required that all employees who sell phones go to these training classes.
I was pretty surprised by that response, quite honestly if I was MS I would be greasing the palms of the ATT, T-Mobile, and Verizon Executives and enforce that all employees go to the Windows Phone 8 training.
Windows Central Newsletter
Thank you for signing up to Windows Central. You will receive a verification email shortly.
There was a problem. Please refresh the page and try again.