Lenovo ThinkPad Tablet 2 with Windows 8 to be priced at $799 with keyboard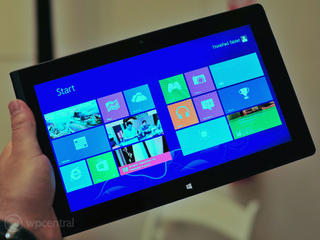 ThinkPad 2 for $799 w/keyboard?
Last night we popped by PepCom, a little tech event that happens every few months here in New York City. We were curious if Samsung would be there with their ATIV lineup (answer: no) and we were hoping to maybe spot some interesting tidbits for you folks. We're not too heavily focused on tablets here, but sometimes we find out things.
For instance, we managed to get our mitts on the upcoming Lenovo Thinkpad 2, sporting Windows 8 Pro and a 10.1" 1,366 x 768 IPS display. Impressions? It's very nice and we're kind of itching to get one, especially with its reported 10 hour battery life, 2MP/8MP camera, AT&T LTE, NFC, USB ports and even a stylus.
Surprisingly, Lenovo told us straight up the price tag when we asked: $799 and yes, it will launch October 26th (presumably at 12:01am).
Up until now, the price of the ThinkPad Tablet 2 was only rumored to be between $600 and $700, making this on the higher end of that spectrum. The good news is that does include the full keyboard and the full Office 2013 suite, but we're not too sure about the optional dock, which has an Ethernet port, three USB ports and HDMI out.
Presumably, we could easily be looking at much less were you to buy it without the keyboard, bringing it back down to that $600 range or slightly higher if you add more options (like a fingerprint scanner).
The ThinkPad 2 is geared for enterprise over consumers, so the higher price tag may make more sense as this includes just about everything you can imagine, especially when compared to the iPad (although the latter admittedly has a much nicer display).
Assuming that $799 price tag sticks for the full Pro version and keyboard, what are your thoughts? It's a bit pricey but you are getting what seems like a no-compromise Windows 8 Tablet. That price can only mean RT tabs and Pro tabs with less specs will be $600 or less, with RT quite possibly hitting that $299 mark.
Update: For those asking about the CPU, the speed has yet to be confirmed by Lenovo. It is rumored to be Intel's Clover Trail at 1.8GHz.
Windows Central Newsletter
Get the best of Windows Central in your inbox, every day!
Daniel Rubino is the Editor-in-chief of Windows Central, head reviewer, podcast co-host, and analyst. He has been covering Microsoft since 2007 when this site was called WMExperts (and later Windows Phone Central). His interests include Windows, laptops, next-gen computing, and for some reason, watches. Before all this tech stuff, he worked on a Ph.D. in linguistics, watched people sleep (for medical purposes!), and ran the projectors at movie theaters because it was fun.
What CPU does this come with?

It's actually a Pentium 3... No, just kidding... I don't know.

To me, the Clover Trail performance (speed) needs to be better than previous Atom versions I've used. I've seen the ExoPC (Pineview N450) and an Intel Inspiron Duo (Pineview N570) with Windows 8 and they were not acceptable to me.
I have no idea about the more recent Atom versions with Windows 8, but I would personally wait until I see the tech reviews and performance tests.

$100 too much. I would bite at $700.

That's the good thing about price drop and amazon ;)

ThinkPad build quality is pretty much guaranteed to be excellent and durable, you're also getting a active digitizer/stylus and keyboard attachment. Its worth every penny imo.

Tablets are kind of a big deal nowadays. You guys should focus on them a little more, especially since it's OUR ecosystem. ;)

I second this sentiment. While not directly Windows Phone, it does relate.

Yeah, true but it's hard and we end spreading ourselves thin. I do have a hands on with Dell's RT tablet though if people are interested...

I am interested as I am in the market for a new this holiday season :D

Since the announcement of Windows 8 and Windows Phone 8, I think the majority of us on wpcentral are eager to hear news about windows 8 as well. With Windows 8 and Windows Phone 8 sharing similar kernels, there will be a lot of parody among the two and it would be nice to know what our options as consumers are. Thanks for the hard work all of you at smartphone experts do.

I think you mean parity, not parody

Haha, I hope its not parody. Wonder how much the stylus will go for.

Yes, Daniel, please post! I believe a lot of the WP8's popularity over the masses is going to stem off Microsoft's "3-Screen" vision, I know I for one (as well as most of us) have 2/3 [360 & WP] of the screens and are anxious for the final piece of the picture. :)

Daniel,

I'm also interested in your Dell RT tablet hands-on video so whenever you have some downtime (is that even possible, LOL), could you post it?

Maybe you just need a few more hands to get hands on with this new area of our ecosystem.

I'll take all the information I can get on the RT tablets. I've been seriously debating on getting one for consumption activites (I have a laptop do do any development, etc...). Post it. :)

Daniel,
If you guys are feeling spread too thin with tablets, consider this reply an application to be WpCentral's new "Tablet Reviewer".
I have excellent writing skills, 20 years' worth of experience in technology and advertising and two degrees in audio/video production/post-production.
I would be willing to review a few products for WPCentral on spec, let you run them at no cost, if you deem them worthy, and possibly discuss a paid position if the reviews generate substantial reads and comments for the site.
This is a serious offer. I have written a guest post published on PocketNow and have one of the highest comment counts and recommends on the Verge forums (500+ and 50+ respectively), and would thoroughly enjoy the opportunity to review and write about emerging technologies.
Plus I'm a huge Windows Phone/Windows 8 supporter to boot!
Thanks,
Robb

I'd love to read the hand-on of the Dell tablet you mention. Maybe save it for a weekend or slow news day? I don't desire a ton of Windows 8 tablet news on this site but I will say that with MS' play to build a full hardware/software ecosystem this year I, like many others, am thinking about jumping in and buying a tablet along with a new phone.

While i would love some tablet news, I think it would clutter the WP Central site, its a huge business after all. And to cover it I believe we loose quality of the WP news, after all, there is only so much a few persons can do. Tried a little writing my self and, wow, it gets really big really fast.

I will be shocked it we don't phone/tablet/carrier plan combo's by Christmas.
Combo Deal: Samsung Ativ + Samsun Ativ S + Verizon Share Everything Plan for $$$



ThinkPads are definitely know for corporate use. If the build quality of this tablet is anything like Lenovo's laptops, the durability will be top notch. I am a little disappointed that is only has an Intel Atom processor. That said, I haven't used any newer generation Atom's so it might be quite sufficient. Price seems a little high but at least does come with the dock/keyboard. I am guessing it will only appeal to specific types of users.

EDIT: If it does only come with a cheaper keyboard and not the full fledge dock/keyboard, price seems a lot higher than it should be.

The way I understand it there's a "touch keyboard", a full keyboard (both are part of the case/cover) and a keyboard/dock combo. Daniel mentioned it was a full keyboard so I take that it's NOT the "cheap one."

Very nice but I'm holding for the RT surface I think... if the price is right. I don't need Pro on a tablet, that's for my desktop. :)

Not bad for a full blown operating system. The only problem I have with RT is my inability to use Cisco VPNs for work.

I'm sure it will come if enough pressure is placed on Cisco.

Too expensive.
$399 & $499.

This will just help Ipads and Fire's.

For a Windows 8 Pro device with those specs? I'm not sure you're aware of the cost of "things", lol. And what would that make an RT tablet? $99?

You are missing the point though. This can/will replace a tablet and a laptop. Plus, Lenovo ThinkPad's have a HUGE name in the business world. ThinkPad's and Lenovo desktops are all over the place in the Amazon building I work at. Ipads and Kindle Fires can't do most of the things this can do. Totally different market.

For businesses that use Ipad's for menus or POS's (or other similiar uses) this isn't needed. It is smarter to go with an Ipad or a Windows 8 RT tablet.

I don't think Andrew L understands what one is getting for $799 on the Lenovo.

Its more comparable to a laptop/ultrabook than iPad or Kindle...try to compare oranges to oranges, not apples. =/

This guy has no clue what he's talking about

I have used windows 8 on an old dell tablet with old atom processor and the performance was quite good. Don't recall if it had 1 or 2 gigs of memory.

Anyone know if the RT models support stylus input?

Haven't seen any that do.

The stylus input is essentially replacing your finger and using a capacitive screen-compatible stylus. So, any tablet (iPad, Android, Windows, Playbook, etc) should be able to use it.

The stylus input is essentially replacing your finger and using a capacitive screen-compatible stylus. So, any tablet (iPad, Android, Windows, Playbook, etc) should be able to use it.

Stylus input on tablet PC's makes use of a digitizing layer on top of the capacitive touch screen. Stylus input allows precise drawing and sketching on the screen itself. Like a wacom digitizing tablet except the tablet is also a touchscreen. For stylus input to work on a touch screen, the tablet must have palm/wrist print rejection system so the user can draw and sketch like on paper with the wrist resting on the screen, without activating touch screen response. Tablet PC's have had digitizing stylus screen technology for more than ten years. Sketching on a capacitive touchscreen is finger painting, not drawing.

If this price is including a docking solution similar to the Asus transformer line, then I think $800 is a sweet spot with full Windows 8 Pro. You're basicially buying a laptop that doubles as an entertainment tablet.
If it's, "Just a keyboard," well, I'm kinda confused on what that means, so I can't really say whether I still think it's a good idea or not.

Don't expect any RT tablets to cost less than $499.

Yeah, why? RT tablets will probably look similar, but will have much different (inexpensive) internals. The RT Tablets will have to compete with the iPad and the large Android tablets. If a Thinkpad Tablet with all these extras (it has a cellular radio as well) is $800, then RT tablets will hopefully be much less than a similar iPad ($500).

I wonder if that HDMI out will push 1080p or just 720p.

$799 sounds reasonable to me for what could be a laptop replacement

If sporting an Atom processor the price is too high.

Wacom digitizer, stylus, Windows 8 Pro and many enterprise features since it is a Thinkpad

It's 8 Pro so it's not sporting atom.

It is sporting an Atom. Specifically Intel's new Clover Trail line.

Laptops, tablets and PC are future smart phone docking shells. This not a question of if or when it's already happening.

For light end users this might happen (I know there are current examples). For people that need high end computers for work and play, that won't ever happen.

If it's pro, I no longer need a desktop/laptop at work. I will simply dock the unit and extend it to an external monitor for larger screen at work. I'm currently running win 8 Pro N enterprise edition in my office and it work really well. I don't see the start screen unless I want to because i have my desktop just like it was when i was using win 7; only difference is specific programs are pinned to the taskbar. I compare win 8 desktop environment without start menu to using hotkeys because it make you take a quicker route to access items by right clicking in the lower left corner of the screen.....normal start button items are there for quick access. IMO

There are programs that add a very reliable copies of a start menu to windows 8 for people who can't live without it. I've used one and love it.

Pm me so I can be reminded to look up what I used.

Higher resolution displays? These look like entry level devices...

How high resolution do you need on a small screen?? Esp. on a business machine

As least at high as the new ipad. WP8 beats out Iphone5 and but all the tablets are far behind the new ipad in resolution.

I guess my point was that at what point is a higher resolution not cost effective or needed? None of my computer monitors or my 55 LED TV have resolutions that high. If you really need that high of resolution, it is probably for applications that you are going to want to use a bigger screen anyways.

As a business user, Excel is my most important application, and I would imagine that many other business users would feel the same way. Good resolution is essential to having the necessary screen real estate to view and edit spreadsheets.

I find it really hard that excel wouldn't be good at the ThinkPad resolution.
Unless you are watching a HD movie, you probably won't notice a difference...


you guys failed in getting compleet specs of this
what is the CPU?
and also, no video

Cnet has said it has an atom processor. I am guessing whatever the highest end atom is...

@andrew120--no one is really reporting the CPU because it's not widely known. The architecture is Intel's Clover Trail with an unconfirmed speed of 1.8GHz.

The press release states Atom, just not which one. http://news.lenovo.com/article_display.cfm?article_id=1616

Are these going to be pressure sensitive concerning the stylus?

Off of Lenovo's website:
"Optional Digitizer Pen. Allows signature capturing, annotating documents and note taking."

Hey Daniel, thanks for this post! I really don't mind windows 8 related news! Keep up the good work!

Did I miss something? I thought the Pro version of Windows 8 was coming out a few months after the RT version. Or was that only for the Surface tablet?

If $799 is for the Pro version, and it comes with a keyboard, then it seems very similar to current laptops. Good pricing.

But not many $800 laptops come with an Atom processor and smaller, lower-res screen. These are more on the order of a netbook. Granted the tablet has a touch screen, stylus, 3G/4G connectivity, though. And I would expect to pay a little bit more for a table vs a notebook. But I think the processor could be a stumbling block for heavy duty business users. I am not sure what version of Office comes with. There is a disctinct lack of specificity on that in either the press release (http://news.lenovo.com/article_display.cfm?article_id=1616) or product page (http://www.lenovo.com/products/us/tablet/thinkpad/thinkpad-tablet-2/). All that is stated is "full MS Office support." That could simply mean that it will run the x86 version of Office.

It said it can run photoshop, quicken, turbo tax..etc. so it can run full office.

A no compromise experience on a tablet including the keyboard for 800 USD, seems pretty good to me unless the processor underperforms

How much storage space does it have?

Sounds reasonable. I might end up buying it to keep me busy until Surface pro.

Just remember that ThinkPad's tend to be more expensive than consumer focused laptops with similar specs because of the build quailty they use. It is meant to withstand a lot more.

And it is Lenovo. They are pricier than say Dell. That 799 probably includes all Office suite products on the Enterprise platform.

You could have mentioned that :D

Yeah, the problem is this: My knowledge of smartphones/mobile > Tablets, Windows 8, Enterprise jargon ;-)

Too expensive for an atom with a touch screen and pen. Maybe good price for enterprise though as mentioned. If they threw in a i3 ULV should be good.

This will most likely be my next PC (w/dock) as we (MSFT FTE) will be getting the Surface RT from Uncle Steve!

Can windows 8+a stylus be used as a graphic tablet, ie for input into adobe illustrator? Or would a product Bamboo still be required?

yes. nothing extra needed

$800 for Windows 8 Pro sounds reasonable to me. Weren't the Surface Pro's rumored to run over a grand?

Where did you hear those rumors? I'd love to know!

The Surface Pro has better specs for a consumer. The Lenovo is for business.

I think the amount of responses you are seeing to this article might be indicative of your target audience's/customer's desire for more Win8 tablet news.

:)

Techiedude

Worth it at that price. This is a high end Windows 8 Pro tablet. I'm sold.

im actually happy with that price, because to me an RT will be around half the price. we also have to remember this is just one OEM there are more to come and those other OEMs need to compete with pricing. i think it was Asus pricing RT tab for $600-800, why spend $ on an RT when $600 when i can get a Pro for $200 more

It's going to be a tough call for me... I think I'll wait until I see how much of a necessity i5 is going to be for me over Atom. Next several months other tablets will be out and I imagine we'll see how each manages intensive applications and media (e.g. immersive games). I am still drawn towards the Surface Pro...first because I am not going to buy anything like this until (a) my 5 year old HP just dies or (b) I have real leisure cash available. Second, I would like a pure Microsoft experience, preferably across the board (phones an obvious exception). Third, Surface is just iconic, it stands out...would look slick with my Lumia 920 or HTC 8X.

any tablet article at bare minimum needs CPU specs, LCD res and actual OS (Win8Pro vs WinRT). $799 at launch is great for a real x86 PC PC/tablet with the Clover Trail and it's "connected standby" features and pen support. People walk out of apple stores playing more for iPad toys http://www.lenovo.com/products/us/tablet/thinkpad/thinkpad-tablet-2/

Windows 8 Pro: check LCD res: check CPU Specs: Not known (Intel's Clover Trail. Speed 1.8GHz? unconfirmed) Not sure what we missed in our article...I mean, I have to question now if you actually read it.

Sounds reasonable but would need to know more.

Really what process does it have?? Also if it has a USB it might be too thick for the price. I'll wait to see what Sony, Acer & Samsung have to offer.

Surface Central...build it

This just seems pretty crazy, how can what is basically a touchscreen NETBOOK cost $800?!?
The internals are basically the same as what is sold at $300 or less. I get that they want to be able to charge as much as they can, but this is insane.
So repackaging internals and adding a touchscreen costs an extra $500..... wow.

Do netbooks include N-trig options? Nope :)

The only Atom based tab to think about is currently the Dell latitude 10. SD Card reader mot microSD, removable battery and dock/keyboard options. The removable battery means that it won't be junk in 1.5 years when the battery dies.

That alone is the most important option in ALL of the tablets.



Early adopters should expect to pay a tad more than normal.

I like the look of this, but $800 for an atom? Ok, so it is the thinkpad brand, which demands a premium, but according to this, the screen will be a disapointment too, at 1366x768:
http://techin5.com/2012/08/lenovo-windows-8-thinkpad-tablet-2-specs-leaked/

I can't say just yet what Windows 8 computer in getting just yet. I'd need to try them out, see what I need. Specs are great and all, but it depends how well they work for me. If the new atom is enough, then so be it.

Lenovo is a dam good computer company

I like Lenovo. My laptops have all been IBM's and Lenovo's. For a tablet, this is a bit pricey for me. I'll wait a year or two for it to come down. I'm not an early adopter.

That price should bring in a lot of sales. People love buying things that are way too fucking expensive.

I think the price is spot on. It has LTE but if this was to hit australian market. We get butts @#$! without lube lol. Does it have usb on the actual unit? If does its a big winner. Aslong its not as slow as those atom proccesor one we have atm. I cry when we load stuff on it. Try demo a toshiba tablet with atom proccesor with win7 on it to customer and sell it ROFL.

This is a fair price for a W8 tablet that runs Metro and traditional desktop apps and it includes the connectivity, storage, keyboard, and cameras. No complaints from me. The iPad is lacking/inferior compared to RT & W8 tablet devices coming to market.

I've read most of the comments and I still haven't seen anyone ask/answer a few items.

1. WPCentral add tablet
I don't think wpcetrnal should add tablet main reason is tablet is going to be big. To cover tablet and windows phone IMHO would dilute WP coverage. I would like this continuing coverage though as tablet and phone will merge in the future. It's interesting a lot of people in the past has said that device are getting smaller and faster.
2. Atom Clover Trail
From what I've read, Intel ATOM Clover trail is a yet unreleased Intel Atom SOC!! If you want to look at clover trail older sibling you can refer to the Lava Xolo X900. This is one of the first commercial Intel ATOM SOC's. I'll jump ahead and mention on that on (Java) SunSpider benchmark, the new iPhone A6 processor beats the Intel Medfield SOC by a large margin (1279 vs. 914). Now that is just a relative point but prior to that the Intel chipset was the fastest. Now to comapre apples to apples, the Intel Medfield is NOT Clover Trail. Also to compare, Medfield has a differennt power profile. If you are interested in Clover Trail Intel is releasing clover trail next week Thurs Sept. 27th and all the vendors mentioned here will be releasing Win8 tablets. "A media event to showcase the latest Intel-based tablet and tablet convertibles, and announce details about the next generation Intel Atom processor (formerly code-named 'Clover Trail'),"
To make some subtle points
- Clover Trail Z2760 vs. ARM SnapDragon S4 vs. Nvidia Tegra 3 vs. TI OMAP vs. AMD Hondo vs. Intel Ivy Bridge 10W vs.Intel Haswell 10W
- I haven't yet seen any Clover Trail chipset with more than 2GB of memory. I don't remember when 2GB was ever enough for DESKTOP and multitasking!!!
- Clover Trail is a bettery sensitve chipSet. GPU is probably PowerVR
3. Win RT vs. Win 8 Pro.
From what I've read and heard RT will get office 2013 basic (word, excel, powerpoint). All the version of office on these devices will not be full featured (e.g. excel wont' support some macroing, etc.) Win8 Pro will support full x86 but will not have office bundled. RT is a power efficient Windows machine (also read consuming decvice) while Pro is a full x86 power machine (also read creation/producing decvice). All windows apps will have to be targetted for the specific OS target: phone, RT and x86 (i.e. you will need to buy unique apps for EACH OS)
4. SInce I have owned a windows7, atom based Lenovo covnertible with a 32GB SSD and 2GB of memory I can tell you that windows does work on x86 but can be (very) sluggish (especially for dekstop). Now how much difference between win7 and win8? I used an applicaton called Street Deck on this Lenovo convertible tablet machhine which is a touch/gesture enabled media playback and navigation software. Again it worked great most of the time, but multitasking was significantly noticeable!
Conclusion
- Look at all the offerings of RT and pro tablets and think of next year with full x86 and 10W TDP. Re-think your purchase. If you heard Intel at IDF, there was mention a a 10W Ivy Bridge part coming next YEAR. Supposeby that's not the SURFACE PRO MS device but unless you want 10+ hours of battery life or a lower cost solution, IMHO get x86. The reason 10W is very important because the Apple A5 is a sub 10W device!
As far as this Leonvo ThinkPad tablet 2, I can't wait. THe price is high but if you look at the BOM, no other tablet mentioned has a 3G/4G LTE capability and wacom support, NFC, etc. An in-exspensive netbook with a crappy screen (NOT IPS), no touch, no FLASH/SSD, no active digitizer, no bundled office support, no wireless (3G/4G/LTE radio). WHen you add all that, no netbook has it and the ones that start to meet feature parity (i.e. Sony 11" devices) are in the same cost structure as Lenovo. It's hard to argue the value until you use it. IMHO, the ATOM though is the weakest link and that is why I suggest you wait. The AMD and lower watt Intel IB parts will really help cement these devices. The low end RT devices will suffer a little because of less features.