AT&T to sell Surface 3 LTE to business customers, but with Windows 8.1 Pro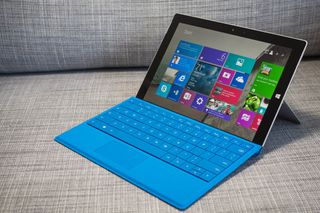 AT&T has been selling the Surface 3 LTE tablet to consumers for over a month now, but the carrier announced it will offer a version of the 10.8-inch device to its business customers soon. However, the tablet will come with Windows 8.1 Pro installed, and not Windows 10.
AT&T does say that the tablet can be upgraded later to Windows 10, but it still seems a little odd that their Surface 3 LTE still comes with Windows 8.1 preinstalled. AT&T will sell the Surface 3 LTE with 4GB of RAM and 128GB of internal storage to business customers There's no word on when it will be made available to purchase, but AT&T will sell it for $649.99 with a two-year contract or $749.99 without a contract.
Source: AT&T (opens in new tab)
Windows Central Newsletter
Get the best of Windows Central in your inbox, every day!
649 with contract and 749 without contract....

Why would anyone get the contract xD

Add with Windows 8.1 out of the box, it should come with Windows 10 pre installed.

I can understand going with 8.1 because many businesses aren't ready for 10 yet. Still, it does seem odd, since hatred for 8 is so strong.

Customers including business customers buying a Surface 3 LTE are looking for mobility. Tablet mode is far superior on Win8.1 than Win10 especially screen sizes 10.8" and less. Windows 10 is the greates OS especially for desktops / laptops but took a step back when used extensivly as a tablet. I think a lot of people are hoping the next major release will fix the tablet mode problems. I know I've updated all my machines to windows 10 except for one of the Surface Pro 2s that I own and use mostly as a tablet.

The reasoning for 8.1 being pre-loadeded is not based on an opinion of which OS version ( 8.1 vs 10) is more functional, but moreso that a business can't simply jump to a new version of an OS as soon as it releases. Testing must be completed for software compatiblity, and in a large enterprise the OS must meet other criteria.

True. Then again, many many enterprises have not tested 8.1 either.

Should but is At&T. What more can be said.

Maybe att's connection software doesn't work on it yet

Those prices and ancient OS, though...

normally surface 3 is sold with windows 8.1 home not windows 8.1 pro so the price is understandable and this is also LTE

Still better than Windows 10.

Does AT&T plan to sell that version of the Surface 3 to regular customers?

yes they do. i just got mine from AT&T, i also upgraded to Windows 10

Am I the only one that things Windows 8.1 is better on Surface than Windows 10..?

No. I like many things about 10, but I like the 8.1 interface much more.

Right; there are some good things about the OS, in some ways above and beyond, but that 8.1 interface just makes more sense. Still, is surprising that 10 is not preinstalled.

I am with you on that as well. My SP3 was flawless with 8.1, but now there are issues with Wi-Fi, OneNote launching with Pen button, apps closing at will, etc. I do like W10, but 8.1 was very stable.

I have a SP2, when turning it on I've been unable to use touch on it. I plug in the keyboard and restart it and it works again. I didn't have that issue when in 8.1. I've been getting this error about every other week.

Windows 8.1 is a lot better. Faster, more stable, fewer bugs, better gesture control, larger touch points, better all Apps list, superior OneDrive integration, Start sync and multi-tile editing, etc. Windows 10 was a big step backwards in a lot of regards. I really hope they can fix Windows 10, because I personally find it unusable after Win8.1.

I 100% agree as a Surface Pro 2 user. I'm in no rush to upgrade my Surface Pro 2 to Windows 10. There's still lots of bugs that need ironing out, key features are still missing, and the upgrade experience wasn't so seamless for a relative on their Surface Pro 2: - Start Screen organization gets discarded when you upgrade to Windows 10; tile groups, custom shortcuts, etc, are gone and have to be redone. - Organizing the start-screen is very tedious compared to Windows 8.1.1; can't select multiple tiles with touch nor with ctrl + click, and when you drag a tile to some upper location on the start-screen, some bug in Windows 10 'cause the start-screen to crash and show the Desktop. - In tablet mode, can't view the desktop, can't auto-hide the taskbar and enjoy the immersive experience of full-screen apps, etc. It's a worse tablet experience than Windows 8.1.1. - The new taskbar is tiny thin at 1600x900 resolution on the Surface Pro 2 at 100% scaling. I require this configuration 'cause I don't want to use Windows Scaling (due to devs being too lazy to make their applications compatible), I'm still able to read content on my Surface Pro 2's screen at an arm's length away without straining my eyes, and I actually gain more space for my Start Screen tiles than at 1920x1080 resolution with 125% scaling. - Although I personally don't use OneDrive (I built my ownCloud), OneDrive's smart placeholders from Windows 8.1.1 are gone; relative can't access their OneDrive files in File Explorer without it taking space on their Surface Pro 2, and there's no intuitive and straight-forward way bring this back. - Currently no built-in methodology for controlling Windows Updates. Windows 10 Pro currently forces me to either become ignoramus of what Microsoft installs on my PC (screw that), or go through a lot of steps to control it. Windows 8.1.1 made this simple and straight forward. - Edge currently doesn't support extensions (glad it's coming in this November update) Those are problems I quickly noticed after taking a moment to try and re-configure the relative's Surface Pro 2, not to talk of all the recent privacy-invading headlines Windows 10 has been making...not desperate to experience the same shit on mine.

At that those prices... your better off getting the basic pro version...

Then they wouldn't have lte(and GPS) built in

Anyone heard if MS will be bringing LTE to any of the new SP4 options???

I just want this with the next plan I need ag least 4gb ill pay $40 a month for it

Makes sense, since some companies don't even have a full disc encryption of Windows 10 yet and that world moves slowly. Posted via Windows Phone Central App because this phone was closer to me.

Maybe they are just lazy to upgrade it. better let others do the job "later"

Well it does make sense since they would have taken delivery of the inventory before 10 launched. These do come with win 8.1 Pro which comes with domain join, bit locker etc

I think this is one of the top reasons. Along with businesses not being ready for Windows 10.

Since this is targeting businesses, this leaves the choice of whether to update to Windows 10 up to the business, and doesn't force them to move to Windows 10 if they're not ready to support it yet. If they're okay with it, updating the device to Windows 10 after purchasing is simple enough. If AT&T were to supply the devices with Windows 10 preinstalled, business customers not ready for Windows 10 would then have a much more complex downgrade process ahead of them.

Business customers might not be ready for 8 yet. This should come with Windows 7 then?

I'm in a company that moves slowly when it comes to mass OS update. Even so, any new computer it buys is on 8/8.1

I want one bad, but I'm just cheap lol.

Yeah... And that makes perfect sense.

They want you to download win10 upgrades through their mobile data plan~ Posted via the Windows Central App for Android