Audible app now available for Windows 8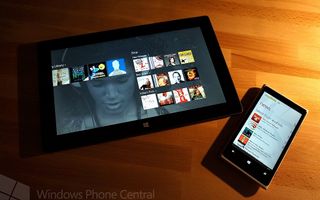 It took the longest time for the Audible app to hit Windows Phone after its initial launch but it seems Amazon has got their act together rather more quickly for Windows 8. The app is of course available for Windows Phone too so many of you may already be familiar with the service.
Audible operates predominantly and most economically on a subscription based model. You pay a fee each month and can use credits to purchase new books, simple. So how does the Windows 8 app stack up? We take a quick look.
The app is free to download but you will need to sign up for an account just like all the other versions or if you just want to look about they let you in without one. Once that's done simply download the app and sign in, if you are an existing customer all of your books will be presented to you in 'My Library'. You then have the option to download the books to your machine.
The features of the app include
Download books to your device via Wi-Fi
Chapter navigation, bookmarking, annotations
Multi-channel background downloading
Shop the Audible store, purchases sync automatically
Support for Audible.com, Audible.co.uk, Audible.de accounts
Installation is quick and painless, and as mentioned before you only need to sign in to get things up and running. To test the app I have been using it on the 32GB Surface and as expected it runs very smoothly. The app has a nice snapped view where you can select to view either your library or the essential 'now playing' screen with the play controls. It's convenient to leave it snapped there when you're busy doing something else.
On a few occasions I have noticed that when I stop playing the book and go away and come back to the app it has an issue continuing on. This could just be down to my setup but it is worth noting. Otherwise the normal task of quitting the app and restarting will allow you to carry on where you left off and that is the most important part of the whole endeavour.
You can browse the marketplace from within the app but this is basically just a window into the web store. That is fine but one can't help more could be done here to bring the experience into line with how the app looks rather than simply looking like a part of the web browser bolted on. As a first generation app it's looking very good and certainly does what it says on the tin. It plays back your audio books.
As a special promotion, new customers who sign up to the service on Windows 8 will be eligible for a free copy of the critically acclaimed Life of Pi. Not a bad offer to get things started but if you do miss out Audible generally have other offers here and there to entice you in.
Good to see Amazon continuing to make sure their content is made available on as many devices and platforms as possible. The Windows 8 and Windows Phone 8 apps are a marked improvement over what we have seen from them in the past and we hope it signals an uptick in development efforts.
You can download the app from the Windows Store here (opens in new tab).
Windows Central Newsletter
Get the best of Windows Central in your inbox, every day!
Thx for the heads up. Downloading now on my surface.

@ downhillrider please do install my first windows 8 app that turn your Tablet or PC into a beautiful clock that sits on your bedside. Set the alarms so that you don't miss your morning coffee or favorite ball game https://www.windowscentral.com/e?link=https2F%2Fclick.linksynergy.co...

Can some body tell me about the app launching times on surface and other devices. In many videos apps seems to be launching very slow.
Thank you

Let's hope it's not as buggy as their desperate attempt at a Windows Phone 7 app.

Hoping for an update that is a little less buggy on WP8. It's the most buggy app I have in fact, yet one that I actually use. The Lumia 920 speakers are too small to play music properly but audio books sound fine.

AGREED! In fact lets hope for an update that is A LOT LESS BUGGY!
Anyone who has used this app in there car over bluetooth will understand what I mean.

Its funny, I just emailed them about two days ago asking if they are bringing one out soon. The dude emailed me and very politely told me no, they're are no plans to release one anytime soon.

Apps are coming folks. Don't let the pundits get to you.

I tried this out on WIndows Phone and found it nearly unusable.
Books in play would mysteriously stop playing, would have to remove, reinstall everything to get it working, or sometimes some arcane combination of button mashing would get it playing again. After dealing with Audible's crashes, instability, poor user experience, I cancelled my account and cited the poor WP app as the reason I quit.
Still, i'll dream of an updated version for wp8 that just works. Hearing Life of Pi (Audible) was one of the better books i've ever read/listened to.

The WP Audible is horrible. I'm kinda hesitant to put this app on my Surface that is running out of space. (Thanks MS)

I completely agree. I love the service, absolutely hate the app on my phone. It is plagued with bugs and crashes and they dont seem to care to do anything about it. If they did, it would have been taken care of by now.
I hope the Windows 8 version doesn't suffer the same way.

I had that problem too. But what seems to have worked for me was to change the quality to high, and while downloading try and keep the app active and the screen on. Doesn't matter if it is Wi-Fi it data.i usually use LTE to download while at work.

The first time i cancelled my subscription was because of no support for WP. The second time I canceled it was because of unusable app quality on wp7 & wp8. I love the service and really want to use it but sorry amazon you dont get a third chance to let me down.

Strange...admittedly the wp7 audible was slow, but on wp8 it works like a charm...also no major stability issues on both for me...htc Mozart before, Lumia 920 now...

That was fast. The Audible app is no longer available for download.

Besides some of the bugs on WP, my biggest problem is the lack of cross-device syncing. i hate that everytime I get a new device I lose how many hours of listening time I have completed and my bookmarks.

What would be great is if Amazon turned the Audible books into DRM free files. Thank any third party could write an Audible player, which would do so much for these audible books. While I love Audible, these guys are about the most clueless when it comes to software development. They likely have one or two guys writing apps in every known environment and are barely keeping up with the changing world out there. DRM is the problem.