Audiobooks for Audible app adds keyboard shortcuts for Windows 10 PC users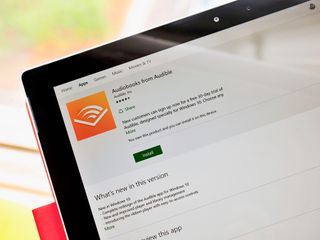 Amazon launched its universal Windows 10 Audiobooks for Audible app nearly a year ago, before the OS itself officially launched. This week, the app got updates with a small but important new addition. It now supports keyboard shortcuts.
That means Windows 10 PC owners on the desktop can now access features on the audiobooks app with their keyboards, which will be helpful for the non-touchscreen user. The Help section of the app can be accessed to show all of the keyboard shortcuts that are available.
Should more Windows 10 apps have support for keyboard shortcuts for desktop users? Let us know in the comments!
Download Audiobooks for Audible from the Windows Store (opens in new tab)
If companies are serious about getting people to use apps on their PCs then keyboard shortcuts are a must have. Especially for apps like audible and vlc.

Love the audible commitment. The app is so awesome it convinced my to reactivate my subscription. I wish kindle would do the same :(

And maybe the shortcuts will work even in the phone that is using continuum?

Audible for phone has started to lockup / freeze on resume. I am not sure if this is tied with this update as I am not sure phone side got updated, as a history option is to much to ask for in the store.... Microsoft, but it is now. Anyone else notice this?

I don't get it Amazon. Your audible division has made an excellent, well supported app for Windows 10. Now why won't you do the same with your shopping app, Prime video, Amazon music, and maybe even an updated Kindle app? Posted via my HTC One M7

Keyboard shortcuts are extremely important. I am one of many visually impaired people who uses computers with the help of a screen reader, a piece of software that uses synthetic speech and/or Braille which allows me to hear and easily review what I am typing and what is on the screen. For us, using a mouse is impossible and an app that does not incorporate keyboard commands is a piece of software which can't be used by us. Also, there are many other disabilities which would prevent someone from using a mouse. Trust me, keyboard support may seem like a nice convenience to some but for many people, myself included, it's an absolute necessity.
Windows Central Newsletter
Get the best of Windows Central in in your inbox, every day!
Thank you for signing up to Windows Central. You will receive a verification email shortly.
There was a problem. Please refresh the page and try again.