Beverage company, Campari chooses HP Windows 8 tablets over Apple's iPad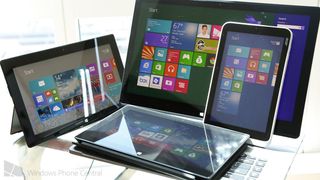 Microsoft has revealed that the Australian branch of beverage company Campari has received and deployed numerous Windows 8 tablets from HP. The company also plans to integrate Windows 8 into the business's range of desktop and laptops.
So which tablet are we talking about? The HP ElitePad 900 running windows 8, which has been supplied to each member of the sales and marketing teams at Campari. The company's Asia-Pacific IT Manager, Loic Herbin explained in an interview:
Herbin continues by stating how upgrading the teams to Windows 8 tablets was "pure convenience," thanks to the intuitive and interactive experience offered by Microsoft's latest OS. Looking at Apple's iPad, the company concluded the product simply couldn't achieve the same level of functionality as it could with a Windows 8 tablet. Office was also a major factor.
The roll-out at the company included training a team member from each state who was subsequently responsible for educating their state teams. With Microsoft's help and advice on tap, Campari has been able to achieve a rapid uptake, taking around a week for users to get familiar with the new OS.
Campari isn't halting at the borders, though. The company is also looking at a global strategy. Herbin explains, "China recently went live with Windows 8 running across a collection of Acer devices. For our sales and marketing teams in particular, they often need to access company information on the go and we're looking to incorporate these abilities into the devices supplied. We're also looking to integrate Microsoft Lync so that users can quickly and efficiently communicate with one another on the move."
To wrap up, the IT manager stated they're "looking forward to the return of the start button to the main menu." Another success story for Microsoft and its windows 8 platform.
Source: MSDN, via: Delimiter; Thanks, rye88, for the heads up!
Rich Edmonds is Senior Editor of PC hardware at Windows Central, covering everything related to PC components and NAS. He's been involved in technology for more than a decade and knows a thing or two about the magic inside a PC chassis. You can follow him over on Twitter at @RichEdmonds.
Australian branch of an italian company ;)

Eh, Australian branch, removed from title to prevent confusion ;-)

Omg Campari's desktop has an app With Dan Rubino's face on it.

Stupid HP releasing chromebooks now which even Samsung stopped making.

Another reason to keep Office off of competing tablets.

I agree and I work in a IT company and we have started shipping out WIndows 8 tablets to site users for email, Office, Pictures ect over Ipads as the customer gets alot more out of them over both Android and IPads. I do think over the next 2 years Windows tablets will start to over take IPad and Android tablets for what they offer and the proice.

I'm surprised they aren't using, Surface tablets. But this is still a good sign of things to come.

Because the Surface Tablets on the Market right now dont work how they are supposed to work - as you can see on the fixes to the next gen

Miine seems to be working as advertised...

Because of 〽 .... That's their budget....

With this news, I am convinced Windows 8 just won the OS war.

We've won a battle, yes, but we've still got a long ways to go towards winning the war. Many are staying behind on XP and 7, and we mustn't forget the new armies: iOS and Android.

This is still a great victory, but we've got a long ways to go just yet.

Seriously? Because of Campari?
What´s more Windows 8 and Windows as a desktop platform in general has always been winnng the war. For the wealth of content consumer non-business aka majority of the market they are trying to attract they have a long way to go. If they were to focus their attention on Enterprise I think they can win easily.

This, and that video about Fox News, and their studio makeover...

What did you guys expect? This is Microsoft domain. Apple 15 minutes of fame is over.

Hahahahahahahahahahahahahahahahahahahahahahahahahaha you can't be serious

15 mins of fame? More like 9 million of fame. People really get delusional on here when they hear news like this.

Hilarious. You could fill up several blog posts with the amount of big name enterprise deployment iPad has achieved. I work for a pretty huge America-based (yet multinational) retailer, and we're all iPhone and iPad for mobile.

That's not to say Windows 8 tablets can't make inroads here. they just have a loooooooooooot of catching up to do.

America does not count. They're all all in the ... >40% iphone country can hardly be taken serious.......just joking...still a weird thing.

That's just what it's all about. W8 tablets are replacing Ipads more and more, because of security reasons, compatibility and because of the level of integration. Another big advantage of W8 is the cost advantage, when compared to the Ipad. Dell, the Emirates, Fox etc all are choosing more and more W8 to replace their Ipads. More and more people are replacing multiple devices by the Surface RT or the Surface Pro. I saw a techie yesterday who replaced his Nexus 7 and his Ipad with a W8 RT. A doctor who replaced his Ipad and laptop for the Surface Pro. This is more common than you think. In Japan the second largest insurance company bought 30.000 surface Pro tablets this year. The Fox tablets are truly interesting. More and more exe cutive boardrooms and meetingrooms will be featuring big screen tablets. Apple cannot compete with Surface. RT or Pro. Microsoft is going to claim the throne in the tablet world. When it comes to big touch screen tablets W8 will conquer.

ALL HAIL MICROSOFT!!!!!!!!

I want to get one of those 55 inch windows 8 tablets that Fox News is using. Lol.

I would too, but I'm running out of living space as is, lol.

It's nice to see that people are recognizing what's really good about Windows tablets at the moment-- productivity!

lol all companies, institues are dropping iPads slowly.

This will be a stronghold for MS IMO. They were and always be a major impact on business and corporate infrastructure. This is where Google will be hurt along with Apple. This will not destroy them cause in the end, the personal consumer is where the numbers hit hardest.

Exactly. This is not a war that will be won overnight. It will be slow and painful. As with WP, the best thing going for MSFT in these areas is their competitors have much more to loose than MSFT.
For every user, every company that adopts WP, or Win8 thats is one less customer AAPL or GOOG can count on going forward. At some point this will become appearent and the whole bottom will drop out.
Again, don't expect it to be in the short-run. Popular media and Wall Street will keep these numbers hidden / distorted for as long as possible.

Is that the wpcentral tile pinned to the start or just an account pinned having that the wpcentral logo as the profile pic?

I was given one of the EP 900. Pretty much a pos.

Yeah, isn't the ElitePad the one with the resolution that doesn't support snap?
If the ElitePad can sell, the new crop of tablets coming this year should do quite well.

This is why Microsoft's failure to win over consumers with Surface V1 should not be taken as a sign that it is over for Microsoft. Microsoft can build market share through the enterprise, which they still have a stranglehold on, and have that get the app pipeline moving. Long way to go, and they've made many mistakes, but they've done enough right, especially technically, to be a tablet player long term.

I need 80 inches tablet but i can't buy apple os to install to my own hardware design so i choose Microsoft OS for anything..windows OS is great..
Windows Central Newsletter
Thank you for signing up to Windows Central. You will receive a verification email shortly.
There was a problem. Please refresh the page and try again.