The author of World War Z, Max Brooks, is writing the first official Minecraft novel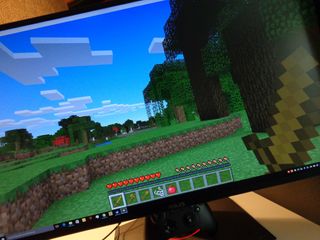 Max Brooks, the best-selling author of the zombie books World War Z and The Zombie Survival Guide, will write the first official Minecraft novel. The book, Minecraft: The Island, currently does not have a release date.
During the Minecraft keynote address on Saturday, a small portion of the novel was read to the audience, followed by an appearance of Brooks on stage. He stated he is a major fan of the game and loves playing Survival (not surprising based on his previous work). Brooks stated that the novel has been inspired in part by the classic novel Robinson Crusoe, and offered a small hint that a toilet saves the character in some way.
Mojang's blog states that Del Rey will be the publisher for the Minecraft novel, and hints this will just be the first in a series of books based on the game.
Windows Central Newsletter
Get the best of Windows Central in your inbox, every day!
I believe they said the release date is next September.

My daughter is reading and enjoying these Minecraft novels, though apparently they are unofficial.
https://www.amazon.co.uk/gp/aw/d/0008152861/ref=mp_s_a_1_1?ie=UTF8&qid=1...

something to read. maybe maybe not. :P i read to much on this windows central website :P