Autodesk launches Tinkerplay App in hopes of making 3D design and printing fun
Tinkerplay, a new free app from Autodesk, hopes to make 3D printing and designing a little more fun.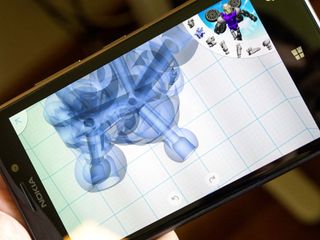 3D printing is becoming more and more popular, and Russell Holly from Android Central has been having quite a good time with it, but designing and printing isn't for everyone. The folks at Autodesk have just released a new app for Android, iOS and even Windows Phone that they hope will make the experience much easier.
Based on the popular Modio app, which Autodesk had previously acquired, Tinkerplay will allow users to design and customize characters with the ability to 3D print them afterwards. The various 3D printed parts from within the app can be snapped together for dynamic playing as well.
The app is available now in the Windows Phone Store as a free download, so give it a shot.
Press Release
Autodesk Launches Tinkerplay App to Make 3D Design and 3D Printing Fun
SAN FRANCISCO, Mar.17, 2015 — Autodesk, Inc. (NASDAQ: ADSK) announced the launch of Tinkerplay, a free* app designed for kids of all ages that introduces creative play through 3D design and 3D printing.
The Tinkerplay app is based on the popular Modio app, which Autodesk previously acquired, and will join the Tinkercad family of products. The Tinkerplay app allows users to design and customize characters and creatures digitally with the option to 3D print afterwards. The 3D printed parts can also be snapped together for dynamic play. With this launch, new parts, features and functionality have been added to make the world of 3D design simple, fun and engaging.
"Creators, designers and makers from ages five to ninety, have blown us away with their passion for 3D modeling and 3D printing," said Samir Hanna, vice president and general manager, Autodesk Consumer and 3D Printing. "With Tinkerplay, we're providing another great tool designed for kids of all ages, who want to play, create and tinker."
The Tinkerplay app lets users quickly get started by dragging and dropping interchangeable parts to make custom creations. The parts are optimized for 3D printing as fully poseable characters and creatures, and are designed to not require rafting or support material to print. The print function within the app shows the layout of parts for 3D printing and provides an easy way to export print files to a variety of 3D printers.
For users that are inspired to take their design skills one step further to create completely new parts, Tinkerplay connectors can be found in the Tinkercad web app. Autodesk has launched Tinkerplay simultaneously on various mobile platforms including iOS, Android, Windows and Windows phones to better provide users with access on their device of choice. The Tinkerplay app can be downloaded for free* from the App Store, Google Play or the Windows Store for Windows 8.1 users.
About Autodesk Autodesk helps people imagine, design and create a better world. Everyone--from design professionals, engineers and architects to digital artists, students and hobbyists—uses Autodesk software to unlock their creativity and solve important challenges. For more information visit autodesk.com or follow @autodesk.
Jared started off writing about mobile phones back when BlackBerry ruled the market, and Windows Mobile was kinda cool. Now, with a family, mortgage and other responsibilities he has no choice but to look for the best deals, and he's here to share them with you.
"and even Windows Phone"...... Lol.
........
Can we get the link, please❓❓

http://www.windowsphone.com/s?appid=0cc38b7b-dedd-42ed-a912-04297c997b95

Lol but you can't help it, we are inferior so its always a pleasant surprise when devs support us

Yep.. But, it's funny that we say "even" about our own platform... We're surprised that they support it... Lol.

Probably a "mobile nations" post to all relevant mobile nations sites.

Yeah, now that I look at it I think you're correct... Now, it's not funny,,, I'm pissed..

Nice, having AutoCAD would be nice though

I work work AutoCAD daily and I can't see it being useful on a phone, even my 1520. Trueview would be useful maybe but that's about it.

Agree. Would be nice with Navisworks actually.

It's useful for viewing the latest drafts on site; not always practical or even feasible to bring full size paper drawings with you everywhere...

http://www.windowsphone.com/s?appid=0cc38b7b-dedd-42ed-a912-04297c997b95

I'm sure their working on it lets be patient

YAAAAAAAAAAAAAAAAS planning on using it!! So happy hahahha

Searching the Store yields zilch... As usual...

http://www.windowsphone.com/s?appid=0cc38b7b-dedd-42ed-a912-04297c997b95

YAY for Windows Phone support!

Nice! Now please release PIXLR Express for WP! :)

Well the TinkerCad app for Windows 8.1 is just a link to the web version I hope this is much more.

The phone version is 73mb so doesn't look to be a web wrapper.

It looks like it's an universal app... So it's either a web version or a full app for both.

It's in fact an universal app: just installed it on my SP3... :)

AutoDesk is on a roll with the windows apps. They know their customers well. I hope some of their developers check out these comment sections because we really are grateful. As an interior design major and current maintenance tech with an engineering background, I am loving these apps. Keep them coming.

Awesome idea and you have represent it awesomely. I am really impressed with the quality of article. MP3 Free Songs

In my case, I don't see the point of this. I am currenty using AutoCAD Civil 3D 2014 on a 24" LCD wide screen, can't see myself using it on a 4" phone screen.

Great for in the field. I have used Android tablet for just this doing punch lists for commercial projects and drawing reviews on civil. Likewise I use Civil 3d 2015 as well as Revit Structural and Architectural. Ios and android have apps for these... Funny running anything other then Autocad standard on a Mac blows chunks.

This is really cool. Wish it came with a free 3D printer. LOL (Sorry, somebody had to say it, though I'll bet Android users have already been saying it.)

What is wrong with you people? This is a windows dedicated site and yet I see editors writing it as available on "Android iOS and Windows phone". Why at the last? I don't care if we are inferior. I want windows phone upfront -__- That said, A very good article nonetheless. :)

Not everyone has only Windows for everything. Some are multi platform. I have windows phone, but a cheap android tablet. If this interested me I would prefer it for the tablet due to size.

You don't get it. I mean while writing these editors can say Windows iOS and Android. I hate Windows written at the last. :( I know, not a big thing but windows is emotion ;)

I thinks its a mobile nations post so goes to Android Central, iMore and Windows Central

Great to see 1gb ram recommended as it should be

Wonderful app, in the face of bofa, chase and vevo!

I'm part of some of the Beta programs with Autodesk and I've been begging them for there apps to be ported to Windows Phone, this is a step in the right direction Autodesk.


There, they're, their ~ Cortana

Great Autodesk... Now A360 please.

Now we want some missing and bad apps to improve them by going universal way...

Works perfectly on my windows tab and 512mb lumia 530 but does not work at all on my 930.. Massive fail, even uninstalled and reinstalls multiple times and still nothing just froze on front blank page with tinkerplay name. Only preset toy robot files and no customizable free page to design. Fail

WOW amazing app download it... and rate 5 stars it is amazing!

Autodesk definitely has some good programs out, at least for PC. I use Inventor at work, and it's great. BTW, this same article on AndroidCentral only has 2 posts, one of them mine. Guess it shows the difference in user bases for both OS's. I'm a fence sitter, I guess. I see the value in both.
Windows Central Newsletter
Get the best of Windows Central in in your inbox, every day!
Thank you for signing up to Windows Central. You will receive a verification email shortly.
There was a problem. Please refresh the page and try again.