Avira Antivirus Pro 2015 review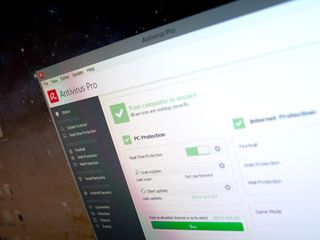 Avira Antivirus Pro 2015 is an entry-level premium antivirus program for Windows, that offers parental social network monitoring and firewall on top of the usual real-time virus protection.
Avira Antivirus Pro includes download scanning, browser protection, and secure online shopping for $38.99/year. For $57.99/year, you can upgrade to Avira Internet Security Suite, which tosses in system speedup utilities, like file encryption and cleanup. For $77.99/year, you also get a driver updater which identifies and removes corrupt or outdated drivers, and helps your machine run at its peak. A full feature breakdown is available here.
Image 1 of 4
In lab tests by Virus Bulletin, Avira scores well ahead of ESET, Kaspersky, and Avast in proactive and reactive protection, and fares just as well (and in some cases better) than Bitdefender. AV-Test scored Avira 6/6 across all three fields (protection, performance, and usability). AV-Comparatives ranked Avira fifth in its real-world tests, behind Kaspersky, and ahead of ESET.
The main window is a series of toggles for individual features of internet and virus protection. Shortcuts to detailed settings for each feature are easily accessible. The settings menu, though extensive, is broken down into sensible subheadings for easy navigation. Users can target certain areas and file types, via either the preset scan profiles or custom-made profiles. Scans can also be scheduled for locations and times.
Image 1 of 3
The firewall included in Avira Antivirus Pro is a nice touch since much of the competing software doesn't include it until premium upper tiers. It has options for application rules and behavior in private or public networks. Another welcome unique feature is a social network protection plug-in for parents. All you have to do is connect your account and your kid's account, and you can get reports on suspicious friends they may be making, and receive alerts when sex, drugs, violence, or alcohol are mentioned. E-mail scanning is apparently included, but getting it set up can be tricky depending on mail program and ports being used. Finally, Avira is available on Android with in-app purchases, just in case you need track any lost phones.
Avira is gracious enough to stay out of the browser. Other antivirus programs will put little checkmarks next to links they have scanned and deemed secure. Avira still scans your web browsing in real-time, but if you need visual confirmations while you browse, Avira won't have them for you. We're thankful that things stay clean in the browser. Scan time was a little long, clocking in at almost an hour, but it managed to catch a few things that other programs hadn't picked up. Memory usage was a little on the high side, though we didn't bump into any serious performance lags in a multitasking environment.
Bottom line
Avira Antivirus Pro 2015 offers core security measures that rate very well in the labs. A handful of other features, like firewall and unobtrusive browser protection are included, but the program overall is very simple and straightforward. If you're hungry for a whole suite of security features, you may want to look elsewhere, but for something straightforward and effective, Avira does the trick for us.
Score: 3.5/5
Get the Windows Central Newsletter
All the latest news, reviews, and guides for Windows and Xbox diehards.