Avira Antivirus Pro 2015 review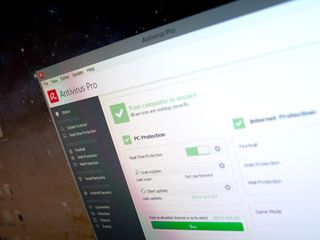 Avira Antivirus Pro 2015 is an entry-level premium antivirus program for Windows, that offers parental social network monitoring and firewall on top of the usual real-time virus protection.
Avira Antivirus Pro includes download scanning, browser protection, and secure online shopping for $38.99/year. For $57.99/year, you can upgrade to Avira Internet Security Suite, which tosses in system speedup utilities, like file encryption and cleanup. For $77.99/year, you also get a driver updater which identifies and removes corrupt or outdated drivers, and helps your machine run at its peak. A full feature breakdown is available here (opens in new tab).
In lab tests by Virus Bulletin, Avira scores well ahead of ESET, Kaspersky, and Avast in proactive and reactive protection, and fares just as well (and in some cases better) than Bitdefender. AV-Test scored Avira 6/6 across all three fields (protection, performance, and usability). AV-Comparatives ranked Avira fifth in its real-world tests, behind Kaspersky, and ahead of ESET.
The main window is a series of toggles for individual features of internet and virus protection. Shortcuts to detailed settings for each feature are easily accessible. The settings menu, though extensive, is broken down into sensible subheadings for easy navigation. Users can target certain areas and file types, via either the preset scan profiles or custom-made profiles. Scans can also be scheduled for locations and times.
The firewall included in Avira Antivirus Pro is a nice touch since much of the competing software doesn't include it until premium upper tiers. It has options for application rules and behavior in private or public networks. Another welcome unique feature is a social network protection plug-in for parents. All you have to do is connect your account and your kid's account, and you can get reports on suspicious friends they may be making, and receive alerts when sex, drugs, violence, or alcohol are mentioned. E-mail scanning is apparently included, but getting it set up can be tricky depending on mail program and ports being used. Finally, Avira is available on Android with in-app purchases, just in case you need track any lost phones.
Avira is gracious enough to stay out of the browser. Other antivirus programs will put little checkmarks next to links they have scanned and deemed secure. Avira still scans your web browsing in real-time, but if you need visual confirmations while you browse, Avira won't have them for you. We're thankful that things stay clean in the browser. Scan time was a little long, clocking in at almost an hour, but it managed to catch a few things that other programs hadn't picked up. Memory usage was a little on the high side, though we didn't bump into any serious performance lags in a multitasking environment.
Bottom line
Avira Antivirus Pro 2015 offers core security measures that rate very well in the labs. A handful of other features, like firewall and unobtrusive browser protection are included, but the program overall is very simple and straightforward. If you're hungry for a whole suite of security features, you may want to look elsewhere, but for something straightforward and effective, Avira does the trick for us.
Score: 3.5/5
What does that mean?you need antivirus for your life? :D huehuehue

No.. I mean I can use it for free..for my entire life!!

Avira has free powerful version too and it doesn't bugs you with notifications all the time, not that Avast is doing the same, but what i am saying is that Avira Free is a true "install and forget" anti-virus. As a long years being AVG beta tester, I pretty much know how this things work. Choosing Avira free over lifetime AVG Internet Security (Premium package), means something. :) But, I do have AVG Internet Security 2015 on my work lap top. :) (Company pays, i don't care, lol) However, everyone have different taste and that I respect :)

AVG + MalwareBytes = Best Combo

Swap AVG for ESET and then we're talking.

I prefer Kaspersky, but talking about free antivirus AVG is the best choice

AVG + Avast + Malwarbytes + Avira = Best combo. Don't even ask me how they don't conflict I'm happy it just works.

Don't need anti virus software.

I used to be huge on Avast. Been using it for free for many years. As of late, it's just basically turned into adware and nagware. Been looking for an alternative. Even if I turn to a paid program, Avast has left such a sour taste in my mouth that I won't even bother entertaining the paid Avast features.

Where do you live? If you're in the UK, check your online banking portal. I get Kaspersky Internet Security 3 user edition for free simply for banking with Barclays :). No nagware. In fact, it is completely unintrusive - only giving me one browser malware warning (legitimate).

I have been using avast for 10 years. Never got a problem. Never needed to format my window. Using XP pro(original)

Those photos were ultra blurry for me.

Same here.. :\ plzz gix this bug and update the WC app..!

Just swipe to the "more" panel and go to images, there you can see the 8 HD images that are attached to this article.

That's because you have your SafeSearch filter set to high

The free Version is like the classic anti virus Software haha. Used it back in Windows xp.

Can you do a review of the Microsoft AntiVirus?
This is the best for me. even corporations are using it.

Correction: Its better than Symantec/Norton, but that's not saying a lot. End.

It works for what people need, if your are not some noob visiting every link on the planet u are safe

it doesn't work. look at any test ever. if you want free, use avira, avast, panda or avg, they all have free versions. i've been using avira lately.

Not for nothing, but some peoples internet providers provide antivirus protection as well. Although its usually microtrends.

As do banks....i get Kaspersky with my one (Barclays)

Interesting. Good to know.

I had been using avira for years and I always put it on anyone's computer that I was fixing but then they introduced the ask.com toolbar to the free version afaik but that was a bit too far for me.

Anti-virus research organisations use Windows Defender as a baseline for their tests. Almost everything scores better than it in all categories by a large degree. Avira and BitDefender even take up less system resources than Windows Defender.

Wrong. Windows Defender or Security Essentials is all you'll ever need.
Treats keygens as what they are and not severe viruses.
Never had to format a PC to remove a virus.
In fact the only virus I ever had was the breakout of sass virus Windows XP back in 2003, which Norton couldn't clean.

Hy Simon , I would like to give you one suggestion , please provide us an option of upvoting a good answer here as we have on 9 gag app , I can see a lot of people have brilliant analysis of your articles

How much are these terrible antivirus's paying you for these advertisements?

This is how windows central app runs , they need to money to get their app going , you don't pay them so better don't type if you don't have any knowledge

Moreover, we pay for the app.

Shut up ballsack , this ain't your democracy, fuck your freedom of speech

You are seriously troubled. All I said is we pay for the app. So what? That requires me to shut up. Who said anything about freedom of speech you crazy bastard?

Who cares if you pay or use it for free like one shameless gay , get out of this site you pig

You really are fucked up in ye head. I bet ye mother took one look at you, threw ye to the floor, but claimed she "dropped" ye. Cleft palate bastard.

I see what you wrote, again. Thought you were complaining about the OP, who was bitching about an add. You tried to explain to the OP WC needs ads. I simply added on, we pay for the app, meaning, a paid app should not have ads...duhhhh. Is it hard to use a straw with your cleft palate? Don't you see, it is a misunderstanding. And, stop insulting your father who turned gay, that's lower than the tongue hanging out of your cleft palate.

When we run sponsored posts, they're labeled as sponsored posts. This isn't a sponsored post.

Hello Simon , nice to see you commenting here , I want to acquire this app , pls contact me avengers2289@gmail.com

Just because you don't like it doesn't mean it's terrible. I've been using it for more than a decade and had never had a problem with a virus. You might start to bring some made up scenarios as to why that's been the case but truth is, the antivirus is a really grat and lightweight tool.

My favorite antivirus software is AVAST!!!

Was this an advertisement?

Nope. We label sponsored posts as such.

Do we actually need an anti virus badly for Windows for phones? I mean its more secure than other OS counterparts but do we still need/lack one?

No. Just like apple anything that can be installed has been scanned by the app submission process, and there's no other way to install apps without jail breaking the phone. Android is not this way, and is very similar to a PC, in the sense that code can get installed in a number of ways. And if you're on jelly bean, there's no protection at all anymore. Short answer: You're phone and rt tablets are safe.

When I see my friends scanning their android phone for virus it gives me a good laugh

We've actually been running antivirus content on Android Central too, and the general consensus is that it's more about malware protection than anything else.

windows phone does not have any virus or antivirus. this article is about windows, not windows phone.

Mtake it easy man... Cool down buddy.. *_*

I haven't had a virus like forever. However my kid seems to be a magnet for toolbars that want to install themselves and change the default browser. Fix that shit.

That first sentence is funny, in another context. However, I understand them toolbars, "ask," really, I thought ASK was dead. Maybe these auto install methods are their way of surviving.

If your kids keeps getting that stuff, it usually means he/she is installing programs/games and just clicking the next button without reading. Not kidding, pretty much every bit of freeware will install extras or change your browser (usually to Chrome) unless you deselect them during install.

You're most likely correct. However to me more specific it's the changing of the search engine within IE. More in the malware category than virus. And why isn't it illegal for a basic install to include installing another browser and changing your search engine. Java updates are notorious for that. You always have to go to advance settings just not to infect yourself. That practice should be outlawed.

All these seperate antivirus reviews don't say anything. Make one review and compare them all. Then we can talk.

http://www.av-test.org/en/antivirus/home-windows/windows-8/october-2014/

We'll eventually have a comparison chart putting them all against one another.

Microsoft security essentials for me

That's really all you need, according to the experts.

"according to the experts." Needs source.

All the experts say its pretty bad.

Why you need Avira if you can get Kaspersky 2015 at 300bucks in India B|

This... Using Kaspersky for a decade

I feel there should be a program (toggleable for separate users) that monitors your browsing activity and teaches you what sites are good and what ones are likely harmful (while also providing excess protection for the latter unless a password is provided). This would be great for kids and the technologically illiterate. The user is the first and best defense against malware, so teaching people how to browse safely would probably be the best way to promote protection.

so what's next! since you guys are reviewing almost everything relating to Windows, even antivirus.... so what about steam games! or even browser review! music player review maybe!

They should review windows10 cmd too

I don't ever trust those lab tests. Those same tests always label Norton as the best. The most resource hungry anti virus. ESET smart security is the best all in one antivirus solution. Firewall , antitheft , anti virus proven to work . I never came across a virus eset could not handle. It's the best and the lightest on resources.

"Those same tests always label Norton as the best." Have you tried Norton 2015 lately? "I never came across a virus eset could not handle." Are you extremelly careless with your computer or that's a statement because you do your own AV testing (downloading virus to see if your AV can handle)?

I know what you're talking about and in my own personal experience Norton/Symantec is actually the worst. I will actually tell it to scan an infected file. I KNOW its infected and its like nope! no problem there! Here let me eat more ram and CPU cycles! Mean while I try to remotely copy it to an AVG computer and the AVG computer instantly removes it not just from itself, but from the source computer as well. No matter how how I tried I couldn't infect the AVG computer. MSE was like: HMMM I think that's a virus, but I'm not sure. Can I send this to microsoft? I said go ahead. 24 hours later its like YUP that's a virus!

Sounds to me like you haven't used Norton in a good few years! It is now one of the lightest and most capable AV's!

You only said positive things about Avira, but in the end gave 3.5/5? That's weird.

Windows defender any day...

I've been using this antivirus for more than a decade and in my experience it's a really nice tool. Of course, I'am a grown up software developer and I know where to search my porn and where not to... I mean, I know where to search for specific content and where not to. Anyways, This is a really good and lightweight antivirus, my only complaint is the daily reminder that "I could buy the pro version" but I can live with that. If you don't have an antivirus, try this one. It's just as good as AVG, Avast and ther others. I believe it's just a matter of brand loyalty. All are good, maybe the components are limited compared to paid antivirus software but the virus protection is great... besides, Avira is a product of Germany, I think it is a trusty piece of software hehe :)

Wow, that Avira is expensive! Actually one does not need another firewall, Windows Firewall is good enough.
I just bought ESET Antivirus for 2 years for 2 PCs for 21€ altogether. You can get it that cheap on ebay, licenses for the chinese market, but work with any language.

To me (Brazil), Avira is one of the cheapest paid AV: USD 55 for 3 years. Fair price. Comparing the official price with an OEM Chinese version only available at eBay is not fair. (hey Windows Central, why do I need to click "comment" several times in order to be submitted?)

I have also observed many of my comments get lost...i am posting via app

Avira has been around forever since Windows95 days, one of the first antivirus I ever used back in the day, yeah I am that old.

since Windows 8, i don't need any anti virus. Windows defender working really great. never had any problem.

Ok I understand windows,.xbox, Microsoft tech, but this is not a general PC site this is still Windows Phone central and a 3rd party virus software does not really fit here ​ ​

My thoughts are same, windows central is overdoing it... I remember another antivirus review few days before...

Its kinda a cross site feature at the moment, as Android and iOS have tons of fishy apps and need some type of monitoring. Here its just kinda general, because the desktop landscape hasn't really changed, beyond less viruses and more ransomware/malware.

Avira screwed up my browsing experience big time. I uninstalled the paid version and got avg free. Still a more pleasant experience.

Avira is good antivirus.
Also review the bitdefender internet security 2015.

I switched from Avast Free to Panda Antivirus Pro. I was using Avast for past 5 years. But recently it's bogging down my system a lot. I have tested all kinds of Antiviruses like Bitdefender, Kaspersky, Avast, AVG, etc. Then I tried Panda. I am very happy with Panda Antivirus. It's light on system and effectefly removes malwares. Do give it a shot. You can also use the free version of Panda. It's called Panda Cloud Scanner. It basically has the same scan engine as the pro. Only difference is the Firewall and Application Control feature which is extra in Pro version.

Just defender. Touch wood, Not had a problem yet but maybe I'm not watching enough Porn, again touch wood.

Security Essentials (Defender) together with sensible computer use does the trick for me. No need to pay lots of money for resource hog security software. Been there, done that.

I use Avira with Malwarebytes. Real nice.
Windows Central Newsletter
Get the best of Windows Central in in your inbox, every day!
Thank you for signing up to Windows Central. You will receive a verification email shortly.
There was a problem. Please refresh the page and try again.