Axis Bank customers in India rejoice… the official Axis Mobile app is here!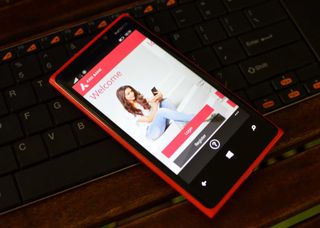 While Windows Phone users have been pretty happy with the growth of the ecosystem in India, Axis Bank customers have been clamouring for the official app especially after the closest rivals, ICICI Bank and HDFC Bank landed on the Windows Phone Store.
Axis Bank is the third largest private sector bank in India. I confirmed that the Axis Bank app was coming soon a few days ago, and we've hit the bulls-eye here. The official app of Axis Bank – Axis Mobile – has just arrived on the Windows Phone Store.
The Axis Mobile app allows customers to view account summary and mini-statements for all savings and credit card accounts. You can view the latest, unbilled, and past statements for your credit cards and pay your credit card bill instantly. The app allows you to transfer funds or schedule payments to Axis Bank and other customers as well as transfer fund 24x7 through IMPS facility.
The app allows you to personalize your account details, the menu options, navigation style, and even the beneficiary list by adding an image for the individuals from Facebook or local photos or click one from the camera. It's a small feature, but adds to the appeal of the user experience. You can save your 10 frequent transactions as favorites and pay them with a single click in future. There's also an inbox where you can view important messages and personalized offers sent by the bank.
The app also serves as a comprehensive customer support dashboard. You can request for statement of your account, cheque book, cheque status, as well as make a stop payment request. From within the app, you can tweet or email feedback or call the customer care.
Apart from the banking service, the app allows customers to recharge your prepaid mobile, data card, and DTH as well as schedule or pay your utility bills for more than 200 billers. The scheduled bills show up on the phone's calendar which is quite a neat feature. The app allows you to locate Axis Bank branches and ATMs near you via GPS or you can search for ones in a specific location.
Download the Axis Mobile app for free for Windows Phone 8 devices from the Windows Phone Store. It's one of the better banking apps, and offers an intuitive user experience. If you are an Axis Bank customer, download it right away, and let us know how you like it.
Get the Windows Central Newsletter
All the latest news, reviews, and guides for Windows and Xbox diehards.
Still waiting for Citibank India. All other major banks have released their apps. Citibank seriously sucks with WP !

Anyway chance in near future from citi bank app?

As a matter of fact, I am now going to dump Citibank for Axis Bank. I've persuaded Citibank for an app long enough... Those lazy buggers won't do it. Sayonara Citi...

Finally my efforts have paid off....going to check it out now

Yeah mine too, I have been bugging them for like an year now.

Indian devs love WP more than Microsoft. :p

Awesome. Been waiting for this from a long time. :)

I just opened account yesterday and here it is

Me too. My card came today and the app too

Finally.. Been waiting fr this..

Nice... Now for Citi bank have no excuse not to release an app!

Much better than the ICICI bank and HDFC bank apps (especially ICICI). This one allows you to set an mPIN which you can use to login, instead of using the netbanking ID and password everytime. The supposed APP gap seems narrower than ever. It would be mighty disappointing if MS brings Android emulation to WP. Devs would stop making native apps and I would rather switch to iPhone before I let an Android app run on my phone.

Finally got it man for axis bank mobile app.. I use android just becuase for axis mobile app, no need of android phone, also SUbway Surfer coming for 512MB Suppoert fans. http://geturdeals.com/item/axis-bank-app-for-windows-mobile-launched/ Thanks
www.geturdeals.com

OFFICIAL Once again... SWEET

Finaly I can stop sending them mails....hurray my bank....India nn rock n roll

Looks good.. Though I'm not having account at Axis Bank, I'm happy for all you fella's..

Finally here it is. Played around It looks pretty good. The only problem is app takes a bit lot of time to load each and every page.

Glad they listened to our mails. Yippie!! :) My fiancé is the happiest one working on ship miles away :)

Than send one message for thanks.

Finally!!!! I can tell my dad his waiting is over :D I remember Abhi replied few days back, that its confirmed and will come soon and it came really soon after that

Finally!
Now I'll open an account with axis. Was waiting for this app

We also need punjab national bank

The way Indian Developers support Windows Phone is great... Make the head of development, testing and everything related to WP here in India.. I guess US doesn't have market share for WP as much in India... Bring Cortana, New features, etc first in India.. then let it go somewhere else..

I'm so happy after it finally arrived on Windows store. No need to have to cell phones now. I was using an old Symbian phone just for SBI and Axis bank app, since both the apps have arrived now I don't have to. The app is good but typography not so great and its little slow on my Lumia720. Maybe an update will fix it. I like the SBI interface too except enabling GPRS and sending OTP for every transaction.

Need Citi and PNC bank apps!!

Thanks for the details Abhishek. Already made couple of transactions since the time I downloaded today afternoon. Arrived late but works great.

I switched to HDFC last month

Finally the app comes to Windows phone platform thank you.

I was surprised to find out Citibank app on Nokia store for Symbian phones but still not available for WP platform

How in the hell can India get their banks and businesses to do so much for WP but we can't get these lazy ass banks here to do anything for the platform. What is the secret?

Guess India shows more love ❤ for WP than other countries.

Finally!!!!!!!!!!!!!!! yeay!!!

Been waiting for this a long time... At last here!

Everyone thank me bcoz I literally bugged them everytime I went to the local branch as well as on social media for the app.

When will Citi come up with an app

At last!! I have waited for it since I bought my Windows Phone 8.

Yep. Now all.my apps are available here :)

India is truly becoming wpland. Hope the rumours of making running android apps in wp don't come true. :/ that would ruin everything

Aaahhhhh fecking finally! Now all we need is Duolingo and Windows Phone is sorted!

Finally! Still wonder what the heck is shitibank waiting for.

I am an NRI resident,waiting for this app for a long time. But Sorry it cannot register from overseas as the app fails to send the required final conformation SMS from my phone..some bug surely...disappointed.....