Baconit for Reddit gets rewritten as a stunning universal Windows 10 app
Windows 10 universal apps are the future. Popular Reddit app Baconit is back with a whole new design and built for any device you can run it on and it wins our award for top must-have app.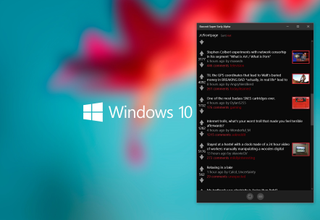 When it comes to wasting time on the internet nothing tops Reddit aka the front page of the internet. The popular message board-like site lets users share news with up and down votes plus comments.
Baconit has long been one of our favorite Reddit apps for Windows Phone, but it has been awhile between updates. Luckily, developer and Microsoftie Quinn Damerell has been hard at work on a revamp spending the last three months coding it in his spare time. Not only is the app update, but it is a 100% complete rewrite using the Universal Windows Platform (UWP). That means the app can run on your phone, your PC, your Surface and even HoloLens (seriously).
We had early access to the app, and I have no problems calling it the best looking and more importantly, most intuitive Reddit client for Windows yet. This app makes me want to give up my browser + RES combo that I typically rely on for daily viewing.
Quinn shared with us just how much this app leverages UWP:
I have been a huge fan of UWP apps ever since trying out Fitbit (another shining UWP example). These apps are fast, fluid, with smooth transitions and much more power for handling media and events than 8.1 apps.
Running Baconit on my Lumia 1520 with Windows 10 or my Surface Book has been a great experience.
My favorite design feature is the ability just to swipe up to read comments. Also, the ability to download to other PCs, tablets and more and having your profile roam makes setting up so much easier.
Open sourced
Quinn has also taken the extra step to open source the code for Baconit. There is now a sub-reddit set up called /r/BaconitDev where devs can contribute to the project to make it even better. Quinn notes:
Certainly that is a unique idea and follows with the current open Microsoft strategy. Other developers may want to consider such an approach too if this works out well for Baconit.
Try it now
Baconit for Windows 10 Mobile is now available. The desktop version is also trickling through the Store and should be live in the next few hours as well (Microsoft needs to update the web page to show it is available).
Have comments, recommendations or bugs to report? Use /r/Baconit!
For myself, Baconit represents everything that is right about Windows 10 and UWP. The app is dynamic, fast, powerful and looks fantastic. Throw in open sourcing to leverage the community and Baconit gets my award for the top new app for Windows 10. Plus it's free and ad-free (donations are welcomed through in-app purchase).
Don't have Windows 10 yet? Just watch our hands-on video above to see it all in action.
Download Baconit for Windows 10 (opens in new tab)
Windows Central Newsletter
Get the best of Windows Central in in your inbox, every day!
Daniel Rubino is the Editor-in-chief of Windows Central, head reviewer, podcast co-host, and analyst. He has been covering Microsoft since 2007 when this site was called WMExperts (and later Windows Phone Central). His interests include Windows, laptops, next-gen computing, and for some reason, watches. Before all this tech stuff, he worked on a Ph.D. in linguistics, watched people sleep (for medical purposes!), and ran the projectors at movie theaters because it was fun.
This is a seriously well done app. Other devs should take notice of how useful UWP can be for Windows 10.

Man I was skeptical after seeing the fast development pace and fluidity of Readit as of late but damn this thing is fluid.

Readit has more options too. Like not having to have to tap nsfw posts. Being able to save images among other things. This one does seem more fluid though. I like the ui a bit more here. Although in mobile readit has the top section to select sub, which is good too. great this far just missing features. Kind of a pain when albums show as well from imgur. Readit does a better job where you flip through them.

Well, 3rd party apps are always have been better than official ones on Windows OS. Well done team Baconit.

There is an official app for reddit? rhetorical question, answer is no.

Glad to see Quinn back at it!

Already on the UWP train Dan, my app's about to go beta tonight.

What app do you have? I want to support it

Send me a PM over in the forums

Throw it out here if you you feel comfortable. I am sure there are many of us that would like to support one of our own!

The link to download isn't working. Is it in the store yet?

Yes it's on the Store for a while now; both Phone and Desktop.

Other operating systems should as well. I still can't find a replacement as good as Baconit on Android. They're not bad on Android, just require more clicks do what you want.

Used this for month before switching over to Reddit - which by now is also a UWP and receiving updates nearly daily. Good to see some third party choices which are both good :) no need to have just one

Hey I'm curious how he got his hands on a Lumia 950 being that the phone didn't release yet. I will try it out though, thanks for the post!

As noted in the article, Quinn works for Microsoft now ;)

Quinn works for Microsoft -- I believe he worked on the Xbox to PC streaming feature.

Readit user here. Going to give a try to Baconit.

Former Baconit Pro user who switched to Readit here. I will also be trying out the new Baconit.

I used to be a Baconit user but for some reason some things stopped loading quickly. I've been using Readit and pretty satisfied with it. I don't have Windows 10 Mobile yet, so the Baconit there isn't a universal app, still same old app for me. Will give it a try though once on Windows 10.

No local subscribe now. Lots of settings missing from old version.

Yup and Quinn is aware. He scrapped the entire codebase from the old version, so had to be built back up. He's also keeping it more streamlined and trying to keep out extraneous things that may not be used often. More features will be coming and being open-sourced should improve things. Regardless, it's a fantastic base to build off of.

Not a programmer myself, but if Quinn open sources his code, will it help other UWP devs create similar high quality apps? I mean, maybe not to build a similar app but to follow his methodology?

Absolutely. As a dev, when I was first learning I LOVED to go look at open-source projects and try to follow along and learn about structure and methods. I saw some very creative solutions to problems I was trying to wrap my head around and things started to just 'click' for me. Open-source projects are awesome and even though I haven't used the new version of Baconit (I'm in the Readit camp right now), I am excited to take a peek through here and see if I can borrow some ideas for some of the apps I'm working on Keep up the great work Quinn, WinCentral, and other devs working on UWP apps

It will help a ton actually. The saying "Don't reinvent the wheel" carries a lot of weight with programers and when there is open source code available on Github or some other repository that does exactly what you need, it saves a lot of time, energy, and resources. Even huge companies like Microsoft will partake in using open source code when it is available and works as they need.

Open source is huge. Being able to look at how others do things and get around issues you may have is one of the single greatest assets a developer can have.

Awesome job Quinn. Good work to the VS team too.

I presume this works with Continuum... Does being a UWP apps give any added functionality when used in Continuum? thanks for the info Daniel - havnt tried this before but will give it a try on my desktop and my Windows 10 Mobile device running the preview...

It has been optimised to work with Continuum, yup.

Daniel - thanks for the info - good to know. Getting excited about the potential of this feature....

The added functionality IS that it automatically switches to the desktop version when connected via the Display docks on a monitor. Ergo, Continuum.

Is it hard to give that DOWNLOAD APP option? Just asking.

Its because theyve started to use tradedoubler links. Really annoying!

Universal Windows 10 app yet it isn't available on PC.

Is there any way to pin a subreddit to your Start screen on mobile? I can't even find the SETTINGS. Does it even exist (yet)? I also miss the ability to swipe left and right to switch amont HOT, NEW, CONTROVERSIAL etc. I understand this is a work in progress. I just hope the developer is ready for some bad reviews in the meantime. This is a beta level product at best. But then again, so is W10M, right?

Reading this article was like a fresh breeze of air. Good to see Windows 10 picking up.

For some reason, I just get linked back to his normal Baconit program that says it was designed for Windows 8. I can't see it in the store on my phone at all (and yes, i'm running w10m) Edit: *designed for Windows *Phone* 8, not just Windows 8. typo. Edit 2: So, ends up the description of the app hasn't updated yet. So if you click the link and it brings you to an app saying it was designed for Windows Phone 8, still go with it. It is indeed the app for windows 10. I'm assuming once that updates, it'll also update to allow downloading on PC and what not...

This is just awesome and shows the power of the universal apps.

Watched the review with the audio muted. What I found is that Dan is waving his hands repeatedly with the same 3 or 4 actions throughout the review.

I watch movies with no audio and it's just people's mouth's moving. 2 stars.

Im happy that this new platform is really doing great!

I am gonna say it . Readit and Baconit are the best reddit apps out there

Now all we need is good Windows Central UWP

It's looking really good on mobile. This is how you do a uwp app !! Just waiting for pc version now (store is still not showing anything)

Cool. Would love to see UWP app for WindowsCentral anytime soon..

I guess Microsoft should get reddit. Bcoz that's a decent app where good conversation happens

It's nice that the Windows store is growing, but I don't really understand the excitment over the look of this app. I think It looks rather basic and surely not beautiful. I think you should check out Apple store (on both osx and ios) to see what beautiful interface means.

Beauty is subjective. I like the UWP design language; my only problem with it is aside from live tiles there's a lot of wasted space due to huge padding and oversized UI elements.

Well done! It's so much faster and has a simpler UI than Readit app, the only concern I have is that it has its own UI controls (hamburger menu at bottom) which increases the inconsistency around WM10 apps.

I will try this app when I get home on my SB but one thing I really really like about "Readit" is that when you open a thread you can swipe (via the title bar) between every thread in that subreddit without having to close or go back. This is the most used feature by me by far.

Thank you! I am coming back after Readit's disaster of a Win8.1 app, which surprised me how bad it was after enjoying the WP8.1 version. Whenever possible, I am UWP.

Any suggestion of subreddit choice for desktop and lockscreen wallpaepr for 640XL?

"Stunning" "Stunning" and "universal Windows app" are oxymorons. Why can't the developers of this "app" simply make a regular program instead? Why are people so insisting on using this horrendous "universal app" model/API/platform? What a joke. Seriously, why are you Microsoft fanboys so excitied with "metro apps" on Windows? Everyone hated them on Windows 8. They're no different in Windows 10. Seriously, it's because of you people that Microsoft keeps pushing this agenda of theirs on businesses and professional customers.

Do not use this app for "businesses and professional" uses. Do actual work lol

Well, at this point, the only merit to having a UWP app is being able to target mobile phones and possibly XBOX and Hololens in addition to the PC. But then that app becomes exclusive to Windows 10 which is silly in my opinion if the app want meant to run on PCs primarily. So you're not actually wrong and I also hate how this new UWP model takes all the control away from the user's hands and I also see increased disk space usage.

Feedback to the Developer, I can't get the comments using my laptop trackpad, by the way my laptop is not touch capable and i am not using external mouse.

background link please? It looks awesome!

Going to have to try this on my 920. I do love ReadIt, it has such a nice UI but lately the performance seems to have taken a few hits. Baconit, in the video at least, looks a lot more fluid, but that could be due to the hardware.

I'll give this a whirl when I get home. Looks like it might replace ReddHub V2 on my end.

Hello, We have released a new fully-featured Windows 10 client for Reddit . Try Reddit+ here: https://www.microsoft.com/store/apps/9nblggh2004w We will be happy for your review and for your comments. Creato Studio
Windows Central Newsletter
Thank you for signing up to Windows Central. You will receive a verification email shortly.
There was a problem. Please refresh the page and try again.