Ballmer: Microsoft's Surface is a supplement to what OEMs offer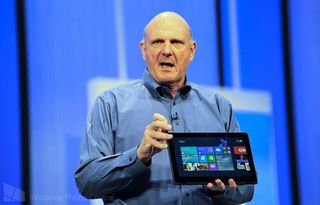 Steve Ballmer announced his retirement from Microsoft in August. He said he'd step down within 12 months, once Microsoft finds a new CEO to take his role. Yesterday we learned that Microsoft has made a lot of progress in their CEO search and expects to finish the hunt in early 2014. In the meantime, Steve Ballmer is working hard at Microsoft and doing some interviews as he wraps up his legacy. Here's another from Mary Jo Foley that talks about Apple as a competitor and how Surface was a harder decision than Xbox.
This discussion with Ballmer is focused on the hardware story at Microsoft. Typically, Microsoft is thought of as a software company. That's certainly where their strengths are, but these days Microsoft does hardware too.
Sure, you can argue that Microsoft has been a hardware company for a long time. Things like the Xbox, mice, keyboards, and Perceptive Pixel would certainly back up your argument. However, with the introduction of the Surface and their pending acquisition of Nokia's handset division, Microsoft is about to go back time with hardware like they've never done before.
Why build Surface to begin with? According to Ballmer, it was to combat the threat of Apple in the high-end space for consumer electronics. It was a tricky move of course, because it could damage the current model/relationship Microsoft has going with various PC OEMs. Ballmer thinks that Surface isn't a threat to Microsoft's partners though. Instead, Surface is more of a supplement to the past and current work that OEMs like Samsung, HP, Lenovo and others already do. Ballmer said:
The full thoughts from Steve Ballmer are undoubtedly worth reading. So please check out the link below to read Mary Jo's full account of the conversation with Ballmer.
Source: ZDNet
Get the Windows Central Newsletter
All the latest news, reviews, and guides for Windows and Xbox diehards.