Bamboo Paper app can turn a Windows 8.1 tablet into a notebook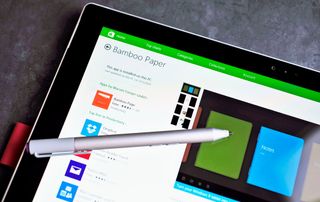 Wacom has released a new app for Windows 8.1 called Bamboo Paper, designed to turn tablets like the Surface Pro 3 into something resembling a paper notebook. Wacom is also offering some freebies with the release of the app.
Bamboo Paper contains a number of virtual pen tools that used can access for writing, drawing, marking and more. Wacom says, "Our zoom function allows you to draw or write precise lines to fit more notes onto the page. Wacom's vector based ink engine provides the best drawing and writing quality on Windows 8." Photos and other images can be added to any notes created in the app.
The notes written in the Bamboo Paper app can be shared with anyone who has the previously released Android or iOS versions and can also be shared to a number of online services such as Dropbox, Evernote, Tumblr, Twitter, and Facebook.
For a "limited time" (specifics were not mentioned) Wacom is offering anyone who downloads the Windows 8.1 Bamboo Paper app access to its premium writing and drawing tools for free. Those tools will disappear if the app is uninstalled or if the user switches to another Windows 8.1 device.
You can download Bamboo Paper right now from the Windows Store (opens in new tab). What do you think of this new note taking app?
Via: WinBeta
Windows Central Newsletter
Get the best of Windows Central in your inbox, every day!
Sounds it would be one of the many "That was fun... now back to OneNote" experiences.

Exactly. not sure who would use this when there is oneNote? OneNote is the most professional note taking/voice-video recoding, maths and finance and formula conversion tool by far, and all shareable on OneDrive... this was entertainig enough for 5 mins for my 6 year old child to draw a flower and then paint it. I suppose you have to be an artist only to appreciate the different pen styles etc.

Anything would be better than OneNote.

Downloaded onto my SP3. All I get is the Bamboo Paper title screen.

Same response from several SP3 owners on the windows store feedback page as well.

This is happening on my SP2 as well.

Same. I really wanted to use this becuase Bamboo paper is so fun.

Yup, getting the same here.

Even all I get it bamboo paper on my surface pro 2

ThinkPad Yoga and SP2 both failed at splash screen

Nice. Wondering that OneNote sync is there at background for on the go. I love OneNote a lot.

Sounds like OneNote is still better.

One note or evernote! Hmmm! Bamboonote???

I'm confused. Why wouldn't I just use one note? It does the same thing and is on my Windows Phone as well.

Except for the zoom in feature to make more accurate lines and writing. I saw my friend use it in his iPad and I was really impressed. This is the only thing OneNote needs

OneNote has zoom capabilities. I use it all the time.

you can zoom in onenote too. Its disabled by default. Go to settings, options. There is a zoom on/off switch.

Does it improve the inking?

Im not sure what you mean. I dont currently have any issues with writing. I dont keep zoom enabled though. I use it only for hand written notes. It seems to work better for zooming OUT rather then IN,

For that zoom option, are you refering to the OneNote Metro app or OneNote 2103 desktop app?

It's lovely. As a collector of fountain pens and fancy writing paper, I can appreciate the analogy. But I need my ink notes to be converted to text and searchable... As far as productivity goes... I love, love, love OneNote. This is the fine tea service that sits in the china cabinet. OneNote is my coffee cup which is used several times throughout every day.

Love the analogy! OneNote is a workaholic.

I think it may be the caffeine :D

I feel the same way. If there is some way to sync the notebooks over to OneNote so I can easily access them on my other devices it'd be nice.

Just finished playing with this. I do believe that OneNote is better.

So how do you get the free writing and drawing tools?

I LOVE this on the iPad. Never used it for notes. Terrific as a pad for drawing.

Another doesn't work on surface 3 - can't uninstall or I lose pro features? - guess I'll leave it & wait for an update

You will never ever see an update to this app for Surface Pro 3. This app is made by Wacom. Wacom makes digitizing tablets and pens, including those used in Surface Pro 2. Wacom's technology is not used in Surface Pro 3. Microsoft went with the N-trig pen because the technology allowed them to make it thinner.

Ipad and most Android tablets don't use wacom tech either.

Huh I had this app on my SP2 for months oO thats not even new.

I bet the offer is gone by the time they release me an i7 version of Surface3 :/

I'll repeat... You will never ever see an update to this app for Surface Pro 3. This app is made by Wacom. Wacom makes digitizing tablets and pens, including those used in Surface Pro 2. Wacom's technology is not used in Surface Pro 3. Microsoft went with the N-trig pen because the technology allowed them to make it thinner.

Yes you will.. they fixed it :)

Sorry if I've misunderstood this, but I thought that the Pro and Pro 2 had Wacom tech but that the Pro 3 used some other type of pen technology?

Yes, wacom vs N-trig. But this is a Metro?modern app, and pen support is build into Win8. No need for Wintab drivers like desktop apps.

Ah, thank you for clarifying :)

Another thing that would be great on a pen enabled surface mini

Broken on Surface Pro 2 here too. Stuck at title screen

I think it's broken in general. It's not working on my Surface 2 either... Startscreen only. It's time to 'spam' the emailccount on the wacom site ;-)

Skeuomorphism ... nooooo!

For sketching, I found that SketchTime is the best app out there so far. OneNote still is my #1 organizational tool

interesting... I use sketchbook express and sketchable from time to time.

I have the Surface Pro 3 and the app doesn't load. I uninstalled. I really like OneNote so that would be a tall order. Plus OneNote is integrated very well on all devices and opens with a click of the pen. Hard app to top on Windows 8.1

different apps. one is more for note taking, the other for sketching. but.. I love OneNote too, it's great!

stuck @ splash screen on SP3 - works on my non-touch desktop, must be something about the surface hardware it does not like

Interesting but it couldn't replace OneNote integration across my SP3, desktop, and 1520.

Update - I emailed thier support and they are aware of the issue and are working on a fix!! thanks Wacom. I'm eager to try this out !!

Yoga 2 Pro here, not working same issue as everyone else...was going to wait for SP3, i7, 256gb and 8gb ram but it was $1549 without a keyboard and the yoga 2 pro was $1200 with everything. Would love to know why the huge difference in price. My Yoga has the same specs as the SP3 I just mentioned. I guessing the Haswell i7 in the SP3 is much better as apposed to the haswell in the yoga.

Works fine on Dell Venue 8 Pro and of course supports the Dell Active Stylus.

Actually this thing works great on the DVP. The ink is smooth compared to using the stylus in OneNote. Not sure why it's so screwed up in OneNote but even with the latest updates, OneNote ink is choppy and pretty unusable. The Bamboo app with stylus is every bit as smooth as my Surface Pro.

app looks okay, but the major thing missing in alle wacom supported notetaking apps, in my experience, is good (multilangual) support for ink-to-text recognition as part of the notetaking feature pack. The technology has been here for over a decade now. I still don't understand this support and further development is not pursued. It is in essence the missing link to make the perfect courier app. https://www.youtube.com/watch?v=_ro8RLACs7M&list=UU1XKbytqHObDBndR48cyLhQ

Looks like a good app but I don't have Windows 8.x to download it. Still using Windows 7 and Windows Phone 7.x. But soon I am going to upgrade both my W&Wp to 8.x

Do you need to have the watcom drivers installed prior to installing this app? I don't and all I get is a load screen.

App will not open on SP3, not a huge problem since I am quite content using OneNote and Note Anytime.

It would be nice to try on the SP3, but the app is currently broken. O a side note, I'm pretty shocked so far at how bad OneNote is. You can't archive notes? Or easily share them via email? These seem like pretty basic features. You can't default a paper style? No yellow notebook paper? Get your act together Microsoft, you're supposed to be a software company and your software sucks.

Stop whining... Read the manual dude! you can send/export a page or even full section of pages in variety of formats... go to file section and you will see all the options. as my old old lecturer used to say RTBM! Read The Bloody Manual!

Where is the bloody manual?

This is the second app today that didn't work as expected (Animated lock screen preview is the other). Why highlight these questionable apps WPCentral? Who's going to revisit this app to find out if it now works. Done and done. Tmo Lumia 925/Surface Pro

Since this morning there's a new version/update in the Store. But, after some time to get it downloaded and installed, it has the same issue as the previous one. Just the splash screen on my Surface 2 :-(

Really Rob?? I noticed an update yesterday PST and after I installed it, was able to get into the program on my SP3. I actually like the program as a note taking App, the way it smooths out my handwriting is something I wish oneNote did. Of course, I dont think any of these will apps will come close to Penultimate (which I used to us on my old ipad1) That was just about the best note-taking app I've ever used.. but I have to say, this one comes pretty close

It seems the Store keeps downloading the previous version first, and than informs me there's an update. Which doesn't want to install. I'll see if I can run some check on the Store apps on my Surface 2. And regarding Penultimate, let's hope the ppl at Evernote will expand their tools to the Win8 platform :-)

Just to add, I installed it on another pc as well, but getting the same result. It installs the orignal, faulty version, than reports the update. Which will not install. very odd.... edit: now it all of a sudden starts working. version installed is 1.01 Weird thing is the Store keep complaining about the update being available??

I actually really love this app! As a college student it helps me to keep my art and notes seperate. There are things this does that oneNote doesn't and vice versa. The only thing I wish I knew how to do was how to access the files to upload onto social media with my sp3. I still think it's really great, it's simple and doesn't have too many things or choices. It's a good choice for someone who likes to doodle or sketch.