Band Companion adds battery status, remote shutter and notes to Microsoft Band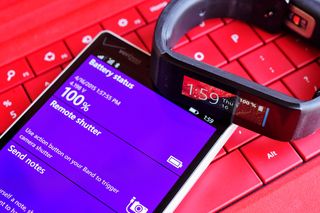 There is another unique app for the Microsoft Band now available in the Windows Phone Store. The app actually came out a few days ago, but it has since had a necessary bug fix to address some compatibility issues.
Band Companion brings the ability to display the battery status in percentage with a little icon right on the Me Tile. This feature indeed fills one of the most annoying gaps on the Microsft Band.
By default, the Microsoft Band lets you scroll right to reveal a battery icon, but it is only a graphic, not a more precise percentage number. Now, the information is stamped right on the Me Tile with Band Companion, or revealed within the app itself. However, I am not too clear if the status auto updates on the Band at a specific time or not (we are reaching out to the developer to clarify).
Likewise, there is a remote camera shutter function that uses the Action button on the band to fire the camera. Although we have seen similar apps before, Band Companion lets you switch cameras (rear or front) and enable or disable the flash for a little more control. You can also toggle vibration features (when taking a picture, when saved). There is also a 'say cheese' option, which also gives an audible alert before the photo is taken.
Finally, there is a send-note feature. Once again, we have seen this feature before in other apps, but Band Companion brings a unique twist by letting you send the note to the SMS, Mail or Notifications tile, saving some room. You can also optionally create a dedicated Notes Tile for safe keeping, but the other method is significant in case you already have the maximum number of Tiles used.
Nothing is free
Although the app Band Companion is free to download, the features mentioned above are not. For instance, the camera app will snap the photo, but it will not save to the photo roll. Instead, for each function you are prompted for an in-app purchase, ranging from 99 cents to $1.49. (You should also force close the app and relaunch to enable photo saving).
In-app purchases have been controversial for some people, although as seen yesterday, they make up the bulk of app revenue these days.
I have no issue with Band Companion creating an app that is a showcase for purchasable applets. You only buy what you want, and the app does bring some unique features to the table. Also, speaking from personal experience, the developer is responsive to feature requests and bug reporting.
Regardless, if you have a Microsoft Band, Band Companion is worth a look. Need more apps for your Band? Take a look at our topic page for more suggestions!
Download Band Companion for Windows Phone (Free, in-app purchases to unlock)
Daniel Rubino is the Editor-in-chief of Windows Central, head reviewer, podcast co-host, and analyst. He has been here covering Microsoft since 2007 when this site was called WMExperts (and later Windows Phone Central). His interests include Windows, Microsoft Surface, laptops, next-gen computing, and for some reason, watches. Before all this tech stuff, he worked on a Ph.D. in linguistics and ran the projectors at movie theaters, which has done absolutely nothing for his career.
I don't mind paying, but I don't like being nickled.

I think this pricing is fine. My big question is this: Does the remote shutter show a view-finder pic of what the camera is seeing? This is perhaps the only killer feature I find interesting in the Apple Watch. It would let me use my more powerful main camera for selfies, etc.

No it doesn't... Good idea if possible though

Agreed. I'm referring to the possibility of multiple IAP.

It's not clear. Does this do nothing once downloaded before you make an IAP, or does it do the Battery Tile and the remote Shutter and Note are IAPs?

Battery status and Notes features can not be tried. Remote Shutter can.

Well, that was unexpected. The order of the article makes it seem like the Status Tile might be free, but the other two IAP, but the text makes it seem like all might be paid. I'm getting the impression though even the Remote Shutter is not fully functional. I do take exception to an app labelled FREE having no usable feature. It appears this fact has been added to the description, due to review comments. If it costs money to do anything, that should be clearly stated. I have no problem paying for apps, or paying for additional features, but had I installed this, I would have removed it on principle.

Well dan you again sparked the debate,iap is the future

I notice the author is following this, and just wanted to note that IAP is normally reserved for additional features, not to activate any functionality at all. The store does support a try-before-buy option that allows customers to see if an app is useful/desireable before committing a whole dollar. I don't know if that option is granular enough to allow someone to 'try' the whole app, and then just buy one, or two, of the features. In any case, with the app labeled FREE, and no functionality is provide without IAP, that is going to rub people the wrong way. I see the IAP thing is noted in the description, because folks complained. I don't think that will change much, There is nothing Free about it, and people will feel that way. These are useful additions to the band, and I would personally have no issue paying $1 for any one of them as seperate apps. I assume that would make the try-before-buy option easier to implement.

I have put the warning in the description that app has IAP from the day one. I have now submitted the updated text because for some that was not enough because it was at the end of the app description. As you say, if these were separate apps no one would complain about the price. The thing is most of other Band apps don't have that wide spectar of different features in one app. But, anyway, I will try to address this whole issue so that everyone can be aware from the screenshot and the description that app is not free. I will try to make the Battery Status and Notes features in such way that you can try it at least in some way before you buy it.

I wish you luck in expressing it in such a way as to not surprise people. I think it is great you are supporting Windows Phone and the Band. In some way this is a MS store issue, in not really providig some option in between saying Free, and putting a price on it with a try-before-buy option. There maybe should be a Try option (where it now says Free) to clearly indicate that there is some purchase required, but would allow the user to pick which feature they want to enable. Maybe if you charged 99 cents and picked one of the three features to provide for that, it would be more palatable. Not sure we could agree on which one should be the basic capability, but maybe a poll here would highlight a clear choice. I'd pick the live tile battery status myself.

I just picked it up and paid for the display and removed it because it didn't look right on my fan band tile.

Some users already asked for an option to move percentage label somewhere else. I have put this request on my list, it just isn't at top of the list at the moment.

Its a great app, just need video as well as picture capture. Developer is very quick to respond if you have problems too. I don't mind paying for apps, developers need to make a living too even if its just a side project. This is a very well made app.

Thank you for your understanding. Your request for video capture is on my list.

Does it work with Lumia camera?

No, it uses its own camera software, minimal features atm

I definitely can live without this app! Nah!

I got the battery, couldn't be happier. It's was much needed.

Where are these developers finding APIs to access battery voltage etc from? I am a new developers. When I look at the API documentation, all I see is some basic sensors, changing colors, wallpaper etc. But, no mention of battery level, GSR levels, ambient light sensors etc. :(

Paddy makes a good point. The Microsoft Band SDK Preview offers very limited functionality. Callah, what API/SDK/language are you using to make your snazzy app?

Remote shutter works fantastic on L1020, love the app so far

I clicking on the tile but it doesn't open
Anyone knows why ?

Please use the support mail address in the application to contact me, I will help you.

You can use Cortana already to take pictures with ReadyClick! using voice commands. Just press the Cortana Action button on Band and say "ReadyClick! GO" to take photo or "ReadyClick! TIMER" to start the timer.

I purchased the battery display, buy the display does not change from showing 50%. I charged my Band fully to 100% but the displayed status from the app still shows 50% - anyone else having this issue?

Please use the support mail address in the application to contact me, I will help you.

So how many of these excellent features need unlocking with an in-app purchase? And how much will it cost to buy them all? Can you not just buy a fully functioning app any more?

Battery Status and Remote Shutter are $1.49 each, Notes feature is $0.99.

send-note feature has an option for send directly from OneNote? ty

I use pimp my band as well. Set the color with it however when using band commander to display battery, everytime battery updates on me tile the color switches to previous color. Does band commander store a previous setting? big pain in the ass to have to keep swapping back and forth every hour.

Please use support email address to contact me, I'll explain everything.
Windows Central Newsletter
Thank you for signing up to Windows Central. You will receive a verification email shortly.
There was a problem. Please refresh the page and try again.