Band is 'a real pivot change' for Microsoft as they take on Google and Apple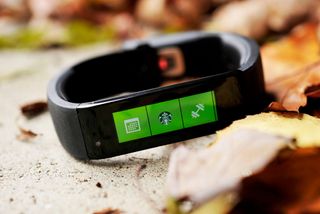 The Microsoft Band seems to have come out of nowhere from Redmond, but rumors of such a device in development have been circulating for some time. Indeed, building and researching the health tracker began nearly three years ago through the Xbox team's work on Kinect and motion control. That should tell you that the Band's hardware was in no way rushed.
However, it does seem that Microsoft jumped early on the release of the Band in order to make a splash in the market. In an article on the Seattle Times, Microsoft project manager Matt Barlow commented on the opportunity for the company to jump into the burgeoning health and technology business.
The lining up part refers to the lack of proper integration into Microsoft's other businesses, including the Xbox One. As such, the software end of the Band is a bit premature, but Microsoft clearly saw the 2014 holiday season as the right time to pounce, regardless if the Band was ready for wide scale release.
Barlow also comments on how Microsoft was more interested in getting the device out into people's hands (or perhaps on their arms) to understand better exactly what people wanted from such technology:
This change in product execution is very different from the past, where Microsoft took their time to get to market, often behind their competitors (hello, Zune). Windows Phone and Windows 10, each with their own 'preview program', demonstrates that Microsoft is now more interested in working with customers rather than "a bunch of people in a room taking a guess about things".
The article additionally affirms that the Band is meant as a demonstration device for Microsoft's new Health platform, an analysis I put forth over the weekend. Seattle Times writer Brier Dudley observes that:
Undeniably the co-release of the Band made Microsoft health ambitions that much more tangible to consumers and other companies. As I noted though, Microsoft is trying to walk a fine line by introducing the Band to consumers while trying to woo companies like Fitbit and Jawbone to license their hardware sensor array and Azure powered Health platform.
I would argue that the Band's hardware is quite complete at this point, but the software and cloud ambitions have yet to gestate fully. As such, Microsoft is likely to see how customers are using their Band in the coming months and adapt the software to better suit what people want. Sensors like the one for galvanic skin response have yet to be realized, and features like automatic Sleep mode detection are on their way.
In other words, Microsoft is just getting started but their foundation is set.
Windows Central Newsletter
Get the best of Windows Central in your inbox, every day!
Daniel Rubino is the Editor-in-chief of Windows Central, head reviewer, podcast co-host, and analyst. He has been covering Microsoft since 2007 when this site was called WMExperts (and later Windows Phone Central). His interests include Windows, laptops, next-gen computing, and for some reason, watches. Before all this tech stuff, he worked on a Ph.D. in linguistics, watched people sleep (for medical purposes!), and ran the projectors at movie theaters because it was fun.
I have to admit that this product is really good, and MS has done a great job with it.
..........
Although lately I've been super critical of MS, and with good reason at times, they are really good at the software, and devices they make..
Nevertheless, I don't understand the beta status of this product, and I'm very insecure about marketing by MS.

It seems like MS execs are starting to read The Lean Startup

Pivot is very characteristic for Lean Startup. You can often hear more saddle references and not only from execs.

Why shouldn't I be❓ .... And, I was waiting for YOU to say something about that... Lol.

Seems like no marketing works better than advance marketing. A lot cheaper too.

Now if they could only get at least one new non-carrier exclusive flagship phone out in time for the holiday shopping rush they'd have a shot at selling a few.

Not going to happen ✖✖✖✖✖✖✖✖✖✖✖✖✖

I thought it was humorous that MS wanted to sell the Band for the holiday season because there are none left for Santa!

If they would just update my 928 to WP 8.1 I would be happy. But I am just pissed that nothing has happend for almost 6 months since WP 8.1 was released.

Wife and I love it. Works great, but I like the thought of auto sleep detection. I like being able to subtly check text, emails and notifications without looking at a phone or watch. I think it may be the best Microsoft product launch ever. Finally, Microsoft is being seriously aggressive.

I completely agree.... Now, what about WP?... Xbox, Surface, and band are getting the proper treatment, but when will WP?... And, for WP I'm talking about marketing.

Dude you really need to stop with the marketing stuff. Look around, search for it. You may not like it, but it's there. If everyone can stop criticizing MS marketing like they are all highly anticipated movies maybe they would understand. Not meaning to disrespect, but you're harping about some things that do exist. Withe the exception of the Band.

No, Sean... No! I'm sorry I can't help you.. You should consider ignoring my post at this point.

Yes, I've seen microsoft gadgets in some tv programs like "Under the Dome", "Arrow", and that is an advance, but I guess is not enough.

No, not enough to go up against the position Apple, Google, and Samsung are in.. That's what a lot of people don't understand.

I always wonder about the magic of marketing. Can you sell a product that is lousy if you market it well? Perhaps over the short run, but I doubt if you can over the longer term.

No really Windows Phone marketing has SUCKED in 2014. Look at the new iPhone 6 commercials, the Galaxy S5 commercials and especially the new Droid Turbo commercial. The Turbo commercial caught my attention and even had me rewinding my DVR just to see it again the very first time I saw it. This is not to say MSFT isn't capable of this splash effect because they proven they are with their SP3 ads as of late. Those ads are brilliant especially the one with it up against the Macbook Air. Windows Phone advertising just hasn't been up to snuff and maybe that's because they're waiting for Windows 10 but people who are kept waiting end up buying the competitor's product.

Those SP3 ads are great....
...........
WP marketing is ineffective on so many levels.. It's not only about the quality of commercials...
1. MS doesn't have, or has never had, a consistent run of commercials that are strictly OS informative, and not tied to a carrier, or OEM... MS relies on Carriers and OEMs, to advertise WP...
2. WP commercials, and marketing in general, is never consistent, and is always short lived.. Have we ever seen Apple let up for an off period when there is no device launches? No! They will milk the iPhone 6 as much as they can right until the 6s comes out... Microsoft must learn this❗
3.. WP marketing is not informative enough about an array of features on multiple ads.
4. WP marketing is not available through enough channels, outlets, malls, arenas, stations, airports, advertising spaces, and just about any venue you could think of that Samsung, Apple, and Google use to keep kicking MS's ass....
5. Marketing is THE root cause of all of WP's issues, and is THE only way WP will gain considerable MS in a reasonable amount of time.. Pathetic, and I will not stop stressing this fact until the day I see these things change, and they still don't help WP....

Advertising should feed off product's revenue. Only in the first stages there is an allocated budget that is unlinked to financial performance of the product. They are in their forth year with WP. Of course it can draw some funds from other divisions but you can only do so much I guess. It would be silly to throw 50-100 mln $ a year on advertising when the product brings in zero profits. It's the chicken and egg problem.


You know, I was thinking about that.. And, you raise a good point... But, I came to the conclusion that this is yet another excuse for MS not making BOLD moves, as Apple, Samsung, and Google, does...
............
Mobile is EXTREMELY IMPORTANT, and companies like MS can't afford take it for granted... MS really needs WP to succeed in order to push its other services in a less competitive environment...
.............
Last, MS just purchased Nokias device division.... Lol❗ .... Now, we can't think chicken and egg here.... They need to invest heavily in making sure WP is successful because they have shareholders that want to see that investment pay off... WP, and Lumia devices, should be top priority at MS right now, and MS needs to do whatever it takes...
...........
With what MS is going up against with iDroid there is no room for conventional thinking, and normal practices at this point... What you are suggesting is seriously NOT proactive, and really is like giving up before even trying....With WP market share so low, this mindset would suggest that MS go ahead and abandon WP, because if they were to follow that logic with WP it would make the most sense to go ahead and shut it down.... IDK about you, but I think WP has way too much potential to be shut down... That's what's so frustrating..

...I couldn't have said it better. I REALLY wish MS would read these blogs!

WP team members are on here!!! It's a well known fact.. At times they chime in, but they are always reading the comments❗ That is way I stay persistent with my feedback here..

I hate to sound so cliche of the Southern Black Baptist person that I am but to Trill Gates..."AMEN, Brotha! Preach it, Preach it"

Dude, there is marketing, then there is effective marketing. Rodney was referring to the latter. Apple has written the book on effective marketing while MS seems to have reading comprehension difficulties.

Lol❕❕❕ Well said, and this is exactly my point.

Long time no see rod ! Great to see you around again !

Really! We can't get rid of him..lol

I know. Your in Texas, aren't you? I went to Dallas for residency last year. Very humid. Now, I live in Florida, again and it us just as humid:(

Did the newly announced jawbone utilize Microsoft's sensors

Nope. It actually uses a different kind of sensor (bioimpedence) to monitor heart rate.

Which can only detect resting Heart Rate.... very disaapointed, but the Band on my wrist is pride of himself.

Im waiting for it to become available on international market.

Its great but can we have a awesome windows smartwatch next too?

Exactly. This watch band is nice, but I want a real smartwatch, closer to Galaxy Gear, but nicer and more refined. Don't care if it costs more.

Can't this do the same things as a smartwatch?

I feel that the MS Band does everything I want a smartwatch to do.

Smartwatch is there, it only needs a proper OEM case.

They cannot possibly release a Smart Watch until they release an SDK for their wearables plain and simple. Thats what they are working on and I can almost bet once they push an SDK you will see a Smart Watch appear out of the mist. Apple may beat them to the punch but if it can also run (which is should easily be able to) on all platforms it will be a success.

The band runs on C, so it's pretty specialized software as far as OEM's are concerned. What they really need it a base OS image that's smart enough for different device configurations.

They should sell these at iStores. The fools who shop there will think it's the iWatch and buy it with iPay. (yes, I know Apple wouldn't allow it. I'm being facetious)

iWatch and iPay, real names are apple watch and apple pay. Dont understand just because is apple you dont have to add I to everything they do is not like their macbooks are imacbooks... anyhow the band seems useful just the looks are not that great and I wished it was an actual watch with fitness and water proofness.

That's 'cause they're iDiots.

It was refreshing to finally see Microsoft pull an 'Apple move' by essentially saying - Hey we've got this great product and oh - btw - you can get it tonight/tomorrow at our MS Stores. Much better than, - Hey we have this really great product, but it won't come out for another 6 months, hopefully you'll remember how great it is by the time you're able to get it!

Yeah, that was great❗ And, they finally beat Apple to the market in a new segment.

They also beat them to the tablet market, and the smartphone market, albeit not in the best way.

You're really gonna say they beat them to the tablet, and smartphone, market?.... While technically true, it's now a huge stretch, and a terrible argument...

I know that, I just wanted to point out that your "they finally beat Apple to a new segment" statement is terribly wrong, they have consistently beat them to new segments. The problem is that they have failed to make them compelling and useful to the general public, thankfully that's changing.

Yes and not: Apple had Newton... which was not a success though.

Funny enough, "here's a product, now wait 6 months" is basically what Apple did. So the roles are kind of reversed lol

Yeah, that's odd of Apple.

Apple "previewed" the Apple Watch because they had to. Apple knew of the MS Band (since it was launched on iOS, MS had to be working with them for months). Apple knew they had to create hype to help prevent MS from taking the spotlight and everyone asking "is Apple going to respond?". Well played by both but I think MS won since they forced Apple to act "un-Apple" like.

yet the mass media doesn't even acknowledge the Band - they would rather talk about GOOGLE glass causing blind spots or further iwatch delays.

Not completely true that it is being ignored. Great article in NYTimes the other day, which I cannot post a link to.

Very true. Curiously, Apple announced their watch a while ago, and it's not even going to be out by the holidays. Strange.

Yeah a great "apple move" if only it was not restricted to US only and already out of stock... To me, this it's more a "Hey we have this really great product but you won't get it... Just enjoy reading enviously the comments of lucky Americans who can get it tomorrow!". This "great" move doesn't really cut it for me in the UK Lol!

And, what's worse than that is that when MS releases a popular new product, they typically simply put "Out of stock" on their web page. No indication of when it will or might be available, pre orders, or back orders. I want to buy the Band and checked the MS web site and talked to the online chat guy. Both said they had no information. I then drove to the local MS Store and they said they will put me on a back order list and I should get the Band this week. I'll check back every day to see if I can't get the Band this week, I hope. Is this a good example of marketing or simply lack of understanding of the market on the part of MS?

I must admit, at this price MS band is a steal....

Yes, its the first MS product that didnt launch overpriced. I think this is a very competitive price consider it has GPS built in.

"the software end of the Band is a bit premature" and so are the reviews on the microsoft site. There are more than a few fake reviews. I saw one that said i've been using it for over 2 months and its wonderful. Someone got lost in the wood a few weeks ago and it helped them out. Something need to be done to fix the reviews as well.

How do you know those aren't the beta testers who got spotted weeks ago?

Clearly a joke since the band doesn't show position as it has no map to display

I'm excited about the Band, but Microsoft needs to get these things into the hands of consumers. They're going to blow all the excitement they've generated if a new batches aren't going to start hitting the market before the end of the month. This is one of the first times I've seen Microsoft break through the negativity, so they need to hit hard and fast to capitalize on the momentum.

When are they going to be back in stock online? I check the website every single day, and it's getting frustrating that I can't get something I've been waiting for so long. I have no idea how they sold out so quickly. I'm hoping they are in good hands (WP users and reviewers), and not some random IOS and Android users who have hundreds of other options. Us WP users should have priority.

Barely a week since release and its "so long"?

I think that just shows how great of a product, with high demand, Microsoft has produced. Inpatient consumers wanting your product is a company's dream.

Um, so long meaning many months since the patent by Microsoft showing that they were working on a fitness band/watch?

Well at least you "can" get it!... The rest of the world can't!

That's true. They should hurry up and start mass producing them before people move on to find some other products, which I was tempted to do until I found out the fitbit surge and charge hr were coming out next year.

that's the point is it not? Create a solid hardware base and evolve the software around it just like Cortana it's constantly changing and improving

That's probably the only product in the last 5 years that was released without any leaks of the finished product or anything else that makes my believes in the so called "leaks" so much stronger

and that's probably the first product they released the next day it was announced and did they see the result? it was sold. if they did the same when they announced their Lumia phones, they might have higher marklet share than today's.

I think it establishes an important premise in the wearables market: The device has to do something, it cannot merely be a redundancy of the phone. Microsoft has set itself up as a thought leader in this area.

But can it send an animated heart with your pulse to your loved ones? :P

Excellent point. I think that's been my malaise to the wearables market is I keep thinking, what's the point? If it just duplicated most of the phone's capabilities, how is using a smaller screen on my wrist better than using a larger screen in my pocket? I wasn't interested in the Band or any other wearables for that reason. Then I watched the first Band videos and I was convinced. It's not just my phone on my wrist but rather an extension of the phone, a compliment to it.

I was not interested in any SmartWatch at all, from the bulky, silly only Galaxy note compatible Galaxy gears to the high-end-like AppleWatch, those features are just nonsense to me, but always want an accurate fitness tracker. HR sensor was one of the feature that I definitely want, since I do mostly intensive, interval sport like tennis, badminton and so on, instead of running or cycling. SO even the fitbit and jawbone lineup looked attracting, I bought the Basis B1, but am really disappointed about the HR sensor on board. And FitBit didn't support WindowsPhone til recently. Really happy to see Microsoft come up with such a great device, I ran to the nearest MS store and got one on the launch day and except the scratches on the display, I am very satisfied with this subtle but powerful buddy. It's by far the only wrist-bound device that can track instantaneous HR without a chest-strap, and the on-board GPS is quite a nice touch. Notifications are fine, but can be further improved, I hope someday it can be upgraded to native Windows10 or so!!

$200 for a "demonstration device"? Not too convincing...

Why not? No other band has its functionality for this price.

Why not? People are paying $1200 for Google glass which is basically a dev tool at this point and not actually in full release.

Considering it does more and costs less than the other Fitness bands in this category, $200 is more than fair. Fitbit flex cost around $150 when it was new.

Depends person to person....for me that still sounds better than $350 for a 'Gear'!!

I have a Microsoft Band currently. So far, I love it, it is nearly everything I would want out of a band, with everything else I could ask for certainly doable with software updates. Is there a Uservoice site for Band? Or some location for feedback? There is so much more potential for this thing it's insane.

Good point, a feedback section will be helpful. Here's hoping someone from MSFT reads this. 3 things that's should be added. 1.) to make it more marketable, integrate with Siri & google now. 2.) merge Bing health, MS vault & MS health into one great app that works with most hospital's databases 3.) include an NFC chip so that NFC payments (which seem to be the new direction of things) can be made by a simple touch of the wrist to the merchant's device. :-)

1. meh, 2. Ain't gonna happen, 3. Potential for financial mishaps by being to close to a sensor reaching for a massive candy bar and bag of Doritos after doing a full 5 minute cardio workout with ma band...lol

I looked for a User Voice site yesterday and couldn't find one.

It's a great device indeed. Hope future Microsoft products will leak even less than this one has and will be available worldwide under two weeks.

Daniel, I concur. Except for one serious issue. I can not find one in the wild. MSFT put me on Notify list. Not a negative from me to MSFT, but wish I can get one. So, from one pal to another, if know a guy that knows a guy that knows the guy that can hook me up, Then I am your guy. I got my 200 greenies ready. Wife approved it and I don't want to give the money back before it goes with groceries stuff.

reviews have been very mixed so as expected from this site, it's a miracle. I guess time will tell but even fans like Thurott slam it as bulky, and having poor battery life. the WSJ basically called it for the same reasons plus horrible online services which confuse users. and worse of all, no apps store meaning if you don't like the apps it ships with, or want more leveraging of the sensor banks, you're out of luck. This has ZUNE all over.

I have read many of those reviews and here is my take: so far, I am very unimpressed with the quality of those reviews and question if those people are really qualified to make the judgements they did.

Not a lot of people are excited by this. I watched Michael Fischer's first impressions video and he later tweeted that he was happy to get rid of the band.

Sorry, but anything that is written by him and his site are Android/Apple glorify articles. I am not surprised at all that he wrote a bait click article. I am very happy with my Band, and love every features about the Health & Fitness that came with it.

Actually it is "Health", not "health and Fitness". The latter, regrettably, does not work, not yet at least, with the Band which for me is extremely disappointing: I use it to track food intake daily. Considering that the latest update for "Health and fitness" removed some of the most unique and compelling features of the app I guess that MS will consolidate all its various services under "Health".... and the sooner, the better.

The MS band review was the first review I watched/read from Pocketnow in ages, because I have never seen a good review of MS products from them since long time, so I stopped going to that site and their YouTube channel.

Agreed, but to the masses these guys are the "experts" and they'll take their word for it. Then they'll go buy an Android one or wait for Apple's.

Is the poor battery life the result of it being used with devices that don't support bt 4.0? Like the flagship Icon?

"Poor battery" is relative. Considering what it does and what it has (including a color touchscreen) is 36 hours bad? Or rather, could another company do better with the same technology? I doubt it. As I said yesterday on TWiT, the battery is right at the cusp of acceptable/unacceptable. Throwing the device on the charger for 30 mins while in the shower/getting ready everyday chargers it to 80%. Pretty easy to "manage".

Battery life for me had been exceptional so far. I'm on 2.5 days and the gage shows 50% left. I don't track exercise yet but I get text message notifications, phone call alerts and notification toasts along with tracking my sleep patterns, heart and steps. This is done over bluetooth to my Icon; so no LE yet. I have it configured for a black background and high vibration alerts.

Don't recall seeing lines out the door for the Zune.....

there were no lines. the lines were from the MS bellevue store which is not representative of reality...I mean practically only MS employess go there.

So you were at all the stores?

Take the very same device, re-label it with any other company's logo and most if not damn near all of those 'mixed reviews' go away. This is an MS product, they are the most unfairly scrutinized tech company on the planet. If you haven't realized that by now you simply aren't paying attention.
It's a sad shame that some people actually use and, or rely on those 'reviews' to help them decide where they spend their money.

Have you seen the guy of WSJ? He is not a 'fitness guy'. He is unimpressed with the notifications, but he doesn't realize, in my opinion, that this is a fitness device first, and a notification device second. It's a band, not a smartwatch.

Gen 2 should be awesome. Screen sensitivity (lack of) and the fit are in need of some help.

Band is a Hindi and oriya word which means dick

Great product and amazing potential for the platform, My wish list includes:
- auto sleep mode detection
- manual input of activities not currenlty compatible with band, such as swim, surf etc...
- integration with mygarmin data (garmin swim for instance)
- integration with ripcurl searchgps
- web based interface for the MS health app
- windows 8/10 app for MS health app
- social sharing/challenge features to compare data amongst friends etc... Other:
The GUI should have used Modern Design language principles and parallax navigation, the hamburger menus look and feel completely out of place on Windows Phone

blah, blah blah. The "hamburger button" is the new pointless WP complaint. Sorry, but it's true... and it needs to stop.

I disagree. The old style was easy to use with one hand. This new style puts a bunch of buttons at the top of my screen.

You forgot "IMO"... Personally.... I detest it.

The hamburger button is something that everybody on EVERY platform recognises as a menu, and as much as I like the panorama layout it makes things easier for people on other platforms. That said, if they did a 'proper' metro redesign of the UI for the WP app only, pretty sure most of the WP user base would approve

I don't own the band but agree with many of your points, in particular social features (that makes fitbit nice and interesting) and the access through a windows device (app and web). I've seen the mention of autosleep a lot these days, but how do you imagine it would work? How does it know that Im sleeping vs just resting. That's a difficult thing to implement.

one more thing: Live Tile / Pin to Start, or is it too much to ask?

I want one come to UK asap lol

I love it. I love watches, and I use... used a fit bit. I would still like to see Microsoft make a full fledge smart watch, but I don't want them to replace the Band. I believe both can exist, as I change watches depending the occasion. The Band does everything I need it too now and then some. And the size is great, not overbearing.

I know Daniel's favourite colour... Green. Am I right Dan?

Probably ;) Although on the Band I often change it.

They need to get to uk asap I want one so bad it makes me angry

No #Strava integration equals a no go for me.

If Microsoft is just out to license their hardware and software, does this mean the band will eventually get disbanded once lets say fitbit or jawbone started using Microsoft's features? It sounds like Microsoft's Band is just a demo for OEM's.

I doubt it, not if it is selling well. I made the analogy that this is what Surface is to the 2-in-1 market for Microsoft. It's a flagship version and Microsoft's own 'idealized' band. They stand behind it and would support it just like the Surface. OEMs are free to use some or all the sensors, which means they could make hybrid devices, smartwatches, etc Things with different core goals than the Band.

My Band finally arrived yesterday (so much for 2 day express shipping). I've had the advantage of prowling around this blog and the forums and other sites as well to learn as much as I could about the device when it arrived. I had sized mine based on the PDF printout from the Store website, yet given all the growsing by some users about the comfort of the device, I was still nervous that I had measured wrong and that my large device would be to big. Given this, my first delight was just how well the Band fit me. I've tried it out in both upper and lower positions on both wrists. I prefer under wrist on my left hand. I am ambidextrous, but my right hand is slightly dominate. I find the band to be comfortable and barely noticeable in that location. I wear long sleeve dress shirts and sports coats at work and had no trouble buttoning the shirt over the band. I unbuttoned the cuff to use the Band's Starbucks app, which took no more time than grabbing my phone, scrolling to the MyBucks app and opening the tile with my card on it. Plus it was lots cooler. I tracked my sleep last night and I appreciated the additional detail I got from the Band over what my Fitbit device provided. Today, is my Band's first real test. I've seen nothing so far to put me off of what I had expected. I like being an early adopter but I really appreciate all the information Daniel and his colleagues have shared as well as (most) of the opinions shared by fellow commentors.

great feedback! I can't wait for my early Christmas present :)

Very good feedback. Thank you for making the effort! Now, if I could just order one already

I love the band. My only complaint is when can I take it off to charge the battery? I literally use this 24/7. I have been taking longer showers so I can charge the battery.

While eating dinner maybe?

I usually charge my band two hr before going to bed, and put the band on to track of my sleeping pattern. Nice thing abou this(charging), I only have to do this every other day.

You can charge it while youre on the PC

Id rather have something like the gear s at this point. If only Samsung could work on adding support for their wp userbase

Whens is it available in the UK?

I wish for a much deeper apps integration as soon as possible

Good that they aren't solely depending on other companies to build the hardware to go with Microsoft Health. I highly doubted they would just disregard three years of work by not trying to sell as many as possible for fear of stepping on Fitbit's (or any other fitness band manufacturer) toes because they really really want to partner up with them to push their health platform.

Daniel, do you have any information about when the band will be back in stock? I haven't heard a thing and I want one!

I've heard within 2 weeks, though at a lower clip than initial shipments.

This is an excellent example of MS trying to evolve in today's tech world! Well done! My opinion is this was a very good approach.

Its a good halfway house between a fitness band and a smartwatch. The Apple watch seems gigantic in comparison with no real obvious benefit.

It's size *looks* like it will get in the way of most workouts.

It is almost the same size as the Nike FuelBand SE. I own both and wear them both daily. The only reason I continue to wear the FuelBand is because I am in competition with my nephew who owns a FuelBand.

Sorry, I meant the apple watch looks like it'll get in the way while working out.

I do not think so; I have used Polar watches for almost thirty years and never had any issue. I work out six days a week: three sessions are for chalistenics, two running and one swimming.

Anybody know if the band will export/import into Weight Watchers, newly "unlocked", tracking features?

Daniel, I have a question for you. It seems that the focus of MS will shift now to the software side of the band. I can only applaud that and I am sure they'll deliver a lot of quality products. But, can we expect a new Band every year with updated specs, like the surface, or do you expect that the development is scaled down and we won't see new hardware in the foreseeable future? I ask, because I am very interested, but also recognize that the second generation would be a big step better. As a sidenote, I honestly do not understand people that trash this product, I really don't. I bet, if this things had an apple logo on it, people would be raving about how Apple was ahead of the competition by recognizing what a wearable should be.

"But, can we expect a new Band every year with updated specs, like the surface, or do you expect that the development is scaled down and we won't see new hardware in the foreseeable future?"

It's a new category for them. I expect a new version within a year. Who knows, they may even do a 1.1 hardware revision. They want to be dynamic.

Thanks! I appreciate you getting back to me on this. I might sit this one out, if i can keep my nerves!

this is perfect fitness band. fuck all show off this band has good capabilities.

I went to the the MS Store and synced it to my L920, I wanted to test it first hand. Loved the integration and texts/calls came in while trialing it working seamlessly. For a 1st Gen device, I am quite pleased and now on the wait list, with many others. I know Daniel has insight/knowledge/contacts that are accurate in that MS doesn't want to compete with the Band, but the fact remains that those partners MS wants to use their hardware have done nothing since the inception of WP7 to earn our business. Add on top how long we would have to wait for anything else to be developed minus Fitbit only recently released an app, but is obviously using in house hardware. Day in and day out WP users are asking for software support from hundreds of shops for applications let alone smartwatch options, and there is nothing, nada other than this Band. Is it the perfect device, no, is a Smartwatch around corner, who knows after this surprise announcement. But MS come take my money as a WP entrenched customer, as this will only help future versions become even better. If MS would look at this from the other side and sell millions, it would only help prove to the "others" that refuse to make apps or integrate with WP ecosystem that the market is here and ripe for the taking. MS, WP users want integrated devices now, not in 6 months or when OEM's get on board. This is what will help fuel WP growth.

(Im)patiently waiting for my wait list email...

I want that band so bad...

What if I told you that MS would lunch at the holiday's a Lumia 1030 out of nowhere?

I'll be clicking the ORDER button when the email comes out. I learned my lesson!

As a UK user I obviously don't have a Microsoft Band, but I am really excited about it. Or rather, about the fact that Microsoft is finally entering the wearables market. The band looks great and all, but I don't think it's for me. I'd rather have something a bit more like a smartwatch, so that you can use navigation / directions like Android Wear, but I could live without that. The things I can't live without: music control and waterproof-ness. Music control is 50% of what I want in a smart wearable: I have some really nice Bose noise-cancelling headphones that I use with my 1020 but, since Windows Phones don't respond to in-line remotes that were designed for iPhones, I have to fish my phone out my pocket whilst walking to change track (this action has a high likelihood of me dropping the phone). I'd love to be able to simply touch my wrist to change songs and my phone can stay safely where it belongs :). Lastly, anything I wear has to be waterproof. I haven't owned a watch that wasn't waterproof since I was a kid - I simply wouldn't buy one these days. I reckon that I (like many people) will have somewhere in the region of 500 showers over the course of a year. With that many ocurrences there's a pretty good chance that one day I'll forget to take the watch off and get in the shower with it on, and it only takes one time. When they release a waterproof model with music controls I'll buy it in a second. I'd also appreciate a bigger screen.

That's the old Microsoft way of thinking. I like the new Microsoft way of thinking better. If only Microsoft were a European company and we get the new stuff first.

It seems like main profits in this area comes from acquiring the data about peoples health. Which makes me think, there's going to be strong competition which should eventually lead to cheaper devices. Let's hope MS will still pursue the hardware side of this or get a dedicated partner like Google with Nexus to create quality devices.

Since the last "leaked" patents for a ms smartwatch looked completely different, and that device had a detachable watch face, I think its still quite likely that they will still relwase a more smartwatch like device some time in the near future

I have 3 suggestions to MS even I don't use it (yet):
1) Please release it in my country (Germany)
2) Integration of 3-party fitness/tracking Apps (like runtsstic)
3) Give it at least a remote mp3 functionality, it doesn't have to have like 32 Gb but 2 Gb for some music would make it the perfect fitness substitute

I'm on Android just because a smartwatch is essential to me. I've switched from WP to Android since the launch of Galaxy Gear, but I rather so much the WP than Android and been waiting for a official smartwatch from microsoft for a long time now. But I won't buy the Band for some reasons: - The display is toooo small - There's no "vertical mode" option, wich is a pain. - The Band itself is only 19mm width and too thick. In fact, I know it isn't a smartwatch but a fitness band and it's specs is ok for such. But I was expecting something that could be used as a smartwatch aswell. Maybe on a second generation I can finally back to Windows.

Sorry, I don't mean to sound snarky but I want to understand your concerns: you won't by the Band because it is both too small and too big? I get that you want a smartwatch and this isn't one, but your other points were lost on me.

He clearly stated too narrow and too thick... I do not mind about the former but, to a certain degree, concur with him about the latter. Said that I am sure that V2 will fix this and other shortcomings.

It relays data from your phone. It most certainly is a smartwatch. Is it a phone on your wrist? No. But it shows all the info I want from a smartwatch on a very readable, comfortable screen.

Just need to make it available outside the US

Edit - This was a reply to Daniel, but the app fudged it lol.

Just look at EBay. They keep selling at double store price..

Yeah, do to great reviews from various tech sites which made the Band a high demand. Cross platforms made it evewn more demanding.

People sitting around guessing at things is exactly how my companies executive team decides things. Ask the 100 people laid off because they misoverestimated (lol) sales and said budgets were too constraining for a booming business spending investors cash. Seriously. That said, I'm glad Microsoft is operating less bubble and going to public. If they did that with OS (open source) we'd see a very different picture on Microsoft. They have the infrastructure, software, and market penetration to monetize open source offerings.

The band is just too bulky for my tastes. I wish it looked more like the Fitbit or the new Jawbone. That said, I expect Band 2.0 to be much sleeker and less noticeable. The way it looks now I'd be kind of self conscious and embarrassed by it, TBH. But if it floats your boat, go for it!

It would be great if I could actually buy one. Not only are they not available online, but they never have any size in stock at my local Microsoft store. Always out...

So I have had the band since Friday--LOVE it. After doing crossfit for 3 years and taking a long brake, gaining 20lb this was the fitness band I wanted. Glad I have been waiting to get one and was perplexed with the Thursday articles only mentioning the rumors, then updated before midnight saying it was going on sale, then buying it after midnight online. I was pleasantly surprised. Now, I referred to crossfit, and I found it interesting in the article about the Bands development also mentioned how the guys working on it did crossfit, and this is VERY evident in the Microsoft guided workout section on the MSHealth App. Having tabatta workouts on your wrist, buzzing when to rest and when to begin is phenomenal. I literally jumped out of bed Saturday morning, clicked the guided workout tile and tabatta'd away, whilst my cats watched in confusion running under my legs during squats, head butted me during the pushups & ran scared during the arm flailing situps. The convenience of having such workouts on your wrist is, in my opinion, the best part of this product. Having twitter notifications, email, text messages and etc as well is icing on the cake. Cheers MS

The BAND leader of my favorite BAND, the Rubber BAND, wanted to BOND with the BAND upon knowing James BOND bought the BAND to use as one of his gadgets in the next BOND film. He was later BANNED from buying the BAND when the store owner, Mr. BAND, accused him of stealing his VAN and eating his favorite BUN. Seriously, I'm going to love the BAND.

Looks like a fantastic device *but* it's out of stock on the US site and no news as to when it'll be coming to the UK or pricing :-(

Thanks Daniel for your article and replies. I for one, was stunned when they released this and only sent out an email to past MSStore shoppers. If only I had hit "ORDER"! In any event, the direction that MS has switched to reminds me a bit of the Surface and its evolution. The blowout pictures convince me that the quality of the band is like the Surface. A hardware version or two later, it'll exceed most requirements and expectations, much as the Surface Pro 3 has. The question remains, that with the bump in quality, will other vendors be less inclined to make a product to compete with the Band within its price range or will they step up their game. Manufacturers tried to come out with products similar to the Surface line and in the end (after fits and starts) have succeeded in demonstrating that, yes they can produce high quality products that compete with MS. But the lesson in those efforts is that it takes time and resources to create quality products. If MS comes out with a rev or two of the Band and it gets the visibility in the retail market, MS may have a hit on their hands. MS bided its time, waiting for everyone else to come to market with their "best of breed" products. And surprisingly, have capitalized on it. I hope the other fitness band manufacturers see the Band for the product that it is and come out with their own products that meet/exceed this level of quality and functionality. We will all win in the end if this happens.

Another great article... Thank you Daniel

Good points. Some other issuesabout the Band were discussed here the other day: http://www.microsoftproductreviews.com/windows-phone/microsofts-strategy... The comparison to the way Google initialy only planned to make a single Nexus device in order to gain customer interaction experience is quite interesting. Let's hope that Microsoft has the same kind of experience as Google had with quality hardware running their own OS.

Definitely would like to see auto sleep detection lol the last few nights I was gonna use it but fell asleep before actually turning it on. Lol fail.

Can any of the 'experts' out here do a comparison of various health bands/smart watches available in the market? I sense that all of them can keep time, put reminders, track fitness activities and even health of the users. I would really want to have a look at the pros and cons of all majore devices in one place. Just like the band they all seem a bit premature, but still ready to be used as of now.

I would love to see auto sleep mode

Hey Daniel, do you reckon there will be a revised hardware version before an international release? Looking to pick this thing up outside the US :P

Lets just hope they don't pull a WP7 on us again.

it is the habit of Microsoft to create a good hardware and lousy software at first step. then bring in update 2.0 sometimes this strategy works, sometimes fails. look what happened to Zune player.

Daniel, you mention that the hardware seems complete. As a geek turned triathlete, if the Band was waterproof I'd have had one in my possession on day 1. Do you think a subsequent generation (or even a variant) of the Band will be waterproof to cater to the swimmers out there? I am wondering if to wait and hope, or just pick one up now and get me some of that good old instant gratification.

I wish I could be happy with the Band ... but I have some rather serious concerns. Until I received mine, I had been using a Fitbit One with MyFitnessPal, an Aria scale, and my Windows Phone plus desktop. The integration and information is excellent, and the Fitbit app allowed you to always see exactly where you stand. 1) The ads show integration to Vault, but it isn't there. 2) There is no PC interface so we can't get a good picture of the data, and from what I understand, it is not even in the planning stages yet. 3) There is no channel for input, nor is there any channel for support, although I have a Complete subscription. I did find a number, but they can only pass on the info to developers. 4) Most people will use this with their home PC, yet the sync software, necessary for future updates, will not install unless its Win 8.1 PRO. 5) Be careful when putting in your Starbucks card numbers. Make a mistake and it is a prolonged process to edit the data and get it to stick on the device so it might work. 6) Steps will not transfer to MFP, only timed activities. MFP calories consumed does not transfer to the Band, nor does any other info come over to the Health App. All of this was discovered in just the first two days. I really am a big supporter of MSFT, but I feel like I really took a big step backward with the Band. Any others beginning to feel that way ?