Baseball apps for your Windows Phone, just add peanuts and Cracker Jacks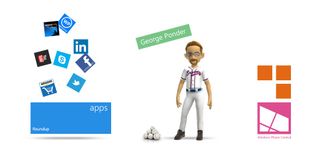 Windows Phone Central App Roundup: Baseball Apps
Last week, Major League Baseball kicked off the 2013 Season and we thought it fitting to take a look a the baseball oriented apps in this week's roundup.
You do have sports apps like ESPN Scorecenter and ScoreMobile that will pull MLB news and scores to your Windows Phone but these are baseball only type apps. Apps that will keep you up to date with all the scores, stats and standings and one app that will help you score games yourself.
If you've got a favorite baseball oriented app, feel free to sound off in the comments.
Baseball Live (free): Baseball Live is a comprehensive app for everything Major League Baseball. You get the latest news on teams, a live scoreboard for current games, live game details including box scores and play information, along with all the team information, player stats and league standings.
Add ESPN and MLB videos and access to MLB, ESPN MLB, FOX, and NBC HardballTalk twitter feeds and Baseball Live pulls in a ton of baseball information to your Windows Phone.
Baseball Live is a free app for your Windows Phone that you can snatch up here (opens in new tab) at the Windows Phone Store.
Baseball Now (free): As with Baseball Live, Baseball Now pulls in a lot of baseball information to your Windows Phone. Baseball Now has more of a Metro (or Modern UI) design that delivers standings, stats, scores, and news from the various Major League Baseball teams.
Baseball Now has a series of Live Tiles that give you access to your favorite team, view tweets from MLB, view games scores, view league standings, view player stats, read the latest MLB news, and change the background wallpaper to one of a dozen baseball themed images.
Scores for games in progress can be pinned to your Start Screen and updated periodically with push notifications available for scores as well. Baseball Now has a simple, straight forward user interface and can easily keep you informed of all the comings and goings for the Major League season.
Baseball Now is a free app for your Windows Phone that you can find here (opens in new tab) in the Windows Phone Store.
Baseball Scores (free): If you are looking for something a little more scaled back, take a look at Baseball Scores. This baseball app offers you all the scores for the day on one page and links to various Major League Baseball sources such as MLB.com, StubHub.com and Ticketmaster.
In tapping on an individual score Baseball Scores sends you to ESPN.com box score for that particular game.
If all you want to do is keep up with the days baseball scores, Baseball Scores isn't a bad app to consider. It's a free, ad-support app for your Windows Phone that you can snag here (opens in new tab) at the Windows Phone Store.
ScoreKeeper (trial/$1.49): For those who attend baseball games and like to keep score while you watch, take a gander at ScoreKeeper.
ScoreKeeper lets you edit and save rosters as well as track pitching, batting and base running stats. Just like you would from a score sheet or game program. What's nice about ScoreKeeper is that it can be used for Major League games, High School games or Park and Recreational League games.
At the conclusion of the game, box scores can be generated and emailed. Your score sheets can be saved as image files in your Pictures Hub.
ScoreKeeper might not appeal to everyone but if you are looking for a convenient, easy way to score a baseball game it's worth a try. The trial version will let you score one game and the full version of ScoreKeeper will cost you $1.49. You can find it all here (opens in new tab) in the Windows Phone Store.
Baseball Pro '13 (free): Baseball Pro '13 (previously known as Baseball Pro '12) is another all encompassing baseball app that delivers scores, stats, and news from the current Major League Baseball season.
Pages cover live scores, your Baseball Pro profile and MLB news, standings, and team listings. From the team listings you can drill down to team and player stats as well as game schedules. You profile will carry over if you've used Baseball Pro '12 and uninstalled the app. The profile lets you tag a team as a favorite and create a Live Tile that will show scores and let you jump straight to that teams' page.
Baseball Pro '13 also has a Fantasy Playoff Prediction feature where you can personalize your own playoff prediction and pick who is going to win the World Series this season. You also have videos, podcasts and a sport talk feature to let you discuss the latest baseball events.
Baseball Pro '13 is a free, ad-supported app for your Windows Phone and you can find it here (opens in new tab) in the Windows Phone Store.
If ESPN Scorecenter or Score Mobile just doesn't satisfy your baseball needs, either Baseball Pro '13, Baseball Now, or Baseball Live will. With all three being free, you don't have anything to lose in trying the all out.
Baseball Scores is a little too scaled back for my tastes (your views may differ) but is nicely done and I wish I had ScoreKeeper years ago when my son played Little League.
As always, if we've missed your favorite baseball oriented app, feel free to share below in the comments.
George is the Reviews Editor at Windows Central, concentrating on Windows 10 PC and Mobile apps. He's been a supporter of the platform since the days of Windows CE and uses his current Windows 10 Mobile phone daily to keep up with life and enjoy a game during down time.
"...because it's, ROOT ROOT for the DODGERS!"

You missed a ROOT.... GO M's!!!

Giants. WS champions 2 out of the last 3 years.

Where the hell is MLB At Bat? I am SERIOUSLY upset about the fact the Z10 has it and my Lumia 920 does not.

Amen. Every year its a battle, a delay, and then a half-assed release midway through the season. Total crap, MLB Advanced Media.

Last Season it actually was only a few days or a weel into the season when it was released, but the MLB website had said all through spring training that it was coming for opening day.
That is nowhere to be found this year.

Agreed. We always get it late every season.

Yup! There's no excuse why WP shouldn't have the major apps by now....

Just got email from mlb and it's crapdroid and crapple only. I emailed back asking what about WP and doubt I'll get a response!

While in general I agree with you, in this specific case I think it makes sense that BB has this app and we don't. If you're a Jays fan and/or watch a lot of their games, you'd notice that BB sponsors a LOT of things for the Jays: expert panels, giveaways, promotions, etc., and it really plays up the Canadian connection. WP isn't sponsoring a team. I'm not saying I like it, just that it makes sense.

Microsoft sponsors an entire MLS team. They don't have an official MLS app.

And this is about baseball. The major leagues act very differently from each other.

Why doesn't windows phone get any off the official apps (example Nba Gametime)

3% market share that's why..

I was at the slugfest in Toronto yesterday....Finally a win for the Jays!
I tend to use the ESPN/Score apps, but I have tried Baseball Live and found that one to be pretty good. I just wish there was a ESPN Fantasy Baseball app like the Fantasy Football app Nokia released.

I've been in denial for a while, holding out hope that an official MLB At Bat app would magically appear in the store, but I think it's time to admit that we're once again getting the shaft here. So sad, especially considering they made an mlb.tv app for Win8/RT!
Anyway, thanks for the article. And GO TRIBE!

They had one last season.... That's why I'm so confused

They've released At Bat each of the last two years on WP7. It is always late, it always costs $15, and it never does more than Gameday Audio (no MLB.tv as on iOS and Android). Last years had a serious bug, too, with audio volume. No explanation, and really no excuse.

MLB at bat and ESPN fantasy baseball app would be awesome. Been searching for a great baseball app since I got windows phone and I still haven't found any that I like yet, and the ESPN apps are awful. Hopefully something better comes a long soon.

Well, I was planning on switching whenever the next top end Lumia arrives but without an app from MLB to streaming game audio and watch the occasional out of market game, I can justify looking at the platform at all anymore.

There are a lot of apps that I don't NEED that aren't on Windows Phone but this is a must have for me. I really hoped MLB would double down after last year's medicore efforts and trying to wow everyone with a better app this year.

I've tried all of them and they all have the same major flaw - you can't pick a few favorite teams and have a live tile that updates the scores. I still have to keep Sports Scores around with its broken game links because nothing else does the same job.
Of them all, Baseball Live is the best. Baseball Now's interface is a jumbled mess and you can't see team rosters. Baseball Now's live game screen is a landscape only browser window to a couple different sources, but none of them fit on the screen properly. Baseball Live updates right in the app, without linking to a browser. If they included the live tiles, pitch type/speed, and advanced stats when browsing players, I wouldn't care about an official app at all. And I'd happily pay for it to remove any ads.

Agreed for the most part, I want a good working live tile more than anything. However, baseball live had outdated rosters for the teams I checked (didn't check every team) and that was enough to make me not want to use it.

Baseball Now has live tiles of every game.

Completely disagree with you,
Baseball Pro '13 is far superior than Baseball Live, it does way more, you can compare players, have a browser gamecast or in the app gamecast, it has LIVE TILES without the clumpsy update and refresh the tiles, you can comment on the news, sports talk, plus power rankings and fantasy prediction.
Plus you can check really quick who is pitching for the next game.
Thats the most definitly complete baseball app around.

For the past 2 years, MLB At Bat 11 & 12 both came to WP at least month to two months AFTER iOS & Android. I'm sure this year is no different and that the Z10 version is just a phonegap android port or for the android emulator. I'd say wait until the end of April and it should be there.

My question is, are there any apps besides At Bat that stream game audio?

That makes me sad. You'd think there'd be some dev out there willing to try a pirate radio type of thing or stream audio from one of those "watch any game" sites.

What about using TuneIn Radio app for streaming the call in the background?

It's a weak lineup. I like my 920, but the selection for sports apps is horrible. If you're thinking about WP, I'd reconsider, because this is an issue not just with sports apps.

MLB at bat2013. There is no excuse for this app not being here before opening day. The game streaming makes it the most important app to have.

Some people look at lack of full featured At Bat as deal breaker for WP8. I look at it as deal breaker for MLB.tv subscription. I'm not going to have my phone OS dictated to me by the money grubbing idiots at MLBAM. I do too much BESIDES watch baseball to pass on the many obvious advantages WP8 offers just so I can be assured of the opportunity to spend a bunch of money to watch baseball each year. And I tell MLB this in a series of angry emails every March. Maybe they'll get wise, but until they do, they won't get my money.

I've tried all of these, and unless something's changed recently, the best live tile for MLB still belongs to Baseball Scores & Alerts (or Pro Sports Scores, they're similar apps made by the same developer). You get score, inning, pitcher name, batter name, count, outs and baserunners all on the tile, and it pretty much updates in real time. The app itself is kind of bare bones but it does have options for game updates via toast, and you really can't beat the live tile.

Oh and add me to the list of complaints about At Bat. I miss my streaming radio broadcasts.

Baseball Now has live tiles for each game.

I know it does, but all it shows you is the score and inning. As I mentioned in my comment, Baseball Scores & Alerts shows a lot more info on the tile. It's pretty cool, you should give it a try sometime.

Where the hell is MLB At Bat from MLB? I had it for the past two years? Why isn't it in the store? The season already started?! WTF!??

Been looking for a baseball fantasy app..for my ESPN team .. Any ideas?

Someone in the forums said they got a response from ESPN saying that no MLB fantasy app this year...I just have the Fantasycast site pinned to my homescreen and also saved it as a favourite.

I love these app roundups... It would be cool if you guys did comparison charts at the end.

And the arguments are about to begin. Fiancée for the Dodgers and me for a real team Angels.

Slingbox does it all for me. I don't have to wait on MLB to pull their heads out and I can get all the baseball I want anywhere I want. One of the best apps on my Lumia.

It is unfortunate that the best baseball app is not out on WP, At Bat. I have tried all of the others and they just do not compare. Seeing this article just makes me a bit more sad that we do not have the Official MLB App. Yes, we do have alternatives that can show scores, news and stats, but if you are a huge baseball fan, and like to listen or watch the games, At Bat is the only way to do so.

I do have a MLB.TV subscription, and I always will as long as I do not live in the same state as my "home" team. I grew up in Texas so the Rangers are my team, but I now live in Washington. The only way for me to watch my Rangers is to subscribe to MLB.TV or wait for them to play Seattle. Or be on a Nationally Televised Broadcast.

It is also deflating that the app is out on every other mobile OS, and if you are a paid MLB.TV subscriber you have full access to all of the Apps features at no additional cost. I really do hope this changes for WP. Granted, there are not as many people who want At Bat compared to say…Instagram, but At Bat is still the most popular, comprehensive and official baseball app (somewhat) available.

Where's MLB TV? A free app on iOS.

Yes, because MS is definitely not in it to make money, like MLB.

As others have said At Bat is best, but not available. But the mobile-web based pitch-by-pitch is good too.
The real tragedy is no MLB.TV and no Gameday Audio. Five years ago I would stream Gameday Audio on Windows Mobile 6! Way too often I find myself thinking WM6 > WP8! I know it's MLB that made this decision, and they don't support Audio on WM6 anymore either. It's just very frustrating.

MLB dropped Windows Phone support this year (although I still get some info thru my AtBat12 ap) they've gone out of their way to really piss people off with pricing too. To get a fully functional AtBat13 for BlackBerry and Kindle Fire you must also subscribe to MLBTV! Diving deeper, they are still offering access to GameDay Audio for $20/year (free with AtBat 12 for the same price) but support for WPs unknown at this time. Way to go MLB! MLB support blamed the manufacturers first during a call to them, then changed and said it was the providers that didn't want the ap. MLB is in the "blame someone else modus operandi"

I have read some comments saying that these apps do not have live tiles. Baseball NOW does indeed have live tiles for each and every game.

does anyone still have MLB 2012 installed on their phone ? Does it still work ? Can you stream audio from games ?

I paid for it but downloaded the xap too, I will try to sideload it on my 8x to try...

Baseball Now keeps giving me 'Oops there was an error' message ... Lumia 920, Uninstalling. .
Windows Central Newsletter
Get the best of Windows Central in in your inbox, every day!
Thank you for signing up to Windows Central. You will receive a verification email shortly.
There was a problem. Please refresh the page and try again.