Battle it out with Great Big War Game for Windows Phone 8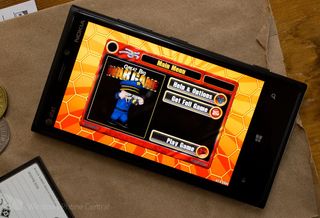 Great Big War Game is a turned based, combat game for your Windows Phone 8 device. The game has four gaming modes and fifty missions in the single player, campaign mode.
Graphics and animations are nice and game play against the computer challenging enough to make Great Big War Game an entertaining stand alone game. All totaled, Great Big War Game is a fantastic addition to our Windows Phone 8 gaming library.
The main menus for the Great Big War Game are divided into two parts. The first gives you access the the help and options menus and the second provides your game mode options. The Help and Options menus provides an extensive help section and your gaming settings that include sound/music levels along with a handful of gaming environment settings.
Your gaming mode options include:
Campaign Mode: This is a fifty mission campaign where you have a series of objectives that mostly call for you to take out the enemy General. Missions get progressively difficult and slowly introduce different troops on both sides of the battlefield.
Skirmish Mode: This mode is more for those times you want a quick game but nothing too involved. The mission goal is rather simple, wipe out the enemy.
Pass and Play: A two player game where you are tasked to wipe out your opponents army. Just as your opponent is working towards wiping the floor with your army.
Play Online: Just as the title implies. It is a two player, turned based match played online. You take turns in an effort to wipe out your opponents troops. Online play requires an account with Rubicon (free).
The game screen has the map of your battlefield along with vital stats running across the top of the screen. From left to right you will find the pause button, the day of your battle along with your coin total, your objective (campaign mode), a do-over button and a play button.
The Campaign Mode does have a series of dialog boxes and story boards that can easily be skipped by tapping the screen to get you into combat quicker.
Game play is about the same regardless of the game mode you dive into. Just tap on your military unit and colored circles will appear on the map to indicate where that particular unit can move to. If you are in range of an enemy unit, tapping your unit will highlight any potential targets. To battle that unit, just tap on it. Once you are through with all the moves and attacks, tap the play button and your opponent gets their shot at you.
Great Big War Game is a fun game whether you are tackling the Campaign mode, battling a friend or taking your skills online. Playing against the computer is challenging, animations are nice and the commentary from the troops is humorous. My only nit is that the print in the dialog boxes is awfully tiny. Then again, it could be a sign that it's time to see the eye doctor.
There is a free trial available for Great Big War Game that is limited to the first three battles in the Campaign Mode and the Play Online Mode. The full version is $2.99 and you can find it all here (opens in new tab) in the Windows Phone Store.
Windows Central Newsletter
Get the best of Windows Central in in your inbox, every day!
George is the Reviews Editor at Windows Central, concentrating on Windows 10 PC and Mobile apps. He's been a supporter of the platform since the days of Windows CE and uses his current Windows 10 Mobile phone daily to keep up with life and enjoy a game during down time.
Fun game, been playing on the surface.

Shame it's not available on 620 due to it needing 1gb of memory.

I don't understand why Microsoft used 512MB RAM as the base for WP8 in the first place? It should have been 1GB - 2GB of RAM.

Whaaat! This is not good...I might settle for the L820. This means that even the glamorous L720 will be left out too let alone L520

Wow!!! I am getting this asap. Great looking graphics.

Off topic stuff removed :)

It's a pity that 1GB RAM required, as Android version works perfectly on 512MB phone...

The difference is likely due to it being a port.

Wasn't this the game where the developer whined about how they weren't featured in the Windows Store for Windows RT/Windows 8?

Exactly... even though it was an ARM-only app at the time, and Microsoft explicitly had a policy of only promoting apps that were available on all three architectures. And honestly, I'll never purchase this or support this developer solely because of the whiny way they tried to get more attention.

Or perhaps MS should feature well made titles regardless. I can visit the Store daily and it shows the same titles for weeks, they are doing a lousy job with it.

Why does it make sense to promote one of the few games that (at the time, by the way- the developers have since realized their mistake) I can't play on both my Surface RT and a Windows desktop or a Surface Pro, depending on which of the devices I have with me?

And incidently, their game HAS been featured in the store because thats where i saw it.

Only after they finally made it compatible for ARM, x86, and x64, which they weren't planning on doing at launch. (It was ARM-only).

Does your unit still die if it lands on the opposition base? On Android the game is very frustrating because you can often back the other team into a corner, but cant ever finish it off as it keeps respawning units on its base, even if you are trying to take it over.

Wish it was a Live game...cheevos.

One of my favorite games on my Kindle Fire. Heck, even my girlfriend who hates video games loves GBWG. I literally yelled "YESSSS!!" when I saw it on the store :) add me for online play! A Call To Giants

I like WP8 but wanted a good football game and rally,some of these have no choice,

How about Doom III or Quake 3?

Off topic: How come I can't get Skulls of the Shogun here in Hong Kong? but I can get GBWG.

Now days. Microsoft only made softwares and games for wp8 not for wp7.8.
Windows Central Newsletter
Thank you for signing up to Windows Central. You will receive a verification email shortly.
There was a problem. Please refresh the page and try again.