Battlefield 2042 full Specialists lineup detailed in latest gameplay trailer
The new specialists are truly something special.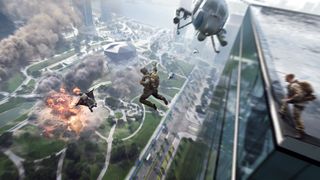 (Image credit: Electronic Arts)
What you need to know
Electronic Arts has unveiled five new Specialists headed to Battlefield 2042.
The latest Specialists each bring their own distinct gadgets and passive skills to the table, helping inject variety throughout Battlefield 2042 combat.
The latest additions complete the list of ten Specialists expected when the game launches on Nov. 19, 2021, on console and PC.
Electronic Arts recently conducted its Battlefield 2042 open beta and we've now received our first look at the new Specialists set to feature in the game. The latest gameplay trailer gives us a first look at the new playable Specialists slated for when the game releases on Nov. 19.
The footage dives into each character's background, speciality, and trait. This is a staple of the Battlefield series which allows players to choose a character that fits their play style, and with the latest offering of specialists, there isn't a shortage of choice.
Here is a quick rundown of the Specialists, now set to join the Battlefield 2042 roster.
Navin Rao
Navin Rao falls under the Recon class, with the Trojan Network trait that can kill a hacked target and reveal their teammates nearby. His CyberWarfare Suite Speciality lets him hack enemy equipment and in-game objects.
Santiago "Dozer" Espinoza
Santiago "Dozer" Espinoza joins the Assault class and the Blast Resistant trait allows him to take less damage and recover faster from explosive damage. His SOB-8 Ballistic Shield Speciality protects him from incoming projectiles.
Emma "Sundance" Rosier
Santiago "Dozer" Espinoza also joins the Assault class, with the Wingsuit Trait means she is able to fly around the map when jumping off a vantage point to get the drop on enemies. She also recovers faster from explosive damage. Her Smart Explosives Speciality lets her carry anti-armor, EMP grenades, and scatter grenades in her arsenal.
Ji-Soo Paik
Recon Specialist Ji-Soo Paik sports the Threat Perception trait, allowing her to automatically detect and highlight enemies opening fire. Her EMG-X Scanner Speciality lets her pull up an electromagnetic overlay showing hostiles hiding behind cover.
Constantin "Angel" Anghel
Constantin Anghel represents the Support class, and the Trauma Specialist Trait means he can quickly revive allies and restore their armor. His Trauma Specialist specialty lets him provide armor, ammo, and new loadouts to himself and his surrounding allies.
With all that in mind, these seem like your typical run-of-the-mill operators from previous Battlefield games, but with unique futuristic twists to their loadouts and equipment.
Battlefield 2042 launches on Nov. 19, 2021, on Xbox, PlayStation, and Windows PCs.
All-out warfare
Battlefield goes back to the future

Battlefield 2042 debuts Electronic Arts' next-generation vision for the military shooter, supporting up to 128 players, the largest-ever maps, devastatingly destructive weather systems, and more.
Get the Windows Central Newsletter
All the latest news, reviews, and guides for Windows and Xbox diehards.