BBC gives iPlayer on Windows Phone a major visual overhaul in latest update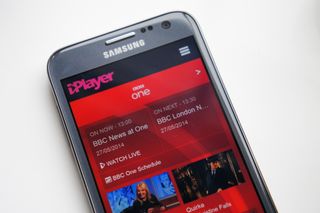 The British Broadcasting Corporation (BBC) has released a fairly substantial update for its iPlayer app on Windows Phone. The latest release makes it even easier for consumers to enjoy their favourite shows while on the go. Contrary to popular belief, the BBC has been busy working on new versions of its catch-up service and it's great to see Microsoft's mobile platform included. Head past the break to find out what's new.
The development team have completely overhauled the viewing experience. The player was indeed functional but now the app utilizes an adaptive bitrate player. This enables those with poor connectivity to still enjoy content while on the move, but also allowing users with faster connections to receive the best quality. To take full advantage of this bitrate player, the team have added live TV to make it simpler than ever to keep up with favorite BBC channels.
Just over one year ago, the BBC released the iPlayer app for Windows Phone and today's update (version 1.3.0) introduces a new look and feel that closely resembles the overall design language of Windows Phone (and Microsoft's Modern UI in general). The update also focuses on bringing across the same experience to a wider range of Windows Phones, which was a major issue with the original app.
Another change that consumers will notice in the new iPlayer is the lack of Radio content, which was previously available through the service. The BBC is now focusing more on offering a greater TV viewing experience in iPlayer itself. It's stated the iPlayer Radio team are currently working on a similar app with optimized listening experiences, which we're greatly interested in seeing launched on Windows Phone too. This iPlayer app will surely be well received, but there's still room for improvement so be sure to leave the BBC feedback.
What's in store for the future? The BBC notes that it's analyzing the market share of Windows Phone and once it reaches a point where the development team can justify adding more costs to the project, next versions of the app will include features like downloads and offline playback. For now, enjoy the new look of iPlayer on Windows Phone.
Windows Central Newsletter
Get the best of Windows Central in your inbox, every day!
Rich Edmonds was formerly a Senior Editor of PC hardware at Windows Central, covering everything related to PC components and NAS. He's been involved in technology for more than a decade and knows a thing or two about the magic inside a PC chassis. You can follow him on Twitter at @RichEdmonds.
Why is it not for L520 :(

10% UK market share, yet still not enough to justify adding funding for offline downloads...
Oh BBC, you do know how to disappoint!
Still, nice to see the app is being updated. Now Microsoft, go and give the rest of the UK buying public reason to switch from the other two OS's. Up the PR and marketing budget :)

I agree, just downloaded latest update in hope that offline downloads is available however was rather disappointed that not only it doesn't it also looks and feels like a HTML5 page! Not certain what the BBC team was thinking, that was time wasted it appears, getting 2 stars from me for now until they do it properly. Third-party app devs are doing better than officials!

It does feel like a HTML5 wrapper rather than a proper app....BUT, the video performance on our sloooow village internet connection is rock solid (so far anyway)...and live TV is a nice update. So for me, it's a 3.5* app. The ability to download programmes is so important though.
I must say though, iPlayer downloads on Android are very buggy (and it doesn't even support that many devices). IOS is the only good implementation....and they have poxy little screens.
As it stands, I don't feel overly hard done by. My 1020 gives me a good viewing experience, and fast mobile internet makes real time viewing a pleasant experience.
Give us offline downloads though BBC - you'll bag an easy 5*'s from me!

Yes agree iOS version much better, in many cases I do find that iOS design is better than Android, lets hope they employ some designers for the BBC iPLayer Dev team :-)

about time after all we do pay the licence fee. Shame they don't have a News App

Nice to see further support however what we should be seeing is the full suite of proper apps. Iplayer, radio, news and weather. Come on bbc!

Another weather app....god help us :). I know we're British, but our national pass time of talking about the weather is bordering on the ridiculous :).
Give us radio & news though - they are certainly apps that I do miss.

I just meant all the official BBC apps they are offering on other platforms we should be seeing made available on the windows store.

It looks better but it's just loading up their new responsive website yet it's still really slow! Disappointingly too, when I contacted they BBC recently they said they had no plans for BBC News or Sports apps. :( The more people that complain the more they're likely to do something about it! http://www.bbc.co.uk/complaints/complain-online/

For me on the store it says "this is not available on your device" and wont let me update the app :/ (I already have the app but its the outdated one)

The only reason why they updated the app is that they are revamping their website and as this still an web wrapper it wouldn't work after the change. I like the link at the bottom of the app for the iPlayer radio. You click on it and it says your device isn't supported. Brilliant. Well done BBC.

About time too. I've converted my entirely family to WP and that's 6 less for the androids. The iplayer is much needed but come on BBC, in for a penny, in for a pound. You should have gone the whole hog and given us the download capability which is the whole point of the iplayer! In any case, thanks for reconsidering your decision to develop for WP. Now only if Cortana would come to UK. I have her activated and vibrant through the region hack and now I can't access the iplayer content. So BBC, you have two additional months to get the downloads sorted out for me. Cortana is coming this summer to UK and I don't want her disappointed.

+920 LOL the talk about how Cortana should not be disappointed upon her arrival. I suggest flowers and wine...

this is bollocks. beeb takes the same licence fee from me but effectively discriminates against me for not usng iphone/ android. as a publicly funded body they should be barred from making commercial decisions like this. and i'd like to see them being forced to add 'but not on windows phone' everytime they launch a new set of olympics world cup apps that i can't use.

Still a crap web wrapper nothing to be excited about.

Take a look at the new itv player app. Much better design

In which region is the app actually available

The British Broadcasting Corporation (BBC) has released a fairly substantial update for its iPlayer app on Windows Phone ;-)

I only use this for radio so I will do what I can to avoid upgrading

I'm not sure how substantial an upgrade it is when half of the content has been removed.

To be fair, I have seen a nice number of Windows Phones on BBC TV programmes, the only channels in fact I remember seeing them on. Did wonder whether this was part of the whoe iPlayer refresh as opposed to the fact they actually give a damn. Still disappointing RE no news or Sports apps, despite other parts (BBC Worldwide) releasing apps the same time as others.

I am not sure why they did not wait until the radio player app was ready before removing radio content. A big disappointment. There is another app in the store called Listen Again which provides iPlayer Radio content and could be a useful stop gap until the official app is released. Hope iPlayer Radio is released soon!!!

This app used to be great for radio, now its just**** . Why am I not surprised. Typical of this country to take something that works and then cock it up completely.

For all those waiting for BBC iPlayer Radio for windows phone BBC have just posted this on twitter: "You don't have long to wait now, not long at all…"