BBM beta for Windows Phone gets small update to version 1.0.0.4 (Updated)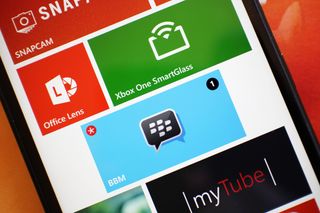 A new update for BlackBerry's BBM messaging app for Windows Phone is now available for download, and it's the first such update since the closed beta for the app went live a few days ago for its selected users.
The version number for the app has only changed slightly, from 1.0.0.2 to 1.0.0.4 and there's no indication of a change log. Based on that, we would expect that this update is mainly for bug fixes and minor improvements. If you are one of the lucky folks who was accepted into the beta program, let us know if you have noticed any major changes to the app.
BlackBerry has just shared the changelog for this update. Here's what's fixed:
BBM takes too long to open
Takes too long to switch from old device to a new one
Cannot send email invites. the invites go into inbox as emails
Device global language settings don't appear to be changing all of the text within the BBM app
WiFi Out of Coverage Windows Phone doesn't send queued invites/acceptances
When location is turned off and send location in chat a toast or dialog should appear to inform user and turn the location on
Group profile picture change not affecting the pinned tile image
Group tile is splatted, but Contacts Pivot is not
If you are part of the beta program, you can download the BBM app for Windows Phone right now in the Windows Phone Store. Thanks to Stuart for the tip!
Windows Central Newsletter
Get the best of Windows Central in your inbox, every day!
Yea i was expecting an update, at least its a lil bit faster, loads my conversation and feeds well. Expecting more updates *L1520

Still waiting for the app to restore my group chats, well all the same seems faster

It crashes alot when having group conversations

App still crashed intermittently and no change log!... Are we supposed to keep raising the same bugs over and over again or what lol.

They get one month to make it stable, or else they'll see my wrath. :P

@ Greedypnguin I am, just dismayed to see no change log, on a normal update fine but for a beta update - that is just extremely bad practise. As there is no acknowledgement of the feedback being given by us beta testers.

They emailed the changelog.

Yeah I just got it, my comment about no change log was over an hour ago :P.

Well... I got the email before your comment so you can't fault me :)

1.Setting up BBM bug Is still there
2. there is no loading circle on loading screen now just a pop on BBM icon
3.app is loading faster now
4.timezone problem is still there

Is change to loading performance related to Nokia lumia devices?(which seem to have more wifi problems)

5. No more stupid moment when you open Group Chat, its now go to last message instead of first message (no need to fkin scroll it bottom to see latest message ) --------------------- by timezone, you mean the day and the time besides the chat message? if so, yup its not showing my timezone and the point #3 should have typed with "seems faster" comment

Lol now it takes more time to open .

I can download it. It says that I don't have permission. Anyone???

U r not in their beta program. :D

You were not selected to be in the program, or you didn't register

I actually registered and got the confirmation email but never got the email to download.

Probably means you weren't selected. One quick way to check if you have the BBM beta under enlisted programs. If you do look under downloads. However if you don't then you weren't selected.

You may have done the initial registration for the ID. For the beta registration I did not get any email?

Be patient for the person who is not beta tester are we likely to waiting???

Hopefully there'll be a few more of these in the days to come. The app is about as stable as a patient in an insane asylum.

How to register to the beta program ?

Ah, made up numbers. Lol. 1.X isn't a beta!!!

It is if you want it to be :)

The version in the app is listed as 99.x... :P.

ok... mine logged out after update and setting up BBM again... which takes forever -_-

Bug fixes? Pfft they better be planning to update the app again and very soon...

haven't had any issues with beta so far, updating this beta edition on lumia 1020

Me neither. Shocked so many people have issues.

Appa running on preview versions would be having a lot of problems and i bet majority of us would be on preview, i guess. I don't know about how many of you have official cyan or WP 8.1 device? If they are not facing this kind of problems the the app is better. Not only this but the other apps insalled on,your phone.
M just asking?

Can anyone tell me, when is the official release to all user's ....

Its going through beta testing right now dude..

It crashes everytime It loads "suggested friends"

Bbm needs to be made publicly available asap

Needs, you say? According to who? You? This is how betas have been done for decades. Closed first, open later. Deal with it.

Everyone always has "needs" advice for these companies. ha ha.

So far, I have only had 1 consistent issue - a blank contact list. I usually just have to close and reopen it and my contacts are there, but thats the only thing that has come up regularily when using the app.

I too had this issue couple of times and I was like, wtf, all the chat history and contacts gone. Went under settings to check BBM Id and PIN showing, and its not there, but when I came to the chat screen, it all rolled back. Guess there was some latency in syncing

What's the point of having this when there tons of app to talk!? Or just text! Smh

Was wondering the same thing

The point is that maybe someone will make something BETTER. The case of data powered messaging vs SMS has been hashed over many times. The big one in that arena is texting/voice calling/video messaging with people Internationally for free. I also like that even if I don't have good cell coverage with a strong data signal, that WiFi will keep me connected. No one thinks that WhatsApp and Kik and Skype are perfect, either. There are security issues, features missing or not well executed on all of them. Out of the sea of mediocrity, maybe someone will come up with something spectacular. I have no idea if that will be BBM, but the notion that no one else should try because we already have a "ton of apps", misses the point of innovation and moving forward.

Add contact still crashes, can't use it since I can't add anyone

Seems faster... Oh wait, nope

It has become more slow now

Why, you don't have permission to download ??
What I have to do to download bbm beta?

You can't join as the slots filled up in a day or so and so did the waiting list. In short your going to have wait until it is released to the general public.

Transparent live tile support added

I have had zero issues and so far I'm really enjoying this app. Those at work on BlackBerry, IOS and Android like the WP version better as well.

Do you use cellular network? or WiFi connection?

Can't download what a bitchahh

And transparent tile gone after i start it for the first time after update

Interesting, didn't get a transparent tile after re-pinning after the update.

Why WPCentral still haven't given a review of the app?? Aren't u allowed to do so or haven't u joined the beta??

Review a beta? Why don't we just wait for the app to release? And do you see the photo above? Does it look like we're in the beta?

Sorry, mybad.. Didn notice.. Nothing offensive but. Why not review a beta when u do so for Facebook and others and also the recent one mytube? Jus wanted to get a look of the app. ??

Maybe a walkthrough or something lik that. Not an in depth review..

I can't have permission to download BBM

Why do you think you can't join a beta?

It is much faster and they fixed the resuming of the app. It loads quicker.

Why don't download, I can't download this app

you are not on the beta program.

The app has become much much faster. No more crashes now on opening the profile section.
Also, crashes on app resume is also resolved.
Now app opens up and loads every content very fast compared to previous version.
Good job BB, they are listening to issues very fast.

It pains me alot bcos I could not make it to the Beta program,
I longed to see BBM run in my Lumia 520.

Be thankful that you can't run it, the latest version has issues on low memory devices.

When will this be made public

It is running much faster only a little lag here and there

Fixed Issues: · BBM takes too long to open · Takes too long to switch from old device to a new one · Cannot send email invites. the invites go into inbox as emails · Device global language settings don't appear to be changing all of the text within the BBM app · WiFi Out of Coverage Windows Phone doesn't send queued invites/acceptances · When location is turned off and send location in chat a toast or dialog should appear to inform user and turn the location on · Group profile picture change not affecting the pinned tile image · Group tile is splatted, but Contacts Pivot is not

Yep. That's what they have emailed me too.

the last version was 1.0.0.3 not 1.0.0.2.

It's a beta app guys and all the issue's the app is having is exactly why its in beta..Why did some of you join the beta program if you wanted perfection you should have waited for the official app release...Stop bitchin and report the problems to the beta zone so that they know what issues your having. Peace & love to all

And for those wondering about the change log check your email I just received an email from beta zone explaining the changes made..Peace & Love to all

F*ck Blackberry. That traitorous company can rot.

BBMe - 79AEAFF5, took a wile but the app worked fine after a few crashes, updating now

Why cant I download this app..im from Trinidad..

Because you aren't in the beta, that's why!!!

Have you sign the beta tester?

What's the process..link me up

i hope blackberry is working for the live tile notifications display too, big awe for wpcentral app

I can't find an option to scan barcodes Edit: My bad just found it

Why i can't download this app in my mobile.
Nokia Lumia 1320 UK "EE Courier".
Windows Phone 8.1 Developer Preview version.
But Region settings are "UNITED STATES" because of Cortana.
Whenever try to install this app. Got"no permission"message.:(
I'm also registered in beta.

Probably those with 1GB RAM issues might differ from those With 512RAM and also those running preview...

Better fix that ugly icon too. It's so out of place in my start screen.

This is the reason i kept the bbm at the bottom of my start screen

Me too, bottom right. The should make that icon a plain white metro icon to match the others, and add option for transparent and translucent tiles. My hopes are high for the non-beta release.

I can download new BBM beta version. But still finding difficult to login with 3 BBIDs (I've tried my whiteslisted BBID, then those 2 non whitelisted BBIDs). Don't whats wrong with BBM registration server for beta version. (running in Lumia 520 with Windows Mobile 8.1 Preview Developer).

Cz u dnt blng to plnt erth . Lol .

After update it takes more time to open now . Y is tha ? Anybody same issues ?

7CFD4041 . U can add me .

Terus kapan bbm official ny bs didownload, , saya kemarin tdk sempat daftar bbm beta tester, mau ikut waiting list udh tutup..
hmmm...
so... When i get bbm ???

Does this BBM only work with WiFi...I've been trying to get into for over an hour on phone data all it does I'd continue to load It never opens app

Hey?!
What about the one who enlisted,got the mail and can't download because facing the "you don't have blablablabla to blablabla this blablabla"

With this little functionality, this app should still be in Alpha...

Seems as though there is a new bug. When my friend was messaging me, she said that it was really slow to to do "D" (delivered). We did a bit of testing and it appears that if the app is closed when the message comes in, it won't show the sender that it has been *D*elivered until I open the app. Meanwhile on my end, I still get the toast notification, live tile notification and Action Center notification.

Moved from 1.0.0.2 to 1.0.0.4 no changes in terms of sending message! Can't send message using 3G, 2G is hit & miss; got to do through WiFi. Hoptus not friendly to prepaid.

Any one had the name 00000?

How to download and install bbm for windows phone

At least they are working, just look at the lazy whatsapp team!

Unable to install BBM beta on my Lumia 520,
"Sorry, you have no permission"

Just bring updated skype already

Still dont get permission to download can any one tell how to download. Plsss tell me in detail

Chat and feeds loading faster, but there is still lag in sending messages and loading of app still takes forever

I can't download it..plzs help me

I made id on BB beta program but still I cant get permission to download. Plz help me

Good to see updates to justify the beta moniker. Unlike instagram beta which is like dead since months now

Running fine on my Lumia 920 India; app startup though is still a bit slow for first time.. Very nicely interfaced ...

Login running for longer time no results

How do I join the wpcentral group in bbm and I have a contact that would also like to join. Any help would be appreciated by the both of us

Setting up BBM still loading forever, its really frustrating, plz I nid help on how to sort it out