BBM Beta goes live in Windows Phone Store for downloading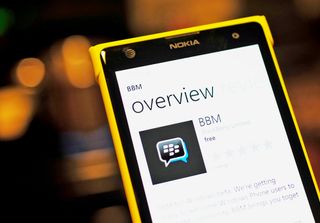 If you've joined the BBM Beta program, there's good news. The BlackBerry Messenger app is now live and ready to be downloaded in the Windows Phone Store, allowing Windows Phone customers to message friends on the BBM service on iOS, Android, and BlackBerry.
To download the app, you must be part of the BlackBerry Beta program, which filled up quickly. In addition to the Windows Phone-centric ability to pin to the Start screen, here are some of the features that the app brings to Windows Phone:
BBID Setup and Log-in (for Whitelisted BBIDs)
Create BBM Profile
Invite a contact and suggested contacts (people you know)
1-to-1 & Multi-person Chat
Contact Categories
Manage Settings
BBM Groups
Notifications and in-app "splats" for new content. See them in Feeds, Contacts when they've sent you a message, etc.
Additionally, BlackBerry is also reporting the following known issues:
Invites and acceptances don't send when Windows Phone goes out of WiFi coverage
A few newer emoticons are not rendering properly (i.e brrrr, and flex and @-@)
Windows Phone shows as available for BBM Voice call although feature is not supported (seen on Android and iOS, not BlackBerry 10)
Error popup appears when using "Find Friends" and the "OK" button is selected
Suggested Contacts tab only shows users already using BBM, but lists them as potential contacts when BBM is initially launched
Are you part of the beta program? How are you enjoying the new BBM app? Let us know what you like and if you've discovered any bugs or issues while using the latest cross-platform messaging service that's available to Windows Phone.
Thanks to all our tippers for letting us know!
Windows Central Newsletter
Get the best of Windows Central in your inbox, every day!
Chuong's passion for gadgets began with the humble PDA. Since then, he has covered a range of consumer and enterprise devices, raning from smartphones to tablets, laptops to desktops and everything in between for publications like Pocketnow, Digital Trends, Wareable, Paste Magazine, and TechRadar in the past before joining the awesome team at Windows Central. Based in the San Francisco Bay Area, when not working, he likes exploring the diverse and eclectic food scene, taking short jaunts to wine country, soaking in the sun along California's coast, consuming news, and finding new hiking trails.
Already downloaded up and running.. Scoping out app right now.

Downloaded and tested it... Very disappoint app... If your friends are not using bbm... Game over.

I was going to sign up for the beta but after asking my gf and a few friends the conclusion was simply don't bother. The world has moved on and this version not being feature parity with others is a let down too.

It's a beta.... Of course it won't have feature parity...

Dood! Thats the point! Just as with Facebook, Whatsapp, Viber, Telegram..... Etc.

It shows an error message that I don't have the permission to download the app. Any solution/reason

Yes, and The solution is...
Read the article :)

Oh, so,.. This is how it feels to be on the 'duh!' Side :D

i have registered for BBM But still it says u don't have permission to download this app... please suggest me some link for this!!!!!!!!!!!!!!!!!!!!!!!!!!!!!!!!!!!!!!!!!!!!!!!!!!!

+820 Edited: Downloading... sorry

I was on waiting list for the program but looks like I'm in! Just downloaded and installed successfully, checking out features...

I received the email, but I don't have permission to download the app yet

Same idk why it's not working :(

i CAn't Download and have the email

You must have submitted a different email while registering for the beta, a different one than your WP phone account.

I originally thought that but received the email on my live account.

Not true, I happen to be only using my live account email for registration on both parts of beta sign up.

i already registered with different emails.. but it's saying that u don't have the permission to download this app... what i hav to do now??

Don't fill in the fields on the page. Click the sign in button on the bottom first.

What page and sign in? -_-"

can u paste the link in comments.. plssssss

There is a sign in/log in button below the entry fields. Click on it. You will then be able to sign in with your pre submitted credentials.

If you're having trouble go to this link https://beta.webapps.blackberry.com/threads/view/23587

Finally!! Not that am a die hard bbm lover just bored of WhatsApp,telegram and others :P

Thread about it in the forums: http://forums.wpcentral.com/windows-phone-apps/296858-bbm-beta-up.html

Looks great! Too bad that most that I know that use bbm are asleep at the moment :[

Just join wpcentral group

We have a group already??
That's cool

Who to add to join group?

Group is already full now. You can do one thing note down all bb pin in the comments on a piece of paper and send invitation to everyone. Then you ready to test the app

Nice. Just downloaded. Will play around with it in a bit. What's your PIN?

7d21b8b2 Anybody for test? Haha

7CD37103
Happy BBM day everyone!

The app looks sexy and love the layout, just dont have bbm friends haha

Me neither, for this reason is i'm posting my PIN here haha

True... the UI is awesome... but I could just find 3 friends using it. I will keep it though at least for the modern metro UI. Whatsapp need to learn for Blackberry.

7CE99131 add me and I'll invite you to the WP group I just created.

Invite me to the group 7D19C95C

Hi there! Please, add me to the Group! PIN: 7D02E5A2

79ad355f. Hit me up for testing.

7c9caa8b... Create an official bbm group. How about that?

I already have an unofficial group rocking...7CE99131

7CFD4041 do add me in any gd grp

7d393879 ... Surprised how few people in my contract list use this.

Its not really accurate. I have at least 12 people I can think of off the top if my head that were not in the list. Had to invite them separately.

7d181bb9 i have 185 contacts for WhatsApp and just Two on bbm and one one of them is my ex ;)

Yaar can u share her pin ? 7CFD4041

That's because WhatsApp is very intrusive and adds all your contacts automatically. Do you really msg want 185 contacts?

7c9779bb , I don't have any one..

7d45e2d7 :))) my 920 it's burning out with this BBM :/

7cdf09ec ... add me bro..got noone on it ..except my sister

Can u share her pin .yur sis my sis don't take me in wrng way .

Need contacts for testing.
7D308638

7CFD4041 do add me in chain plz .

7d01384f add me,let's roll

Funny how all of our PINs start with 7

A friend of mine has a pin that is all number. Wonder how he got that.

Cz the pin for ios, android n wp are set to start with 7..but with BB devices, you'll get it starts with 2/3

Add me to BBM! On BlackBerry, click pin:7d35199d

7d155cc0 ... Phew finally got my pin after 3 hours :) add me :)

Add me guys
New to bbm
Pin: 7d0b4a29
Let me test bbm too..

7Cb53b57 here is it guys add me up

7ca64767 - Add me too. No friends in BBM yet. LOL!

761edad8 Posted via Windows Phone Central App

Meh....I miss my Blackberry days, but now I have no one who does this anymore. It's sad really :(

Downloading. I was in the waiting list. Wow thats osum

Same here, and its working fine :)

I tried accepting your request many times.

Let's have a group with all the Windows Phone users in India. Add me - 7ca64767! P.S. I'm not being regionalist here. :P

I was on the waitlist..but i can download it still..;)

Extremely buggy. Crashes on multicast, when you push yourself on upper left corner, and others I don't remember all of them at the moment. They have lots of work to do.....

That's the reason we're testing it, I've noticed a few issues myself that I need to provide feedback for ;-)

Already gave two feedbacks. When we switch between apps the invite page does not close even after ee click cancel button. When we hit back button on WP phone the BBM closes but when we reopen it jumps to the same page, finally had to force shutdown BBM. Also we cant see the other person typing unlike other apps. Edit: the typing status is seen now. It was showing only if both are using WP, now it is showing for all handsets.

Hey... Remember is Beta Testing. It is obvious it'll have some bugs, we're testing it in order to make it better.

Yup I downloaded n using it...lets c what all v have in it

How long does the loading screen continue after login? It's been 5 minutes for me.

Yeah, it took about 5 mins for me too. But it finally logged in. I hope they fix that.

It's been 10 minutes and still nothing. If I press back button and relaunch it takes me to the chat screen but there is no pin or anything. Trying again with another id now.

Same. I'm in but I have no pin. Everything i do causes the app to crash. When I try to report the bug it asks me for an incident number that I don't have.

I tried another id. And it worked. It just set up in 1 minute. I guess my old id wasn't working with it. Try making new one.

There will be a pin soon. Give it a few more minutes, it will tell you that your phone is registered. Then u will see ur name in the upper left corner. Then it will let you report the problems and also, it wont crash.

Its boring...u don't have permission to download

Only beta testers those who signed up for the program can download.

I am already signed in in BBMBeta

Same. Signed in. Got email. Cant download.

Didn't manage to join the beta program on time sadly. I would really appreciate it if anyone could make a video review for the app, and give me the link to it C:

Just downloaded. Why not share PIN here and test the app thoroughly?

I am encouraging on the thread listed above.

That would be better in a forum thread like they have on Crackberry.

Agreed.. Would be a nice idea to have a group on bbm for bbm WP users too

7c9cd0af here. Add :) lets test this.

Be careful. If you die in the Matrix, you die in the real world.

I'm really bothered by the MH17 news to be happy with this.

Sad really. Almost ruined my birthday. :/

Just downloaded it. The UI is pretty smooth, and unlike the android or ios port, it's not a clone of the BlackBerry OS port, rather they've followed the metro design well.

Yes it's smooth. Startup is a little slow and bugs here and there. But would work.

Downloading BBM now through the link they sent to my email! Wow! Thanks bbm!

Yesh, now we can infect another network, Viva la Windows Phone

Technically we already did think bbc not the best package for wp users but no better then nokia users

Just downloaded on L720 India...waited early morning, but finally here.

...The Rock has come baaaacccckkkk...

Lool never stop doing what u r doing now, coz I'm too lazy to type such comments where needed.
Someone's gotta take charge of this mission.

I have the same issue as some other users here. Got the email that I am a part of BBM Beta, however on Windows Phone store I get an error message that I don't have permission to download :(

You would have entered incorrect id when filling the form which asks for the BBM account email address and Windows store email address. Guess you would have made a typo or there is some other issue.

Perhaps you are right. I guess for my Windows Store ID I had put my Outlook Alias rather than the actual hotmail ID. Any idea how do I change it, while still keeping my invitation for BBM Beta intact?

Use the feedback form in the bbm for wp section of the blackberry beta zone site after you login

Great. I'll try that :) Thanks

Not sure if there is an option to change at BBM end because it might have registered in their servers for beta participants. Instead you can try changing the id on windows phone. Just switch the alias as primary email address and change the same on windows phone.

Thanks. I just changed to my alias. waiting it to sync and I'll try. Thanks :)

How can one change the alias on their phone?

Here is how to do it. http://www.wpcentral.com/how-add-alias-your-microsoft-account This article say it will show it without a hard reset, I am waiting for mine to reflect the change

You need to change it on MS account online and try adding that account on your phone. You can delete the original one after that, if there is no option to edit the email or you may have to reset the phone to add the alias

Could be. Now, even though on my phone it still shows my @hotmail.com email and I registetred with @outlook.com email, I made it primary too. Now I am able to download the BBM So let's hope it all works :D

Same here changing alias from the site did it, even if the change didn't reflect on the Microsoft account in the phone.

its a'ight plenty bugs though.. emoticon to send message. cant see what you're typing

I am nit having that problem on 1520

I can see clearly but yes the emoticons are too small.

I tried it, and it seems like a disaster... It's to buggy, but I understand because this is just the first version. Hope they improve it soon.

They've updated it about 3 times last I was counting before it was released to us. No clue what those updates were for but still

Just crashes immediately upon opening. Doesn't work at all.

Laura Let the App Run.It will take awhile to grasp your Uder ID. Once thats done You will be able to Migrate your data from an old device.

I got it to work by turning off WiFi.

try removing it and reinstalling it again that worked for me.... heres my pin to try it out 7d0556c5

Cant even setup my profile

try removing it and reinstalling it again that worked for me.... here is my pin to try it out 7d0556c5

Not bad. Still wish the would make it so that I could be signed into BBM on multiple devices concurrently.

THIS IS THE GREATEST MOMENT EVER IN THE HISTORY OF WINDOWS PHONE & ALL YOU WRITE IS A SIMPLE PARAGRAPH!?!? WHERES THE PRELAUNCH PARTY, THE BLIMPS, THE DANCERS, ALL THAT STUFF!? THIS IS BBM DONT YOU KNOW!?

Hope you are making fun of this
Take it easy pal, its just an app.

Its not that great of news se x1 had bbc which was a start but not as good as the emulater they showed off before wp leapt off a cliff

Downloading right now ! :)

That will come, this is just the first version. Better to start with limited functionality first and fix the bugs, then start adding more features.

Exactly as it is I have a feeling this will be a battery killer

http://www.bbm.com/bbm/en/bbm-channels.html

Just got my email to d/l and trying it out now

"Hey guys, I can BBM you with my mobile phone with Windows on it!" It's like a marriage made in 2002

Can you please make a review Wpcentral team

+1
People with no access to the beta program would really love to see the app in action.

Alguien que se haya apuntado a la Beta que hable español? Hahaha

Still the same permission related error

Where's Xbox music update?

How to add bbm beta progrw

Someone talking spanish? : 7d44349a

I can't download, Shit whyyuu????

I'm telling u this bbm will kill all the others... It's whole ui in my eto is way better than android ND even better than my old curve...

Still i am receiving same message don't have permission to download

7d10a12d - still have my old contact list but don't think they are active anymore... Owh Hi there!

So am I the only one who gets a black background for a barcode and no pin??? Did ya'll create a new bb I'd or used the one u used to sign up for the beta??? Cause I'm getting alotta bug.. Can see my profile... It crashes.

Let the App Run for awhile.Dont touch it till it picks up your Email Id. Then you will be able to Migrate ur Data from an Old device.

Had the same problem. Open, close, open and leave it for it to pick up.

Hi, I'm having the same problem. I can download & install such BBM beta apps. However, when I login using my non-whitelisted BBID, I can enter the main menu but with all zero (00000000) PIN & no PIN Barcode (all black). I will try to use my whitelisted BBID & see how it goes....

okay none of my contacts use BBM anyone want to add me so we can test it

no mail but i can download :D

If by some unfathomable error, he didn't get the email, he can still download even if he didn't get the link directly. Just as long he signed up for the beta.

I have to wait some more. No permission to download.

Hey beta testers plz add me... I'm waiting for ur first invitation on my WP.... Pin: 7D027096

Got the mail but can't download the app? srsly?

Downloaded & Installed.Initial Setup may take awhile Just login and let the app run if you try to force any of the options on it intially It will keep crashing once ur Id is recognised you can enable find friends and it will allow you to Migrate all your User data from another device, It even scans your phonebook and suggests friends. Its Freaking Gorgeous I Love the Interface. The Android Version is no match for This. Hats off to Blackberry ! Now theres another reason for Blackberry Users to ditch their phones.

If you don't care, (like me) don't comment. Let the others have their fun. :-)

You took your time to comment so obviously you do.

I signed for beta but not get email yet.

You must be in waiting. I was too but somehow I got the mail.

When is this releasing officially??

Whenever we all can leave behind wp8gdr3

I already download it. It looks gorgeous. Way better design than iOS and Android versions. It is a little buggy, but c'mon is Beta and we all are going to help make it better.

+tech king same here downloaded but I see a blank profile with no pin. Should I create a new id ? Or use the one I used for signing beta...??

I used my existing BlackBerry ID and it prompted me to switch my account to this device. All my previous contacts came over.

It takes too long to load. I will try leaving it running in the background and see how battery life is affected.

Ok... So I uninstalled twice and reinstalled... It works now got contacts but saw them once now no more..bug maybe...

Guess they need streamline this process? With more words

7d20f5d4 anybody for a test?

Got mine, but off to a rocky start...cant seem to log in.

Was on the wait list, got the email and am downloading now :)

Me too. Awesome isn't it? :p

Did u get the mail immediately u signed up for the beta bcos I signed up a long time ago but didn't get any mail from them

No, I signed up last week and got the mail last night. I was already a beta zone member though. It is pretty awesome:D

I finally got it to setup my PIN. Need more contacts, now. Hit my PIN up @ 7d166d7b. Lets see what this can do.

hey how can you access it...

Whats the deal with No permission to download. I got the mail but even then couldnt download the app.

7d347cbb ......add me ! Just got mine. Yeayyyyy

I just got my email about 10 min ago. UI looking good.
http://instagram.com/p/qk0AD2ilqM/#

Holy shit! That's gorgeous! :D

Yes indeed. They should give you the ability to match your phone theme colour.

Thanks for letting us (the ones who didn't have the chance to participate) know how it looks like. :)

Got one installed, try to use it with friends I know who are using it. It's the first time I use BBM, so I don't have anything to expect from this

Same here. Feel free to add me.
7CC121C4

Wasn't letting me sign into my BB ID at first but I disabled wifi and tried via network and was able to sign in. So far so good

Downloaded, up and running.

Hey you Canucks'. Open up the doors a little wider so others can get in too

Just installed, but damn I got a lot of bugs

+720 You are not alone :D

Looks good. Using the link provided in the email, catch One. Only three contacts suggested, one of the contacts I installed and removed BBM because I could not contact the people with BlackBerrys! I say let the gams begin. After all the other news.... Looks like there are too many loners around or is it the 24 hour magic?

Installed, looks clean. The live tile isn't as detailed as whatsapp and viber (show messages in tile) but I can forgive that for a first beta. Otherwise ok so far. Friend welcoming me back to bbm. Ha.

my pin is 7cc6ee23 if anyone wants to add me

Just downloaded...initial setup took a long time...though once done...works pretty fine...will be adding couple of my friends and see how actual chat works...so far pretty much on target!

Wat the!! Still don't hav permission!! WTF for that

Well it said I don't have permission to download...

7cb980d1 . It feels lonely when in fact all of your friends have iPhone or Windows Phone (yes, this happens). Feel free to add.

I got an erorr while chat with my wife..
:'(

And what was the error? Access restricted! :P just kidding...try to reload the app.

Wats do they mean I don't have permission?? Can you guys help

Got e-mail from Beta Info & downloading it now. Will share how it works later...

i have never seen any app crash so many times on my 920. first half hour, it crashed 20 times. sure it's a beta but holly molly this is a pre-beta at best but hey beggars can't be choosers afterall...although some beggars on wpc are choosers :)

I can't download. error is coming don't have permission to download

Horrible Beta, very disappointed. No pin showing, forever crashing. Thoroughly disappointed.

click on what would be your photo that is how I found my pin

What do you think a beta is for?

To actually have some functionality? And as i hit the image the app crashes.

wait for some time ,Your name will appear on profile icon and your pin will be generated.There after no probs and crash if u click there.It happend in my case : my pin :7d01384f

Hi can't download it y can someone tell me please

if you recieved email from blackberry go to your email and click the link inside the email it will take you to download page

I already registered on 11th July but I can't download it..

Up and running, so far haven't seen any bug

Someone make a video on this please !

Im in too pin 7cd12713...you can add me...like to participate in The group too :) The app has some bugs but i like The Windows interface on it.

It says you don't have the permission to download this App

Cant setup picture, name. If i setup that it always force close ;| anyone?

I cant able to
What to do
......

Im a tester add me please my PIN IS 7cc3e08c

Out of topic ,.....but i want to know what does it indicate..7/18 ,9/18 etc..it appears just below TIME when we pull down the nptification centre.Just Curious

It supposed to be v.1.0 but I signed with my previous account from my BlackBerry device and when I check the setting, it turns to V.99.0.0.351. Anybody face the same?

Got registered but don't have permission to download the app

Is there any official wpcentral group on bbm yet? If yes then add me too 7CA66E69 :)

Thats what I noticed too.

Vmcant download as have no permission to download ...what the f...k is this all

blank barcode and 000000 as pin..!! wtf

Same here. Posted via Windows Phone Central App

Can't download...is it because I used my outlook alias rather than my hotmail?

I did the same! it would be very stupid actually! it's the same freaking account!

I have registered for bbm and even got an account but cannot download the app....:(((

Succes.... Good....
Dont like a android...bbm wp8 is nice and funny

I though it was "BBC news" official app, how disappointing...

I ddnt get into the beta, but signed up anyway n got the email YAY!!! Took a while to install, took a while to load, signed in with my existing account n I'm listed as "0000000"...n nothing (contacts, info) loads just reads that I'm signed in, n when I try to report the problem, nothing happens ....my pin doesn't load, no incident ID, n email crashes, selecting anything in the app itself crashes it...sigh...i got the bad beta egg....

You need to "switch over to this phone".

Tap on your profile pic. I think that brings everything in order. Not sure though.

I am a bbm...but I have no contacts that use it...wtw!!!

downloading....wpc you just copied the whole email they sent us...lol

Downloaded but none of my friends are using BBM... so sad...

I love it. Gripes here and there but how do I report these? What's the incident ID?

I am part of the beta and have it up and running. Working good. Contracts and groups transferred over. pin 7cf26b0d

How did you transfer your contacts ...cuz I can't find my old contacts from 3 years ago

Using your blackberry ID...

Thanks... that was helpful..of course you use your ID ..but where do you find your contacts

When i signed in using my existing Blackberry ID, it will asks wether you want to transfer you existing account to the new device or not. That was how i got them. I did before on an iPod, now i transfer to my WP.

For those getting 00000 for the name I got this in the beginning, the app kept crashing and sending me to Start scream after a while it Cavtec to my name.

Downloading and setting up BBM!!

Cant able to download. Why beta is not for everyone to test it??

Okay than why path beta , instagram beta and many other betas available for all???

Damn, no permissions error? why?

I was on waitlist but I downloaded it . N it looks slow in startup . Lets play around a bit more n c . It crashes I guess .

Someone Add me 7d4126d7 please

I can't download it. I don't know why :(

Joined the waiting list and also got contacted to download and use BBM

I'm give up, can't download..... f)^*% this app

7CFD4041 . Lets start bbming lolz . Any hot gals in here do add and also good friends r welcome . M ashfaq from India . Lets connect .

Guys am I the only who can't the pin? It just shows nothing and the bar code is just plain black. The top banner is just 00000000 and I can't invite anyone by PIN as it immediately crashes. What the hell is going on?

I'm experiencing this bug too. Hopefully will get fixed in an update.

Wait for sometime , it will show your bbm pin, u have the slow connection that's y u r facing this problem. Try it on wifi.

I've been on wifi for an hour now and still no change to my PIN. Can't even report the error in the app yet.

Its not bug . Try 4 5 times it will be on track . I had same prb but now its cool to use . Do add 7CFD4041 . N if have good gals as frndz also share my pin with them .

Nope. It's now 3pm here and I still can't see my PIN and it crashes when I try to edit availability. App looks great though.

i got it ..feel free to add me..i dont have anyone on bbm 7cdf09ec

Y its not getting downloaded for 1520

i'm in the waiting list lol

I m unable to download "sorry you don't have permission to download"plz help me

Please add me 7cd4d120...

Have bb id not show on bbm wp..

WTF got the email but i keep get this message (sorry, you don't have permission to download this app.)

I downloaded it but I have no use of it, I mean it doesn't work ... Always crashes ... Wth

Feel free to add me. I have a confession... I have no idea how to use it.. 7cf5ed59

Go to add contacts n add 7CFD4041

App is so slow and keep on crashing while i try to change name

7cf8859d add me also in the wp group.

Haay .. I have Lumia 1020 and I can't download it???? What the hell!!!!

Iz it tha u use 1020 n u shuld have bbm ?

I don't catch the mining:(

It says I don't have permission to download

You guys have to let it setup which means assigning your pin. Don't rush it.

7CFD4041 keep adding me ppl .

Wow, some people should never sign up for a beta test. This is a beta version. There will be issues. They already said that this version will not have feature parity yet. We should expect some issues and when we run into them, we should calmly report them to Blackberry so that they can try to fix them before general release. There are features I want to see just as much as everyone else. It is true that BBM is not widely used in the US. Even in beta, this feels better then Skype. I miss MSN messenger everytime I have to use Skype. Something someone told me the first time I participated in a beta test. BETA = Better Expect Trouble Ahead Just some food for thought.

Agreed, I do miss how well MSN messenger was built into the initial Windows Phone version.

Well said, I'm in the beta for BBM. Already it feels more polished than skype (other than the intermittent crash here and there). The app has more features than skype at this stage, the skype team working on wp should be ashamed lol.

Was on waiting list.but still downloaded

Nice.. UI is Excellent, Fast Messaging, Fast App Resume, Notification is way Better even in Portico Firmware..

You're still on portico ? Posted via Windows Phone Central App

Yup, still in portico.... HTC windows phone 8s, still no update until now here in Thailand.. it's been almost 2yrs, Just a BIG portico update..

Anyone notice they loaded a template into saved pictures folder?

I did not get that. Nothing was added to my Saved Images.

Guess it only appears only when you allow other people to scan your qr code since it looks like a template to share it in say a email for example

Why it is showing "YOU DONT HAVE PERMISIION TO DONWLOAD THIS APP"???

Have you signed up for beta tester?

Can't Download The App So Disappointing

Useless. Too many bugs. No function except Crash Crash Crash..!!! Crash on every tap

Whoa, the fast is really affecting you lol. Chill out, that's why its called Beta. They will fix these pre-production issues. But its the last 10 nights of Ramadaan, you should not be wasting your time chatting on your phone :p

Don't have permission to download this app

Sign up for beta and got 1 mail to confirm email id that's it
And i can't download this bbm

I signed in a week back, confirmed my BBM ID, bt still not able to download..

Same here and I am pissed, I signed up early.

I read an article on appy geek... It redirected to wpcentral and there it was written that the guys in waitlist if not getting the app gotta wait fr the complete rollout.. Or wait fr the complete app to be updated.. Don't now wth is goin on.. Pissed

Use the link in the email to download it

Seems all good so far... Not a single crash.. Nokia Lumia 1020 AT&T PFD... Add me BBM pin 7c9e09aa

Guess they allowed other bb users in who had a beta zone account that didnt make the signup list by the looks of it & that is slowing it down

Finding it impossible to set up my profile: It keeps crashing on me. Uninstalled and reinstalled, still no way.

Had they released beta version even for Android and IOS before?

Yes they did on IOS as i remember.

i have registered for BBM But still it says u don't have permission to download this app... please suggest me some link for this!!!!!!!!!!!!!!!!!!!!!!!!!!!!!!!!!!!!!!!!!!!!!!!!!!!

That's because you haven't signed up for the beta do you can't download it no matter what Posted via Windows Phone Central App

It is saying that u don't have permission to download wat,to do now

7d3fef64 ADD me too Guyzz

Even though I was in waiting list, I was able to download the application. I m usinig Nokia Lumia 925 using WP8.1 in India. Application is little slow. Needs a lot of updates. starting takes few seconds before it starts. It is clean. No dark background. It crashes a lot. Suggested friends also buggy.

Does it have the same features as the IOS and Android versions?

Why I need to download this

My BBM pin is 7cf5030a please add me to the wpcentral group.....

Install the app today cant get my pin yet

Managed to add 2 contacts, BBMed 1, success. Funky Cold Medina, played after success!

Not able to download pls help me to download

Have you signed up?
Did you receive email from BBM?
Does your phone show the same email id you entered during the sign up?
If everything is correct mostly there is some issue at their end or would have been a typo when you filled the form for windows store id.

Report the bugs you find. That's why you registered for beta testing right?

Can't see the point personally.
Last time I had a BlackBerry it was a company device. Suspect same true for others. Never used BBM once, but integration with Enterprise contact directory was very useful. Could easily look up and email or ring anyone whilst on the go.
Does Windows Phone support directory integration?

I thought this is not beta apps, doesn't like Instagram beta with lacks of features

Received mail this morning n downloaded
But none of my friends using it

There are many who shared their pins add them and start chating

Please how do I sign up for it?!!!!

Sign up has closed. You will have to wait for the official release, or maybe they will open it again. Keep checking wpcentral.

Yet another Beta app. Over/under on which app stays longer in Beta, this or Facebook.

Facebook has a non-beta version. The Beta version is just for those who want to try new features in advance and don't mind a bug or two.

Finally after several hours I got it to log me in. My pin is 7cff3cd0

can anyone help i cant download it and cant open the sign up page...help me guys please my lumia

Be patient for whom the app is crashing and shows 00000000 after sometime u will get ur pin and it works fine and smooth just keep checking every 5mins

Got a Mail from BB in the morning and just installed BBM..Nice UI but having some bugs...app crashing while changing profile...

Error when tapping profil button .___.

buddies help me out i registered in bb beta but on my windows store it says i dont have permission to download it help me out

Will anyone help me to download the app

You need to be registered for beta testing the app. But now its too late

just downloaded this morning (Indonesia) hope this link is useful http://www.windowsphone.com/s?appid=611e38dd-52a4-493c-9bec-cd4351d9d3e3

BBM is dead. Too late for Windows Phone and too late to impress Windows Phone users.

I'm just wondering how the company itself is going to handle all these new users when they finally go bust and shut down for good. This definitely isn't going to keep them alive the way they are bleeding cash and market share right now.

Anyone who was in the waiting list and still got the app?

Welll.. Took some time.. Up and running now on my Lumia 920.. Stable and fast .. :)

Its definitely faster then whatsapp

Downloaded. Initial loading was too slow. I have no friends in bbm. Sad :-(

You need to install the app from the email that you receive from the beta center :)

I got an email and link to download. But no permissions to download. I'm sign in using my Microsoft email.

This app just freezes for me on 8.1 1520 loads. Some things freeze. I can't add anyone. My pin says 0000000 my barcodes blank

Same happened to me, reinstall it, just takes a long time with the circle loading screen during set up

same to me.... now try installing again and waiting loading circle

Be patient and keep checking every 5mins it will work fine after some time....

When I tried to sign up for the beta, was told it was full and would be on a waiting list, read WPcentral this morning, thought id give it a try to download, anyway it downloaded, checked my emails, and there was an invite to the beta. Seems to run smooth, had to uninstall once, due to hanging on setup, when I closed the app and reopened it, I had signed in, but none of the details were filled in. Uninstalled and reinstalled it and it was alot quicker and everything setup alot quicker

Downloaded, but I have to re invite my BBM contacts

And who knows when will be on the air for those didnt catch the beta?

Anyone please lend us program account so we could download too

I can't not download. Please update in store.
Windowsphone is the best

I no recive email. Gmail or yahoo?

Can't download still showing no permission..wat to do ?? I signed up revived the email and confirmed my email what else to do ..someone give me link to register please

Someone please share complete list of BBM PINs found in comments and forums I am tired of noting reach pin down.

People in waiting list can also download it .. ^_^

you can download FREE and use trial 48h FULL features at: MaxxSpy.COM - Track mobile phone GPS location. - Spy SMS text messages remotely. - Track Call history and Spy Call Recording. - Track whatsapp messages without rooting. - Hack facebook messages, viber chats, yahoo messenger. - Track Line messages and BBM messages. - Read phone contact and Track Internet Browsing History. - See All Photos Captured. - 100% Undetectable and Free Update.

Whats in For those of us who missed the beta program registration?

I can't add anyone. When i try to add by PIN. The app closes. My Pin is showing 00000000. but when i try to send a requesr by SMS My pin is 7d8a503f.

My messages don't send, any help? Or is this just a problem in the Beta?

I like that it transferred my account from my android set up to this phone.

I can't change my profile on the app. Major bug issue it shuts down everytime I go to the profile

My messages don't go through, any help? Is this the Beta app or my phone? *Lumia 920

Can someone share their mail sent by bbm beta to download...let me try...i am in but cant download it.! Plz help me..send it on bharatgounder@live.com

I cant log in with the details I have fro. The beta registration. Do I need another account? The app just shows a cant login message

Click the sign in button on the bottom.

This is pretty much a big "meh" to me personally. I don't know a single person who uses BBM anymore. Not one. Think the last one of my family and friends that had Blackberry ditched it at least two or more years ago.

When will this be available for ppl who haven't joined the beta program ? :(

Why can't I download even when I already signed up for the Beta testing? Anyone??

Another App thrown late into the windows phone playing field. Why is windows phone the last to always get the good stuff after android and ios got it ages ago? Trust me that even when it does, it is sometimes not optimized enough. Has Microsoft considered that? Maybe its time for them to consider android apps on their new lumias and not be soo quick in killing off the Nokia x project. Can you believe there's No option in sending audio messages on windows phone 8.1 version of WhatsApp? I mean this is crazy. As power user coming from android with rooting, flashing & all that I decided to give windows phone a try because of lean budget then. Looks like a made a wrong mistake. Windows has come a long way with respect to the Windows phone 8.1 Dp am running on my Lumia 520 but the truth is the truth.

Hahaha.. When I saw the article, I tried to download it... And it downloaded.. OMG.. I was shocked and opened my hotmail.. There was a mail today morning inviting me to bbm beta.. I was on waitlist though.. Did not expect it..

i registered with my gmail but no invite yet ,,,l, could the gmail be the problem... i was aceepeted on the waiting list though

have you try to download it from the store?

Ok I missed the beta invite, when will it be released for everyone?

God.. I envy you guys!!! I can't even join for the waiting list. Dying of jealousy here :( :(

I was able to transfer my account which I had from Android to the Windows Phone version. All my contacts (although dusty :D) were there intact.
Wanna add up? 7cc95ef2

It's not downloading on my phone...why?

I cant open my profile. Cant add friends. No barcode shown.. It always force closed.. I ve already used the bb id that registered in this beta program.. Sigh

I don't have any issues with profile on mine

Add me my bbm pin: 7d1b28f0

My BBM is deeeaaad *yawn* add me people 7caed27c

@luuch: I have sent you an invite. Here is my PIN: 7D36C79B

Looks great. Glad WP is keeping it's visual identity

Actually I registered for the beta after it was closed and got it this morning like the rest ..

I can't download the app... I get this u don't have permission to download this app message. What do I do??

Lol bbm voice not even available on their own devices Posted via Windows Phone Central App

Day 1: People will be so desperate to install and try BBM. Day 2: People will realise that none of the friends are in BBM. Day 3: People will uninstall BBM and save storage space.

Why I dont have permission to download this app? :( plz guys suggest something

Mine keeps crashing after loading suggestion list

Can't download on my Lumia 520.

Both of my coworkers ( we three are an IT consulting company) are diehard bb fanboys... They pride themselves I using about .16 GB of "secure" data a month between the both of them on thier z10's. They don't even use bbm. No need for me to do bbm.

I can not install bbm beta this my phobe
How do install bbm beta....??

7CEF103A - Let's chat ! :P

My pin 7cbcb5f9. Please add me to wp central group

7CEF103A - Let's Chat ! :)

Can't download on my Lumia 520.

Please do the setup over wifi.......Show a little patience.
IMP: do not let the app minimize while setting up

Lolo they worked hard on app screen shots.

Can't download on my Lumia 520.

My two coworkers are diehard bb fans. They pride themselves on only using .16gb of data between the two of them per month. I laughed and said I use that much in a day. I pay for my own plan with my L1520 so that my coworker can't hold that over me. Works out well. We had Nextel blackberrys back in the day and used the push to talk thing mostly. They and or I have Never used hbm. No need for me. We email, txt and call one another now that those features are all unlimited here in the states.

I was in the waiting list yet I'm able to use it.

I'm download first and email from Blackberry come later!

Downloaded it and I love it. Missing two features which I hope it will come later. The select all option when making a BC and the channels. The toast notification is good one notification to all not like Whatsapp every message has a notification

Working okay with the minimal features so far.

Did anyone have success with Channel's? Does the beta have that feature? We're you able to join or create any? Ps. Is there a forum?

Its still showing 'you have no permission to download this app'. What now..?

Its looks like i was late!!

Oay so Hiw des it look guy?? Any better than Hike and kik?

I can't download what's the reason?

Its showing an error message that you have no permission to download

I cant download bbm (sorry you dont have permission to download this app) plz help me

I can't download. I have registered to BBM beta and when i try to download it says that app can't be downloaded. Stupid BBM.

I didn't receive any mail and i don't have permission to download it :(

New to BBM, Dont know how to join group. Just sent invitation to 7CE99131. Adding n sending invitation is one n same? N all friends here add/invite me. My Pin 7cf79b44

When will BBM be available for ppl who've not signed up for the beta program?

Add me, ladies and gentlemen: 7d32cf00

Buggy app. More over, no one is on BBM

Liars....doesn't let me download it...says don't have permission

I just downloaded, but I don't have any contacts. Search for Luca Mars and add me for we to try the app.

When will it be available for everyone?

Eventhough it crashes a lot when setting the account up, after that the app is quite stable. I like that it supports fast resume, unlike Skype on my 520. The only problem with BBM is that nobody I know seems to use it, hahaha. ADD 7cb20667

not enrolled in the beta program

7d46a5b0 lets test this son of blackberry :)

Add me guys
New to bbm
Pin: 7d0b4a29

Many days I'm wondering what is this app good for? There're so many communicators - why should I use BBM? There is no one of my friends (and I understand them). Facebook account has everybody. It's like use Windows Messanger (when exists) on Android or iOS. Every platform has its own communicator and that's logical, but why should I use BlackBerry app instead of some multi-platform app?

The app keeps crashing and it's way too slow. More of an alpha release than beta.

Allright, I need somebody to test it: 7c9e7f25 Is it just me or the app just doesn't find my contacts using it?

Welcome Windows people! Pin:2B062AFB

i installed it on my lumia 620 and when i open the id shows as 00000 and when i tap it and i dont have a pin or barcode. it crashed pls if any one can help me and tell me how to fix it i make 2 id the check on the app

Is it only me or does it crash randomly trying to something on other devices

Success download in my phone. But force closed.i can't do anything with this app. Very disappointed

y pin is 7cc6ee23 feel free to add me - has anyone started a wpcentral Group? Is anyone considering starting one so we can compare notes and maybe consolidate bug reports

I created a WP Central group for BBM beta testers.
7CC121C4

okay I am so new I don't know how to join a group do you need to add me? and if so my Pin is 7cc6ee23

Apparently an update come out today "18th" but I don't see any option on how to download it... Any suggestions?

Received the link early this morning but alas no bbm friends and haven't used bbm since the old days of the 8520. So someone add me to the WP group 7ce65d90 is my pin. Looking to test it to the limit.

Someone for test? My Pin is 7cc3e08c adde me!

Someone for test my Pin is 7cc3e08c

Downloaded and running from this morning! Anyone else in South Africa got it?

Downloaded and running fine on my L820. Profile setup, adding contacts and chatting all seems to be good.

Very very nice UI, so metro! I really hope Whatsapp and Telegram for WP can be designed in such awesome UI...

Hey,I can't log in or download it what I have to do

7cc259e0 the app is awesome, am loving it.

I am not able to download it!!

I'm from Colombia add me to test 7cd6570a

its working fine with me.
I faced 2 issues:
1. barcode didnt show until I added me other bbm pin manually.
2. if I close the bbm I dont get any msgs unless I open it.
these are the 2 things I faced and reported to bb.
I will be testing it more and more to get more issues . Posted via Windows Phone Central App

good for now.. Posted via Windows Phone Central App

Just realized that my friends don't use BBM. I guess that makes me forever alone. Pin# 7D3A21F6

I signed up for the bbm beta program but I still haven't received any confirmation email.

guys how do i download it?

Ooh my god i didn't have any idea that i was selected for the beta testing yipee got the bbm..ready to test it now

Here's my PIN if anyone would like to add me: 7CF06F8E

You don't have the required permissions to download this app.

Is it only me who cannot receive pin after several hours of logging in?????

l free to add me 7cdb3936

Just fill First Impression Survey for BBM v1.0 for Windows Phone Beta. All I can fill is mostly on negative side based on my experience & also some issues in this forum. Hopefully, they can come up with better version asap.

Not ignoring anyone on bbm but all my contacts are gone and now after doing the survey saying it was working well it has issues. I hope all that added me magically reappear

Unable to download... I was the one who got it in my first attempt when launched on android, but this time I'm really disappointed....

7cea543b bbm pin add me guys....

I already registered but I can download plz help me....

I already registered on 11th july but I can't download this app any one can help me...my email address is -karthi323287@gmail.com

Not in store just receiving fake news

761Edad8 Posted via Windows Phone Central App

You Don't Have Permission To Install This Application How did you guys get it installed ?

What is ur Microsoft email alias? It has to b the same of that of ur windows store

Any news on newer beta version of this BBM for WP? I've downloaded & installed it, but still unable to use it since all I have is "all zero" PIN. Waiting for newer private beta version or perhaps directly public beta or might be jump into released version of BBM for WP.

How can i be a part of the beta program

Still don't have the permission..
Geeeesh! I never turn of my email and it still won't running.

Just sign up on Blackberry Beta Zone. I am waiting. How long I must to wait ? 1 day, 3 day, a week?


Hi, I downloaded d BBM Beta on my phone and it was working effectively but suddenly it stopped working and was only showing setting up BBM, I decided to delete it and reinstall another but its still giving same response... Plz wat do I do? (Lumia 620)

Hi, I downloaded BBM on my phone and it worked efficiently but recently it stopped working and was only displaying setting up BBM, I decided to delete and reinstall another but its still same response showing without opening... I need assistance please... Lumia (620)

nice posting <a herf="http://www.xwindowspc.com/2015/07/youtube-offline-download-for-sony-xperia.html">YOUTUB OFFLINE APP FOR SONY</a> <a herf="http://www.xwindowspc.com/2015/07/youtube-offline-nokia-lumia.html"> YOUTUB OFFLINE APP FOR LUMIA </a> <a herf="http://www.xwindowspc.com/2015/07/youtube-offline-for-nokia.html"> YOUTUB OFFLINE APP FOR NOKIA</a> <a herf="http://www.xwindowspc.com/2015/03/temple-run-2-free-download.html">TEMPLE RUN DOWNLOAD</a> <a herf="http://www.xwindowspc.com/2015/01/download-whatsapp-apk-for-sony-xperia.html">WHATSAPP DOWNLOAD</a> <a herf="http://www.xwindowspc.com/2015/01/download-whatsapp-apk-for-karbonn-k78.html"> WHATSAPP DOWNLOAD FOR KARBONN</a> <a herf="http://www.xwindowspc.com/2014/12/download-manager-for-sony-xperia-e3-s3g.html"> WHATSAPP DOWNLOAD FOR SONY XPERIA</a>