BBM for Windows Phone updated with sticker support and more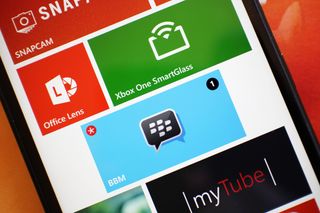 BlackBerry has updated the non-beta version of its BBM messaging app for Windows Phone to version 2.0.0.24 in the Windows Phone Store, adding in quite a number of features such as sticker support, timed messages and more.
Here's a look at the app's new features, some of which were previously announced in October.
TIMED MESSAGES: Set how long contacts have access to messages and pictures shared in a chat. See the full description for more information.
MESSAGE RETRACTION: 'Retract' a message to remove it from your BBM chat. See the full description for more information.
STICKERS & BBM SHOP: Browse and download stickers in the new BBM Shop to bring more fun to your BBM chats.
HD PICTURE TRANSFER: It's easier than ever to get a high quality version of the pictures you receive in BBM.
Good job bb but I use WhatsApp.come on WhatsApp gives us an update nd make it similar in features to that of android.

watsapp of Windows phone 8.1 version is buggy. they need to makebit smooth.

Which stickers are available?

i know how to get free stickers.

LOL. What happened to its changelog

Yeah I know, it's in German.

I like the bbm very much, but very less of my friends use it...

wake me up when they add BBM Voice

That shall be when September ends

What about bug fixes, the app is slow and message won't get through if the app is not on foreground

or you can just say app is in background.

Does BBM have any real Cortana integration?

So BBM just got Snapchat functionality

BBM on BlackBerry has much more than the other platforms. As it rolls out, you will get all the functions as well.

Go!!!Go!!!Go!!! MICROSOFT

the update causing white screen after closing the chat room, then its force closed it self very often, and the app is still very so slow..

windows 10 is go for microsoft

oh I'm not talking bout that bro..

Install it in the phone memory.

Whatsapp on WP hasn't fixed vibration notification issue as yet

not for me, what version of whatsapp you using?

Please add calling functionality

I've been playing with these features in the beta version for a while, nice to see them in the non beta version so soon.

Why dont they shut down the service and save money for other investments instead?

More features but the app is still slow on my 920

Would really love to have BBM voice calling

I would love to have a WP version of the Blackberry Passport.

the app's tile is transparent isn't it? how do you change it?

What is that star in the tile upper left corner?

Atleast Blackberry is updating its app on a periodic basis. M happy

damn... it is very fluid.

Last update very bad, bad, bad, you can't copy the message! You cannot love the message! The application is very bad

feeds still not update if app running on background and lags if network are slowly
Windows Central Newsletter
Get the best of Windows Central in in your inbox, every day!
Thank you for signing up to Windows Central. You will receive a verification email shortly.
There was a problem. Please refresh the page and try again.