Be seduced by Nokia Thailand and the Lumia 920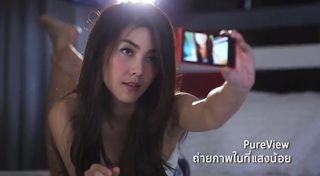 If you're wondering, "what on Earth did I just watch?" Fear not as we're still asking ourselves that very same question. Nokia Thailand has published this interesting and rather seductive promotional video for the Lumia 920. The Windows Phone is paired with a young lady who enjoys noodles, taking self-portraits and being slightly cheeky with the arrival of a mystery male.
Is it effective? Should you be a man with a pulse, it's definitely set to grab your attention. While the Lumia 920 is an elegant Windows Phone, we can't help watching this advertisement and not think of UK retailer Marks and Spencer and its seductive food adverts. What are your thoughts on the footage?
Source: YouTube, via: Reddit, MyNokiaBlog; thanks, Halamadrid007, for the heads up!
Get the Windows Central Newsletter
All the latest news, reviews, and guides for Windows and Xbox diehards.
Rich Edmonds was formerly a Senior Editor of PC hardware at Windows Central, covering everything related to PC components and NAS. He's been involved in technology for more than a decade and knows a thing or two about the magic inside a PC chassis. You can follow him on Twitter at @RichEdmonds.
She is beautiful,no doubt.

Or He - in Thailand you never know 555

I liked this video...until you got into my head -_- lol

Come on...don't spoil it -_-

Look like a past he to me..

Now that you mention it...

Was gonna make the same joke! lol.


Oh wow.. can't believe our Thai ads shows up here! She's a VJ in many music tv shows and of course, she's a real woman. I would say she helps with the sale of Nokia Lumia here in Thailand.
Greetings from Thailand :-)

She's gorgeous. Can you translate the ad for us?
(sorry I know this is a really old article)

She is a beautiful girl, famous actress and VJ in Thailand.
In this scene, her boyfriend' s mad at her and she wants to mak up with him.



Great! you spoiled it for me.

Your 555 will go above the head of just about everyone here. Hah Hah Hah. I was thinking the same thing though..

I always assume they are shemales when I see the word Thailand.

if i get the phone will i get the girl for free ?

sure, this is how ads work

Lol rich there's nothing really. Weird about this ad I've seen alot worse thn tht it also explains all the features only difference its like a movie your watching xD

Trendy. Satisfies my Asian fetish. Yours?

This is not only tacky but bordering on prostitution

As much as kitchen cleaning stuff to slavery

Sigh. And i guess its promoting sexual abuse and misogyny too is it? Responsible for failing science grades in high schools, the Sudan crisis and the rushed final season of lost?

@kellzea comment of the week!

Tacky is subjective.
Prostitution is absolutely nonsensical to the point of I'm wondering if you know what the word means.

Better than the one Samsung made for the S4. That Rebellion Adv.

Well, this ad is quote old. Btw, she was married last year, and the guy is her husband.

and she is real female :D

What's those 3 countries dat have added billing support (their,operators) The list is not being updated on the Microsoft billing support website :/

RELEASE THE....commercial in the states...

I'm a little late...but you're onto something here.... this would get so much attention here

Does the Thai version not have a front facing camera, I bet she took a ton a of terrible shots using the back camera

On the contrary I always use the back camera since the FFC has a shitty resolution.

Whatever she's selling, I'll take 2...

Seriously, Nokia needs to air this ad in the US market during football season.
I can just imagine a living room full of dudes going totally silent for the duration of the spot...




yeah - you just hear thos silent "fap" noises

More likely making fun of the music and making sexist comments. Not being silent, lol.

But you know on the inside they're all falling a little bit in love and making mental notes to google this ad when they get home :) (sorry for the 5 month late comment)

This commercial is trying to say that why she loves the Lumia and why you should love it too. It's Thai commercial, Thai language that made for Thai people. So please don't take it any other way than this is the phone commercial.

There was a 920 in that commerical ?

Wow, it's as if Nokia understands the basics of effective advertising in a much more "intimate" way than Microsoft ever will. Having Jessica and Gwen as spokespeople was a decent start for Microsoft, but even those brought in the kids/family angle... Meaning that they immediately isolated a large portion of the desired demographic. While I loved the kids/family stuff as I treasure my kids and family... This one speaks to men and women everywhere regardless of kid/family status, albeit in an "old school" sex-sells Mad Men sort of way. Does she have kids? Who knows! The point is she used her Lumia and it's unique and marketable features for a "booty call" that fails at first until she ups her game a bit... And haven't all of us with a pulse gladly fallen for that? In short, we all relate to this in a primal way that completely crosses all language and demographic barriers! Well done. Bravo.

They could play up the two "sides" of the phone in a similar Jessica Alba spot. Show her interacting with family kids using the "kids room", and then transition to prepping for a romantic dinner with the hubby similar to the above advert...but with a little less clothing...oh, misogyny :)

Jessica Alba, a sexy bikini, the beach, a Lumia 920, sell like hotcakes.

I would love her, she does not need to love her self :)

I am Thai, living in Thailand but discover this commercial on this site... shame on me. For those who wonder;
- yes she is a woman
- she is trying to get her bf attention by sending him some photos of her. It wasn't successful until she began to use low light mode.
- the man voice in this commercial is actually her bf voice.
- Lumia 920 selling in Thailand do have front facing camera but we only use that for video call. It is common in Thailand to only use rear camera for photo shooting. We love the quality.

Do you know what app she was using to text and edit photos like that?

I wasn't sure if they were selling a phone for a seond there...

She must have instagram as she's taking photos of food.

Ahhh the new season of housewives of Thailand is on already?

Sold....... sorry, what did i just buy? lol

Om nom nom..and ill eat the noodles too!! :D

Loved the 1970s-style song - but why is she so bored that she has to take pictures of spaghetti? Doesn't she own a book?

That is the HOTTEST....... plate of spaghetti I have ever seen... Man I'm hungry.

So what app did she use to capture multiple frames and edit that photo?

Smartshoot. Works pretty well.

Very cute girl.... Red lumia looking wonderful in her hand

Is the music towards the end ripped off from adele's skyfall.

There needs to be an English version with Kate Upton and Beyonce!

Boy. Talk about cultural differences in advertising. Even by US standards, this is pretty racy.

I'm sorry...you say this is a phone add. I saw no phone.

Using cute/sexy to sell. Works for me.

You think this video is strange, you should look at the crazy Lumia videos from Malaysia. I posted the links below or you can search for YouTube user popteevee and lookup the Nokia Lumia Live Center playlist.

http://www.youtube.com/watch?v=TCdbXj8XxDc
http://www.youtube.com/watch?v=kqMyaBWf8Wc
http://www.youtube.com/watch?v=4Pt24wO4E3s
http://www.youtube.com/watch?v=_d6dIeX1c7A
http://www.youtube.com/watch?v=HDqoyxJysxM


Malaysia adds are so bad lol. I did like Sam though.

they're better whn Muted :-P :D i hate their written language... its lyk bunch of insects :P :D :D

Nice to see a WP8 ad that shows off features of the phone. I'd rather watch this than the silly wedding ad. Khop khun krup!

only a chic uses a camera in best way ;-) nice ad ;-)

She doesn't look like many Thai girls I've met.
Allegedly...

Wow.. I'm suddenly even more happy to own a Lumia 920 now.. :D

I don't understand why suddenly I would like to learn Thai.

how can he not answer her on time, also wtf with Thailand and all the extremly seducive advertisments for everything the last 4 years?