Beach Buggy Racing drives over from smartphones and tablets to the Xbox One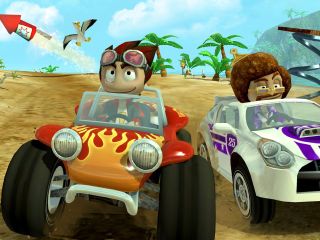 After previously releasing Beach Buggy Racing as a free-to-play game for smartphones and tablets, including Windows Phone and Windows 8.1, developer Vector Unit has launched the arcade racing game for Microsoft's Xbox One console for the price of $9.99.
Here's a look at the features for the Xbox One version of the game:
EXCITING KART-RACING ACTION - Utilize your driving skills and a collection of creative powerups to fight your way to the finish line. It's not just a great looking 3D racing game, it's an epic battle with spectacular physics-based gameplay!
COOL CARS TO CUSTOMIZE - Use your winnings to collect and upgrade a garage full of unique cars, from monster trucks to muscle cars to lunar rovers!
TONS OF AMAZING POWERUPS - Beach Buggy Racing crushes other kart racers with over 25 totally unique Powerups ... and more Powerups are coming!
15 SPECTACULAR RACE TRACKS - Explore dinosaur-infested jungles, lava-spewing volcanoes, beautiful beaches, and mysterious swamps. Each unique race track is packed with hidden shortcuts and surprises.
COLLECT A TEAM OF RACERS - Recruit a team of drivers to play with, each with a unique special power like teleportation, flaming fire tracks, and confusion spells.
SPLIT SCREEN MULTIPLAYER - Race shoulder-to-shoulder with up to 6 friends on one screen! (Requires extra game controllers).
PLAY THE WAY YOU WANT - Chose between multiple control options, and customize the 3D graphics settings to optimize your play experience. 60FPS AT 1080p Rock-solid 60fps in crystal clear 1080p. Even split screen performance is butter-smooth!
Paid Xbox Live Gold members can purchase and download Beach Buggy Racing for just $7.99 for a limited time
Check out Beach Buggy Racing for the Xbox One (opens in new tab) ($9.99)
The game not worth on Xbox One. it sucks.

I agree, didn't sick to it for long

Love this game on window phone...
never own an Xbox console, is it that bad on xbox?

Why does it suck? I have it on my phone and its actually rather good. The controls can be a little hit/miss at times but the overall package is pretty great.

Not quite Mario Kart but fun it is tough on later levels you need to put some time in. Much better in that there are no ads and no freemium to deal with.

Universal apps everywhere

My little girl saw this and started dancing last night when I showed it to her in the store. She loves this game.

The end of consoles. They shouldn't allow mobile games to be ported to Xbox, keep it for "real" games

Calm down, your stupid COD will still work on it tomorrow..

why? - games like this are great for little kids - which, there are not many games for kids on XB1. This is a game my 5 year old son could actually play on XB........i dont really let him play that many games, but as a reward for good behavior, i sometimes let him play a game or 2 on my cell phone, his favorites are Subway Surfers, and Sonic Dash.........I bet he would love this. Im all for mobile games coming to XB1 - but if its free on mobile, it should be free on XB as well. And if i pay 8$ or whatever it is for the game, it better damn well sync with the same game im playing on my phone - isnt that the point of XBOX games on Windows Phones. At a minimum, if your porting to Console, you should at least render at a higher resolution, and have better graphics - this looks like a Nintendo 64 game.

Looks like n64? Its running at 1080 60 fps. Graphics were wonderful on tablet and should be better on console.

more from a polygonal perspective, not resolution........ok, maybe more like PS2

This universal app love is going to see indie love everywhere :) and some nice exclusives on windows mobile devices :)

This site is 'Windows Central' then why are they showing a news of Microsoft's Xbox One
Site should be renamed to 'Microsoft Central'

Now i know how dumb you are. XBOX uses windows as its operating system. If you didnt know that before, then know it now

No I am not
Xbox runs two operating system one for the apps and one for the games
Apps runs on a stripped version of windows but not the games
Games runs on a completely different architecture.
I don't know if this changes with windows 10

The Xbox One currently runs a version of the Windows 8 kernal

That doesn't sound right. So you mean any time you snap(with snap assist) an app beside a game on Xboxone, you are running two operating systems.

I dont know how exactly it works but it does so :) you can check Wikipedia too...

actually, it's 3 OSs. But the OSs are more like virtual machines. One OS is for the WinRT apps. One OS is for the Xbox One games. And the third OS is like a manager to keep the 2 OSs from colliding. But it's all Windows underlying it.

Asphalt 8 is the best racing game :) but this one is cool like ctr.

If this had account syncing, I would buy it. I bought Riptide GP2 for the Xbox one and PC and it doesn't sync with Riptide GP2 for Windows Phone. I am sooooooooo far along in the career mode in RGP2 and Beach Buggy Racing on WP that it doesn't make sense at all to start over on the Xbox one. That fact alone is what is keeping me from purchasing their Xbox One games after RGP2. I hope an update enables account syncing and then I will be all in.

Now that you mention PC you can play this on your PC using a USB cable, all you need is to install the Project my screen app on your PC and use your WIndows Phone 8.1 feature called Project my Screen, this is great if you want to play games available for Windows Phone that are not available for PC yet.

Make this GWG GOTM in July MS. Thank you.
Windows Central Newsletter
Thank you for signing up to Windows Central. You will receive a verification email shortly.
There was a problem. Please refresh the page and try again.