Beach Buggy Racing makes its way to Windows Phone and Windows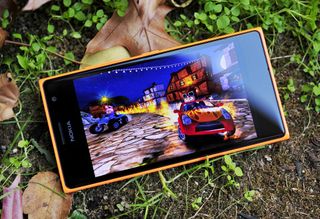 Beach Buggy Racing is now available on Windows Phone and Windows 8.1. This is the official sequel Beach Buggy Blitz, a free driving game with over 30 million players. And starting today, you can play it on your Windows Phone or Surface.
Here's what you get with Beach Buggy Racing on Windows:
Exciting Kart racing action
Utilize your driving skills and a collection of creative powerups to fight your way to the finish line. It's not just a great looking 3D racing game, it's an epic battle with spectacular physics-based gameplay!
Cool cars to customize
Use your winnings to collect and upgrade a garage full of unique cars, from monster trucks to muscle cars to lunar rovers!
Tons of amazing powerups
Beach Buggy Racing crushes other kart racers with over 25 totally unique Powerups ... and more Powerups are coming!
12 spectacular race tracks
Explore dinosaur-infested jungles, lava-spewing volcanoes, beautiful beaches, and mysterious swamps. Each unique race track is packed with hidden shortcuts and surprises.
Collect a team of drivers
Recruit a team of drivers to play with, each with a unique special power like teleportation, flaming fire tracks, and confusion spells.
Play the way you want
Chose between multiple control options, and customize the 3D graphics settings to optimize your play experience.
You can find Beach Buggy Racing in the Windows Phone Store or Windows Store. The game is free and features in-app purchases. Look forward to playing this on your Lumia 635 because there is 512 MB support!
Thanks for @WPLover96 for the tip!
Thanks to the developers ... Was waiting for this one

I'll give it a try, I think, thanks

No Xbox... so has anyone tried out Cro Mag Rally?

Yea, it sucks...at least the controls do...

I ended up buying an Android tablet two weeks ago and downloaded this wishing that it was available on Windows Phone. It's actually a really good game.

I hereby accuse you of commiting treason to the Windows Central community I banish you to the land is of lagdroids

Haha XD that was a good one!

That's where ill be going soon . Back to the holy land . WP is terrible

how stressed you are? buying lagdroids

Android Lollipop my friend. That's where I'm headed next. I'll get a surface pro 3 instead, and call it a day with Windows phone I think.

Can't upvote from the app so I'll just give you the good ol' +930

Looks like it is because after launch the app it doesn't want to play. That's frustrating!!!

Any support for Moga controllers? Is that even a thing anymore for Windows Phone? Would love to be able to use my Moga Pro with my 1520 but I can't even get them connected for any useful time.

B**ch buggy. Cool racing game. :))

No lag at all. This game worth to play :)

Not available here in Brazil. Please developers, I am here to help you. Is simple.

Runs perfectly on the 720! :)

Finally!!!! Waiting for Riptide GP2... :)

Looks cool...oh, no xbox , never mind #SaveXboxWP

Never liked these limited run type games where you have to wait to refill something to play again. Shame, I was looking forward to this one. YCS

Is there multiplayer? Like LAN or Wifi or Bluetooth?

Why i can't download it this stop downloading everytime :(

Also i have this problem.can't download

Me too. I once downloaded it. Had problems starting up, uninstalled it and when i hit the download button, it wont start

Didn't install it on my Mi 3 but I installed it immediately on my 1520 after reading this article. From my first gameplay, it seems better and more feature-packed than its prequel (Beach Buggy Blitz), which I really enjoyed on my Nexus 7 before.

IT'S EVEN BETTER THAN I EXPECTED IT TO BE, PLUS THE FRAME RATE RUNS LIKE WATER ON MY 512MB RAM LUMIA TY VECTOR UNIT.

So overall is it a good game? Any bugs anyone experienced? I'm downloading this game now.
*hopefully a good game

Touch is not responsive so can't play a game on my lumia 525

I prefer tilt controls. So I downloaded this game, I played a few races, its good. Haven't experienced any bugs yet

Thanks for bringing in this title.....

I still can't download it.....whyyyy >_

yeah. me too. It says "pending" all the time.

Finally a nice looking racing game!

Great. Game no lags at all even in my 520... Not even crashed a single time... Good graphics too

Looks fun, will surely give it a spin this weekend :)

i'm from india trying to download from US region but 100 MB data teken on background not showing progress of downloading on lumia 820.

Oh my god maybe this is a problem with Lumia 820 because I have this problem too and I'm using Lumia 820

In my Lumia 520 this was not downloading
Windows Central Newsletter
Get the best of Windows Central in in your inbox, every day!
Thank you for signing up to Windows Central. You will receive a verification email shortly.
There was a problem. Please refresh the page and try again.