Beem 2.0 hits the Windows Phone Store; enjoy DI.FM in a gorgeous new experience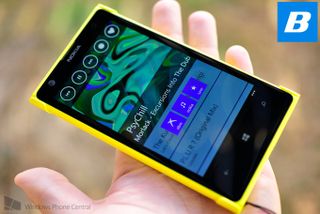 We've looked at Beem in the past, the unofficial DI.FM and SKY.FM clients for Windows Phone. while there certainly are more music services available than you can shake a microphone at, Beem has consistently been one of our favourites, especially after the developer made the project both open source for other developers, and free on the Windows Phone Store for consumers.
We're now looking at Beem Plus (DI.FM edition) version 2.0, which is a massive update. So, what's new?
The most notable change in version two-point-oh is the revamped UI. The main screen (the first menu that appears on launch) of Beem Plus is now arranged alphabetically. No longer will you have to scroll down and hope you find the station you're in the mood for. Got your lasers ready? Simply load up EuroDance from the list and you're good to go. While a seemingly small alteration, it has a huge impact.
Beem: Old (left) versus New (right) UI
The same has occurred for favourite stations (see above image - comparing 1.9 on the left, version 2.0 on the right). As well as the new layout, the favourites system has received some welcomed changes. No longer are descriptions provided, since you should already know what the station streams as you've tuned in previously.
Next up is the removal of the tap and hold option, due to it simply not being utilised enough. Fear not if you used this to pin that station to the Start screen, as it's all possible when in playback mode. Speaking of which, there are also some alterations applied to the "now playing" screen. Here's the comparison between version 1.9 and the new 2.0 (on the right):
Beem: Old (left) versus New (right) UI
You can definitely see how the app is being streamlined, simplified and improved, while retaining much of the functionality. There's more focus on typography (something what would excite the folks at Microsoft) and less clutter with icons. The pinning option and more are still there, but they're neatly tucked away in the app bar. Hit the bar and up comes the hidden functionality. Neat.
In addition to the new visual changes, Beem Plus also lets you share via NFC. By selecting any of the tracks listed on the "now playing" screen, you'll be presented by a handful of options: search and purchase on Xbox Music, Nokia Music (works on non-Nokia Windows Phones) or save the track in a personalised list. The NFC sharing enables you to send the track to another Windows Phone running Beem Plus 2.0. It will automatically be added to the bookmarks on that device.
If all this wasn't enough for you in version 2.0, the update also includes numerous bug fixes. If you've experienced issues with crashing during a stream in the past, this should now be a distant memory with improved stability.
You can download Beem Plus and Beem for SKY.FM (right QR code) from the Windows Phone Store for free.
Rich Edmonds is Senior Editor of PC hardware at Windows Central, covering everything related to PC components and NAS. He's been involved in technology for more than a decade and knows a thing or two about the magic inside a PC chassis. You can follow him over on Twitter at @RichEdmonds.
Looks rather good actually.

Digging the new update and love that you can record!

Way ahead of you. Enjoying it right now. Great app, only thing its missing is the ability to choose stream bitrate (I prefer 256mp3 to 128aac).

I do prefer the streaming/buffering logic a bit better on the official app, but love the options and UI on Beem. Need to merge them! lol

Working on that for the next update (3.0) - main focus will be exactly on buffering and better streaming with quality switches.

Any idea when the official app is going to be released?

Coming weeks. It's close.

I sent a tweet to DI asking if an official WP app was coming soon. Their response "Our public beta is drawing to a close, a full release is expected in the coming weeks."
So that's good news!

Currently in the DI beta running version 0.7. App is a ton more stable since launch and streaming is more stable as well. The early release was nigh unusable without WiFI but the current version I can use all day via LTE, 3G, or WiFi. Also subscribed to the premium version to thank the developers for their great app.

Dunno why but the streaming never works with Beem over 3G. It is disappointing.

I can't wait for Windows Phone 8.1 app redesign.

Nope. Stil can't see it on my Lumia 900

Hi! Can anyone tell me how to keep the app in foreground to use the recording feature reasonably? I just don't get it somehow ;)

Okay, I'm unofficially blown away. Loving it up. Woop woop, its the sound of wpC.

Nice...got it yesterday...

On a side note. Bought new speakers just the other day so this is indeed a welcome update. Been Beem'ing for hours now. So nice that's a lot of the deep house that is played can be bought. (not everything thou :-(
Now on the classic Ambient channel and going to sleep. Goodnight cruel world.

Still wish there was a sleep mode so I could fall asleep to this stuff. Okay, now I sleep. ZzZzZzzz

It's coming, just in the next release :)
Windows Central Newsletter
Get the best of Windows Central in in your inbox, every day!
Thank you for signing up to Windows Central. You will receive a verification email shortly.
There was a problem. Please refresh the page and try again.