Drop some bass, Beem adds support for DI.FM Premium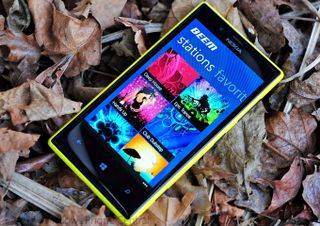 If you're a heavy user of Digitally Imported (www.di.fm) and pay for the premium version you're going to be a happy camper with the latest update to Beem. Yeah that's right, you can get access to higher quality streams and no ads.
By default, Beem and Digitally Imported stream audio at 96 kbps. Not bad, but if you've got a banging pair of cans around your earholes you want to look into a premium account at DI.FM. Doing so unlocks a 256 kbps stream that your ears will be stoked about it. And Beem now supports that stream within the app making this the unofficial-official DI.FM app for Windows Phone.
All you need to do is be a paying member of the premium feature of DI.FM and then enter your 'listen key' into the settings of Beem. Boom. 256 kbps. If you're already a member, you can find your listen key right here.
There are other perks to becoming a premium member at Digitally Imported for $4.99 a month (or save with the annual $49 rate). For example you'll also be getting 100% commercial free music with no interruptions (they don't pay me, I swear).
You can grab Beem ($0.99) for Windows Phone 8 right here in the Store. Alternatively user the QR code below or swipe to the right in our slick app.
Source: Den by Default
I love the app, but don't like it when it doesn't change the track listing to show the new song, artist, etc.

Di.fm is just best with advertisement... Thats make real Radio feeling, and they r typical 'murican :D

I can see that point, but 96kbps vs 256kbps for electronic music is no small difference either if you have a premium system ;)

You know you're a snob when 256kbps still sucks. *Which is probably why streaming audio isn't for me**. **Which begs the question: why am I commenting?

GET YOUR FLAC ASS OUT OF HERE!!! (<3)

Dude, I almost crapped myself laughing. Hahaha! All love bro.

Well there is the lossless WAV codec... Lol.

Oh no. I think you misunderstood me, lol. I was referring to the streaming quality.
If I could stream WAV formatting without accruing a nasty phone bill, I would.
I use an amp with my Ipod Classic for my lossless collection. (Yes, I am a loser, lol)

+1 - an improvement over generally accepted standards nonetheless. And for those of you with such 'banging' cans, if they are red/white, even if they cost you far too much, don't bother subscribing, 64kbps will sound as good....

ULTRA MUSIC FESTIVAL sets all day sonnn!

I updated and now been won't start!!!
WTH? Any ideas? Update: uninstalled, then reinstalled, that worked.
Windows Central Newsletter
Get the best of Windows Central in in your inbox, every day!
Thank you for signing up to Windows Central. You will receive a verification email shortly.
There was a problem. Please refresh the page and try again.