Belkin's new USB-C car charger will intelligently charge your phones and tablets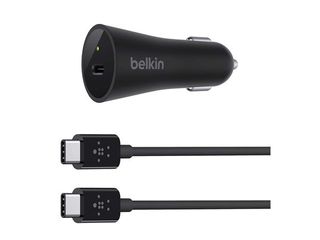 Accessory maker Belkin has announced a brand new USB-C car charger (opens in new tab) that delivers all of the power your phone, tablet, or computer needs while on the go. The charger offers up to 27W of power, and intelligently manages how your device is charged.
The centerpiece of Belkin's new charger is support for USB-PD, or Power Delivery. With Power Delivery, the charger can adjust how much energy it uses based on the device that you've plugged in. Belkin says that because of this, the charger can deliver up to 70% faster charging for smartphones over 5W chargers.
The Belkin USB-C Car Charger comes with a four-foot USB-C cable, and is available now from Belkin for $49.99.
See at Belkin (opens in new tab)
Windows Central Newsletter
Get the best of Windows Central in in your inbox, every day!
Benson Leung get on this stat! :D

His review of one Belkin cable was 5/5 stars. I don't see them screwing up a new device when the first was well rated. You can also buy off of Amazon when it goes up there since they will no longer sell USB-C devices that are not wired properly.

Absolute rip Please downvote me. I'm aiming for the most.

$50 seems crazy but I guess when you consider it's designed to charge ultrabooks, it's comparable to the price of a nice car power inverter or replacement laptop charger. (It's just--no one has an ultrabook or macbook that charges with USB C, yet.)

It can charge some ultra books, but not all. It should be able to charge the MacBook, but it will not charge the XPS 13. I bought the Google Chromebook 60W charger, and I have hit or miss results charging my XPS. It is fine for my phone, though. And with this only being 27W, it will not do it for the Dell.

I was tempted to get it, until I saw the $50 price...

Got mine at AT&T store for $34.

Not 50 for a single port. Maybe two or four would have been great.
Windows Central Newsletter
Thank you for signing up to Windows Central. You will receive a verification email shortly.
There was a problem. Please refresh the page and try again.