The new 4K TVs PS5 and Xbox Series X owners should know at CES 2021
While CES brought various 4K and 8K TV announcements, these are the options suited for PS5 and Xbox Series X, and best to watch throughout 2021.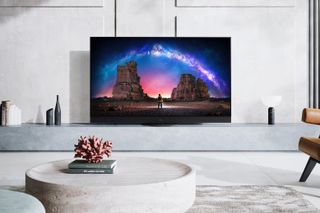 (Image credit: Panasonic)
CES 2021 is a little different this year, reborn as a virtual online event, but it still packs countless new TV announcements. The top names all unveiled new 4K and 8K TVs, from improved OLED panels, promising Mini LED tech, and bigger screens than ever before. And with the PS5 and Xbox Series X new to the market, many of these new TVs could soon enter your living room.
But if you look past CES 2021's barrage of technical jargon and confusing model names, we have some great TVs ahead perfect for PS5 and Xbox Series X gaming. We've rounded up some of the highlights from the show, all likely to deliver the best next-gen gaming experience.
LG C1 / LG G1: LG unveils 2021 OLED 4K TV lineup
The latest 2021 TVs launch into a new world where HDMI 2.1 is a reality, with the latest consoles among the first devices, set to propel its adoption for the years ahead. The spec means drastic improvements in gaming, with compliant displays like the LG CX OLED crowned the best 4K TV for Xbox Series X, Xbox Series S, and PS5 throughout 2020. The company has led the market with its award-winning OLED panels, set to return with a refreshed lineup for 2021, among the most anticipated new TVs to consider for console gaming.
LG's best comes via its flagship LG G1, with drastic improvements thanks to its new "OLED Evo" technology. Best described as its next-generation OLED panel, it cranks up the brightness, delivering a punchier image. It's also ultra-thin like previous G-series TVs, best showcased when wall-mounted, or its flashy new Gallery stand. The oft-overlooked LG GX failed to stand out against the LG CX, but the new brighter image delivers a tangible benefit expected to drive adoption over the coming year. While pricing remains unclear as of CES 2021, expect the available 55, 65, and 77-inch options to be more expensive than ever.
The LG C1 also delivers an iteration of the current favorite, the LG CX. It's expected to be one of the more popular 4K TVs once again, with all the latest features, but more affordable than the G1 series. 4K resolution at 120Hz returns, with super variable refresh rate (VRR) and auto low latency mode (ALLM) implementation out of the box. LG has also adopted a new 83-inch panel this year, representing the largest yet.
We also have the LG A1, its new "budget" OLED potentially on track to start around $1,000. It has some significant drawbacks that impact the Xbox Series X and PS5, with no HDMI 2.1 support, a 60Hz output, and no features like VRR. While it's a more affordable entry point into OLED, you won't be getting the "true next-gen experience." It's highly dependent on pricing, but you'll likely want to pay the premium for at least the C1 series.
Samsung QN90A / LG QNED90 / TCL C825: Mini LED is here
OLED remains a prominent leader in picture quality, but some manufacturers have also made significant gains with Mini LED TVs. Companies like TCL have toyed with the past technology, with other big names like Samsung, LG, and more investing further with its flagship 4K TVs. It delivers a more precise backlight that powers the display, resulting in a vastly improved image, branded from Samsung "Neo QLED" to LG "QNED," or simply Mini LED.
Mini LED technology isn't far from existing displays, upping the precision with a higher number of smaller LEDs, around 40 times smaller than the norm for Samsung. That aids improved picture quality, including potential for richer blacks, increased contrast, and reduced blooming. It's no OLED rival, especially in black levels, but the upgrade over your average LCD TV closes the gap.
The Neo QLED series is comprised of various models, including the leading QN90A, succeeding the popular Samsung Q90T from 2020. The more affordable QN80A model is also planned, minus some luxuries, phasing out the Q80T with some Mini LED magic. We also see QN95A and QN85A headed to some regions, spinning out your cables into a One Connect box for a cleaner presentation.
Samsung is far from the only manufacturer investing in Mini LED, with the LG QNED90 another standout from the QNED 2021 range, while TCL also plans to launch its TCL C825.
It's otherwise a familiar feature set from recent years, with all of these supporting 4K resolutions up to 120Hz, ideal for the best in Xbox Series X and PS5 games. VRR smoothens games and eliminates screen tearing, and ALLM keeps everything lag-free, while some rivals still struggle with that implementation. It's a sizeable improvement, with models that look set to join the best 4K TVs for gaming in 2021.
Sony X95J / X90J: The popular LED 4K TV returns
While CES 2021 brought several announcements for Sony, including its flagship Master Series comprised of 4K OLED and 8K LED displays, we're also looking out for its X95J and X90J in 2021. The latest in its mid-range 4K LED TVs will likely prove popular, following up the best-selling X950H and X900H (also known as the XH90 and XH95 overseas) with improved hardware as the calendar turns, although sans Mini LED.
The Sony X900H was a great 4K TV throughout its heyday, with HDMI 2.1 compliance leaving it well-positioned for Xbox Series X and PS5 during their early months. While we've recently seen some commotion around its VRR support, the 2021 TVs look to refine the implementation of the specification, coupled with the return of 4K resolution up to 120Hz. That means VRR and ALLM, while planned, may arrive with a future post-launch update.
More affordable than OLED without the risk of burn-in, there are numerous reasons to consider the X95J and X90J once reviews start to emerge. The X95J will represent the best, likely to feature more dimming zones and run brighter than the X90J, with other quality of life improvements. But we see upgrades for the X90J like the same Cognitive Processor XR shared across models, rather than downgrades like seen with its predecessor.
We're expecting the X95J to ship in 65-, 75-, and 85-inch models, whereas the X90J will also include smaller 55-inch and 50-inch panels. There's also a spin on the X90J, the X92J, which ships all the same features in a supersized 100-inch package, although pricing is still to be confirmed.
Panasonic JZ2000: Going big on OLED gaming
Panasonic hasn't seen a massive volume of announcements at CES 2021, but we have its JZ2000, a flagship 4K OLED headed to market this year. The latest in its top-line 4K offerings makes various considerations for both the new gaming consoles and video playback, with huge gains over existing models already in stores.
The JZ2000 boasts various advancements, boasting its HCX Pro AI processor, bringing optimizations to video and sound based on the on-screen content. We also see new side-firing speakers, accompanying returning up-firing speakers, likely delivering one of the best surround sound experiences from a TV.
But for Xbox Series X and PS5 gaming, Panasonic also brings 4K resolution, with "high frame rate (HFR)" through HDMI 2.1. It's also promising VRR, smoothing out fast-moving images, and halves input lag over 2020 models, delivering what could be the full spectrum of next-gen technologies.
While Panasonic hasn't talked prices for the planned 55 and 65-inch models, it's a 4K OLED to keep an eye on, considering the gaming advancements.
Coming soon: 42-inch OLEDs are here (well, almost)
OLED has steadily gained traction as a leading display technology in 4K TVs, but you're often looking at larger screen sizes, rarely dropping much below 50-inch panels. While some top OLEDs like LG's 2020 family included a 48-inch variant, we're still yet to see the market diverge from big-screen living room set pieces. It's aspirational for movies and TV, but not always the best in smaller spaces, like desktop PC gaming.
LG Display opened CES 2021 with its plans to manufacture 42-inch OLED panels in 2021, its smallest yet. The manufacturer supplies LG Electronics and other TV brands like Hisense, Panasonic, Sony, and Vizio, suggesting an influx of 42-inch options on the horizon. We currently don't know how or when that'll happen across the top names.
But 42-inch OLEDs should lure many, especially in gaming, given the benefits of downsizing. It's especially suited to PC use, where mouse and keyboard usage doesn't always fit the couch. We're hoping popular series like the LG C1 get expanded, although as seen in 2021, options like 55-inch TVs may often prove cheaper and more readily available.
8K for PS5, Xbox Series X: Is it worth it?
Why you can trust Windows Central Our expert reviewers spend hours testing and comparing products and services so you can choose the best for you. Find out more about how we test.
CES 2021 has highlighted various emerging trends, including several manufacturers expanding their 8K offerings. Many of the best 4K TVs headed to market in 2021 also have higher-resolution siblings, with companies like TCL focusing its entire 2021 6-Series on 8K only. But with 8K still up and coming, there's little content, even if expected to grow over the years ahead. So if you're shopping for a new TV to last, is 8K worth it for Xbox Series X or PS5?
For the average consumer, 8K remains far out, especially if you're heavily gaming with new consoles like the Xbox Series X and PS5. Many titles are only hitting consistent 4K resolution outputs at 60 FPS, with only a select bunch pushing to 120 FPS. And while both consoles have the hardware to support 8K, it won't be prevalent this console cycle. The industry has instead invested in making games feel faster, whether high framerates, technologies like VRR, or super-fast SSDs. It makes 8K hard to recommend for anyone, but especially for console gaming.
When wanting to spend your savings on a premium TV, investing in a sizeable top-end OLED or Mini LED panel will deliver countless more benefits over 8K. Don't waste your money, at least for the next few years.
Get the Windows Central Newsletter
All the latest news, reviews, and guides for Windows and Xbox diehards.
Matt Brown was formerly a Windows Central's Senior Editor, Xbox & PC, at Future. Following over seven years of professional consumer technology and gaming coverage, he's focused on the world of Microsoft's gaming efforts. You can follow him on Twitter @mattjbrown.