Best computer speakers: Gaming, music in 2022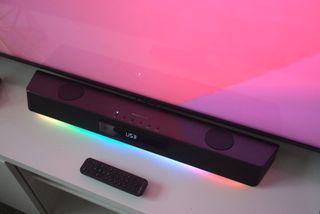 (Image credit: Rich Edmonds / Windows Central)
PC speaker preferences vary from person to person, as it depends on your rig, setup, and the space restrictions of your home or apartment — not to mention your budget. We've broken down this list of best computer speakers to include some more affordable and compact options and round things out with some premium sound solutions.
Enjoy your favorite tunes
Depending on your budget, you'll be able to pick up some killer speakers for any PC. If you don't mind having a soundbar on your desk under your display(s), the Sound BlasterX Katana V2 from Creative is an exceptional audio package. Whether you're on the desktop or a couch in front of a TV, the Katana V2 produces some killer sounds and looks the part. There are numerous inputs, Bluetooth connectivity, and even stylish RGB lighting.
If you want to save a little with one of the best budget computer speakers, the Bose Companion 2 Series III offers incredible levels of value and won't break the bank. While not the best speaker solution on our list, Bose offers some high-quality audio with this compact 2.0.
Ben Wilson is a freelance writer working for Windows Central with technical expertise and a background in electronics retail. Fueling a technology and video game obsession with coffee, you can usually find him behind one screen or another.
Windows Central Newsletter
Get the best of Windows Central in in your inbox, every day!
Thank you for signing up to Windows Central. You will receive a verification email shortly.
There was a problem. Please refresh the page and try again.