As difficult as it may be to describe the head-tracking surround sound built into the Leviathan V2 Pro, I can tell you that Razer isn't exaggerating this wild feature. It's an utterly baffling experience when you first move around in front of its IR camera and hear the directional sound shift toward you, wrapping multi-channel audio around the room. Make no mistake; the V2 Pro isn't aimed at a casual gamer looking for a simple set of speakers; you'll need plenty of desk space. The monstrous subwoofer pairs with its augmented soundbar for an incredible cinema-grade gaming experience with supported titles. Even stereo sources provide a convincing binaural effect that doesn't rely on a specific room shape or size, but you'll also need appropriate floor space for the sub.
Pros
+

Head tracking for convincing surround sound without extra speakers and cables.

+

Supports stereo and multi-channel sources.

+

Subwoofer delivers outrageously powerful bass.
Cons
-

No 3.5mm or optical audio input.

-

Needs 2x AC sockets to power both the soundbar and subwoofer.
Why you can trust Windows Central Our expert reviewers spend hours testing and comparing products and services so you can choose the best for you. Find out more about how we test.
Soundbars might not seem like a very exciting category these days. They've been around for over a decade now, starting as a helpful replacement for weak speakers in skinny televisions or as a simple way to bolster a home cinema setup. For desktop computers, the appeal is broader since constantly using headphones all day isn't exactly recommended for gaming, even if I'm guilty of that.
A decent set of surround-sound speakers often appeals to PC gamers to enhance immersion and offer a relaxing break from headsets. Still, it's usually a pain to set up if you don't have suitable space for satellite speakers and trailing cables. Anything capable of replicating the effect should attract some intrigue. Razer offers all that and more with an extra-special head-tracking feature in its Leviathan V2 Pro soundbar, but does it live up to the hype?
Leviathan V2 Pro: Price, availability, and specs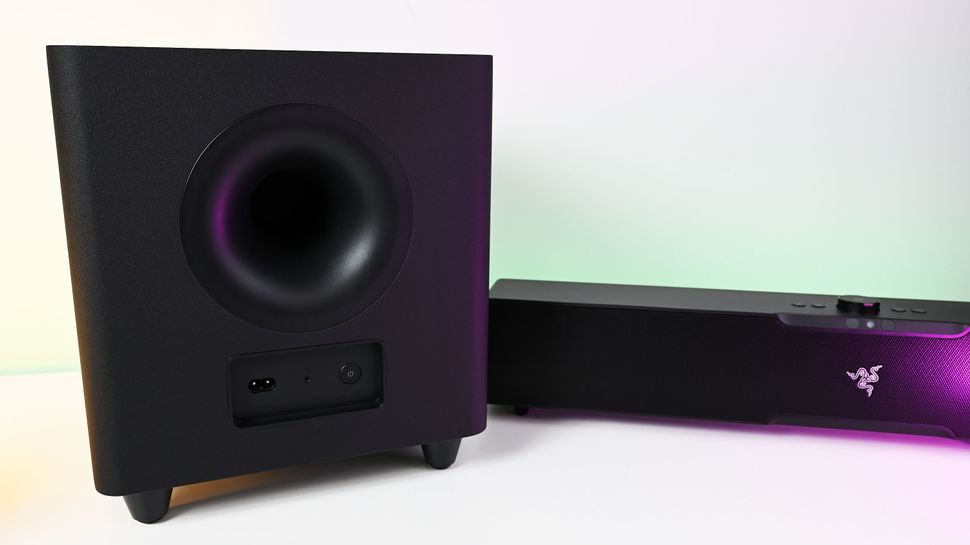 Razer sells the Leviathan V2 Pro soundbar through its official website for $400 MSRP with shipping starting from February 3, 2023. The soundbar and subwoofer are packaged with 2x AC cables per region, 1x power brick, a 3.5 mm jack-to-jack audio cable, USB-C to USB-A cable, and a quick start guide.
Swipe to scroll horizontally
Category
Razer Leviathan V2 Pro
Frequency response
40 Hz - 20,000 Hz
Input power
External adapter
Driver size
5x 2" full-range
1x 5.25" down-firing subwoofer
Sound pressure level
98 dB max
Audio in
USB
Bluetooth
Audio out
3.5 mm headphone jack
Lighting
Razer Chroma (30 zones)
Dimensions
600 x 113.7 x 90.1 mm (soundbar)
260 x 295 x 260 mm (subwoofer)
Weight
5.00 lbs (soundbar)
11.19 lbs (subwoofer)
Leviathan V2 Pro: First impressions and setup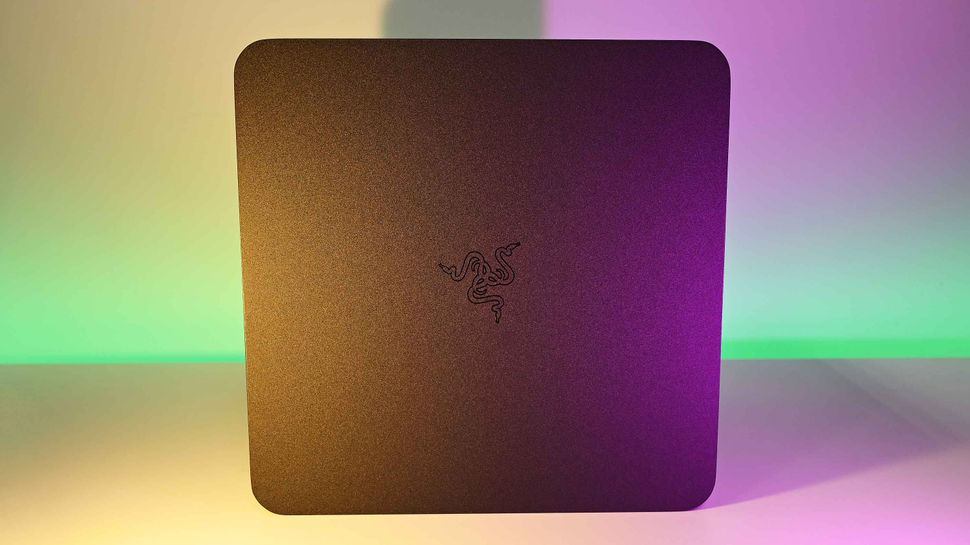 This wasn't my first rodeo with a Razer soundbar; I tested the original Leviathan V2 around a year ago, which suitably impressed me with its thumping bass and vibrant RGB. Besides the touted beamforming 3D audio, a slew of speaker enhancements would undoubtedly increase the size of another new model, but it was still a surprise to see just how chunky the V2 Pro is.
During the unboxing process, which is always a delight with Razer since they put real effort into their presentation, it was clear that although the soundbar and subwoofer have grown in size, some of the cardboard inside is just careful padding for extra protection. Overall, the aesthetics resemble the standard Leviathan soundbar range, with a sleek combo volume and power knob added to the top.
Build quality seems identical to its predecessor; top-notch and doesn't exhibit any signs of rattling from loose parts. The icons and logos, fortunately, aren't low-effort stickers, instead using semi-transparent sections to glow up with internal LEDs. The rotating volume knob spins with a smooth, strong resistance instead of the tactile notches I expected, similar to a premium hi-fi amp. Everything looked great out of the box as I cleared space on my floor for this behemoth subwoofer.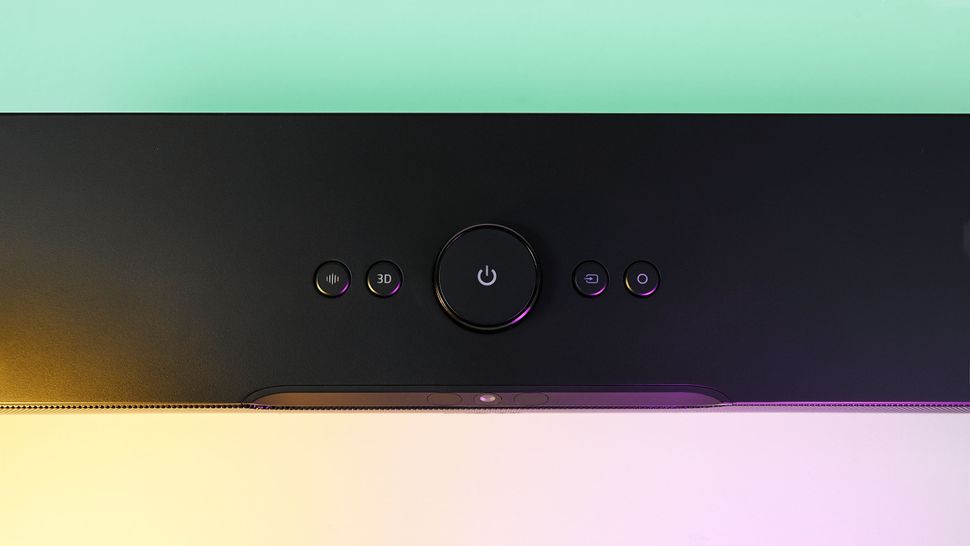 Unpacking the boxed cables does bring a huge relief in that the subwoofer no longer uses a proprietary connection to the Leviathan soundbar like the original V2, opting for a standard 3.5 mm jack connection this time. Phew. Still, some good news often comes with a downside, and noticing that the soundbar has a dedicated AC adapter means I need two available sockets to power everything now. My poor cable management was further exposed in the grim adventure behind desks.
Given the sheer power on offer from the 5.25-inch down-firing sub, it's understandable that a backup AC adapter is needed to provide enough juice. Double-check you have enough sockets before setting up the V2 Pro, and you'll be fine. The included USB-C to USB-A cable measures around 6 inches, enough to reach from my desktop PC at the far end of the desk to the soundbar in front of my monitors.
I avoided placing the original V2 subwoofer on my floor to prevent upsetting the neighbors, and it was slightly smaller anyway. The Pro sub is a little too chunky to sit on the desk this time, and honestly, I wouldn't recommend placing it next to your monitors, as I'll explain soon. You will ultimately benefit from putting the sub on the ground, and feeling the undulating bass tones rippling underfoot provides that pseudo-cinema experience. Appropriate, considering the THX logo printed upfront. Cue the classic deep note.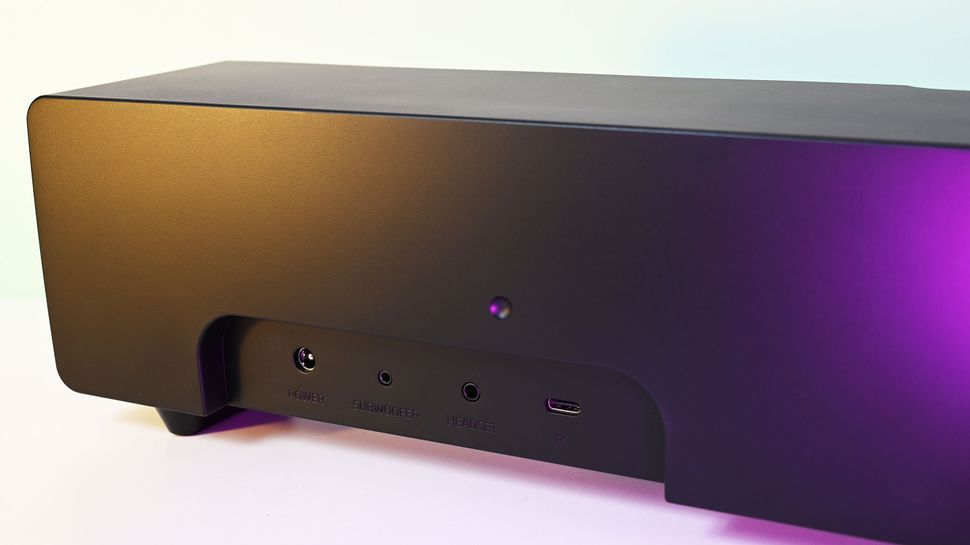 The soundbar measures roughly 23.5 inches across, still fitting pretty snugly onto my undersized desk. If you're using a 24-inch monitor or larger, the Leviathan V2 Pro looks great when seated directly in front of your primary screen, offering a clear line of sight for the head tracking camera. Be aware that your monitor stand might affect placement since any panels with gigantic oval feet might hinder your plans to push the soundbar back.
You might notice in the unboxing photos that the V2 Pro lacks the adjustable feet found on the original V2. The interchangeable rubber stands offered a straight-on or upwards-facing setup, altering the dynamics of the front-facing tweeters and expanding a little extra room for the Chroma RGB.
Razer is putting more effort into the pseudo-surround sound effects than ever, and bouncing soundwaves around the room in a convincing manner likely explains the strict positioning this time. I assure you that upgrades to the underside RGB lighting and upcoming audio tests confirmed that cutting out the adjustable rubber feet was no significant loss.
Leviathan V2 Pro: Speaker quality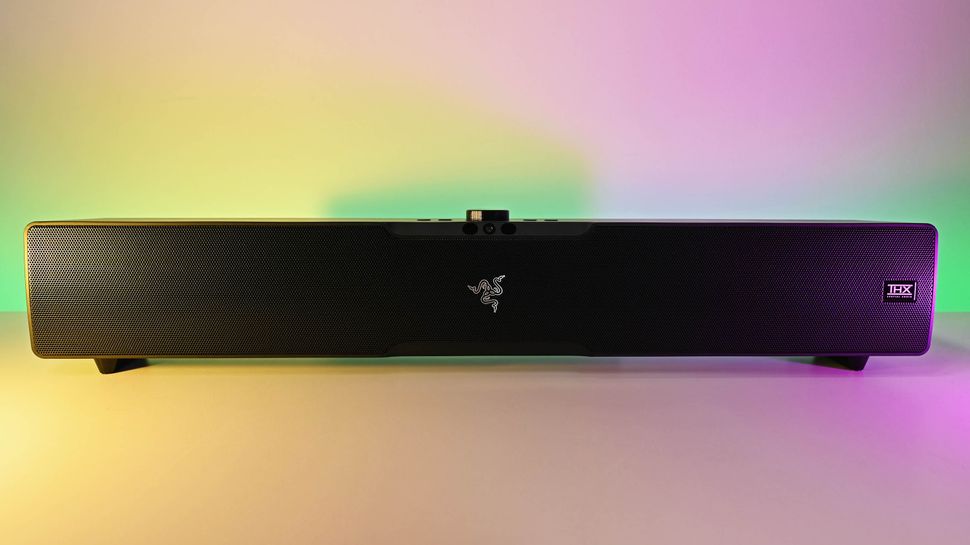 Straight out of the gate, the Leviathan V2 Pro sounds incredible. I opted to test the Bluetooth connection first since it requires the shortest setup path, and the mobile apps offer plenty of audio EQ options. Playing a variety of genres from Spotify and Apple Music at maximum quality with the default settings had the soundbar and subwoofer shaking my room with crisp highs and booming bass. Tough luck, neighbors.
Make no mistake, the low-end coming out of this sub is tremendous. If you're living above a family who doesn't appreciate too much noise, they'll soon assume you've had a full-size theatre installed into your office when you fire up the V2 Pro. Moving from carpeted floors to wood or laminate alternatives didn't seem to affect the bass, but some loose flooring from a previous rush job buzzed a little too much when switching through the THX audio modes. My fault.
Settling down for some gaming meant testing games with some of the hardest-hitting soundtracks, including DOOM Eternal and its ferocious industrial guitars composed by Mick Gordon. While there are pre-made EQ profiles for games, movies, and music, I had a better overall experience with custom slider adjustments. Video games aren't known for enthusiast-level audio tests, usually pushing for cinematic soundscapes over perfect balance, but it didn't take long to find a comfortable, well-rounded sound.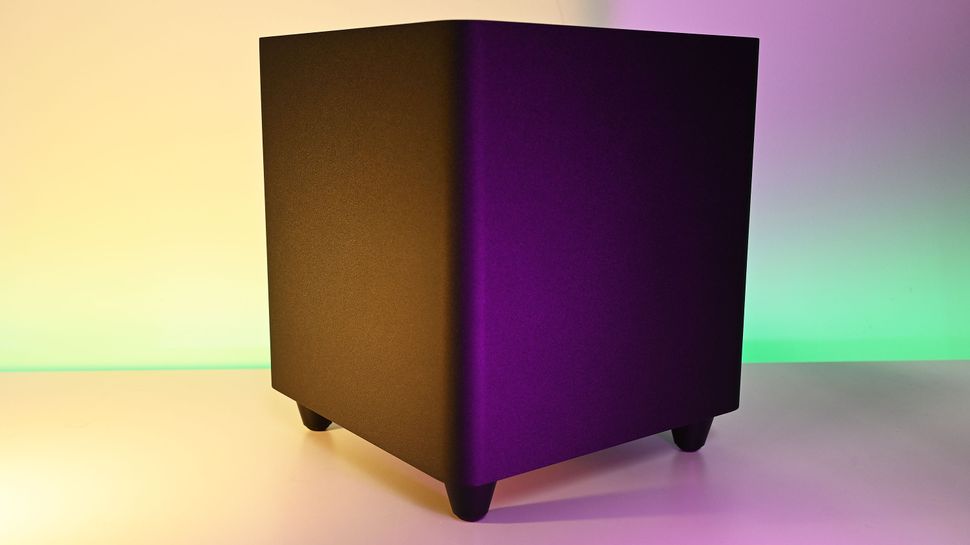 Pushing for a downward slope towards the 40Hz range remedied some of the relentless, gut-punching low-end without affecting the crisp sounds pointed directly at me. It's fun for a while, but the hilarity of a vibrating desk during gameplay does become somewhat unwelcome in the late evenings. You can quickly switch between the pre-set and custom equalizer settings by pressing the leftmost button on top of the soundbar, saving bass-heavy modes for the daytime.
In fairness to Razer, this revision carries the 'Pro' moniker, so it's not aimed at your average household. The humongous sounds from the combined soundbar and subwoofer are ideally suited to a purpose-made home office used by content creators or dedicated gamers more than someone looking for a simple set of speakers. It can still appeal to everyone, but the Leviathan V2 Pro carries its name for a reason. It would be better for people who use those foam eggshells lining their walls for sound suppression rather than my thin wallpaper and paint; to each their own.
Testing the soundbar without connecting the subwoofer presents a significantly weaker bass response than the original V2, presumably due to changes to the overall design and pushing for a larger subwoofer rather than open-back speakers. Thankfully, Razer covers this angle with the Leviathan V2 X, a USB-C-powered variant with a more reserved max volume backed up with built-in subwoofers just like the original model.
If you have an appropriate setup to use all the features on offer, the V2 Pro is an absolute beast for speaker quality. Splitting its soundbar into three distinct avenues means consumers can match their room to the perfect Leviathan model. Anyone with enough space for the subwoofer will love the cinema-grade low-end from this THX-certified beauty, and the mobile apps avoid total reliance on USB for EQ adjustments.
Leviathan V2 Pro: Head tracking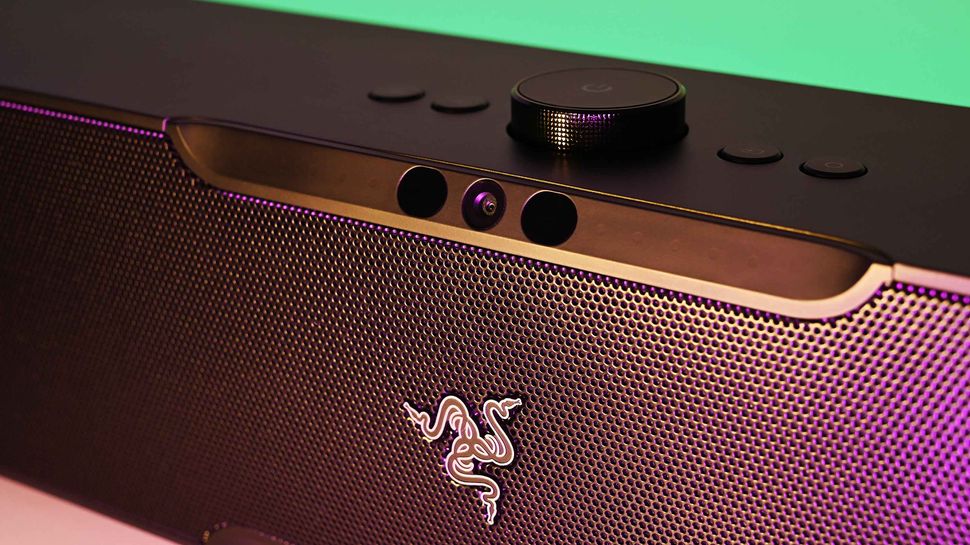 There was plenty of praise for the beamforming surround-sound tech when it was demonstrated at the CES 2023 technology convention, and there's a good reason it won a best of CES award from Windows Central. It isn't easy to describe precisely how spectacular it sounds in person. I'll admit that even after hearing confirmation from our editor-in-chief Daniel Rubino who heard it live, I had to know for myself, and boy was he right on the money.
The Razer companion app has a small icon showing whether the IR camera built into the Leviathan V2 Pro's soundbar successfully detects you. It works for a reasonable distance in a well-lit room, but there is a limit, about the same range as far back as I might sit with a joypad. Fortunately, if you're right on the edge of detection, it doesn't flicker between on and off, instead leaving a sort of buffer until you're close enough for re-activation.
Outside of trying to force the camera to break the connection, I never experienced any drop in head-tracking performance, so it seems Razer found the sweet spot through camera testing. The advertisements have always been explicit that the beamforming tech was designed for a single person, as this is a soundbar made for PC gamers. Still, the V2 Pro can switch to 'room fill' mode if multiple people are detected, and it provides a broader sound as you would expect in any other high-end soundbar to suit a movie night for couples and groups.
There are two audio modes designed for the face tracking feature: 'virtual headset' and 'virtual surround,' which both simulate types of 3D audio. Listen to the THX spatial audio demo above while wearing a pair of decent headphones. You'll hear the kinds of binaural effects that imitate full surround-sound environments, just like the virtual headset mode on the V2 Pro.
While providing a similar effect, virtual surround does a more convincing job of beaming sounds 'behind' you with a series of clever multi-channel trickery paired up with the directional speakers. It's baffling how well it works, especially in a small-to-medium-sized square room as my home office, where the audio can bounce off the walls and create an immersive sound space. Even in larger areas, you can hear an eerily credible pseudo-surround effect from appropriate multi-channel files; it's a truly fascinating experience.
The real magic comes when you move around, as you might expect. The IR camera doesn't store any images, merely analyzing the depth of your space to approximate where your ears are at any given time, and adjusts the sounds after a tiny pause. There does seem to be a minimum movement threshold, which presumably avoids unpleasant effects from constantly shifting speakers, but the maximum angle is impressive.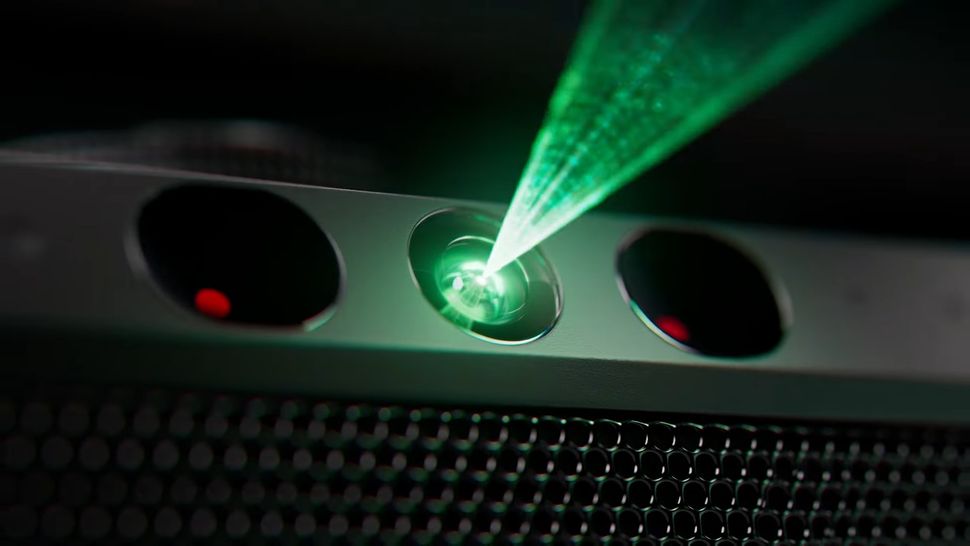 Setting the Leviathan V2 Pro up on our hobby bench, much wider than my work desk, it became clear who this tech was aimed at. Again, this is the 'pro' model, so it's for creators with dedicated spaces for this kind of thing. If you have a desk big enough for multiple monitors or even two computers, as live streamers often have, you can roll around at your station, given the camera can still see you, and the speakers will stay trained on your ears.
It's an effect I often forget about after about an hour before wheeling over to the other side of the bench to work on something and hearing the speakers shift. The whole thing has me reconsidering plans for my office, wondering if I should build an entirely new desk around the V2 Pro so I don't have to give up this incredible feature.
If you live close to one of the brick-and-mortar Razer stores, do yourself a favor and see if they're demonstrating this soundbar so you can experience the head tracking. I can't express how bizarre and fantastic it is to hear it in person. Anyone with the appropriate space can benefit from this monstrous audio package, loaded with cinema-grade bass.
Leviathan V2 Pro: Software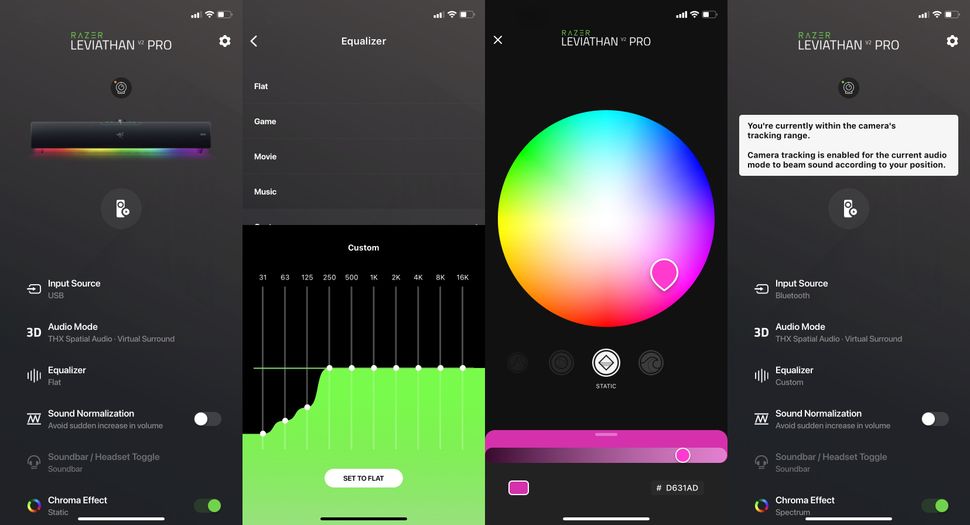 Compared to the original Leviathan V2, Razer has dramatically improved its software suite and user experience. Although some features are kept separate, including THX Spatial Audio, the mobile Razer Audio app can finally control the audio equalizer and Chroma RGB in one place. You'll unlikely need to access the Synapse desktop app too frequently, especially when satisfied with your personalized EQ settings, but these improvements are welcome.
The Razer Cortex desktop app is still recommended during installation, but getting the best experience out of the V2 Pro never relies on it. Having the soundbar under my monitor means that the physical controls were never out of reach, but the mobile app quickly became my favorite backup when I wanted to tweak the lighting effects or adjust the bass. Still, only the Razer Synapse app is essential to install driver updates on your PC, so I'm thankful for the reduced bloat from previously forcing multiple apps.
Leviathan V2 Pro: The competition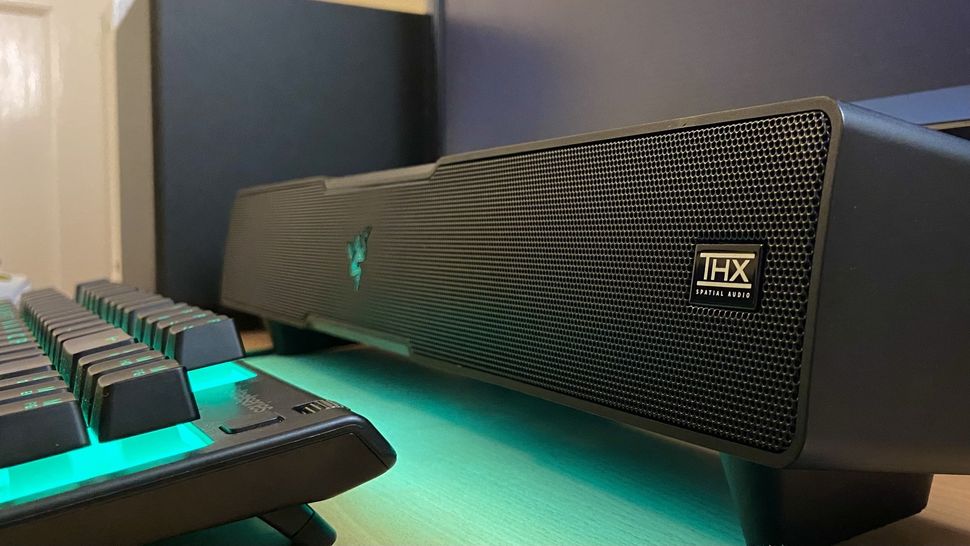 Since Razer keeps expanding its range of Leviathan soundbars, I'll always compare them to the fantastic original model, which set the tone of leaning heavily into low-end bass frequencies. Where the Leviathan V1 shined best was its connectivity options, featuring optical audio-in alongside a standard 3.5 mm jack input. Bluetooth was always available, but I lamented the loss of analog input options in my Razer Leviathan V2 review when the first revision hit.
You can still buy the Leviathan V1 on various third-party storefronts for around $200, but it simply cannot compete in the same league as the V2 Pro for sheer output power. Ramping up the subwoofer alongside across-the-board improvements to the Leviathan's tweeters brings it more in line with its long-term rival, the Creative Sound Blaster Katana V2, which impressed us in the past.
Realistically, the Leviathan V2 Pro has no legitimate competition when you consider its complete feature set. The 3D beamforming effects delivered by its built-in head-tracking camera currently have no equal, and it's proven to be seriously impressive in a range of environments, including substantial open spaces like the Razer booth where it was first demonstrated.
Leviathan V2 Pro: Should you buy it?
You should buy this if ...
If you have a large creative space with room to move around.
You want surround-sound audio without speaker clutter.
You need powerful speakers with cinema-grade bass.
You shouldn't buy this if ...
Your neighbors disapprove of loud music.
You rarely move from a single seated position.
You have a small desk without room for a subwoofer.
The experience of head-tracked surround sound is fascinating and genuinely feels like the first truly futuristic technology released in years. Razer has packed everything possible into this high-end revision to its flagship soundbar. The Leviathan V2 Pro is utterly unmatched in its category, meaning it will undoubtedly join the ranks of the best computer speakers. If you have the space to place the monstrous subwoofer, the low-end response should satisfy any bass-loving gamer.
On the flip side, if you can't fit many trinkets between your keyboard and monitor, the V2 Pro will be a tight squeeze. Equally, the subwoofer is far better suited to floor placement than on a desk due to its tremendous bass response, so you'll need a space with enough room to enjoy this high-tech soundbar properly. If you have a wide setup and regularly move across the room, the IR camera will directly lock in the spectacular 3D effects to your ears, even at some extreme angles.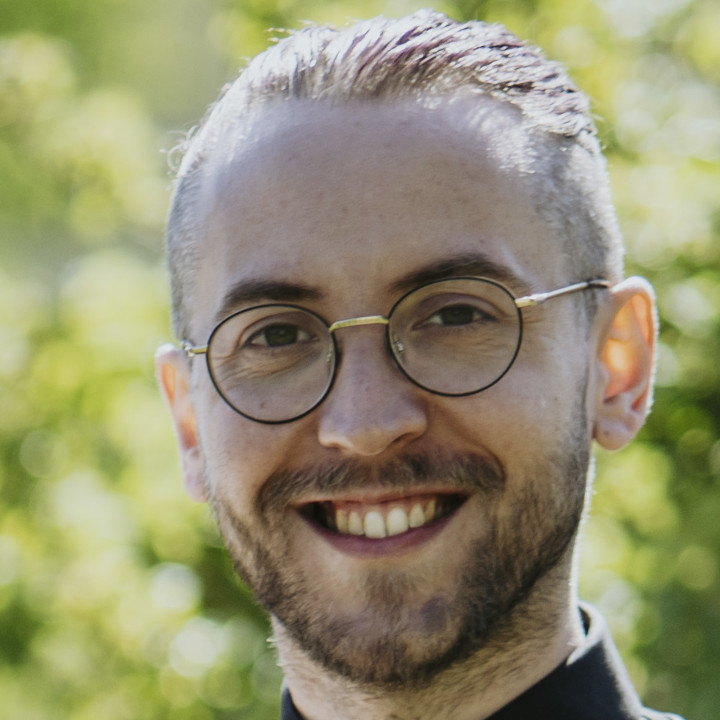 Ben is the channel editor for all things tech-related at Windows Central. That includes PCs, the components inside, and any accessory you can connect to a Windows desktop or Xbox console. Not restricted to one platform, he also has a keen interest in Valve's Steam Deck handheld and the Linux-based operating system inside. Fueling this career with coffee since 2021, you can usually find him behind one screen or another. Find him on Mastodon @trzomb@mastodon.online to ask questions or share opinions.